Last May plans were announced for Paine Field-Snohomish County Airport to open a passenger terminal.

Rendering of new Paine Field Terminal
Paine Field is home to Boeing's Everett Factory, and up until now hasn't been used for commercial flights. However, airlines started to see the potential for the airport, given how many residents there are North of Seattle (more than a million people live in the North Sound). Offering service out of this airport could save many people over an hour on their airport commute. Furthermore, SeaTac Airport is nearing capacity.
In order to minimize the environmental impact on the community, the airport is limiting itself to 24 daily arrivals and departures. Much to the airport's surprise, this capacity was reached in no time, as Alaska, Southwest, and United, all announced plans to fly to Paine Field.
While flights were supposed to begin this fall, unfortunately the launch got pushed back, as the FAA required a new environmental impact assessment for the airport. It was expected that the airport would open in early 2019.
A couple of weeks ago Alaska Airlines began selling tickets for flights out of Paine Field, for travel as of February 11, 2019. The airline will operate flights to the following destinations:
Las Vegas, Nevada
Los Angeles, California
Orange County,

California

Phoenix, Arizona

Portland, Oregon

San Diego, California
San Francisco, California
San Jose, California
At the same time we found out that Southwest Airlines changed their mind, and will no longer be flying to Paine Field, so all their slots were handed over to Alaska Airlines.
Now United Airlines has begun selling tickets from Paine Field. United will commence service to Paine Field as of March 31, 2019. The airline intends to operate two daily flights to Denver, and four daily flights to San Francisco.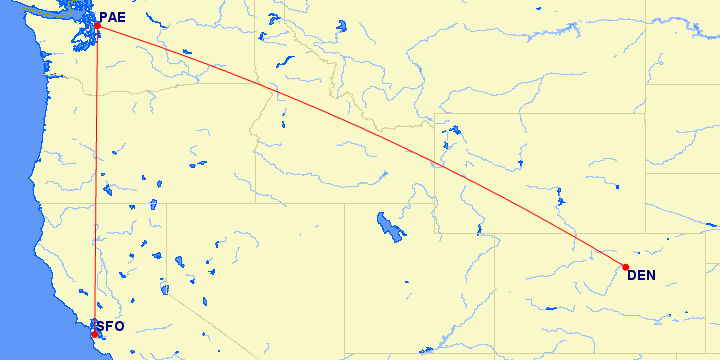 Here's the schedule for the new service:
As you can see, the airline will exclusively use Embraer 175 aircraft for these routes, which is the same as what Alaska Airlines is doing. It's a bit ironic that no Boeing aircraft will actually fly to Boeing's home airport.
This adds some great flexibility. I do wish that Southwest followed through on their plans to fly to Paine Field, since two airlines isn't all that much competition, and for the most part Alaska Airlines has these routes to themselves. Then again, I guess if fares get too high, there's always SeaTac.
Does anyone plan on booking a flight out of Paine Field?