Last May plans were announced for Paine Field-Snohomish County Airport to open a passenger terminal.

Rendering of new Paine Field Terminal
For those of you not aware, Paine Field is home to Boeing's Everett Factory, and up until now hasn't been used for commercial flights. However, airlines started to see the potential for the airport, given how many residents there are North of Seattle (more than a million people live in the North Sound). Offering service out of this airport could save many people over an hour on their airport commute. Furthermore, SeaTac Airport is nearing capacity.
In order to minimize the environmental impact on the community, the airport is limiting itself to 24 daily arrivals and departures. Much to the airport's surprise, this capacity was reached in no time, as Alaska, Southwest, and United, all announced plans to fly to Paine Field.
While flights were supposed to begin this fall, unfortunately the launch got pushed back, as the FAA required a new environmental impact assessment for the airport. It was expected that the airport would open in early 2019.
Well, there's some good news on this front, as it looks like flights from Paine Field are now on sale.
Alaska Airlines has started selling tickets for flights to & from Paine Field as of February 11, 2019. Once fully operational, there will be a total of 18 daily nonstop flights to eight West Coast cities. You can find the full flight schedule here.

This is more than Alaska Airlines initially intended to offer, as they apparently acquired five slots from Southwest Airlines. I guess this means that Southwest Airlines won't be flying to Paine Field anymore, as those were all the slots they had. Interesting.
Alaska's destinations from Paine Field will include the following:
Las Vegas, Nevada
Los Angeles, California
Orange County,

California

Phoenix, Arizona

Portland, Oregon

San Diego, California
San Francisco, California
San Jose, California
Alaska Airlines will exclusively use Embraer 175 aircraft for these routes, operated by Horizon Air, which feature both first class and an extra legroom economy section.
To celebrate the start of ticket sales, Alaska is offering fares starting at just $39 (though in some cases fares are even lower than that).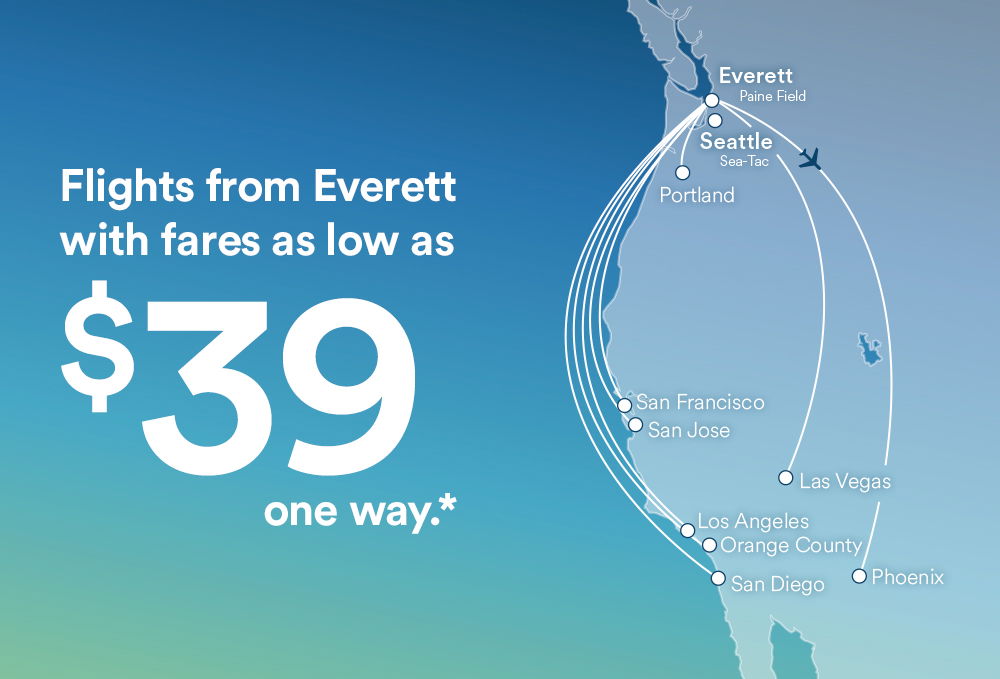 Alaska is also offering double miles on all routes to and from Paine Field through March 31, 2019. Registration is required.
Does anyone plan on booking a flight out of Paine Field?