Hello from San Francisco! After flying Air Tahiti Nui's 787 from Los Angeles to Tahiti, I decided to mix things up by flying United's 787 from Tahiti to San Francisco, as this is a brand new route for them (I booked this using miles, as United has opened up a fair bit of award space on the route). In this post I wanted to share my initial thoughts.
While United introduced their new Polaris seats two years ago, as of now none of their 787-8 or 787-9 aircraft feature these seats. Instead they have B/E Aerospace Diamond seats, which are fully flat and in a 2-2-2 configuration.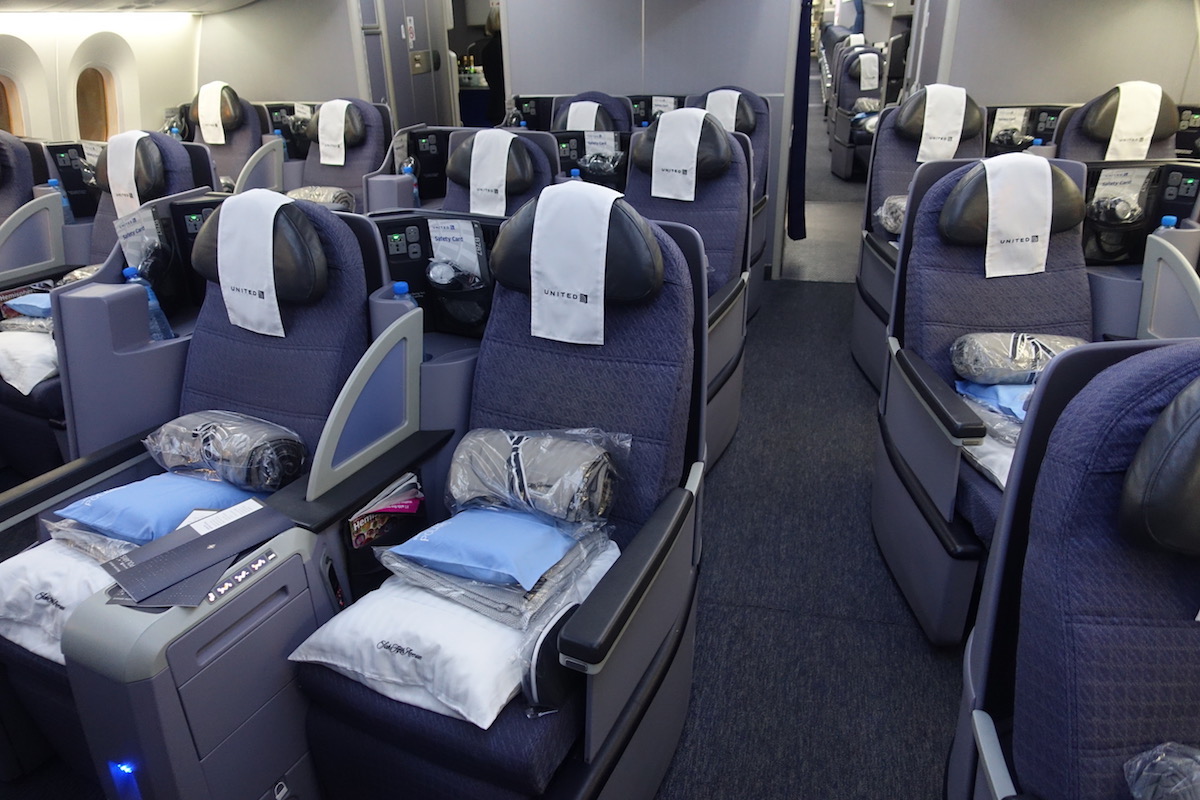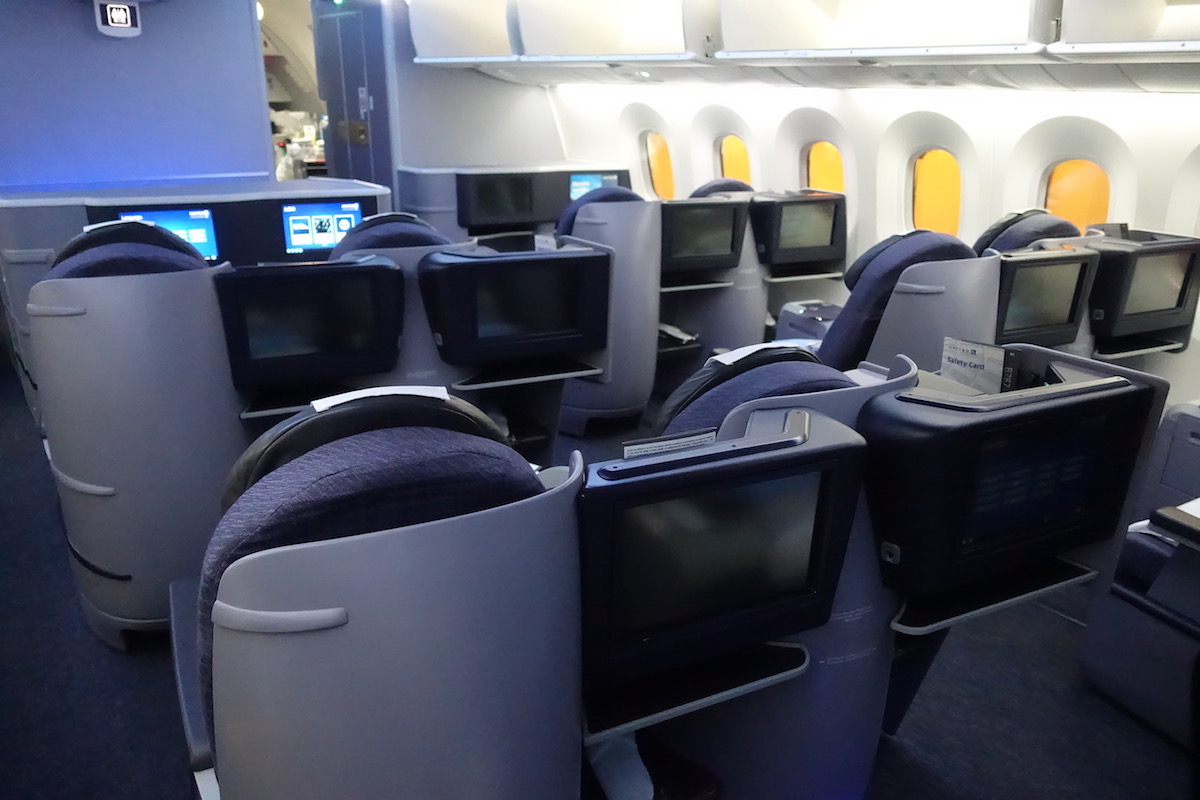 While not the world's greatest seats, they're perfectly nice for a 7hr20min flight when I'm with Ford.
One area where United really shines is with their bedding. They have the best business class bedding of any airline in the world. You get a huge, comfortable pillow, a gel pillow, a thick blanket, a light blanket, and a mattress pad (on demand).
I slept so well on this flight thanks largely to that bedding.
The problem is the lack of storage at these seats. This is what the floor around our seats looked like when we arrived at SFO.
This flight departed Tahiti around 11PM and landed in San Francisco around 8AM, so they served dinner after takeoff and breakfast before landing.
Dinner service began with mixed nuts and drinks — I love United's champagne flutes.
Generally Polaris catering is pretty good, but that's not the case out of Tahiti. I'm not sure if Tahiti's catering facility just isn't good, if United just isn't willing to pay (given how expensive Tahiti is), or what. The starter consisted of smoked salmon with a quinoa salad, and was fairly bland. The salad was bland as well.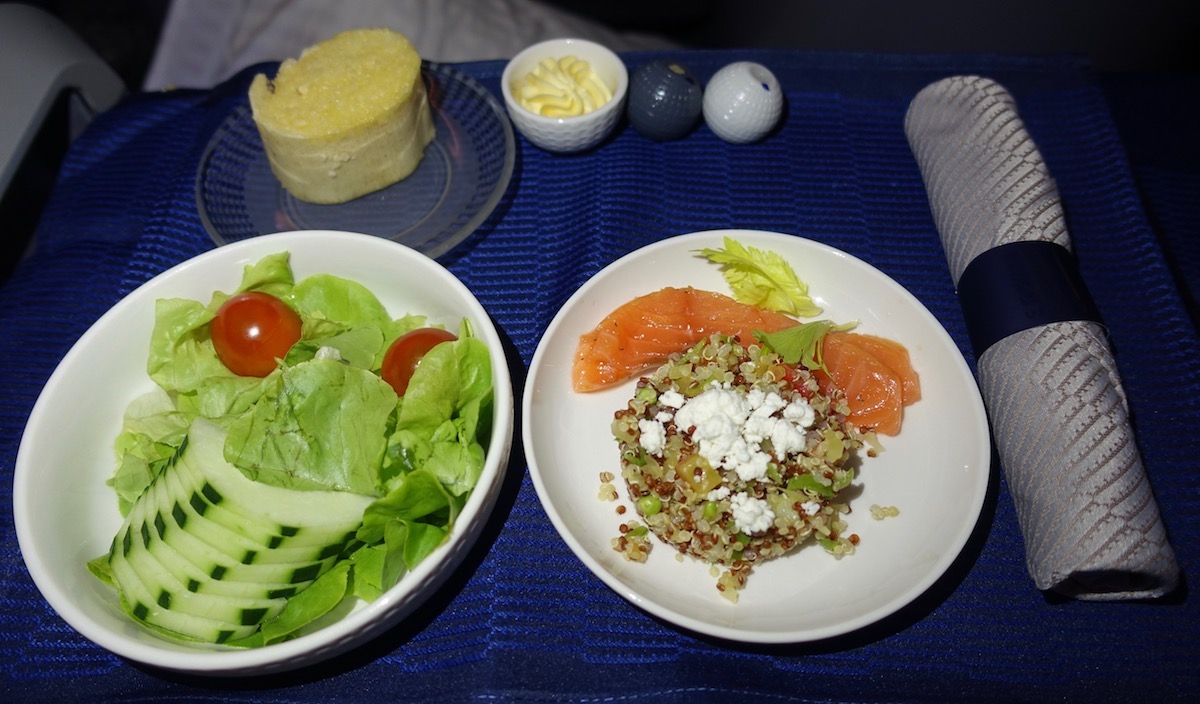 For the main course I ordered the Chinese-style chicken noodle soup, which was awful. It had almost no broth, the noodles were hard, and the chicken tasted rubbery. YUCK. I know airline catering can be tricky sometimes, but you'd think they'd have at least one fish dish on the menu when departing Tahiti (they didn't).
For dessert the menu indicated there would be sundaes, but instead there was tasty pavlova.
For breakfast I ordered a tasteless tomato, zucchini, and cheese panini. I had just a bite or two and sent it back.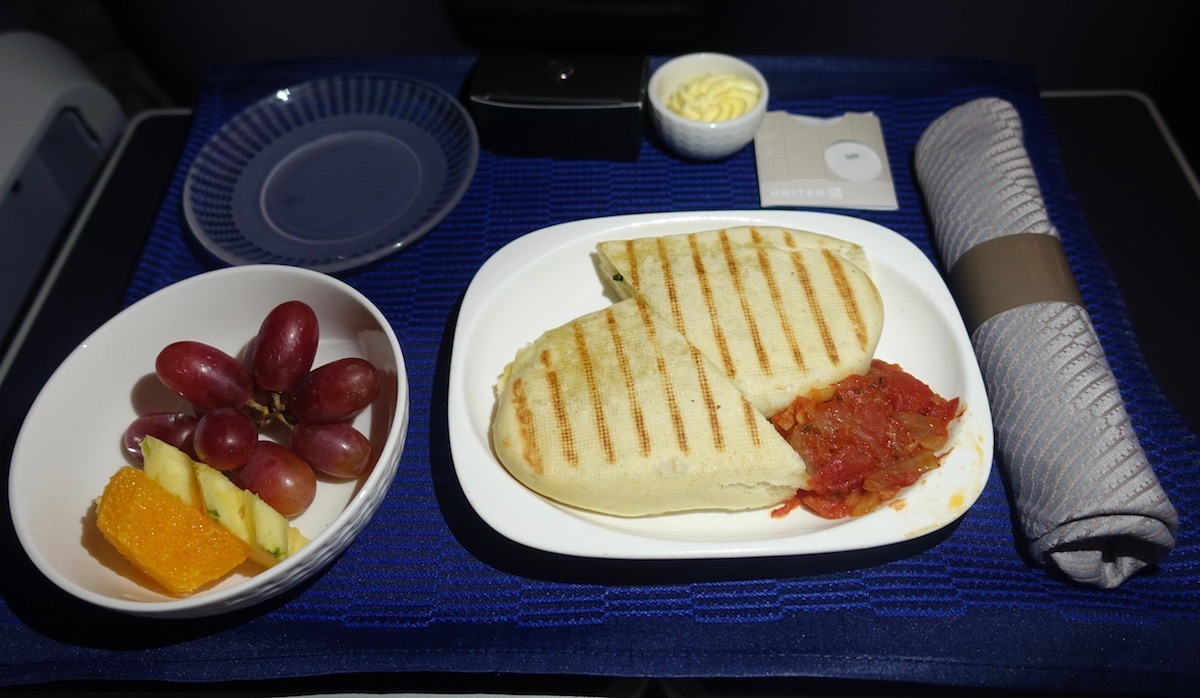 Unfortunately the food was definitely not a highlight on this flight, but I think that might have to do with Tahiti catering, since food is good on most other United routes.
The crew working business class was a mixed bag.
The purser was extremely friendly and professional. One of the flight attendants seemed actively unhappy to be there. One flight attendant had a really weird personality, and seemed to be friendly one minute and abrasive the next.
I can appreciate the crew wanting to be personable and that's one of the things I like about US service, but sometimes it just comes across as lazy. I ordered the panini for breakfast.
"Hmmm, you mean the quiche?"
"No, the panini, it's the other option."
"The other option is fruit."
"Maybe they catered it incorrectly then, because the menu says the options are quiche or panini."
"Oh, you're right, sorry, I hadn't looked at the menu."
Like, wouldn't you look at the menu before you come around asking people what they want? That's just one small example.
United 787 Polaris bottom line
United's Polaris bedding is exceptional, and I find that makes a huge difference in terms of comfort. While I would ideally not want to be in this seat on a 17 hour flight to Singapore, for a seven hour redeye with Ford this was more than sufficient.
Overall United does a great job with their Polaris soft product, I just wish they'd start updating some of their 787-8s and 787-9s with the new seats, since they use these planes for some of their longest routes.