Well, my crazy quick round the world trip is coming to an end shortly. I flew Korean Air first class from Vancouver to Seoul, then Air Astana business class from Seoul to Almaty to Astana to London, and now finally am flying United first class from London to Los Angeles.
I've flown both American first class and British Airways first class on this route before, so I was curious to see how this flight would compare.
Well, I'm happy to say that I'm very pleasantly surprised by the experience. Very pleasantly surprised! I'll keep this post brief, since I'll have a full trip report soon, but I did want to share my initial impressions.
Let's start on the ground. United's first class lounge at Heathrow is stunning. I far prefer it to the British Airways Concorde Room, and think it's the second best lounge at the airport, after the Virgin Atlantic Clubhouse. I also checked out the Singapore Airlines first class lounge, which was a disappointment by comparison.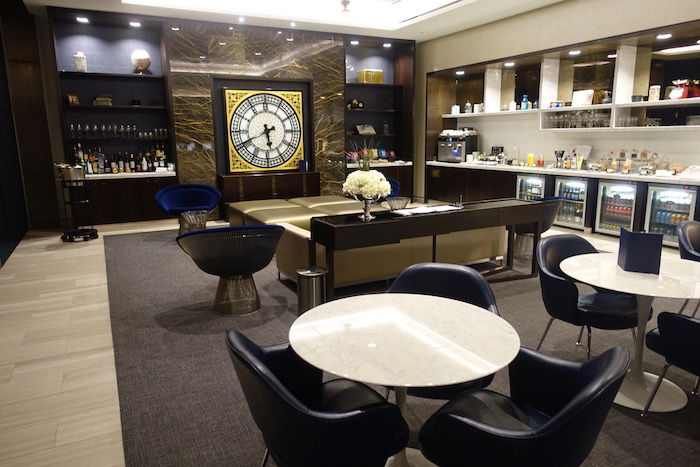 The United lounge was spacious, gorgeously furnished, and had a great a la carte menu. There were individual bathrooms with real hand towels, and every time I visited the bathroom there was a perfect towel pyramid.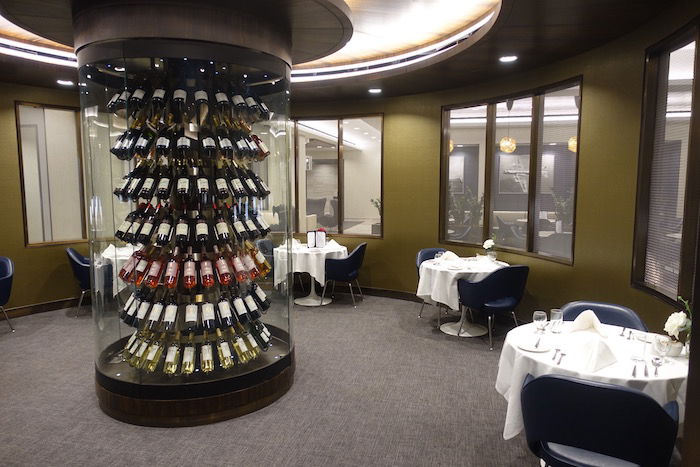 The degree to which this lounge puts American's Flagship Lounge at Heathrow Airport to shame isn't even funny. Not one bit.
In terms of the cabin, United's 777 first class product is solid, though hardly revolutionary.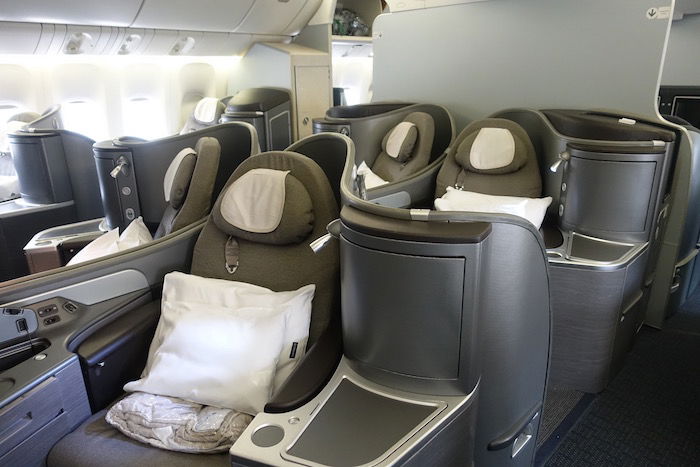 The seats are basically like reverse reverse herringbone seats, if that makes any sense. 😉 They're plenty spacious, the padding is exceptional, and the seats have tons of storage. So it's a perfectly fine first class hard product, though hardly cutting edge (which isn't surprising, since United is soon phasing out international first class).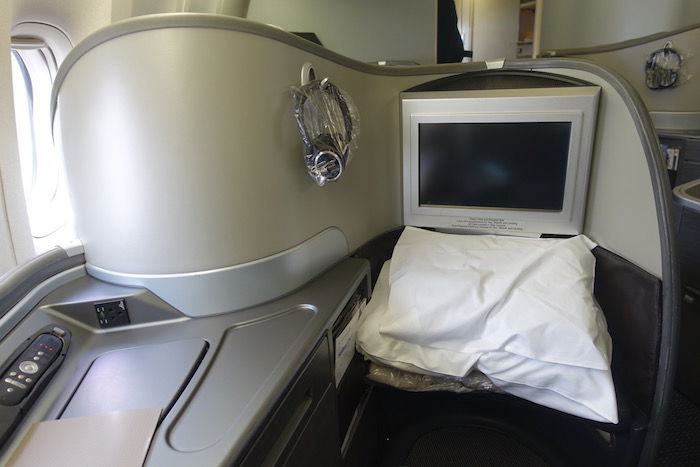 The amenities on the flight are great. United's first class amenity kit is really impressive, and has some unique items I haven't seen in other kits, like anti-bacterial wipes (or perhaps it's just a subtle way of suggesting they have a DIY approach to keeping the cabin clean). 😉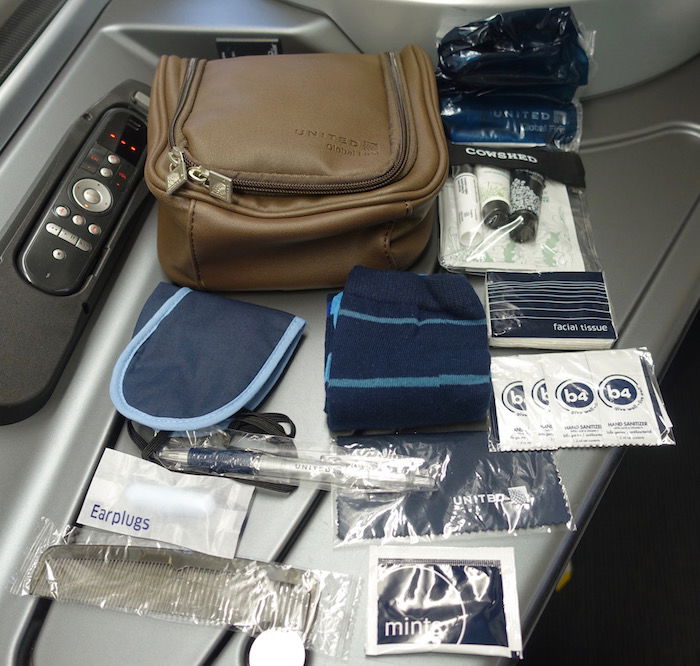 The plane also has Wi-Fi, which costs ~$20 for the entire flight. The speeds have been incredible, almost as good as my recent flight on JetBlue.
As far as the food goes, I've been pleasantly surprised. The meal service began with mixed nuts.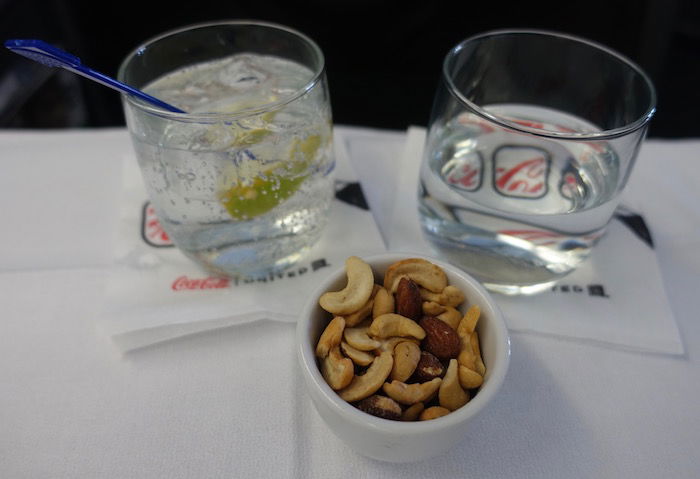 The appetizer consisted of a chicken skewer, which seemed pretty basic.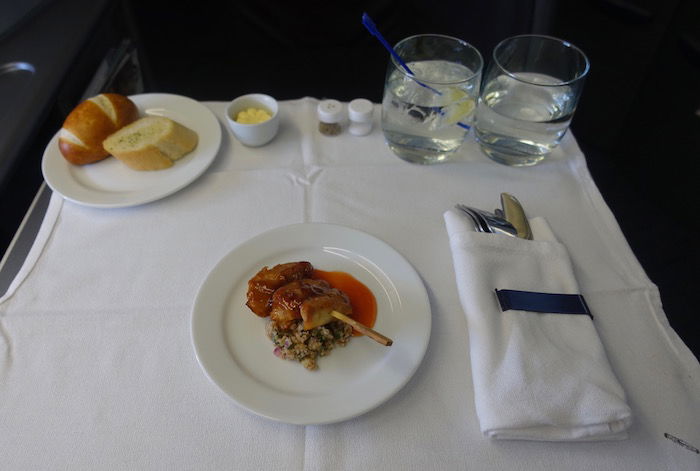 The creamy shiitake mushroom soup, while small, was very flavorful.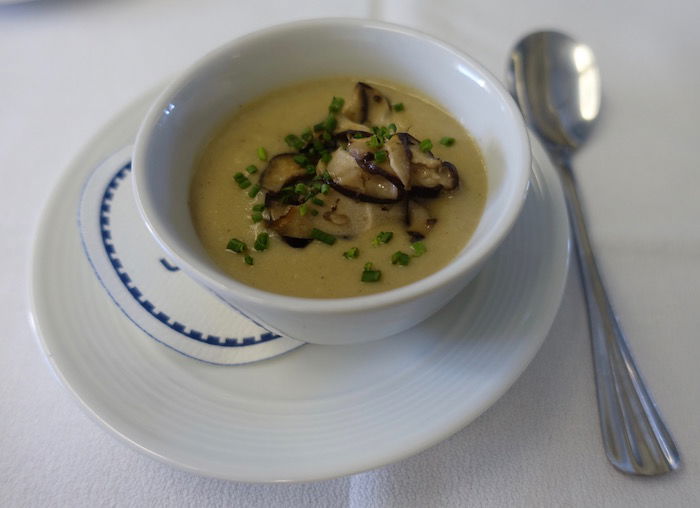 The salad was quite good.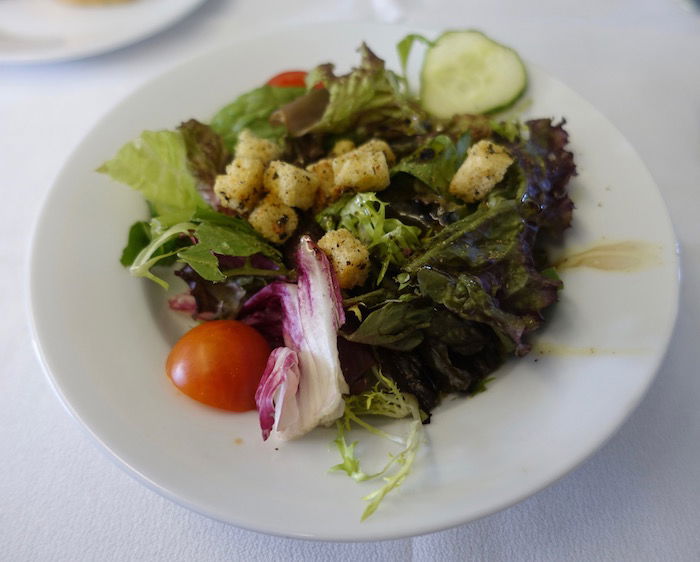 For the main course I ordered the cioppino. When I ordered it I said to myself "what on earth am I thinking ordering this on a plane?" To my surprise, it was incredible, easily one of the best airplane dishes I've had in a long time.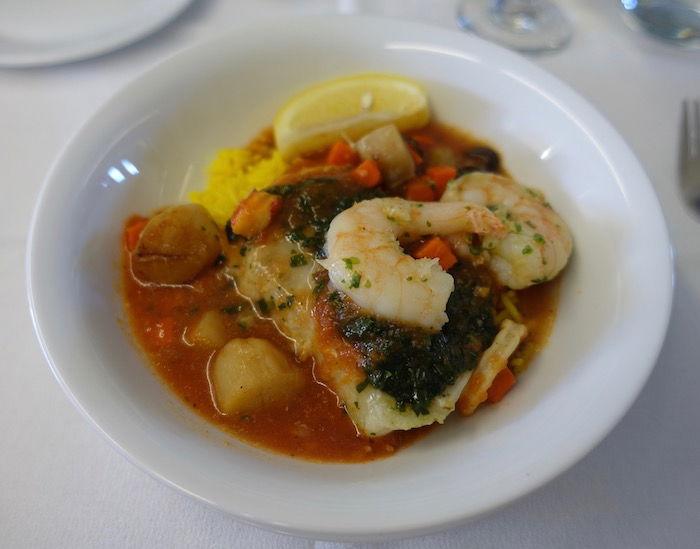 Lastly there was cheese and ice cream for dessert.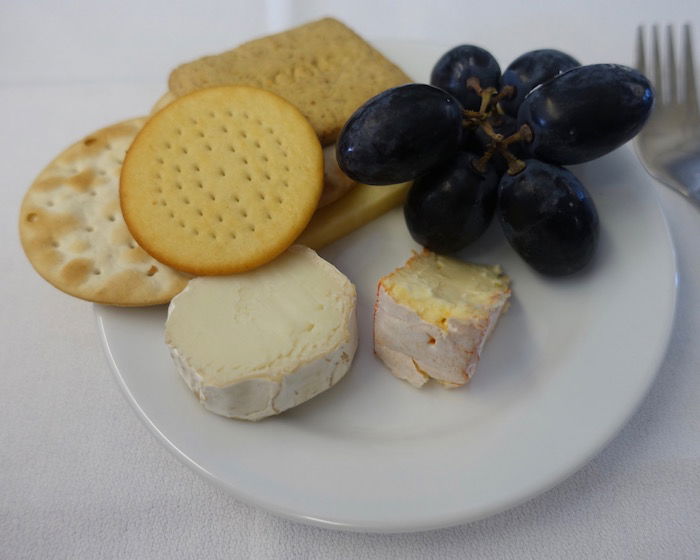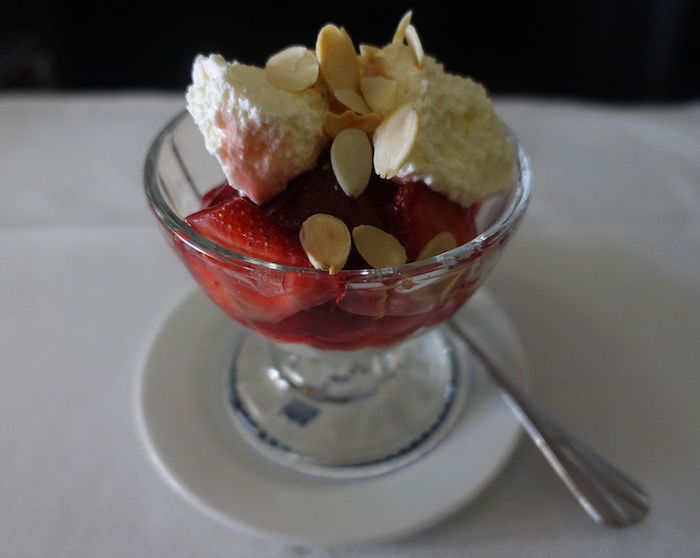 Overall it was a great meal. But what really impressed me most was the service. If there's one thing I know about United it's that they're consistently inconsistent, and I realize I just lucked out with a great crew.
But they really have been fantastic. We have a senior LA based crew, and all three of the flight attendants who have been working first class — Schy, Silvia, and Diana — have been incredible. Each of them has memorized the name of each first class passenger. More importantly than that, they're so warm and proactive, I really can't say enough good things about them. If only service on US carriers were consistently this good.
I've been working for the past few hours, and they've come by my seat every 10 minutes to see if I wanted some more coffee or something to eat.
Earlier in the flight I tried to make my own bed (given that the "turndown service" isn't as intricate as on some foreign carriers), and when the flight attendant saw me doing that she was horrified and ran over, and said "please let me do it."
So yeah, this crew is an absolute gem.
Bottom line
Overall I'm extremely impressed by my United experience. Fast and cheap Wi-Fi, comfortable seats, very edible food, cool cabin temperatures (with individual air nozzles) an incredible crew, and a fantastic first class lounge in London? Transatlantic flights don't get much more pleasant than this.