Some people are surprised to learn that I'm actually extremely technologically illiterate, despite the fact that I work online. I rely on fast Wi-Fi while traveling in order to work, though I couldn't tell you the difference between types of Wi-Fi offered on various airlines, etc. I do know the difference between broadband and dial-up, though. That counts for something, right?
Anyway, inflight Wi-Fi has transformed my life, in the sense that it allows me to stay productive while traveling. I review airlines and write online for a living, so an airplane with Wi-Fi feels like my office more than anywhere else.
Now, Wi-Fi quality and pricing varies greatly across airlines. Some airlines, like Emirates, give you virtually unlimited Wi-Fi for $1, though it's almost unusably slow. Then there are airlines like Etihad and Lufthansa, which have reasonably fast Wi-Fi, and let you buy Wi-Fi for a fixed cost with no data caps, which I love. On the other end of the spectrum you have airlines like Singapore, which quite literally charge you a fortune to use their Wi-Fi.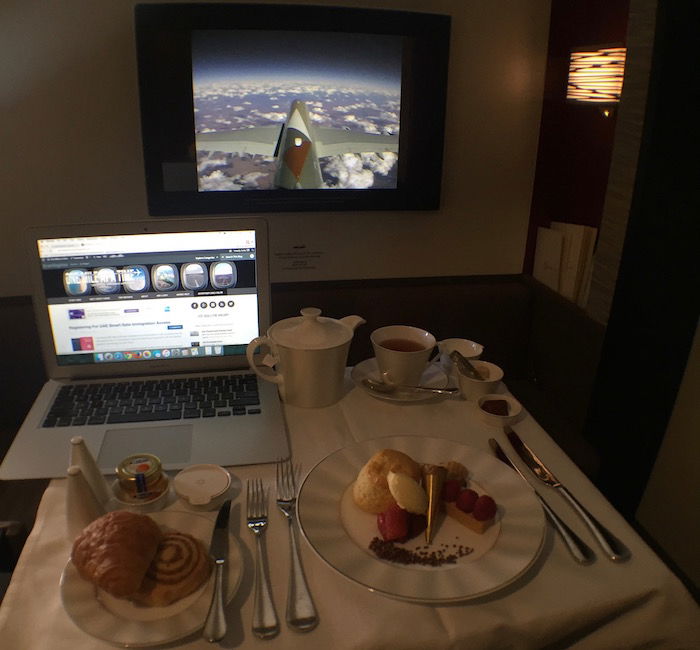 Anyway, I'm presently in JetBlue Mint from New York to San Francisco, and wanted to chime in on my Wi-Fi experience. As some of you may remember, I flew JetBlue Mint a few weeks back and was blown away. However, it was a late night flight on the tail end of a long trip, so I wasn't really trying to work productively on the flight, so didn't really have a chance to try the airline's inflight Wi-Fi.
Now I'm taking an early morning New York to San Francisco flight, which is perhaps the ideal flight for testing an airline's Wi-Fi. I suspect a tech flight like this would probably represent the slowest Wi-Fi you'd get on JetBlue, given how many people are connected.
I can't even begin to say how impressed I am with JetBlue's Wi-Fi. I knew they were better than the competition, but didn't realize they were this good.
JetBlue's Wi-Fi service is called Fly-Fi, and they offer free Wi-Fi for all passengers. There's also the option to purchase Fly-Fi+ for $9 per hour, which is significantly faster.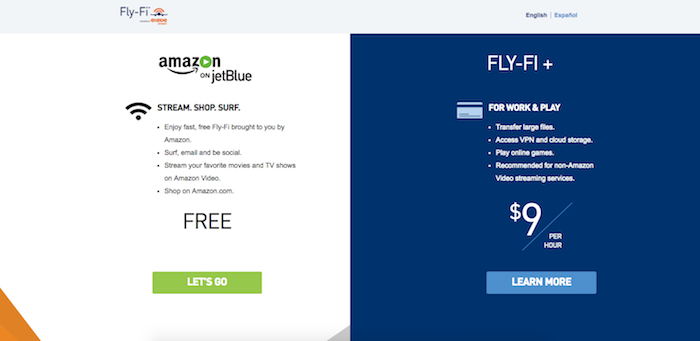 Since I'm trying to be as productive as possible, I decided to purchase Fly-Fi+ for four hours of the flight, which costs $36.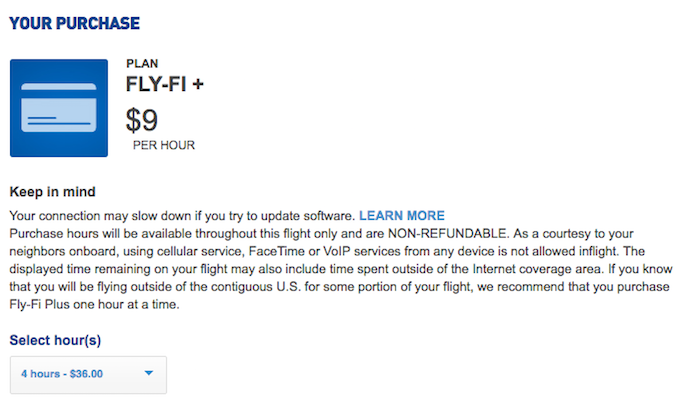 The cool thing is that you can actually connect and disconnect throughout your session, so you're not paying for four consecutive hours, but rather for four hours of use on a given flight.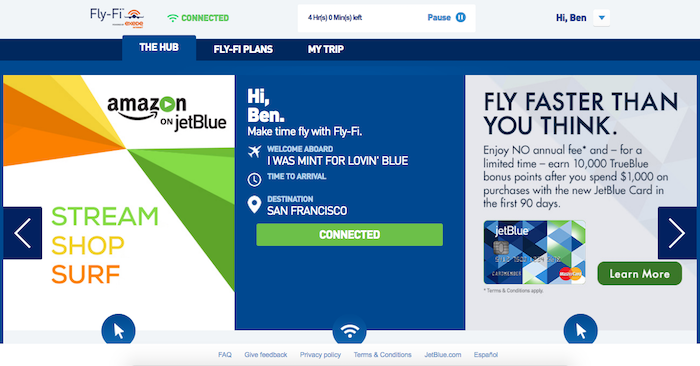 Wow, is the Wi-Fi fast! As I said above, I'm not a techie so I won't even bother doing an upload or download speed test (since I don't know what those numbers mean), but I've been able to work seamlessly. YouTube cat videos load without having to wait, and I'm able to upload pictures to the blog almost as fast as in a hotel.
Is it super high speed? No. But it's fast enough so that I'd even be perfectly happy with it on the ground.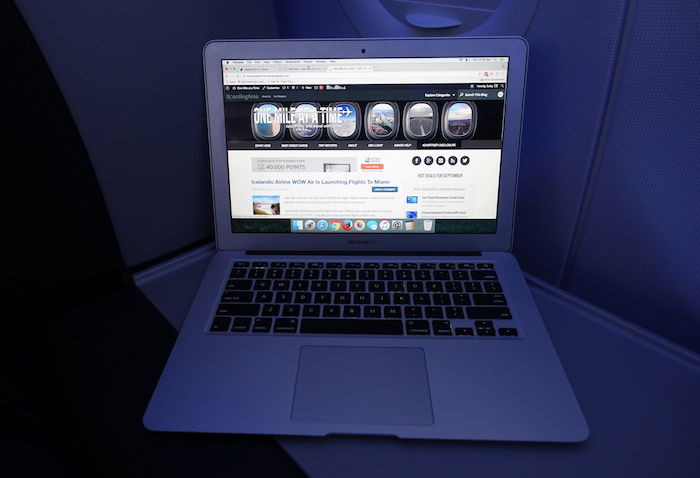 Bottom line
It's amazing how JetBlue manages to offer everyone free Wi-Fi, and then has a reasonably priced buy-up option for those who want high speed internet. Meanwhile on American I pay an outrageous amount for Gogo, and in reality I usually spend about half my time waiting for pages to load. I wouldn't even dare watch a video on YouTube or try to upload pictures on such a flight.
This is just another way in which JetBlue rocks, because this fast Wi-Fi isn't limited to their transcon planes, but rather is found throughout most of their Airbus fleet.