After a 25 minute cab ride from the airport, we made it to the hotel.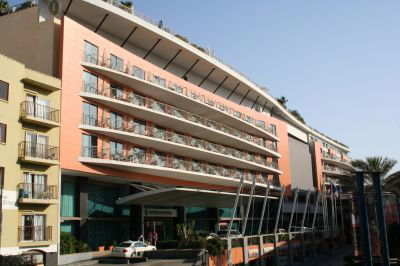 Hotel exterior
We proceeded to the check-in desk, where the agent directed us to the club lounge for check-in since we were staying on the club floor, and even got someone to escort us there since we had no clue where it was.
As a bit of background, we had booked a club room on a pretty good 2-for-1 rate, whereby you pay for a club room for a night and get another night free. Since we were staying for six nights we made three consecutive reservations. Each reservation was 257 Euro, which basically means around 130 Euro/night. not too bad, although still not great considering the exchange rate.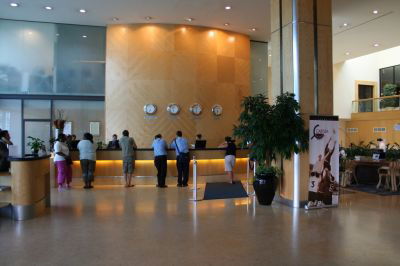 Lobby
The club lounge is located on the 15th floor, and check-in took about 30 minutes. Not exactly instant, but understandable since the agent wanted to make sure the welcome gift and extra bed were in the room before we got there. He said we were upgraded to a "suite," so I was curious to see what we were getting. In the meantime we had a drink in the club lounge since it was scorching hot outside and we were exhausted.
Since this was around 1PM, I was shocked by how full the club lounge was. It was by no means packed, but most club lounges have basically no one in them at that time. This place was bustling, so I was already fearing how it would be in the evening.
On the plus side they had an extensive drink selection (non-alcoholic) available all day, as well as three laptop computers that can be used in the club.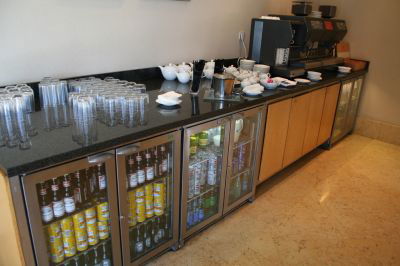 Drink selection available all day in the club lounge
The club also has a very nice terrace, although it's not incredibly practical in the middle of summer.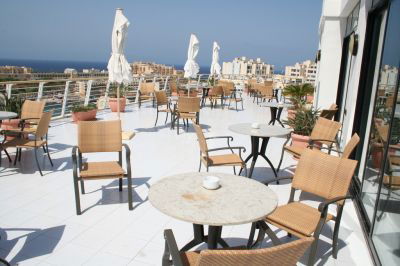 Terrace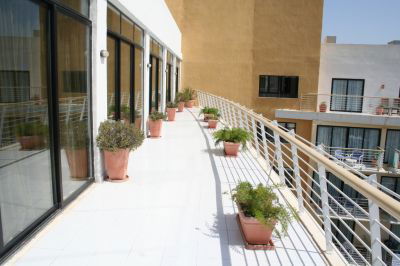 Side of the terrace
OK, now to the downside of the lounge — it lacks ambiance. I know I've been incredibly spoiled after experiencing the club lounges at hotels like the Conrad Hong Kong, IC Paris, IC Bali, etc., but this place just felt a bit like a living room in need of renovation, or maybe more like a Hampton Inn lobby. That might have something to do with the fact that the club is so huge, so I guess it might just be tough to give it any feeling of exclusivity.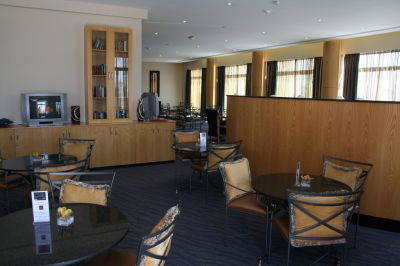 Club lounge dining area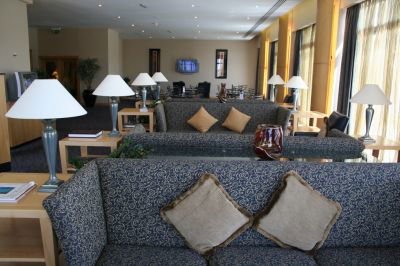 Club lounge sofas
Lastly, there were a lot of families with young kids that were running around the lounge.
Eventually our room was ready, which was on the 14th floor. We took the elevator down and after a pretty long walk down the hallway, made it to room 1440.
The room was a very junior suite, probably still a toddler. 😉 There was a small entrance hallway where the closet was. While you may not be able to see it from the picture, it is quite big and could even be considered walk-in.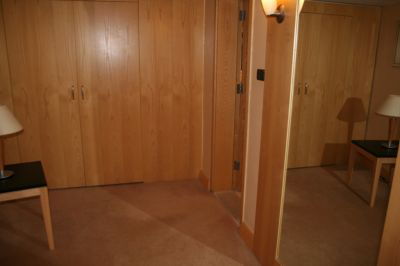 Entrance and huge closet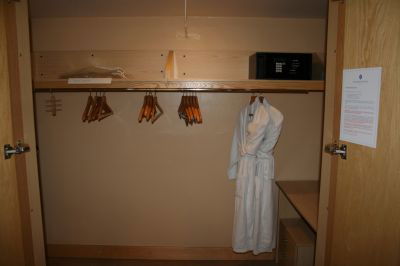 Inside of closet
To the right was the bathroom, which was a good size.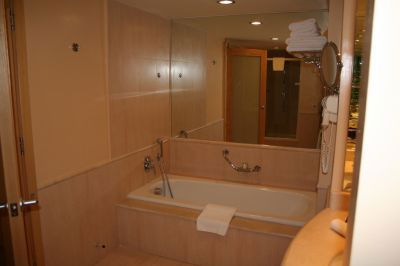 Bathtub

Shower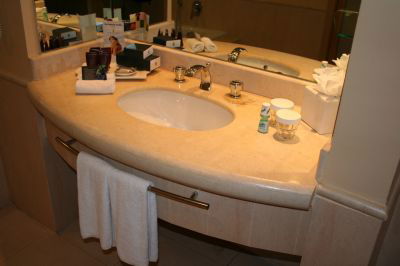 Wash area and amenities
To the left of the doorway was the room itself, which consisted of a nice couch, table, bed, and desk right near the balcony. Overall it wasn't a huge room and a bit of a disappointing upgrade, although the novelty factor of a suite has worn off for me a bit.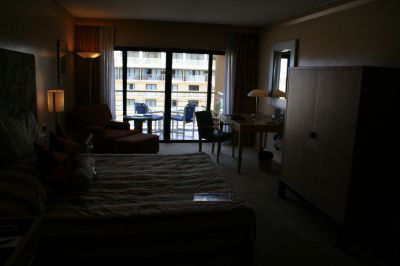 Room (pardon the awful lighting)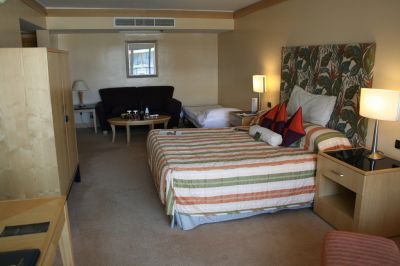 Room, looking inwards
The balcony was pretty small with just enough room for two chairs, but had a nice view.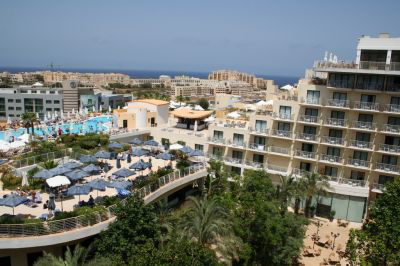 View from the balcony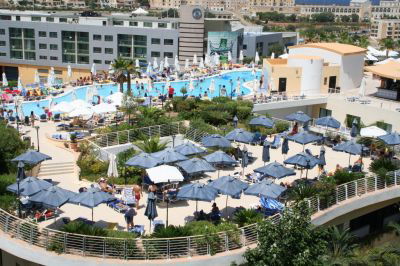 Pool from the balcony
And of course the most important part of any room as a Royal Ambassador: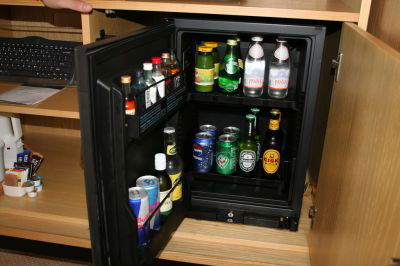 MINIBAR!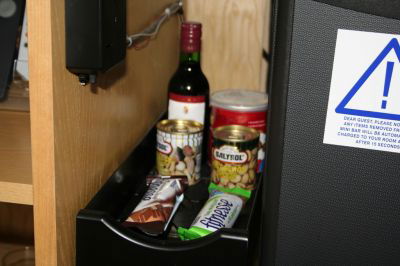 Snacks and red wine
I'm happy to report that everything in the minibar is free at this property, not just the drinks. We did a good job of depleting it for the most part every day, and thought it was pretty decent.
Last, but most definitely not least, the welcome gift, which was quite nice.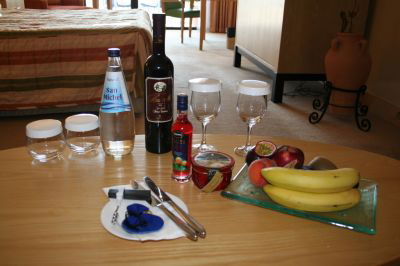 Welcome gift
Sadly none of it was touched (we only had carry-ons, so couldn't take any of the liquids), but I thought it was quite extensive.
There will be a separate installment about our actual stay in Malta, so don't expect too much on that in this post.
OK, time for more about the club lounge. It has the following hours:
Continental breakfast from 06.30 hrs to 11.00 hrs
Afternoon tea from 15.00 hrs to 17.00 hrs
Pre dinner drinks from 18.00 hrs to 20.00 hrs
Tea, coffee and non-alcoholic beverages are offered throughout the day
The breakfast selection was OK, definitely on the continental side. They had all kinds of breads, cheese, fruit, yogurt, scrambled eggs, and tomatoes. I did love that they had Nutella (YUM!), but at the same time there was no variety at all day-to-day. Truth be told we were always there the last 30 minutes that breakfast was served, since we were sleeping in due to the time change.
The afternoon tea was good, although I enjoyed what came with the tea more than the tea itself.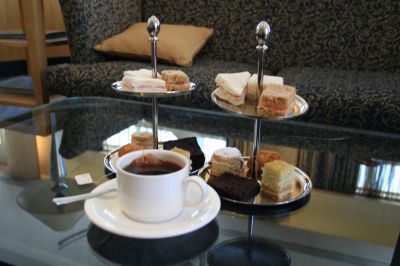 Tea and snacks
The evening selection was good, and all we ate five out of six nights. I just hate being screwed over with the Euro, so would much rather make the hotel worth it.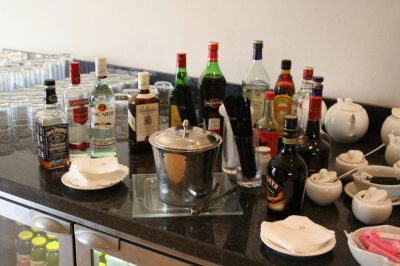 Drink selection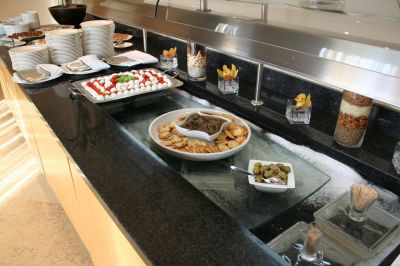 Snacks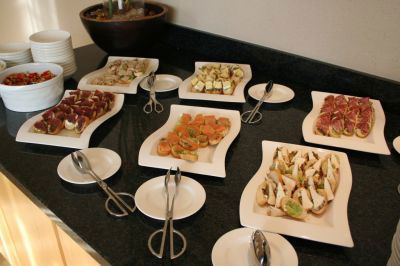 Snacks
A few more scattered thoughts on the hotel in no particular order:
The pool was quite nice, although always crowded.
The elevators really sucked. One elevator was down, so there was generally a 5-10 minute elevator wait and then an even longer ride, stopping on basically every floor. We didn't find any convenient stairs going to the club lounge, so often getting upstairs took quite some time.
The shower temperature fluctuated like crazy. Regardless of which setting one chose, the water would go from warm to boiling hot and back to warm over and over again.
One big plus is that the internet is free for club guests, although the way they do it is unnecessarily complicated. In the club lounge you have to ask for "internet tokens," which have a username and password valid for a certain amount of time. It ranged anywhere from one hour to 24 hours, and we went through at least a dozen of them. I thought that was pretty inconvenient. On the plus side because of this you can have two computers from the same room accessing the internet without paying extra.
The staff at the hotel in general was quite indifferent. While some were nice, I'm still having a hard time adjusting from Bali, where literally every employee I crossed paths with would say "good afternoon, sir" with a smile.
The biggest problem with the hotel is where it's located, in the heart of Paceville. I'll talk more about this in my next installment, but it's pretty much located right next to all of the clubs, bars, etc. Paceville is overrun by wasted 14 year olds, most of which are locals. You have the older drunks that are often on holiday as well, but the local population that seems to go out in this area was (without exaggerating) probably 14 on average. So walking outside of the hotel after 10PM can be both entertaining and sad at the same time, from 14 year olds doing stupid, drunk things, to making out on the street.
The InterContinental has a beach club located about five minutes by foot from the hotel, although I was a bit disappointed by the beach. It was made up of rock-type things, and not really sand, and it was very crowded. If you're looking for a beach vacation, go elsewhere!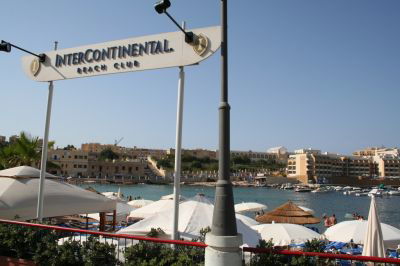 Intercontinental Beach Club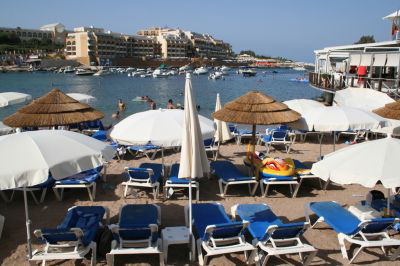 Beach club
Another nice touch was that every few days they'd put a bottle of water and some small snacks in the room. Nothing huge, but a nice (and tasty!) gesture.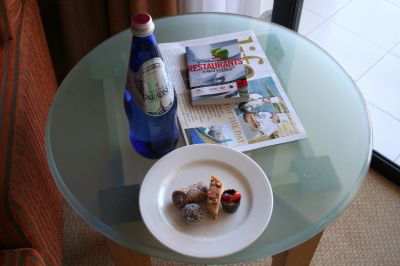 Snacks left in room
So would I return? Well, let me put it this way. If I were to return to Malta I would consider staying here just because the Royal Ambassador benefits are great, like the free mini-bar and upgrade. That being said, if I weren't an RA I definitely wouldn't. Also, I'm not sure if I really need to return to Malta. I'm happy to have seen it, but it's not a destination I really need to return to. More on that in the next post, but overall I give the hotel an indifferent review.