A much anticipated luxury Marriott hotel will be opening in less than a week…
Tokyo EDITION Toranomon opens October 20
The brand new Tokyo EDITION Toranomon will be opening on October 20, 2020. Unfortunately Japan's borders are closed to most, so it may be a while until many of us will be able to check out this property.
For those of you not familiar with EDITION, it's Marriott's reasonably new and fast growing luxury hotel group, which is essentially intended to be like Ritz-Carlton for a younger generation.
Here are some highlights about what we can expect from the property:
It will feature 206 guest rooms, including 22 suites
The hotel is in the Tokyo World Gate building, which is a 38 story mixed use skyscraper; the hotel occupies floors 31-36, and the lobby will span two floors
The hotel will feature several dining outlets, including The Blue Room (an all day dining restaurant), a lobby bar, a specialty restaurant (opening in 2021), and a specialty cocktail bar (also opening in 2021)
The hotel will feature a spa, swimming pool, and jacuzzi
It's located in Toranomon, so it's not far from the Andaz Tokyo Toranomon Hills
Here are some pictures of the new EDITION Tokyo: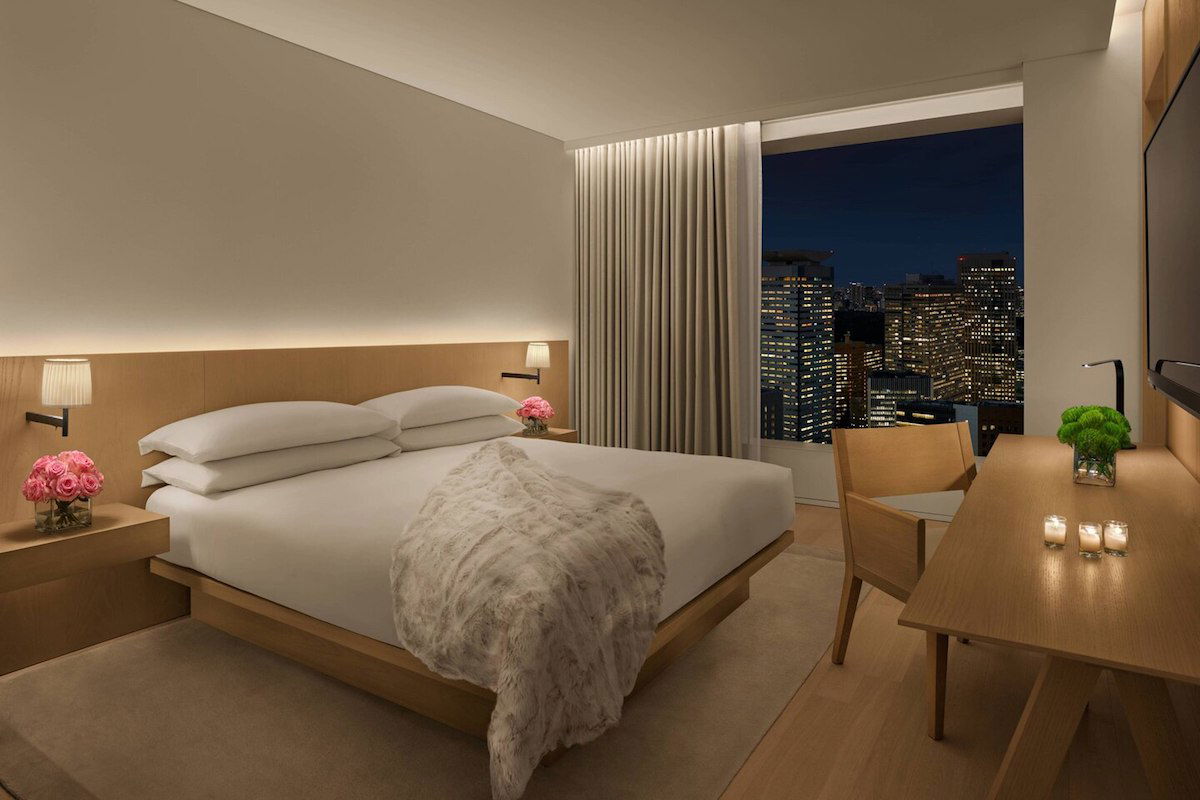 Tokyo EDITION guest room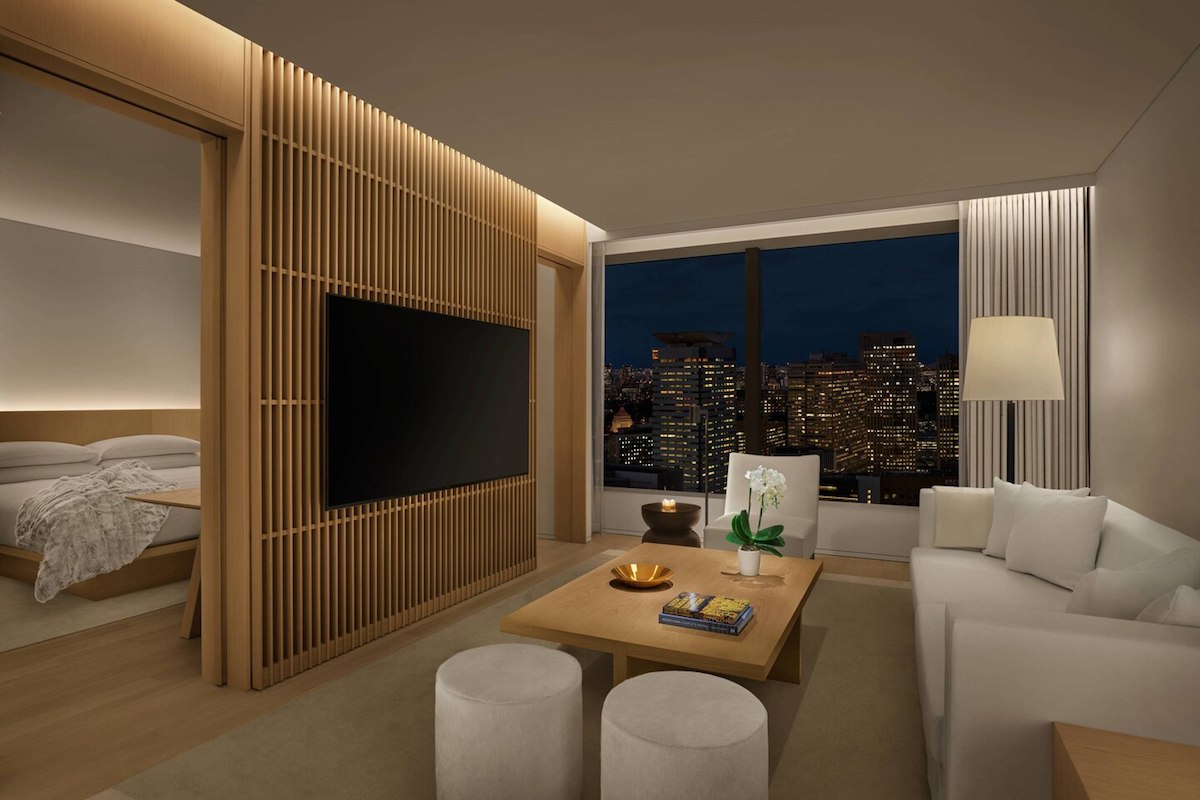 Tokyo EDITION suite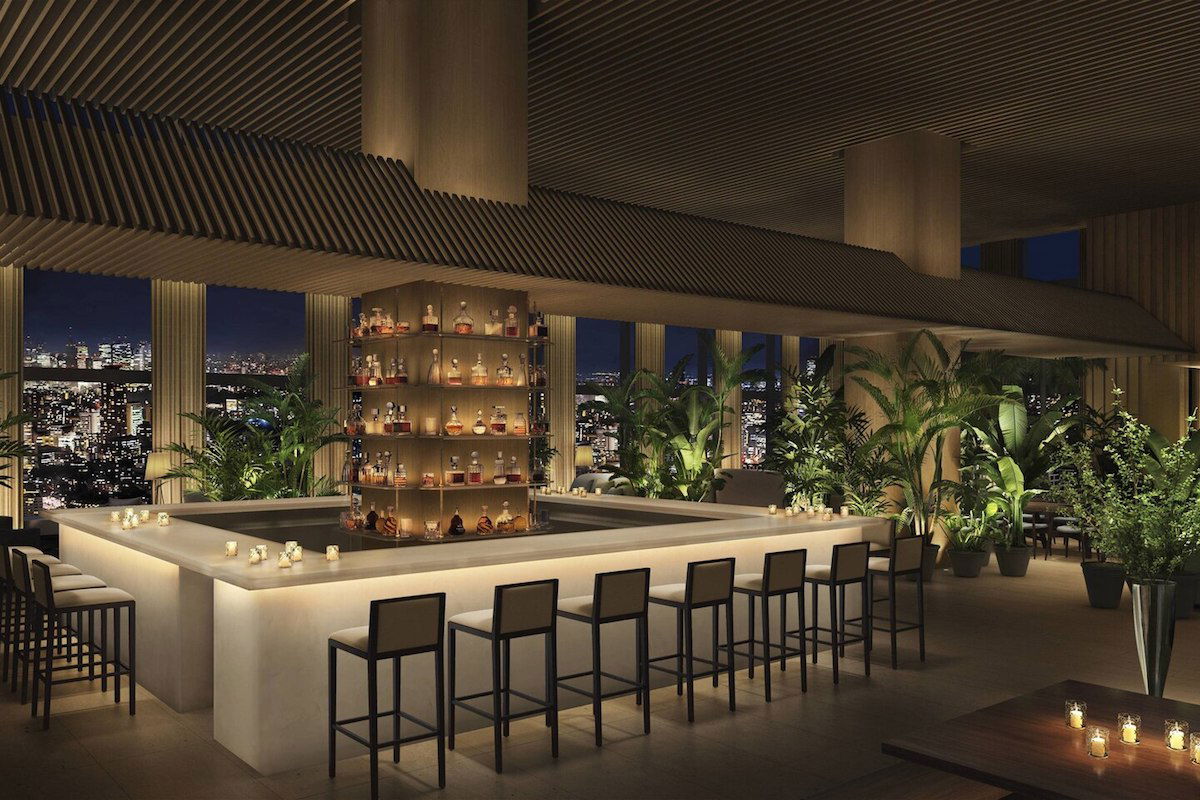 Tokyo EDITION lobby bar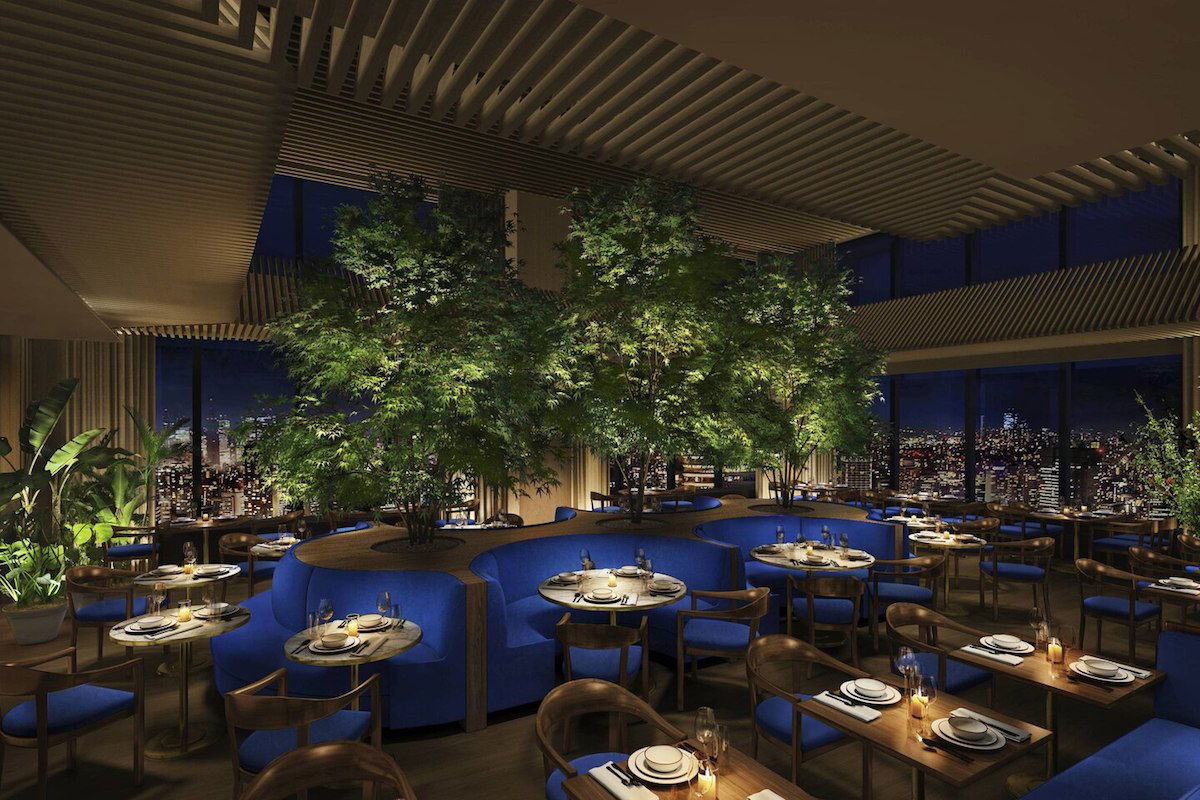 Tokyo EDITION all day dining restaurant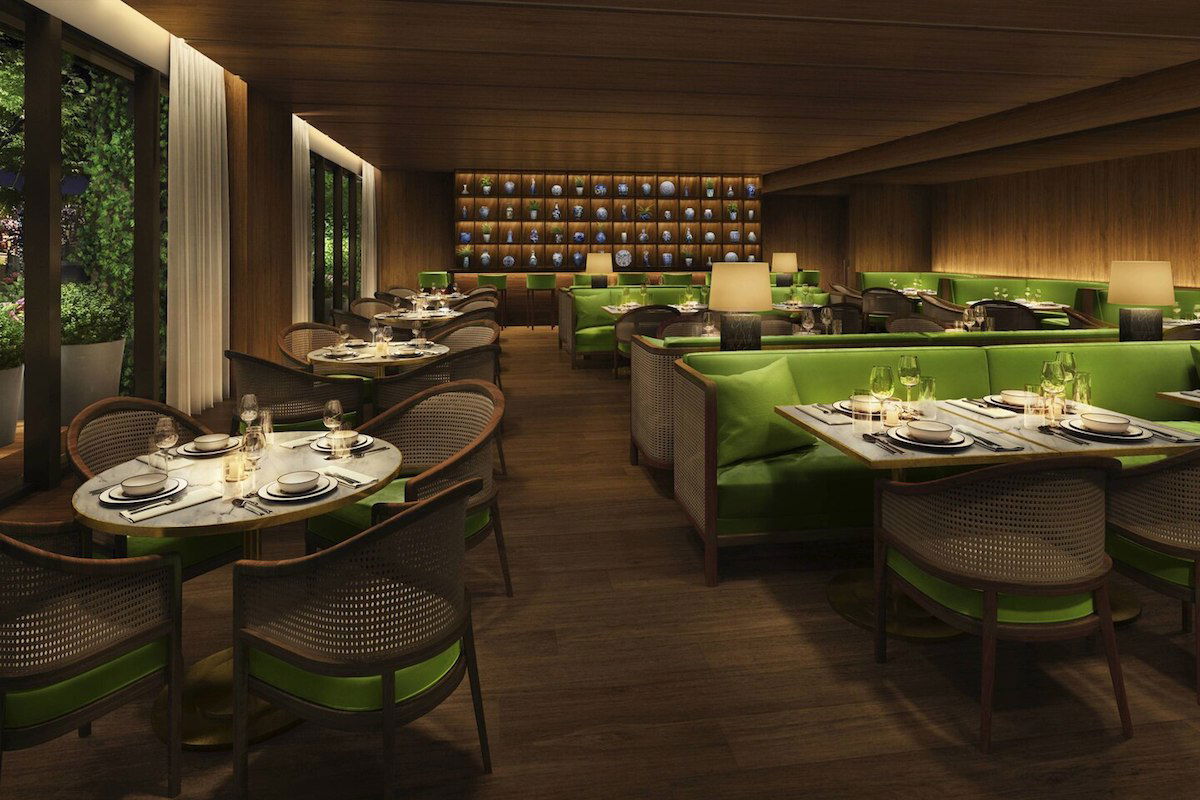 Tokyo EDITION specialty restaurant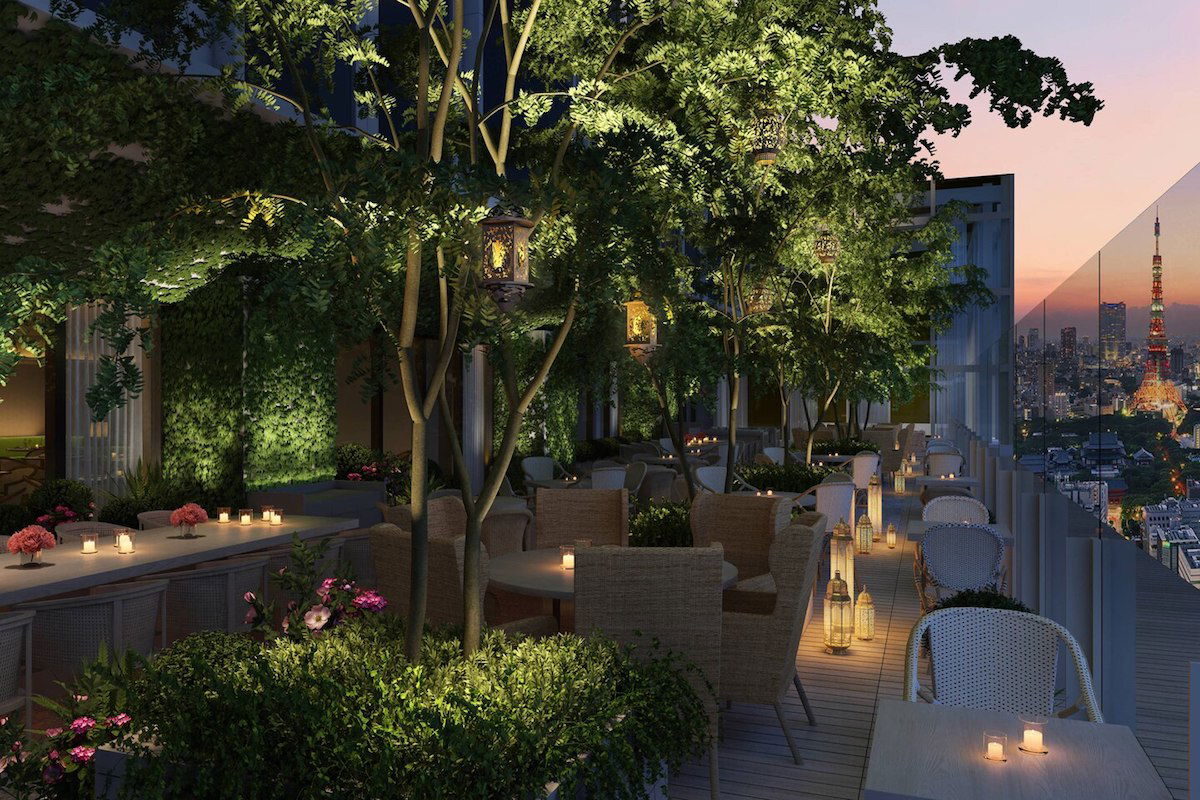 Tokyo EDITION outdoor dining
The most ridiculous press release I've ever read
While I love the EDITION brand as such, I've gotta say that the press release about the hotel is possibly the most pretentious, verbose, and outrageous word vomit I've ever read… and that's saying a lot.
For example, take the opening paragraph:
The premiere of The Tokyo EDITION, Toranomon represents a very delicate balancing act between the refined, elegant, simple and pure approach of Japan's culture, style and traditions and EDITION's passion, emotion, sophistication, perpetual subversion of the status quo and desire to break rules to create something entirely new and that has never been seen before. As a result of this unlikely combination, a new entity emerges out of these two disparate approaches whose sum is greater than its individual parts. This symbiosis is what makes the end result so magical. The Tokyo EDITION, Toranomon is a true bespoke, custom-made hotel embodying the best of the East and the best of the West. It defies categorization and simply cannot be placed into a box. It has its own unique and original identity.
Or in case you're not familiar with the concept of a lobby, here's how it's described in the press release:
The hotel's soaring public space was inspired by Buddhist temples and their structure, purpose and organization. They consisted of a central courtyard surrounded by various other structures, each with its own specific purpose. This central courtyard was used for ceremonies, gatherings, communal prayer and, in general, for people to come together and interact, congregate and create a community. It was a true communal space and experience. In much the same way and to achieve the same goal, The Tokyo EDITION, Toranomon's two-story lobby, over 450ft (140m) in the sky, is a centralized space that operates and functions not only as a new and modern gathering place, but is also meant to facilitate and encourage communal and social interaction in all of its forms. It is where the hotel comes to life with a palpable, high energy created by bringing a diverse group of people together from all over the world. Several eating, drinking, entertainment and other experiences, each distinctly different in both look and feel, radiate from the Lobby in the same manner as the peripheral buildings do in a Buddhist temple. Each of these eating, drinking and entertainment areas has its own individual reality, yet still feels like part of the whole, and each can be enjoyed separately or together all in one night. As with all EDITION hotels, lines blur between work and play, eating and drinking, talking and thinking, solitude and socializing.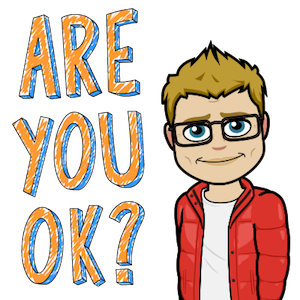 Folks, please, if you think I'm off base, please tell me. Someone please say "nope, actually that really inspired me, and now I understand what a lobby is," or something. Because I'll feel significantly more favorable towards this hotel if you just tell me I'm the one who is off base.
Redeeming points at the Tokyo EDITION
As you might expect, the Tokyo EDITION is a Category 8 Marriott Bonvoy property (the top tier), meaning a free night will cost 70,000 points (off-peak), 85,000 points (standard), or 100,000 points (peak). As usual, you get a fifth night free on award redemptions.
Currently the hotel has off-peak pricing loaded through the end of November, and then for the rest of the schedule it's always standard pricing. I guess this could be a good opportunity during the Olympics next summer, should that actually happen as scheduled.
Just keep in mind that EDITION is one of the brands (along with Ritz-Carlton) where Marriott Bonvoy Platinum and Titanium members don't receive complimentary breakfast.
Bottom line
It's exciting to see yet another EDITION opening shortly. In fairness, Tokyo is a highly competitive luxury hotel market, so I'm not sure this property will stand out all that much when you have so many great choices. Still, it's a solid opportunity for those looking to earn or redeem points.
EDITION is expected to open two more hotels in the coming months, in Reykjavik and Dubai. I'm particularly excited about the new Reykjavik property, given how few good hotels there are in Iceland's capital. On top of that, EDITION will actually be opening a second property in Tokyo, which could debut as early as next year.
Anyone excited to check out the new Tokyo EDITION?