Qatar Airways will be the next carrier to dispatch A380s on their longhaul routes, and announced back in April that their inaugural A380 flight would be from Doha to London on June 17, 2014. The plane would offer daily service between Doha and London on the QR3/QR4 service.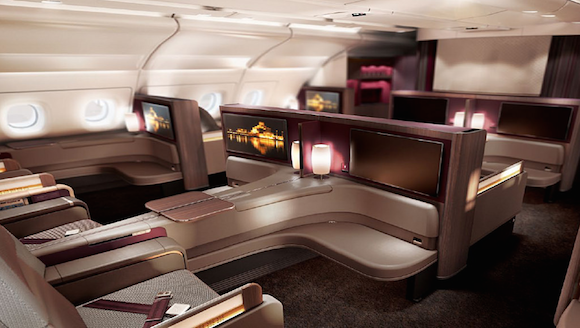 Qatar Airways A380 first class cabin
They then announced that the next A380 destination for them would be Paris, with A380 service on that route inaugurating on July 3, 2014.
I booked the inaugural London Heathrow A380 flight in first class, using a reasonable paid first class fare out of Cairo. I figured it would be a good chance to write one of the first reviews of their first class, and also to maybe meet one of the most confident guys in the airline industry, His Excellency Mr. Akbar Al Baker (I figured with near certainty he'd show up at the inaugural to "show off" his plane).
Well, while there hasn't been an official announcement, it does appear as if Qatar Airways has delayed their A380 launch.
I was booked on the June 17 inaugural flight, which now shows as a 777-300ER, and doesn't even feature a first class cabin. The first date with A380 service now shows as July 1, 2014, once again on the QR3/4 service.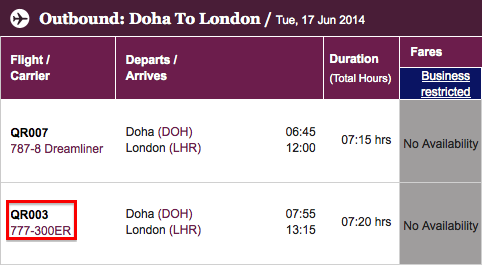 Interestingly the Paris A380 launch hasn't been delayed (yet), and still shows as an A380 for July 3, 2014.
I find it really embarrassing that they announce an inaugural route just seven weeks out, and then delay it further. Especially since the A380 has already been delayed quite a bit due to the delayed opening of the Hamad International Airport.
But I'm sure His Excellency will chime in soon with an explanation. My guess? "I told Airbus almost three weeks ago that I wanted to install a third floor private villa with falcon quarters, and they told me it would take at least six weeks. This is ridiculous, what am I suppose to tell the royal family?" Or something like that. 😉