I asked you guys what you'd like to read about, so this post is in response to a question posted there. I'll address as many of the questions as I can in the coming weeks. Feel free to keep adding to the list and I'll use it as a basis for future posts.
Reader Dave Op requested the following:
A re-cap of the connection (stopover) rules if using points. I know this is probably somewhere in your post. Maybe an update of the previous write up.
To keep things simple I'll address this as it pertains to international transoceanic award tickets.
Stopovers and open jaws are one of the best ways to maximize award tickets. So let's recap the stopover and open jaw rules of the four (soon to be three) "major" US carriers. For those of you not familiar, a stopover, as the name suggests, is when you stop in a city enroute to your destination. Any stop of less than 24 hours along the way at an international city doesn't count as a stopover for the purposes of an award. There's no limit to how long your stopover can be, aside from travel having to be complete within the validity period of the ticket, which is one year from the date of issue.
An open jaw is when you fly into one city and out of another. For example, say you're flying from the US to Asia and want to fly into Singapore and return out of Bangkok. That would be considered an open jaw, as illistrutated below.
With that in mind, let's break it down by airline:
American
American allows a stopover only at the North American transoceanic gateway city. That's defined as the city at which you board your transoceanic flight (or if we're going to get technical, in the case of a flight marketed as a "direct" flight, that might not be the city at which you actually "take off" on your transoceanic flight).
All American awards are priced as one-way tickets, so you're allowed a stopover at the North American transoceanic gateway city in both directions. So for example if you're traveling from New York to Hong Kong via Los Angeles in one direction and San Francisco in the other direction, you could stop over in both cities (I feel dumb using the arrows, but I couldn't resist) since they're you're transoceanic gateway in both cities.
You can have layovers of up to 24 hours enroute, but no other stopovers are allowed. Since awards are priced as one-ways there's no need for any open jaws, since that only applies in the case of a roundtrip.
Delta 
Delta allows one stopover of more than 24 hours AND one open jaw per roundtrip award ticket. So for example if you're looking at traveling from Los Angeles to Australia you could route via Guangzhou on China Southern on the outbound and have a stopover there for a few days. Then you could fly into Sydney, and let's say you wanted to return out of Brisbane as you'd make your way between Sydney and Brisbane via ground transportation. That would be possible on a single roundtrip award.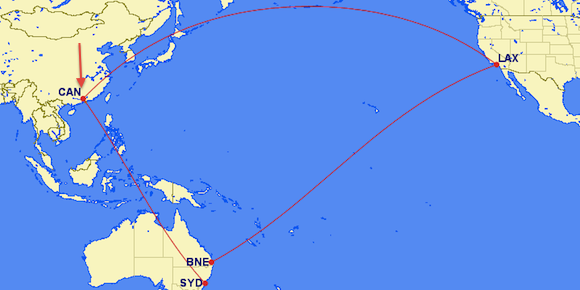 United
United is probably the most generous of the bunch in that they allow a stopover and double open jaw on a roundtrip award ticket. What that means is that you can start and end your trip in different places (for example, start your trip in Chicago and end it in Newark), and fly into and out of different cities at your destination (for example, into London and out of Athens), while still having a stopover (as illustrated below, you could have a stopover in Madrid on your return from Athens to Newark). This is extremely generous as most other airlines would consider two open jaws to simply be two one ways, which doesn't entitle one to a stopover. But with United you get the best of both worlds.
US Airways
US Airways allows either a stopover or an open jaw, but not both. The added restriction is that the stopover has to be at either a US Airways transoceanic gateway city (in other words, at one of their international destinations) or at a Star Alliance hub. I find they're somewhat loose with enforcing the Star Alliance hub rule, mainly because many US Airways agents don't know the Star Alliance hubs, especially for countries they're not familiar with. In other words, every city in Japan is an ANA hub, every city in South Africa is a South African Airways hub, etc.
So for example you could fly from Philadelphia to Munich and then return back to Philadelphia with a stopover in Paris on the way back. Alternatively you could forgo the stopover and fly into and out of different cities at either your origin or destination (for example, out of Philadelphia and return to Charlotte, OR into Munich and out of Paris).
Any questions/comments?