South African Airways has been in a terrible financial situation for a long time. The airline has been losing money for seven years, and there are no signs of that changing. While South Africa should be a big aviation market, the airline has an inefficient fleet, an inefficient route network, and there are also reports of a lot of corruption. The airline has gone through seven CEOs in the past five years, which gives you a sense of the situation they're in.
As I wrote about last August, SAA had missed several payments to creditors, including an 18 million USD loan that a bank wanted immediate repayment on. On top of that, Hong Kong's registrar of companies wanted SAA's financial documents, but they knew that if they submitted those, their rights to serve Hong Kong would be withdrawn. Yeah, it's that bad.
The airline even took out an ad in a newspaper asking for long term funding.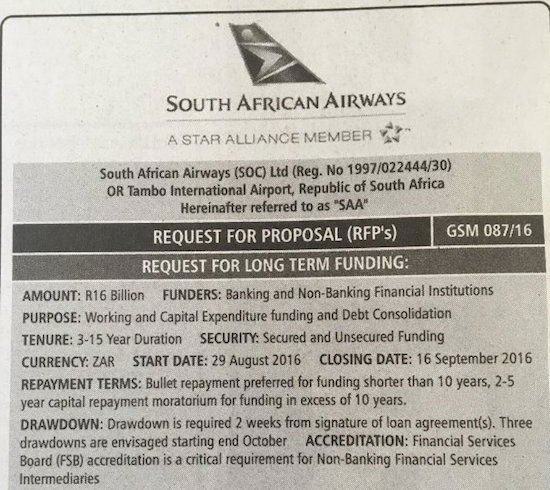 It has been almost a year since I last wrote about SAA's situation, though it looks like things are no better. Today the BBC has a story about SAA's dire financial situation. Per the story:
Last month, the Treasury paid out £125m to settle a loan from Standard Chartered Bank' which the bank had refused to extend.

South Africa's Finance Minister, Malusi Gigaba, has disclosed that SAA asked the Treasury in March for a £560m recapitalisation. He is expected to give an answer by October.

Alf Lees, the deputy finance spokesman of the opposition Democratic Alliance, said: "Essentially they are insolvent and should have filed for liquidation.

"We believe that the directors are in breach of the South Africa companies act by continuing to trade recklessly knowing that SAA will not be able to meet its financial commitments and without any guarantee that the shareholder (the South African government) will be prepared to continue to bail them out."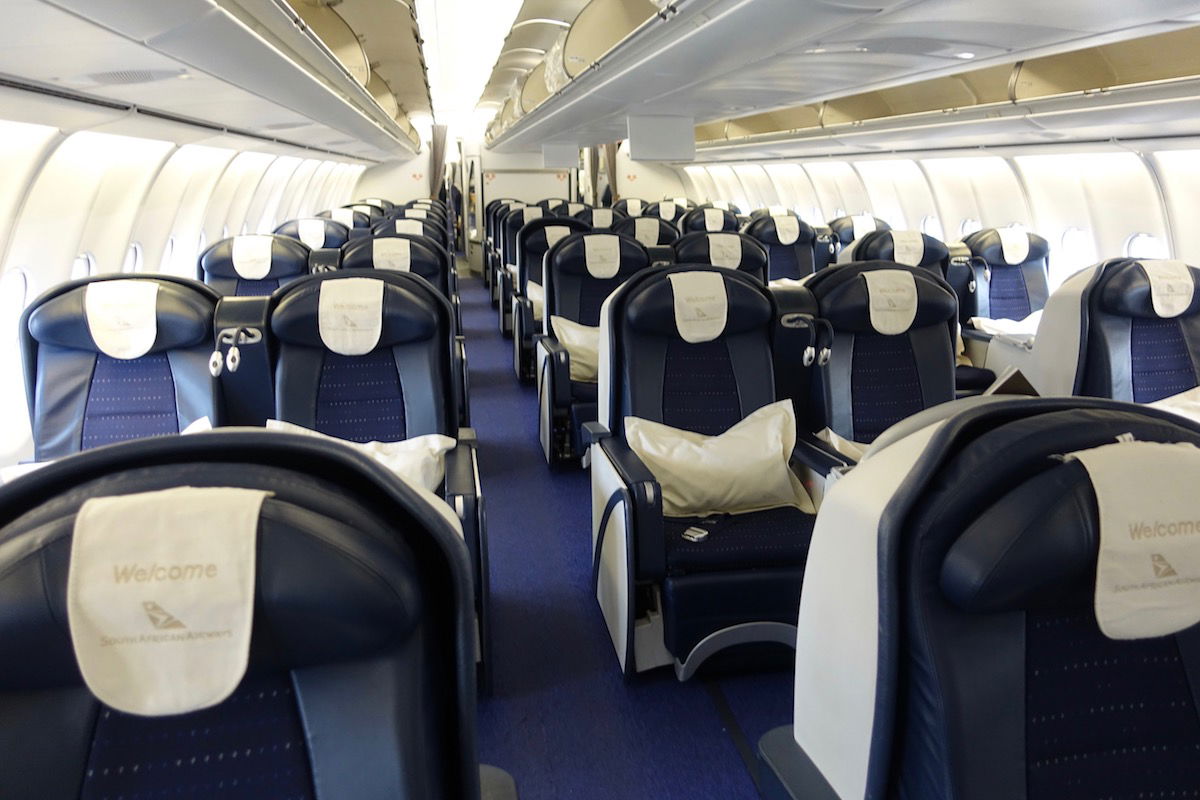 South African Airways' A340 business class
On top of that, the cabin crew and mechanic unions are threatening to strike over pay, which could cause even further issues for the airline.
We'll see how this all plays out, but it sure seems like South African Airways is basically having the same issues as Alitalia. On one hand the country needs a global airline, though on the other hand, in its current form the airline will just keep losing money. I'm not sure they'll be able to make any radical changes without failing fully and starting over.
For now I'd feel pretty comfortable still booking tickets on SAA. It seems that the government hasn't totally given up yet, and for the time being will keep supporting the airline, even if it isn't going anywhere.
But I'm afraid South African Airways' path to profitability is probably very similar to Malaysia Airlines'. If they're not going to liquidate, the airline needs to shrink its way to profitability, rather than grow. It seems like they're best off forming a joint venture with a Gulf carrier and focusing on a strong regional route network, rather than trying to compete on longhaul flights, where they have a significant disadvantage. This is similar to what Emirates and Qantas have done, which has worked out brilliantly for both airlines.