Yesterday I posted about media reports that suggest South African Airways might be on the brink of liquidation. They've been in a horrible financial situation for a long time, and have gone through seven CEOs in the past four years. The airline has an inefficient fleet and route network, and has been mismanaged far beyond those challenges.
Unless the airline wants to shrink into profitability, it's going to take a lot to turn the airline around, including quite a bit of capital.
Well, it looks like South African Airways is trying to raise that capital… by taking out newspaper ads.
The airline took out an ad in a South African newspaper today casually asking for a 16 billion Rand loan, which equates to about 1.1 billion USD: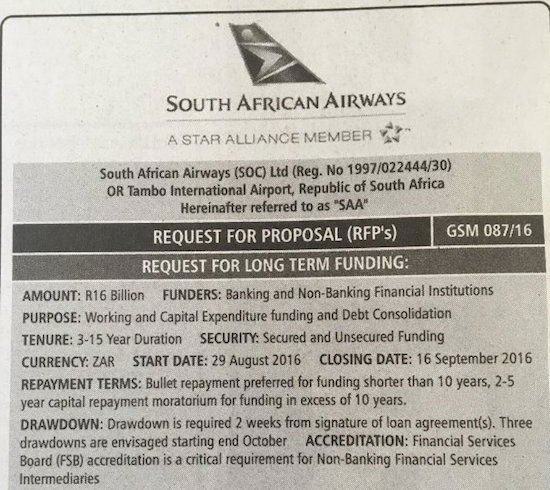 Well, I guess that's one way to raise money. If anyone has over a billion dollars they have no use for that they're looking to set on fire, this offer is for you. On second thought, email me first — I'll put the money to better use! 😉
(Tip of the hat to @Avuxeni_)