In the interest of full disclosure, OMAAT earns a referral bonus for anyone that's approved through some of the below links. These are the best publicly available offers (terms apply) that we have found for each card. Opinions expressed here are the author's alone, not those of the bank, credit card issuer, airlines or hotel chain, and have not been reviewed, approved or otherwise endorsed by any of these entities. The information and associated card details on this page for cards issued by American Express National Bank has been collected independently by One Mile at a Time and has not been reviewed or provided by the card issuer. Please check out my advertiser policy for further details about our partners, and thanks for your support!
Silvercar is an innovative car rental company that has been around for a few years now, and which I'm a big fan of. Personally I've always found the car rental experience to be unpleasant, though Silvercar has changed my perception of that.
As much as I love Silvercar, I don't rent cars often. That's because in a vast majority of cases I find it cheaper and more pleasant to just use Uber whenever possible, so I don't have to worry about parking, damage, etc.
However, last month I found myself in Florida and needed to do plenty of driving (including visits to Orlando, Tampa, St. Petersburg, and Sarasota), so I decided that renting a car — and specifically, a Silvercar — made the most sense.
Booking my Silvercar
Silvercar isn't cheap, though personally I find the premium they charge to be worth it. The great news is that you can almost always score a discount on a Silvercar rental, so the rate you initially see isn't the rate you'll end up paying.
For my four day rental the standard rate was $49 per day, or $246.10 including all taxes and fees. However, for having a Visa Infinite (like the Chase Sapphire Reserve® Card) you get 30% off any rental of two days or more, so that brought down the cost to $35 per day, or $177.21 for the entire four day rental, which comes to ~$44 per day all-in.
I also had rental coverage with my Chase Sapphire Reserve® Card, which is another way that the card added value.
Could I have gotten a cheaper rental elsewhere? Absolutely. Given that I'd be spending at least a couple of hours per day in a car, I'd gladly pay this premium for a much better rental experience.
First time renters can save even more
If you haven't yet rented from Silvercar, they have a generous referral program, where you can get $25 in cash after your first rental if you're referred by an existing customer. If you enter my code, BSCHLAPPIG, at the time you sign-up for Silvercar, you'll get that after your first rental (and I'll get the same). Just go to the top right of silvercar.com and click on "sign-up," and then enter your email address and password. Once your email address has been verified you can log-in and enter the above referral code.
You can stack this with the Visa Infinite 30% off deal.
What makes Silvercar unique
There are several features that make Silvercar unique. The individual benefits will be of varying importance to different renters, though I find the combination of them to be quite valuable. Included with every rental is:
GPS
Satellite radio
A "fair refueling plan" (if you don't want to fill up the tank yourself, bring it back however full you'd like and they'll refill it at market price, plus a $5 fee)
Tolls are automatically charged to you, so you don't have to worry about how you'll pay for tolls, which is especially useful in Florida
My Silvercar rental experience in Orlando
I received a text from Silvercar on the day of my rental welcoming me to Orlando, and saying I could just text them when I arrive. Otherwise the app has instructions of how you can let them know you're ready to go.
Silvercar picks up on the ground transportation level (one level below baggage claim), and specifically, at section B11, for "off-airport rental cars."
We were picked up in a mini-bus, though the guy picking us up said that when they're less busy they just pick people up in a Silvercar. In this case it was a busy night, as they were picking up another five people.
One of the things to be aware of about Silvercar is that they often have off airport locations, and they aren't terribly forthcoming about that. However, I've found their shuttle service to be efficient, so that doesn't bother me.
Within five minutes we were at their facility, which is in a parking lot behind a strip mall.
While they had a bunch more Audis in the back, they had seven specifically lined up for anyone who is just arriving.
Silvercar uses technology brilliantly, so you can choose your car and unlock it using their app. You just have to present the attendant with your driver's license, and once they verify it, the ability to pick a car is unlocked for you.
You unlock the cars by scanning the barcode on the front left window of the car. When you do that you can also see the mileage, in case you want to pick your car based on that. I picked the lowest mileage car of the seven, though they all had 7,500-10,000 miles on them.
Once you unlock the car you'l find the key inside the car already, and then you're ready to go.
The car was exactly what you'd expect from an A4. No, it's not a Porsche, but it's a comfortable, safe, and durable car that's fun to drive.
I had a great time driving the car around Florida for four days, and then returned the car back to the facility in the evening. This time I saw that they also had a bunch of Q5s. Silvercar recently added these to their fleet, though when I booked they weren't an option. These are great for anyone who is traveling with a larger group or a family.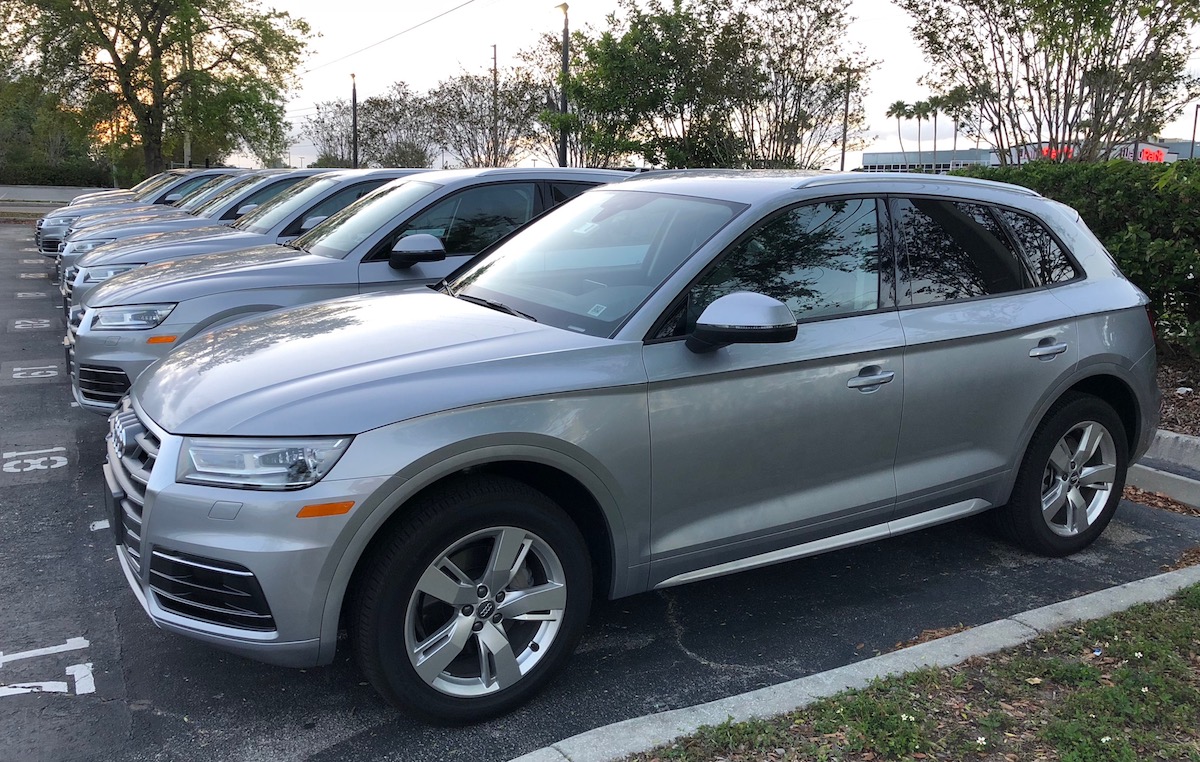 I was greeted by the same attendant when returning my car that I had when I first picked up my car. I was staying at an airport hotel, and while the shuttle service is technically only to the airport, he offered to drive me to my airport hotel, which I thought was nice.
Bottom line
While I generally shy away from renting cars, Silvercar is as good as it gets on that front. Let me acknowledge that many people have good luck with National and other car rental companies, using their "Emerald Aisle," where you can pick from a few different cars. Maybe I just need to understand car rental programs better, because I never seem to have a good experience.
That's what I love about Silvercar. I know exactly what I'm getting every time, and I love that consistency. You can get cheaper rentals elsewhere, but I find the premium that Silvercar charges to be worth it, especially when you use a promotion code (which you should be using on just about every booking).
If you've rented from Silvercar, what was your experience like?