Link: Search Etihad Airways award space
In 2011, Etihad Airways began partnering with American. This was really exciting news, since it meant it was possible to redeem American AAdvantages miles for travel on Etihad Airways. Not only do they have great first class and business class products, but they have excellent award availability as well, including in premium cabins.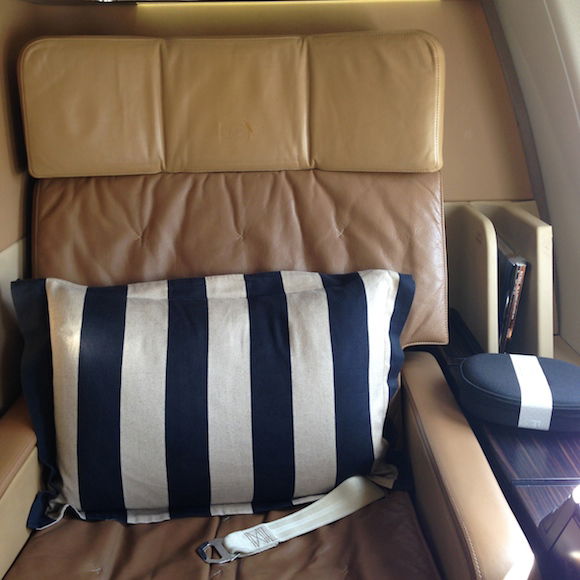 Etihad Airways A340-500 Diamond First Class seat
One question I'm often asked is how to search Etihad Airways award space, in particular for those trying to redeem American AAdvantage miles.
The best place to search Etihad Airways award space online is directly on their website, using their online award search tool. Unlike in the past, you don't need an Etihad Guest account in order to search award space.
If you want to access their search tool directly from their homepage, just click on Etihad Guest (along the top of the homepage) >Spend Miles > Reward flight > "To book with Etihad Guest Miles, click here." Or you can just follow the link I provided. 😉
Once you're on the search page, just enter your origin and destination, dates, and desired class of service.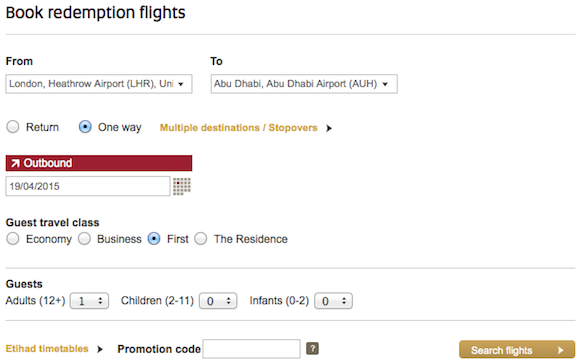 The results page will show you different levels of availability. There will be "GuestSeat" availability and "OpenSeat" availability. Assuming you want to redeem American miles, there must be GuestSeat availability.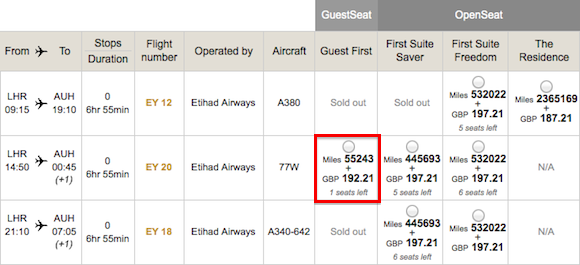 So for first class you need "Guest First" availability, for business class you need "Guest Business" availability, and for economy class you need "Guest Economy" availability.
If you want to search for availability across a wide range of dates, the best you can do is look at the "scrolling" calendar along the top of the page. You'll see mileage costs displayed. You can easily see whether there's saver space available based on how many miles are listed for each date. If a date lists 55,243 miles (in this case) as being needed then there's Guest First availability, while if it lists 451,873+ miles as being needed, that means there's not Guest First availability (instead there's just OpenSeat availability).

Keep in mind the mileage costs shown are what you'd pay if redeeming Etihad Guest miles. If you're redeeming American miles, you would pay based on the AAdvantage award chart.
What if Etihad's website shows space but American can't see it?
First of all it's worth noting that as of the time of this posting (June 4, 2014), American can't access Etihad Airways award space, as their systems are having trouble communicating. So no matter what you can't redeem AAdvantage miles for travel on Etihad Airways as of now.
Once it's fixed, what if an AAdvantage agent can't see Etihad award space? There are two possible explanations:
Sometimes there's a discrepancy in availability. There's no way to predict it, but once in a while American can't see Etihad award space, and there's nothing that can be done to fix that.
Sometimes agents just aren't competent. If you see award space on Etihad's website and American doesn't see it, this is the most common reason. Some agents just don't look up award availability correctly, so if you call and an agent tells you there's no space, just try hanging up and calling back. If you call a few times and they still don't see the space, then assume it's not actually available through American.
As a reminder, Etihad Airways' award fare buckets (including when booked through American) are as follows:
First Class: O
Business Class: I
Economy Class: N
So if an agent can't see space, it can't hurt to double check and make sure they're searching the correct fare buckets.
Hopefully that rundown helps, and hopefully American will soon get access to Etihad award space again.