---
As I explained at the time, this was all a spur of the moment decision. My original plan was to fly to Northern Europe, but when I woke up in the morning and saw that La Compagnie was actually selling tickets for a flight to Newark that day, I couldn't help but book.
So I literally booked my flight, booked my train ticket to Paris, showered, and hopped on a train to Brussels Midi station, where I was picking up a direct TGV train to Paris Charles de Gaulle.
For what it's worth, the direct train between Brussels and Paris Airport cost 48EUR in second class or 69EUR in first class. I decided to book first class, thinking there would be more to review that way. After all, I figured there would be hot towels for me to critique, food for me to call "delicious," and toilets for me to snap pictures of.

I have fond memories of train travel growing up. I'd spend my summers in Germany with family, and in addition to visiting family my parents would always make a point of going somewhere new in Europe each year. So I remember taking the Thalys train one summer, and how much I enjoyed it. Of course this goes back eons, like in the days when Enya's "Only Time" was a hot new hit on the radio in Germany (admittedly German radio is about five years behind the "hits" compared to the US — I'm pretty sure Nickelback is most popular there right now — but I digress).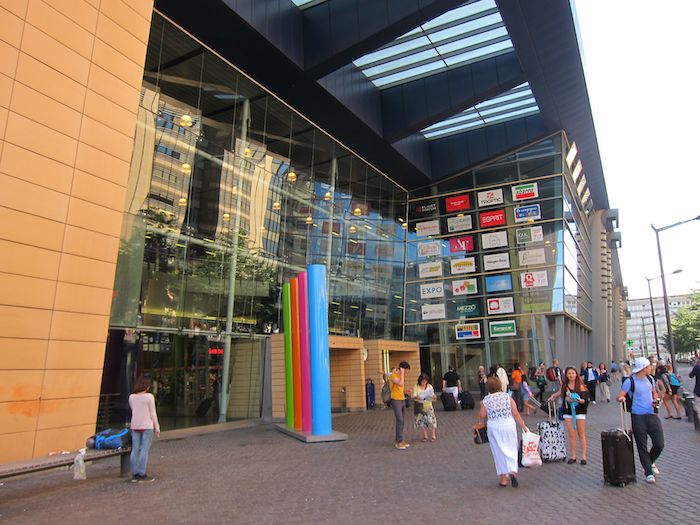 Brussels Midi train station exterior
Anyway, Brussels' Midi station isn't the most architecturally impressive, though is very practical, since it has direct service not just to Paris, but to Charles de Gaulle. Can't beat that! The service took just 1hr36min, departing at 12:17PM and arriving at 1:53PM.
While I had booked my reservation online, it seemed like I actually needed to pick up my ticket, which seemed a bit odd. If airlines can do online check-in, why can't trains? You'd think just showing an email confirmation of the ticket would do the trick, no?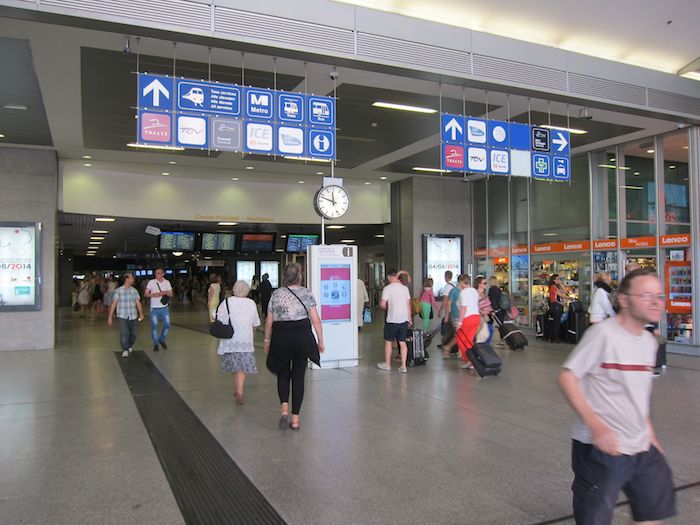 Brussels Midi train station

I had a bit of an issue figuring out where to pick up my ticket. I'm not really familiar with European train branding, and was thinking I should be looking for a TGV counter, but apparently that wasn't the case. Instead I queued at what seemed to be the main ticket office line, though as it turned out that was only for domestic train journeys.
I did eventually find the correct office, where I had to wait for about 10 minutes.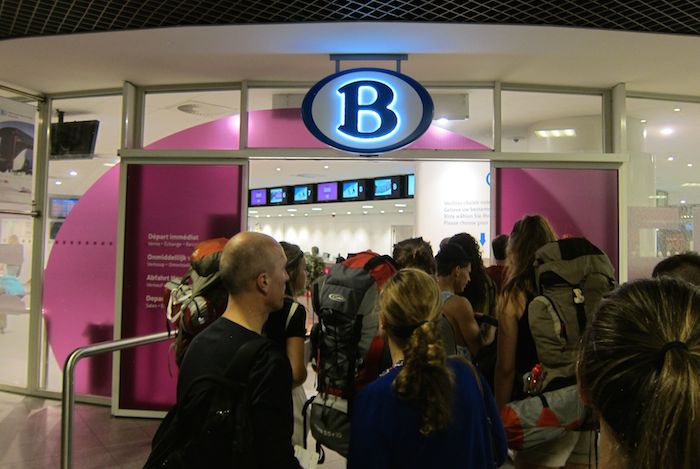 Brussels Midi train station ticket counter
Once it was my "turn" I picked a ticket, like you would at the deli counter of a supermarket, and was called up shortly thereafter.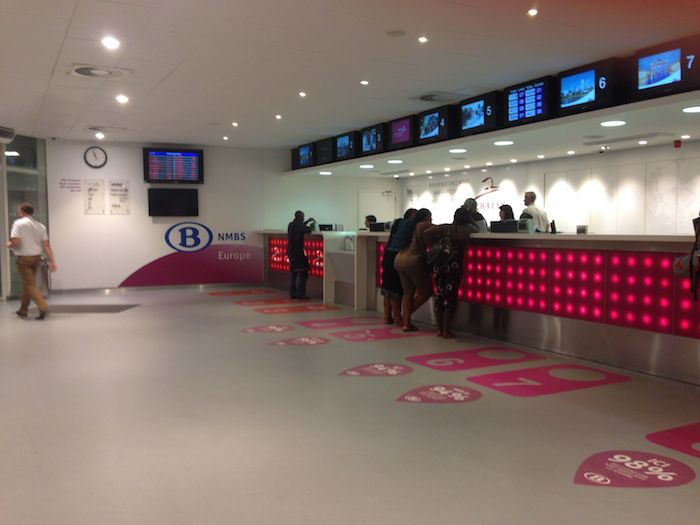 Brussels Midi train station ticket counter
With my ticket in hand I headed to track four, where my train was departing from, with about five minutes to spare.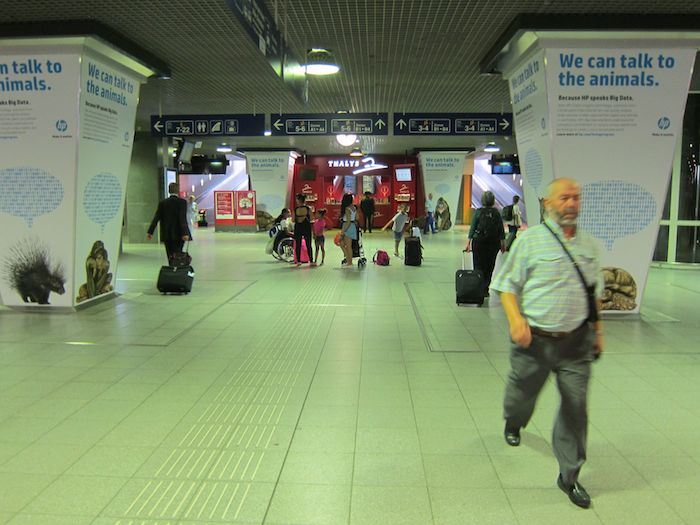 Brussels Midi train station

While I knew the train was fast, it sure didn't look especially sexy. It had nothing on Thalys or the Japanese bullet trains.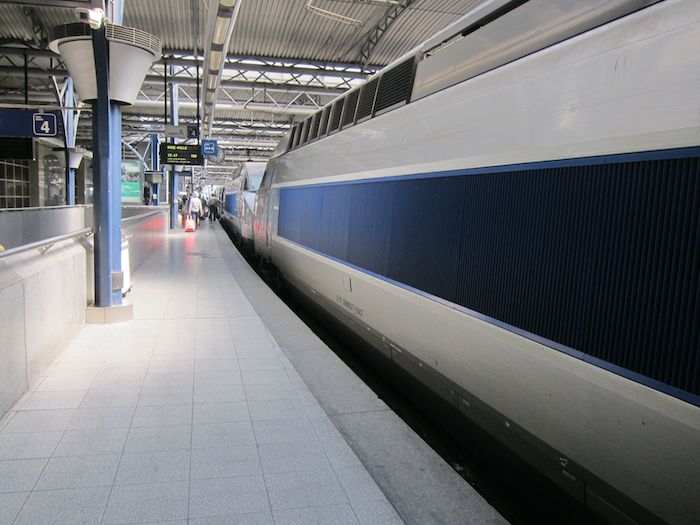 TGV train Brussels Midi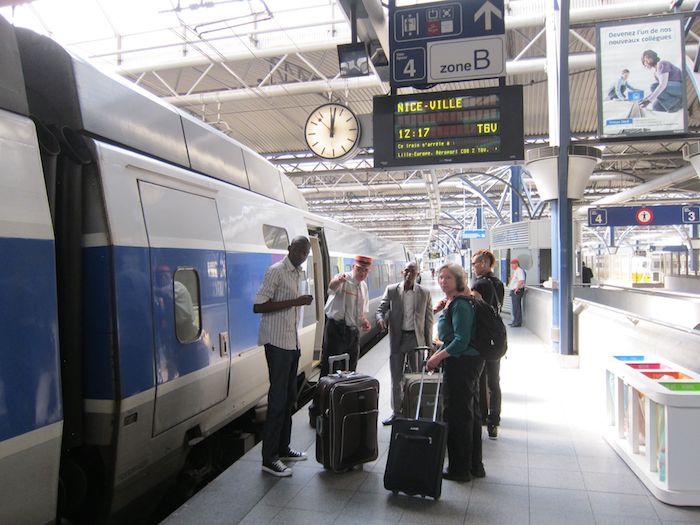 TGV train Brussels Midi
"First class" consists of seats in a 1-2 configuration, as opposed to a 2-2 configuration. Stupidly I didn't actually select a seat in advance, so I was in a window seat on the two seat side.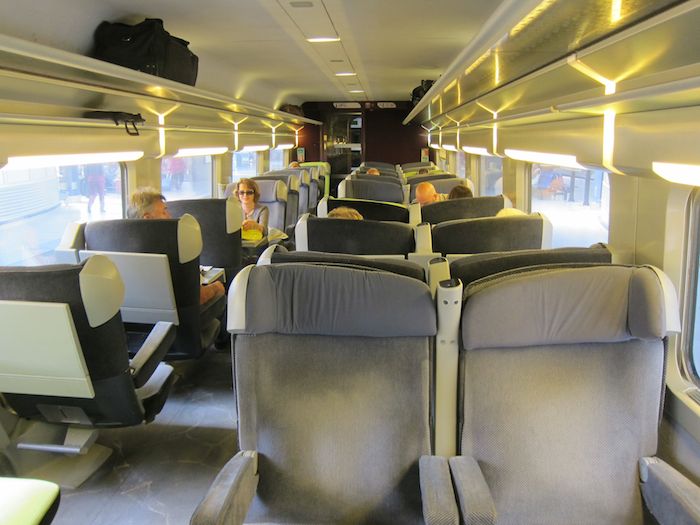 TGV train first class carriage
The seat was well padded and comfortable. I'd say legroom was a bit better than what you'd get in domestic first class — maybe 40″ of pitch total.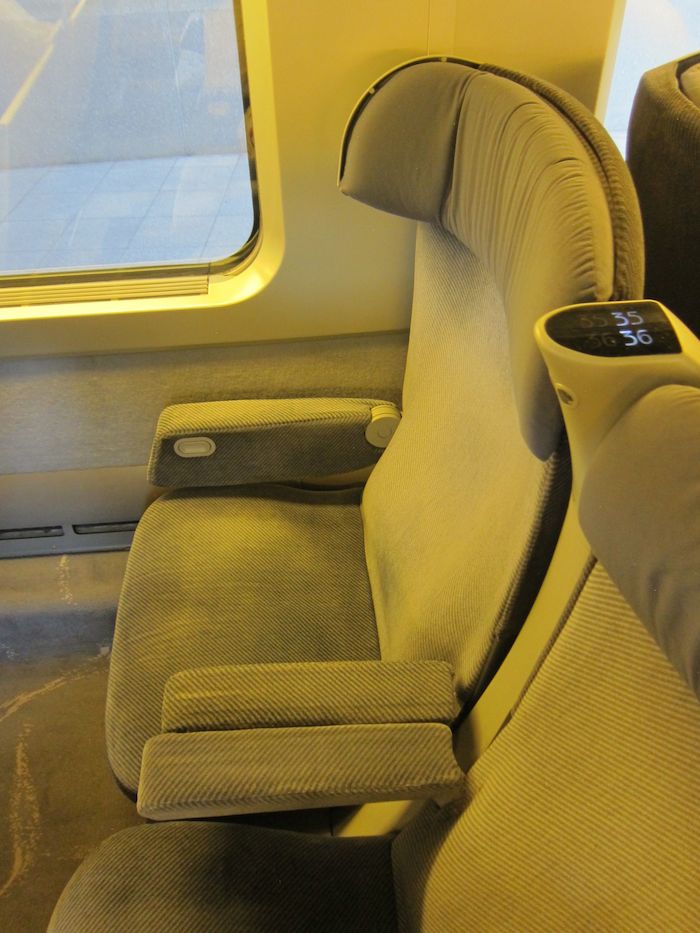 TGV train first class seats
There was a tray table and power outlet, though that was the extent of the amenities.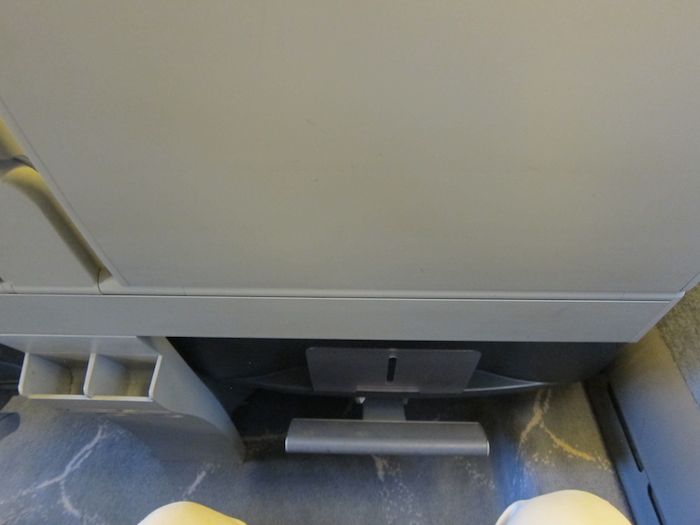 TGV train first class legroom
For the next 90 minutes I got some work done and enjoyed the views.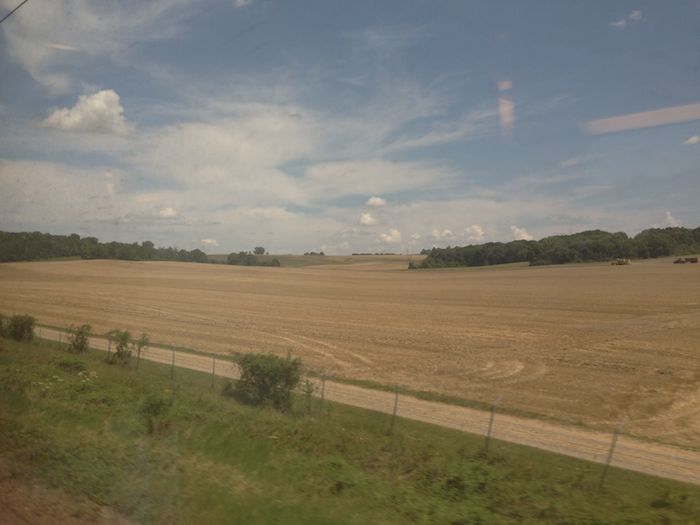 Views enroute
For what it's worth there was no service, though. There was a place to buy food and drinks about two carts away, and I queued there for about five minutes. And when I say I queued there for five minutes, I mean there was one indecisive lady traveling with her dog in front of me. The dog had socks, and she wanted the dog to decide what he wanted. Oy.
As the attendant was finally procuring Fifi's order, we were slowing down to arrive at a station, so I ran back to my seat. I'm not sure what the protocol is for watching your personal belongings on trains, but I figured at the very least I shouldn't leave them unattended while at a station, where someone can easily snatch them. Because ya know, if someone tried to snatch my stuff while onboard I could totally go Taylor-Lautner-in-Abudction on their a$$ (or something like that).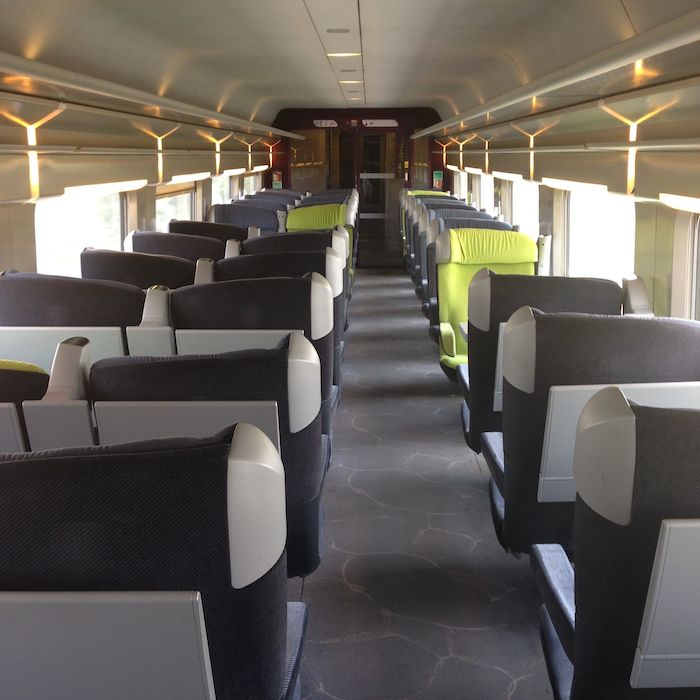 TGV train first class carriage
After only a couple of stops we arrived at Charles de Gaulle right on schedule.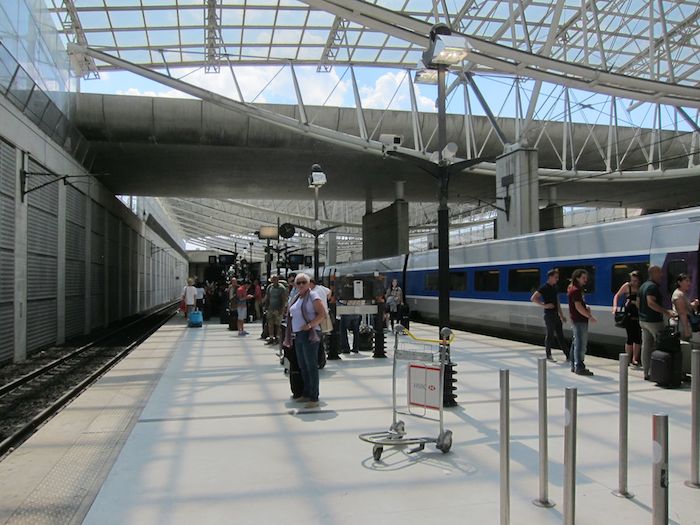 Paris Charles de Gaulle train station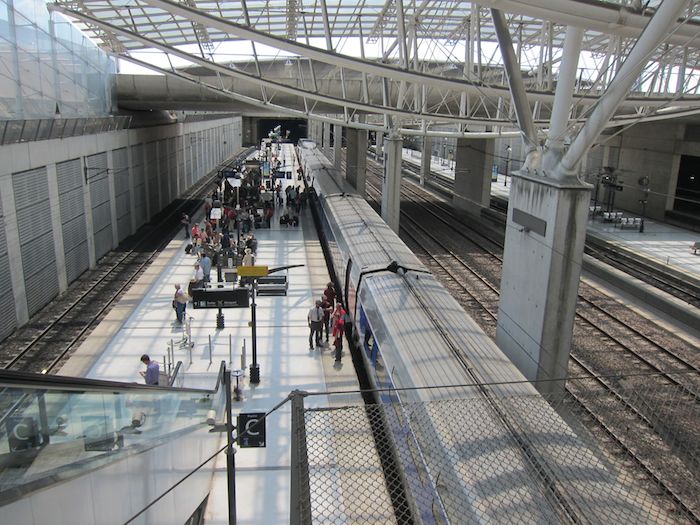 Paris Charles de Gaulle train station
And that's where the real fun began.
Bottom line on TGV train
You can't beat the efficiency of European train travel. I did learn that first class only gets you a bigger seat, though the price premium wasn't huge, so I don't think it was all that bad of a deal.
In the future I'll definitely be taking more trains within Europe. They're easy, comfortable, and a nice way to see the countryside.