---
Update: You can read a review of Brussels Airlines' new business class here.
In the interest of full disclosure, I was a media guest of Brussels Airlines on these flights. I paid for my own hotel and flights to/from Brussels, and for that matter there wasn't actually a way to buy a ticket on this flight, since it was just a positioning flight. All opinions expressed are my own.
I can't even begin to say how excited I was for my sub-400 mile day of flying. As I explained in the introduction, Brussels Airlines has special Tomorrowland party flights from a few cities in Europe to Brussels. Here's a link to a video of a 2013 flight, which I've posted several times before:
In this case they actually position the plane to Frankfurt empty, given that Frankfurt isn't a destination that Brussels Airlines serves (instead they just codeshare on Lufthansa's flights).
I wasn't originally going to write a report about an empty positioning flight, but it turned out to be pretty awesome, so I will.
I was told to meet at the Brussels Airlines ticket counter at 6:30AM, though I was so excited that I could hardly sleep the night before and showed up way early (which is sort of silly, since it took about three minutes to get from my hotel room to the ticket counter). My boarding pass was waiting at the ticket counter.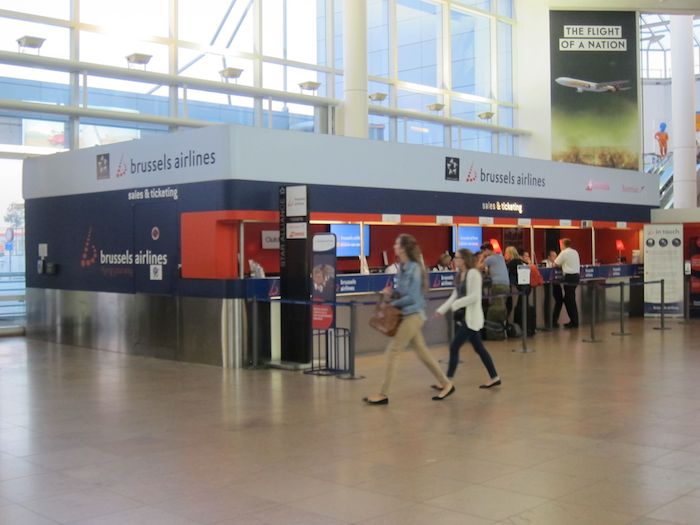 Brussels Airlines ticket counter Brussels Airport
To my surprise it was for a business class seat. Later that made more sense. The "party" was in economy, and they exclusively sell those seats on these party flights, so that left only the business class seats open.
I headed through the security checkpoint and to the departure gate for the flight to Frankfurt, which was gate A53. The departures hall at Brussels Airport is beautiful and very European feeling.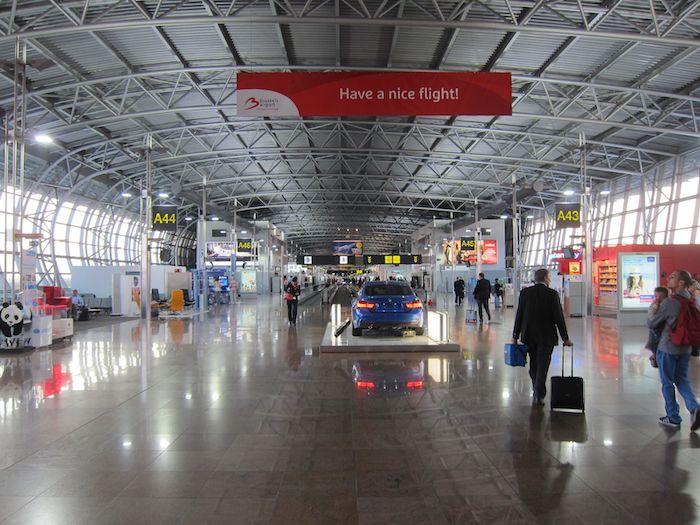 Brussels Airport terminal
Sure enough at gate A53 the Brussels Airlines Tomorrowland A330 was just being towed into the gate from the non-Schengen terminal. Presumably it arrived from some longhaul destination. Brussels Airlines has a special livery for their two Tomorrowland A330s.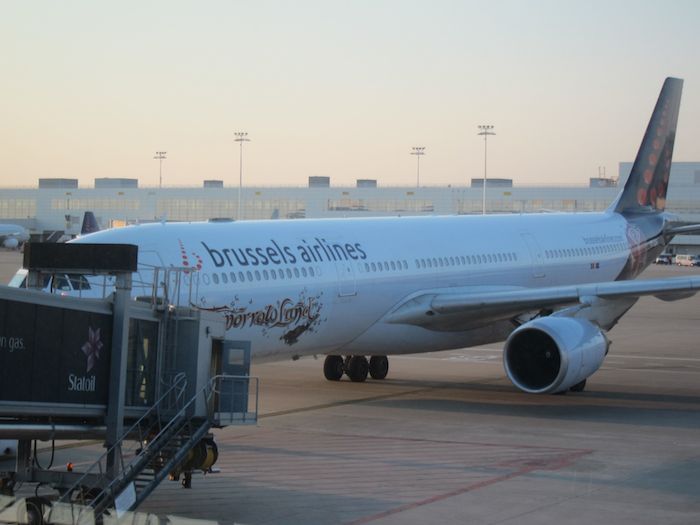 Brussels Airlines Tomorrowland A330
It's only the left side of the aircraft that has the special livery — the right side features the standard livery.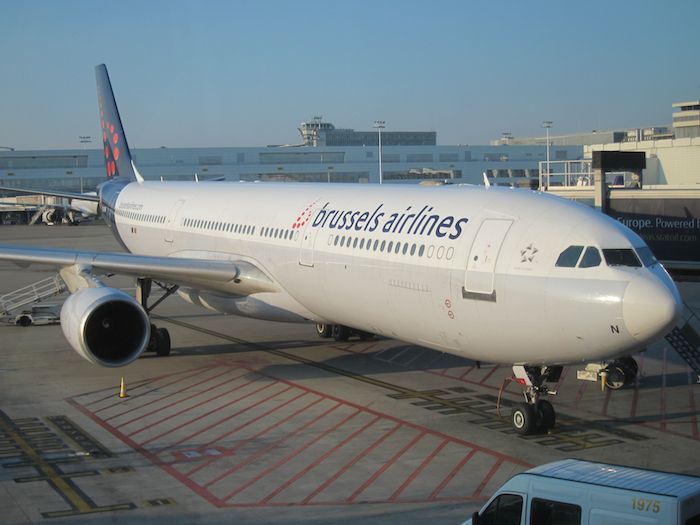 Brussels Airlines Tomorrowland A330
I also noticed the second Tomorrowland A330 was being towed to a gate as well. Presumably that was operating a flight to either Munich or Oslo.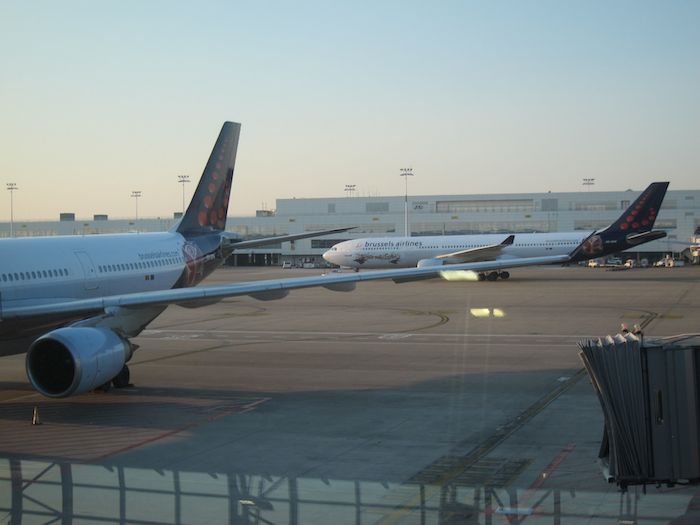 Both Brussels Airlines Tomorrowland A330s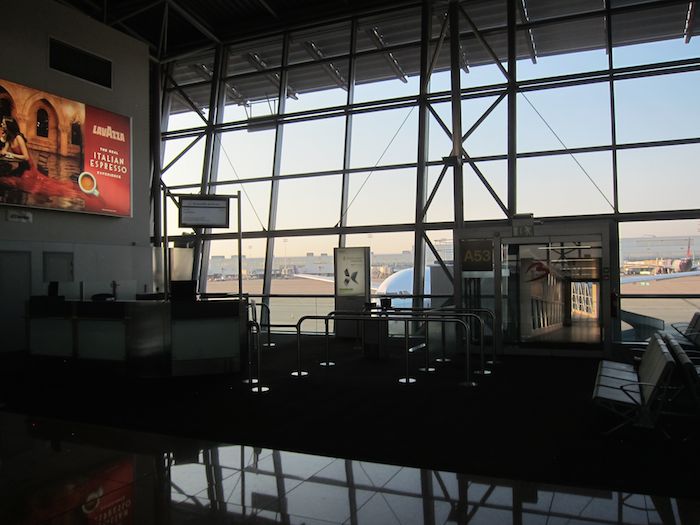 Brussels Airport departure gate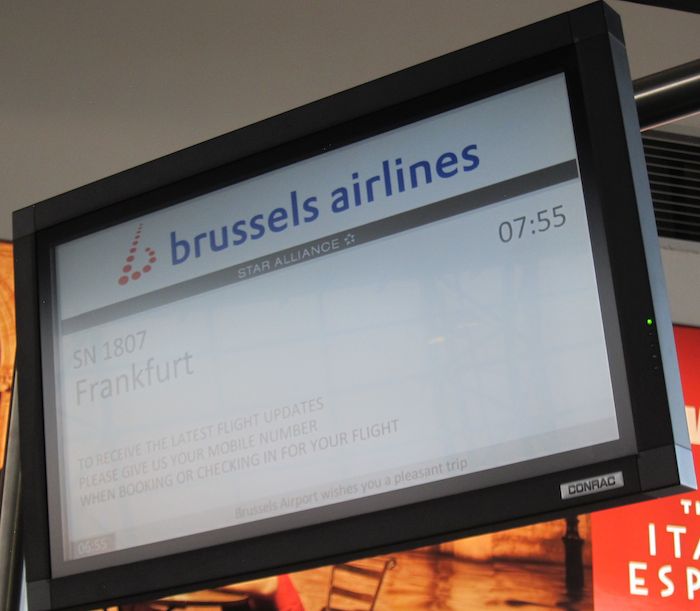 Brussels Airlines Tomorrowland flight gate monitor
It's pretty funny to be at an A330 gate with just ~20 people. At around 7:40AM boarding began. As you'd expect it took all of two minutes, and there wasn't even an announcement.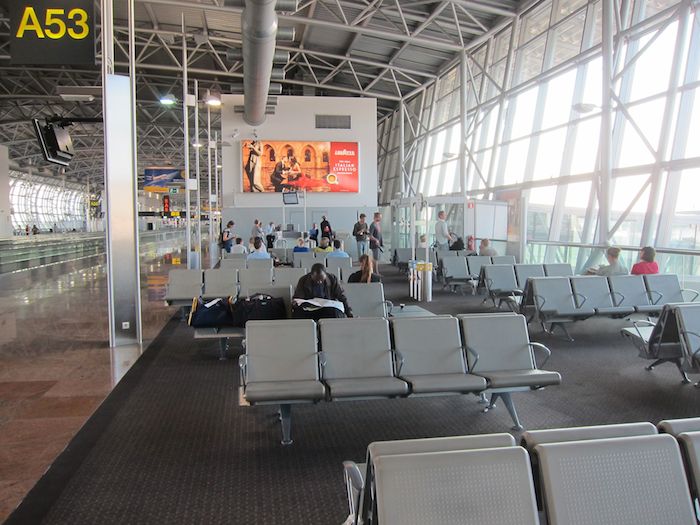 Brussels Airport departure gate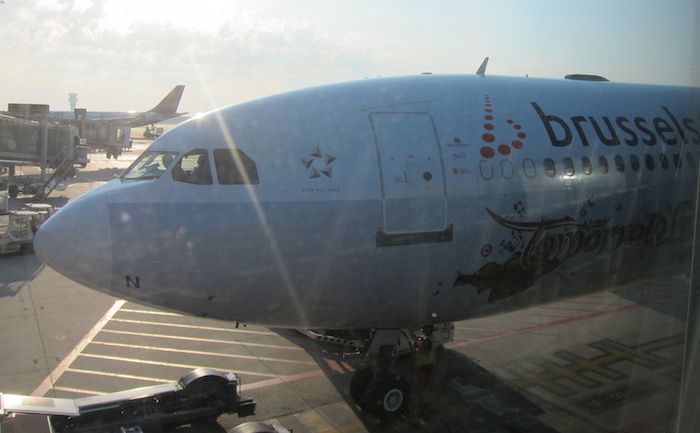 Brussels Airlines Tomorrowland A330
Brussels Airlines 1807
Brussels (BRU) – Frankfurt (FRA)
Thursday, July 24
Depart: 7:55AM
Arrive: 9:10AM
Duration: 1hr15min
Aircraft: Airbus A330
Seat: 1A (Business Class)
Much to my surprise this flight actually had "normal" service. At the door I was greeted by the crew and pointed left into the business class cabin.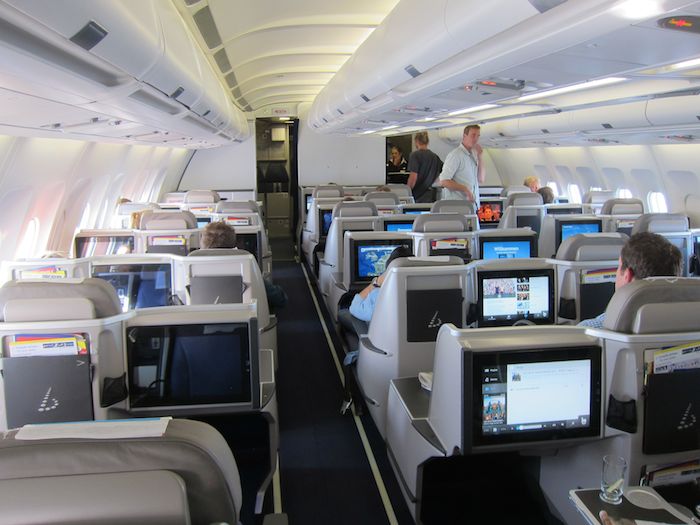 Brussels Airlines A330 business class
I had seat 1A, the "throne" seat. I won't review the hard product too much with this report, though check out my previous review of Brussels Airlines business class between New York and Brussels for more on that.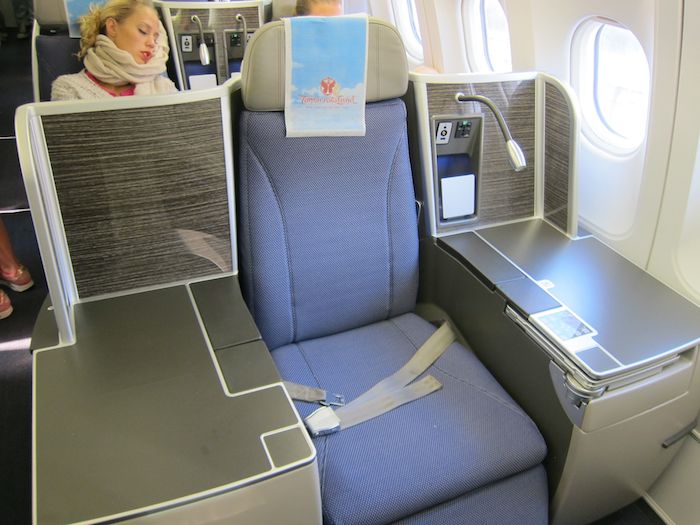 Brussels Airlines A330 business class, seat 1A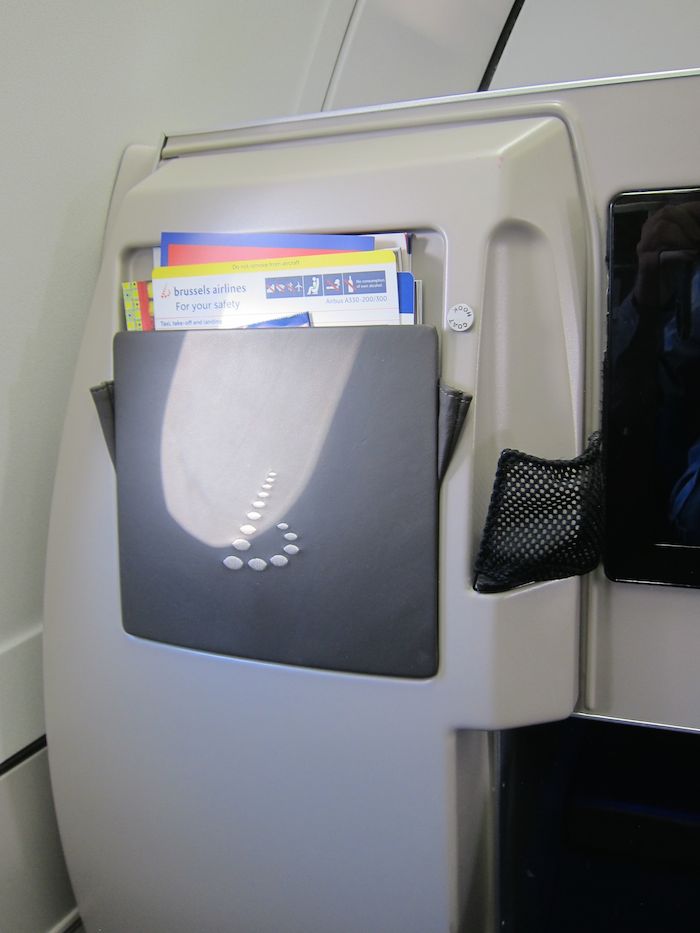 Brussels Airlines A330 business class, seat 1A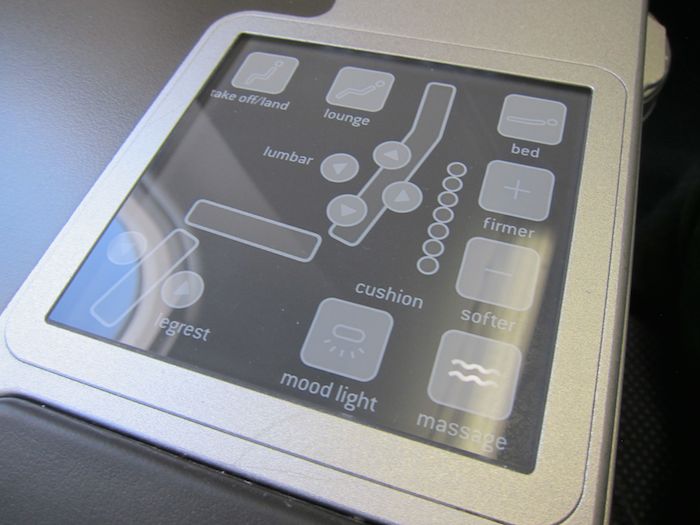 Brussels Airlines A330 business class seat controls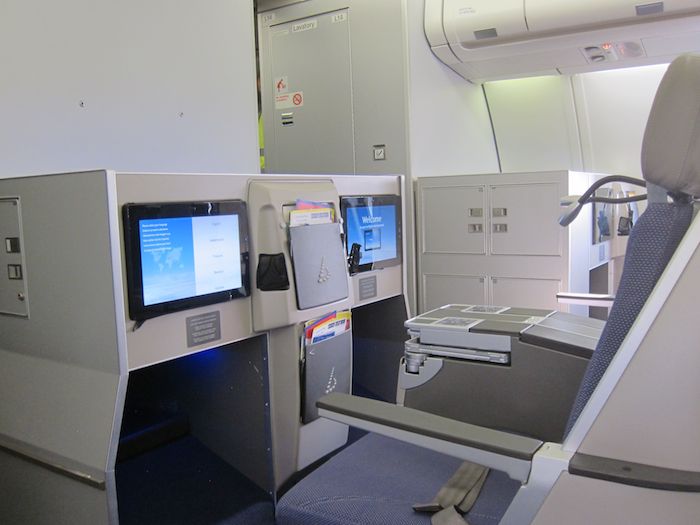 Brussels Airlines A330 business class, seat 1A view
Pre-departure beverages were quickly offered. To get into the party spirit I had a glass of bubbly.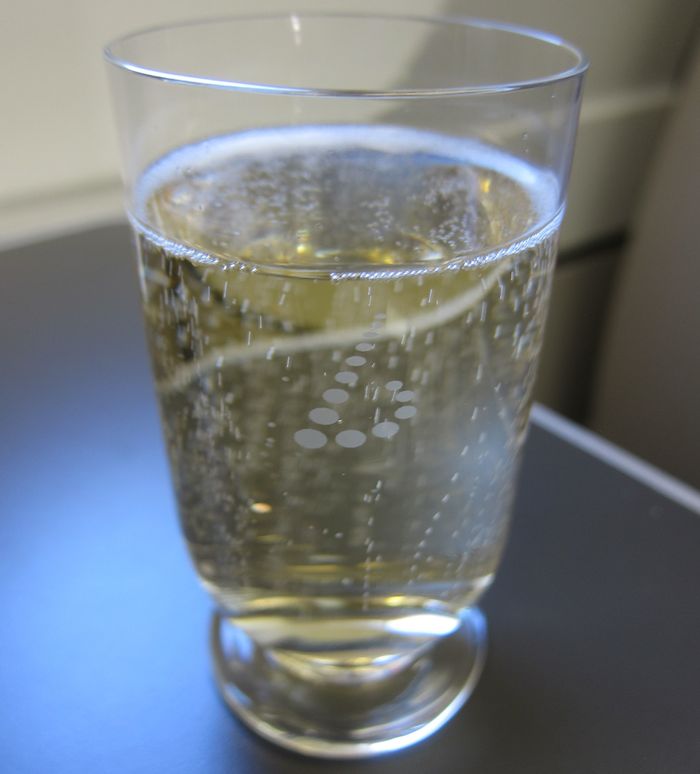 Brussels Airlines business class pre-departure champagne
The crowd onboard was interesting. Seated immediately behind me were the two models/elves. In terms of the rest of the cabin, there were a few cameramen, some awesome people from Brussels Airlines' social media and public relations team, some local media, the inflight DJ, etc. Certainly not your average cabin!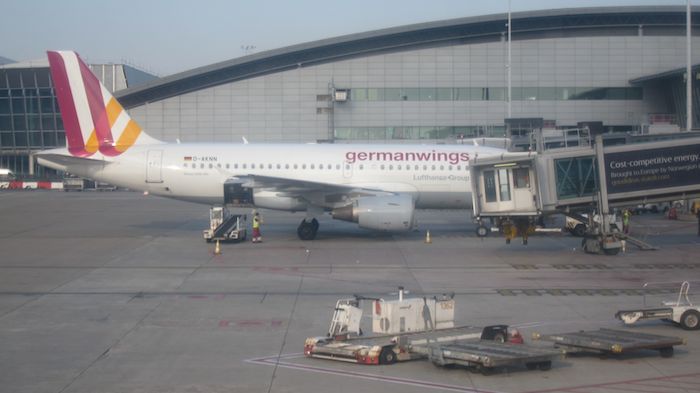 Germanwings A320 Brussels Airport
Around departure time the captain came on the PA to inform us of our flight time of 50 minutes. We began our pushback right on schedule, at which point the safety video played.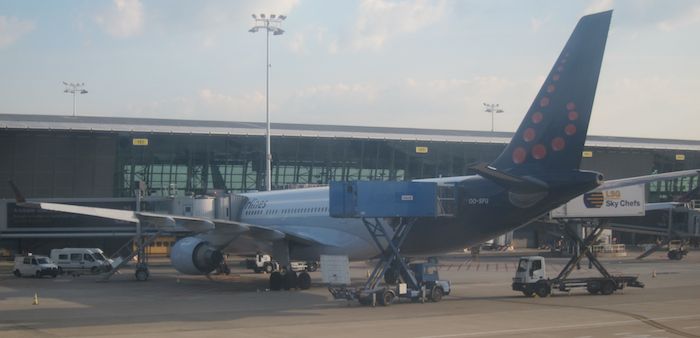 Brussels Airlines A330
We taxied out to runway 7R, which took about 15 minutes. There was some fun traffic enroute, including a 767 I didn't recognize.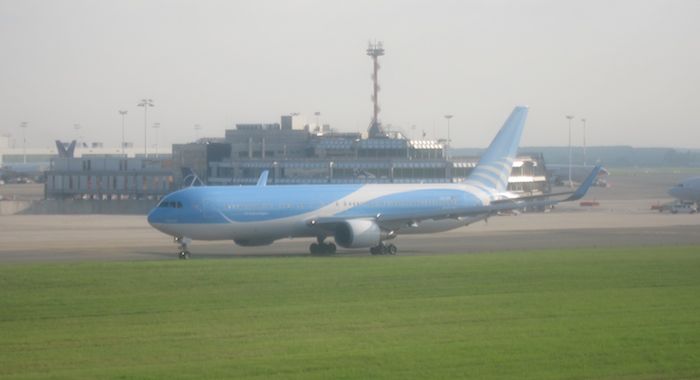 767 Brussels Airport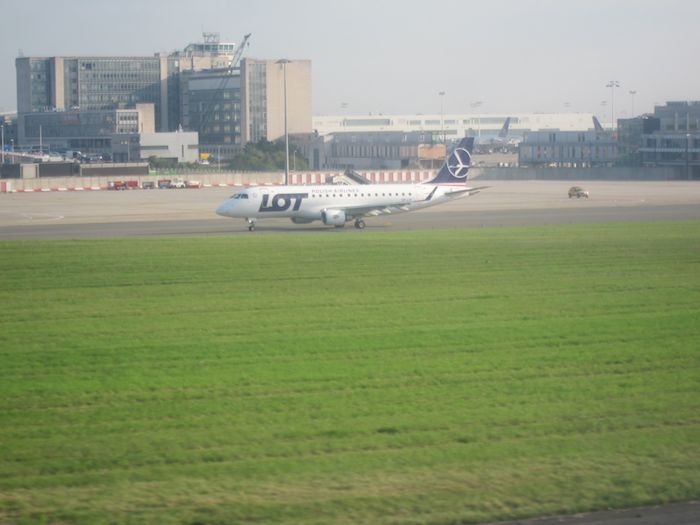 LOT Embraer Brussels Airport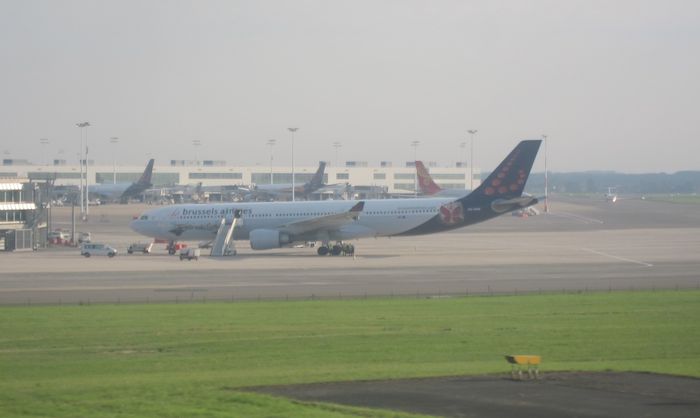 Brussels Airlines A330 Brussels Airport
We were at the runway by 8:15AM, and immediately cleared for takeoff. I'm an airplane geek so of course love takeoffs, but was especially excited for this one. As you might expect from a nearly empty A330 on a super-short flight, our takeoff roll took all of a few seconds. Never before have I had such a quick — and steep — takeoff. It must've been a pilot's dream.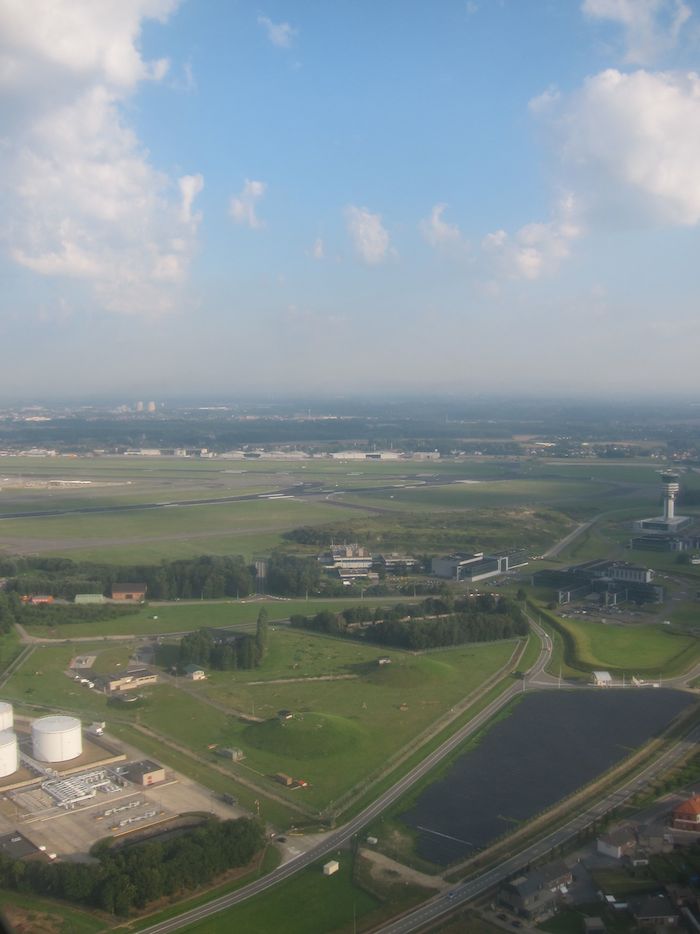 After takeoff from Brussels Airport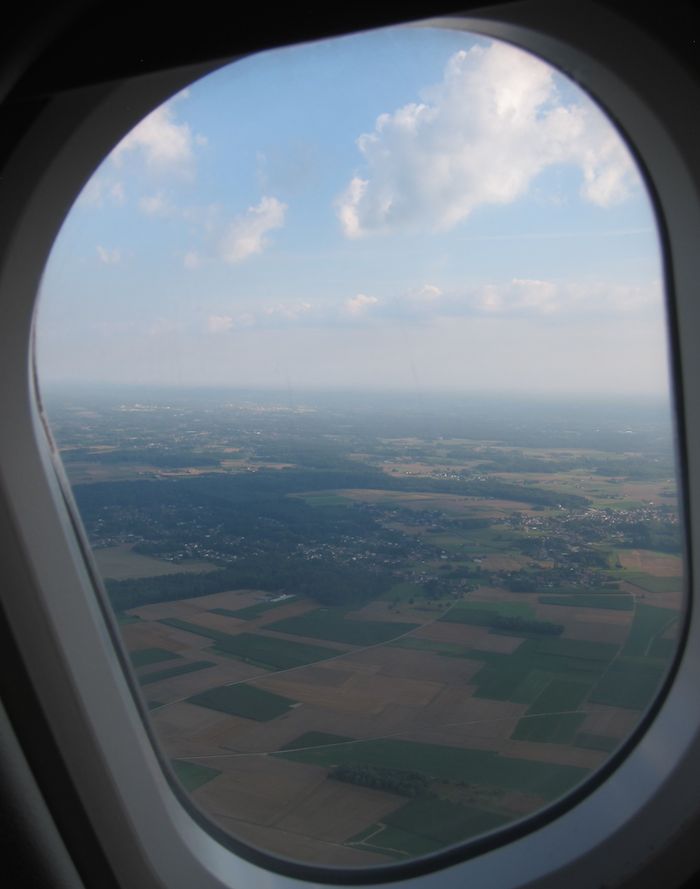 After takeoff from Brussels Airport
The ride was smooth, and once we passed through 10,000 feet the seatbelt sign was turned off.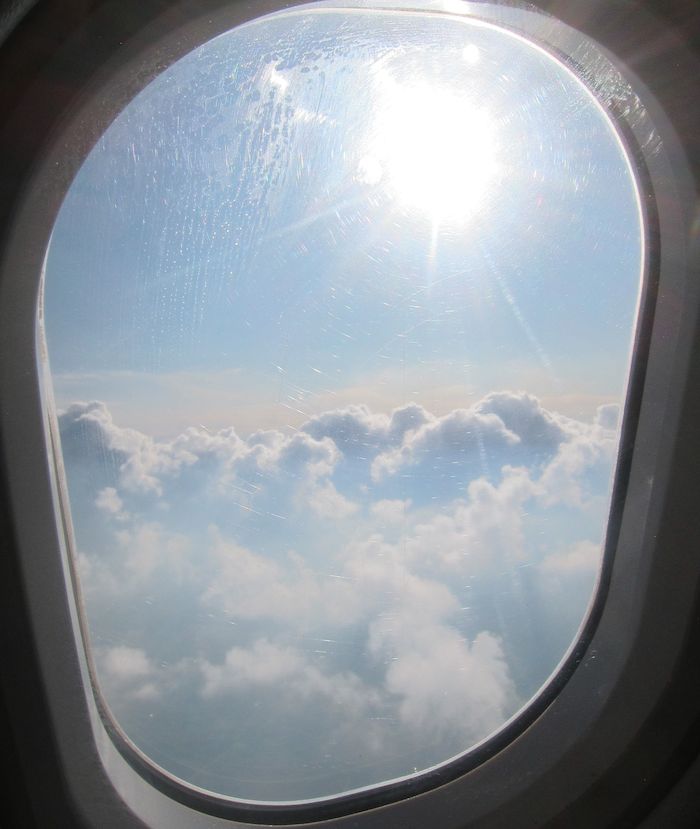 Leveling off enroute to Frankfurt
I walked back to economy to look at the totally empty cabin. It's kind of surreal to see inflight, in my opinion.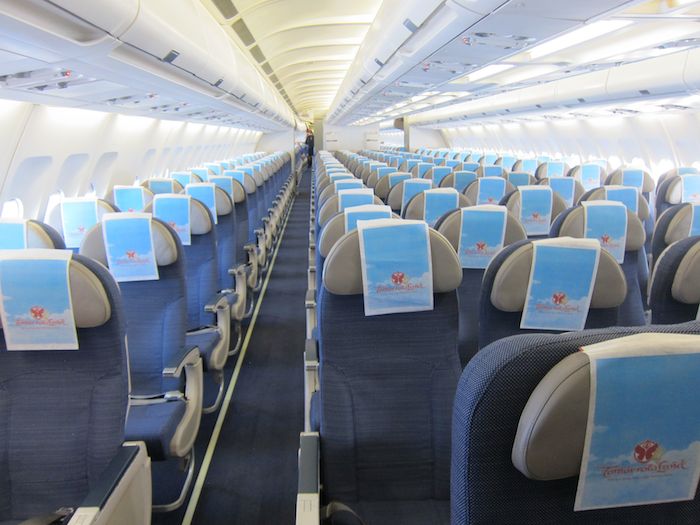 Brussels Airlines A330 economy cabin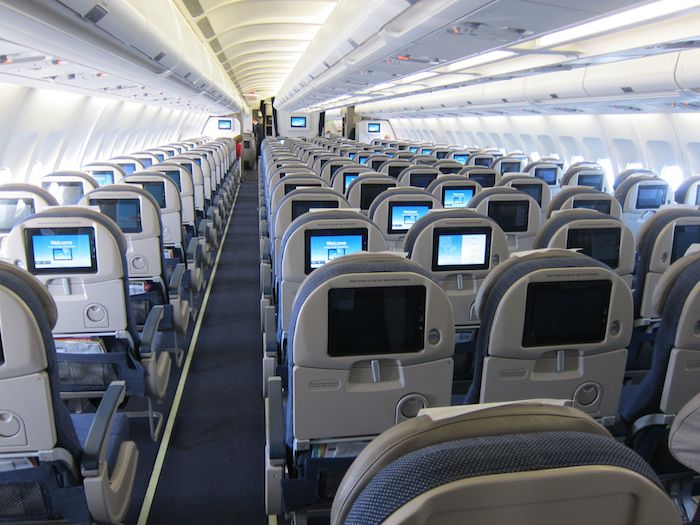 Brussels Airlines A330 economy cabin
To my surprise there was a breakfast service, which consisted of fruit, a chocolate croissant, a bagel or something with cream cheese and cheese (can you say heaven?), and a box of chocolates.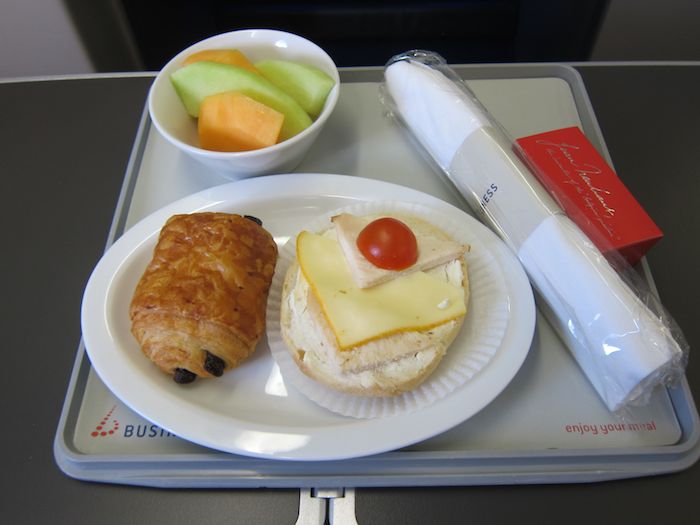 Brussels Airlines business class breakfast
The crew was awesome, as you'd expect. It takes a special kind of crew to work a "party" flight, so they were really great and in high spirits.
The DJ spent a few minutes prepping the "DJ booth" and making sure the sound system worked, and before I knew it we were already on our descent into Frankfurt.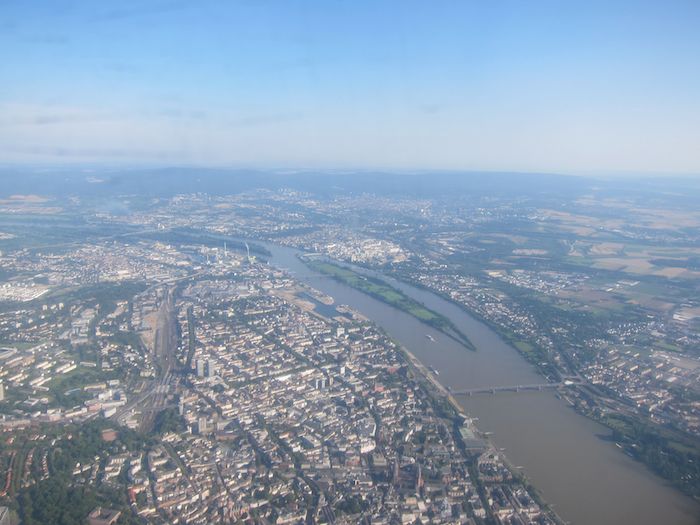 Approach into Frankfurt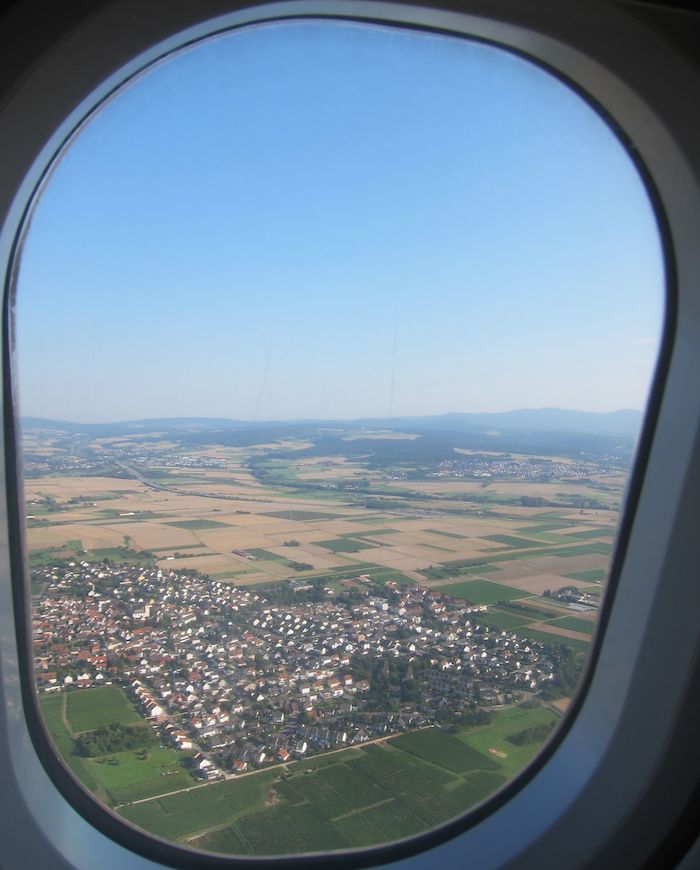 Approach into Frankfurt
We landed on runway 36 at 8:55AM, and had a roughly 10 minute taxi to the gate. As usual, Frankfurt Airport is one of my favorite in the world for taxiing, mainly because I just love looking at Lufthansa jets. 😉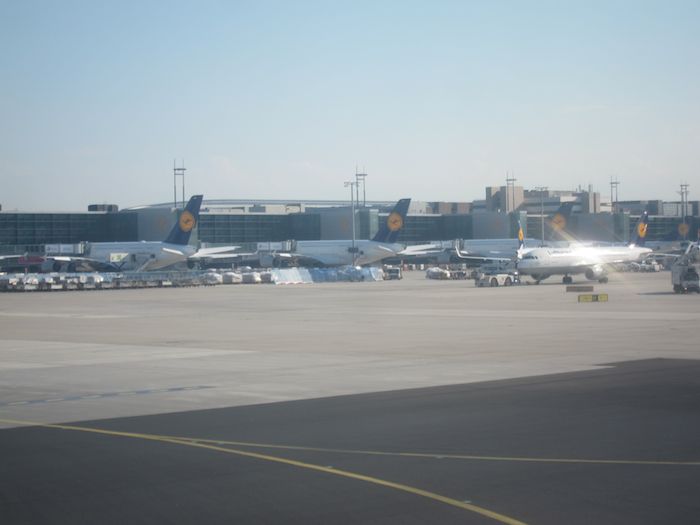 Taxiing Frankfurt Airport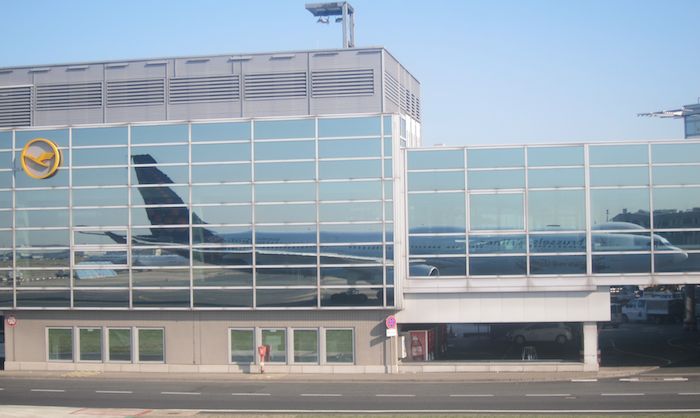 Taxiing Frankfurt Airport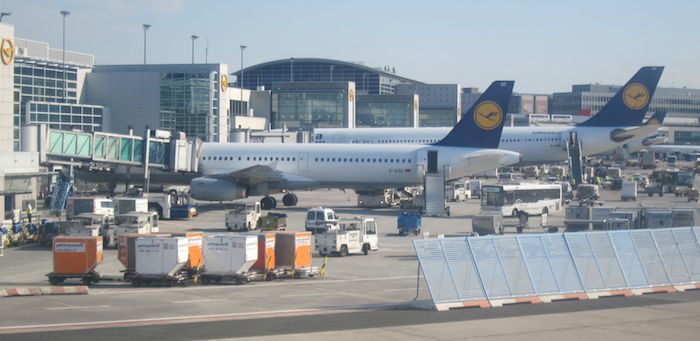 Taxiing Frankfurt Airport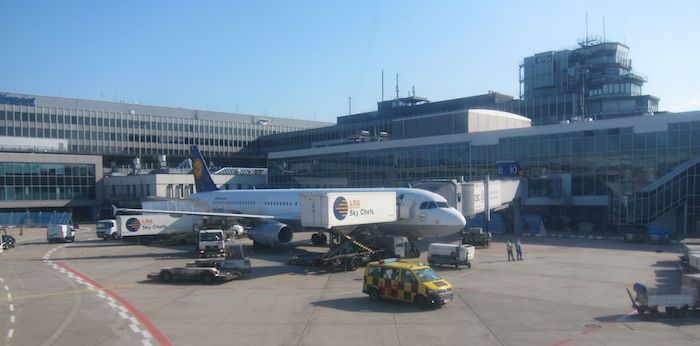 Taxiing Frankfurt Airport
Shortly after 9AM we arrived at the gate… little did I know what was awaiting us.
Bottom line
You can't beat a fully flat bed on a 40 minute flight within Europe. And you've also gotta love having back-to-back flights which are polar opposites. The outbound was totally empty and calm, while the return was hands down the craziest flight I've ever been on.
Thanks again to Brussels Airlines for having me!