I think I've just found the new most economical way to get drunk on Saturday nights… and it involves riding the train.
Yesterday I took Brightline for the first time, and while my enthusiasm for transportation is typically limited to airplanes, Brightline might have just made me a train enthusiast. Choo choo!
What Is Brightline?
Brightline is an inter-city rail system between Miami and West Palm Beach, and it makes a stop in Fort Lauderdale. I know, that probably sounds like the least exciting thing ever (at least it did to me).
Brightline began operating in January 2018, and is the only privately owned and operated inter-city passenger railroad service in the United States.
Brightline has also rebranded as Virgin Trains USA, so it's the only Virgin Trains system in the US.
Note that Virgin Trains USA is looking to expand beyond West Palm Beach. They currently have plans to add service to Orlando by 2022, and beyond that are looking to add service to Tampa and beyond.
I can't even begin to express how much I'd love that, given that my parents live in Tampa. But I'm highly skeptical about that ever happening, unfortunately.
Why We Booked Brightline
Ford and I live in Miami, while my mother-in-law lives in West Palm Beach. So when we're in town we try to see her for dinner with some frequency. Sometimes she'll visit us, while other times we visit her.
Usually we'll just drive to West Palm Beach, which is about a 75 minute drive from where we live.
Whenever she visits us she takes Brightline, and she raves about the service. Up until now I've almost found it a bit strange. Every time we pick her up there it's the same story — she has a huge smile on her face and says "you really have to try Brightline, it's the most amazing thing ever. They are so friendly. The trains are so nice. The station is beautiful."
And I kinda just looked at her a bit weird, because I've never taken a train in the US that didn't suck, and also because it looks like a basic inter-city rail. Well, now I finally get what all the hype is about.
Booking Tickets With Brightline & Pricing
Brightline has two classes of service — Smart and Select. What's the difference?
Smart is described as a business class experience with 19″ wide seats in a 2-2 configuration, power ports and Wi-Fi, and food and drinks for purchase
Select is described as a first class experience with 21″ wide seats in a 1-2 configuration, access to a lounge, pre-boarding, complimentary food and drinks, and more
Brightline is also quite affordable, all things considered. The pricing is dynamic, but in general it seems to start at $15 for Smart, and $30 for Select. Note that sometimes it's a bit more expensive, but I've never seen Select cost more than $45.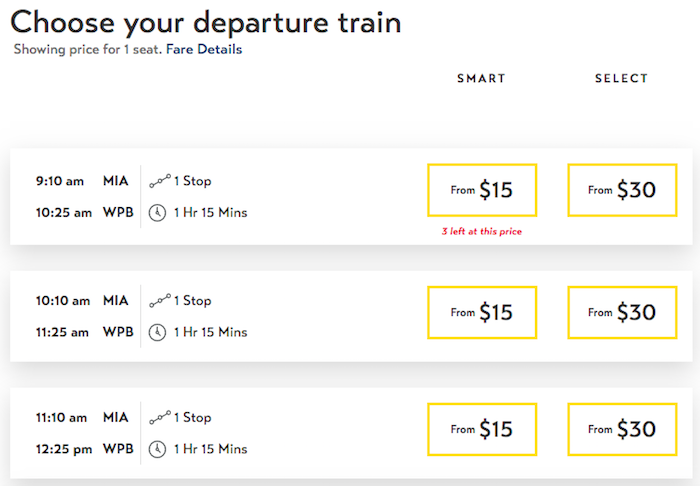 For what it's worth, our last minute ticket booked yesterday cost $35 per person, though I managed to find a 10% off coupon code, so ended up paying $31.50 per person per direction.
The Brightline App Is Terrible
Speaking of the booking process, I should mention that Brightline's app is really bad (and it seems I'm not alone, because it has terrible reviews in the app store). It's pretty, but not functional:
I tried to change a ticket (which should be easy), but got an error message
The mobile boarding passes that they show are actually too small to scan, so I had to take a screenshot and then zoom in to use it
You can't actually save mobile boarding passes to your wallet (or anywhere else), so every time you have to rely on internet connectivity
Many of the buttons are too small to actually push
It's a minor issue in the grand scheme of things, but still worth pointing out, in my opinion.
Brightline Select Review
Okay, now lets get into the review of the actual experience — first I'll talk about the station experience, and then the onboard experience.
Virgin Miami Central Station & Brightline Select Lounge
Brightline trains leave from Virgin Miami Central station, located at 600 NW 1st Avenue, not far from Brickell. For booking Select tickets we received a voucher for one day of free parking, or a $5 Lyft credit.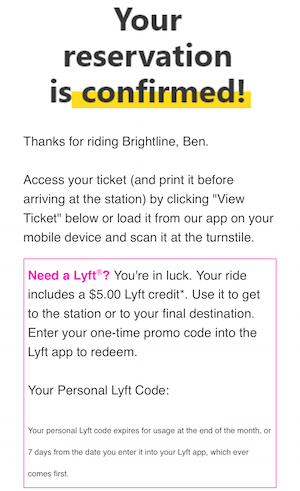 I'm a bit confused by Brightline's branding at the moment. I'm not sure if they're actively transitioning from Brightline to Virgin branding, or if they'll just continue to promote the two side-by-side.
The station's exterior clearly said "Virgin Miami Central," while all the other branding was for Brightline, with a lot of yellow colors.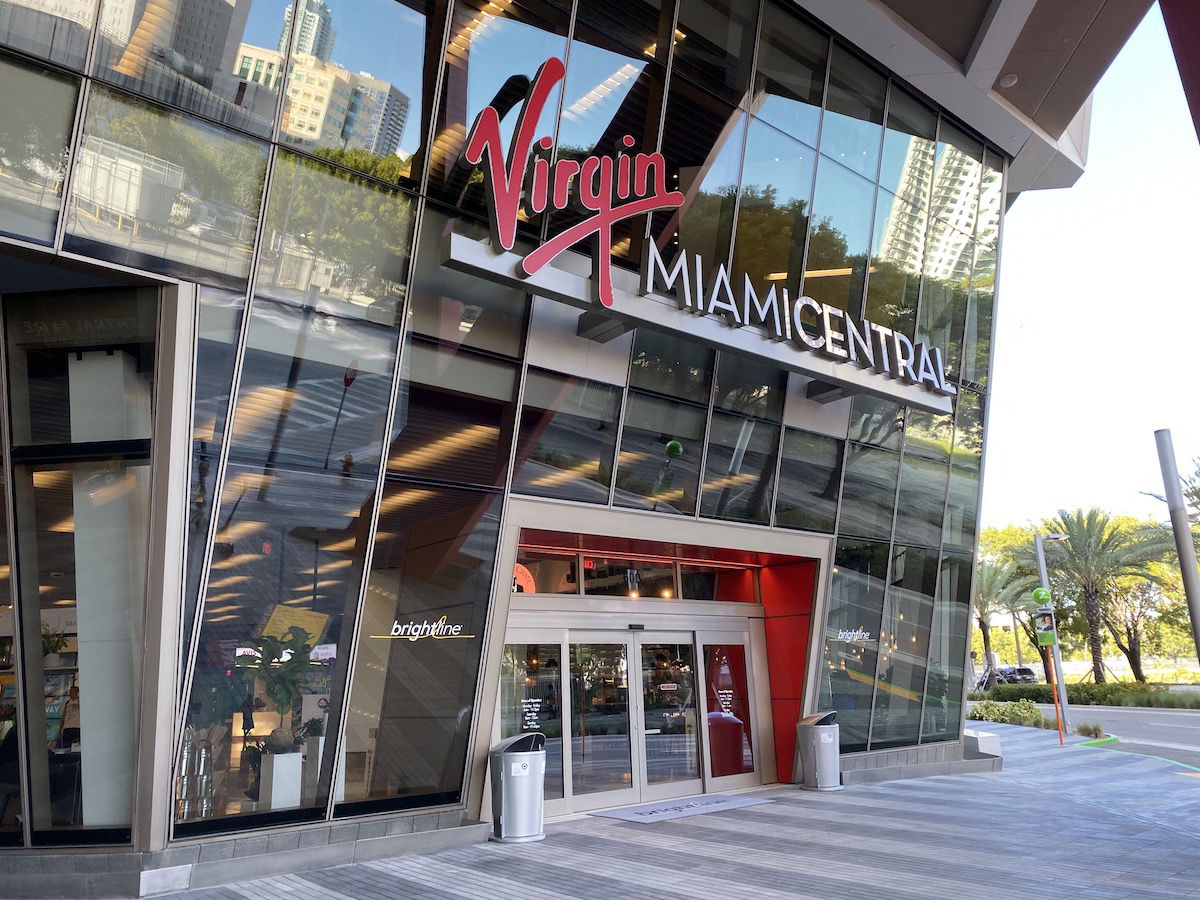 Virgin Miami Central station exterior
Anyway, who really cares about the branding, because the station was beautiful. It's unspeakable how much this rail station puts airports to shame.
We followed the signage towards the escalators, as the departure level is one floor up.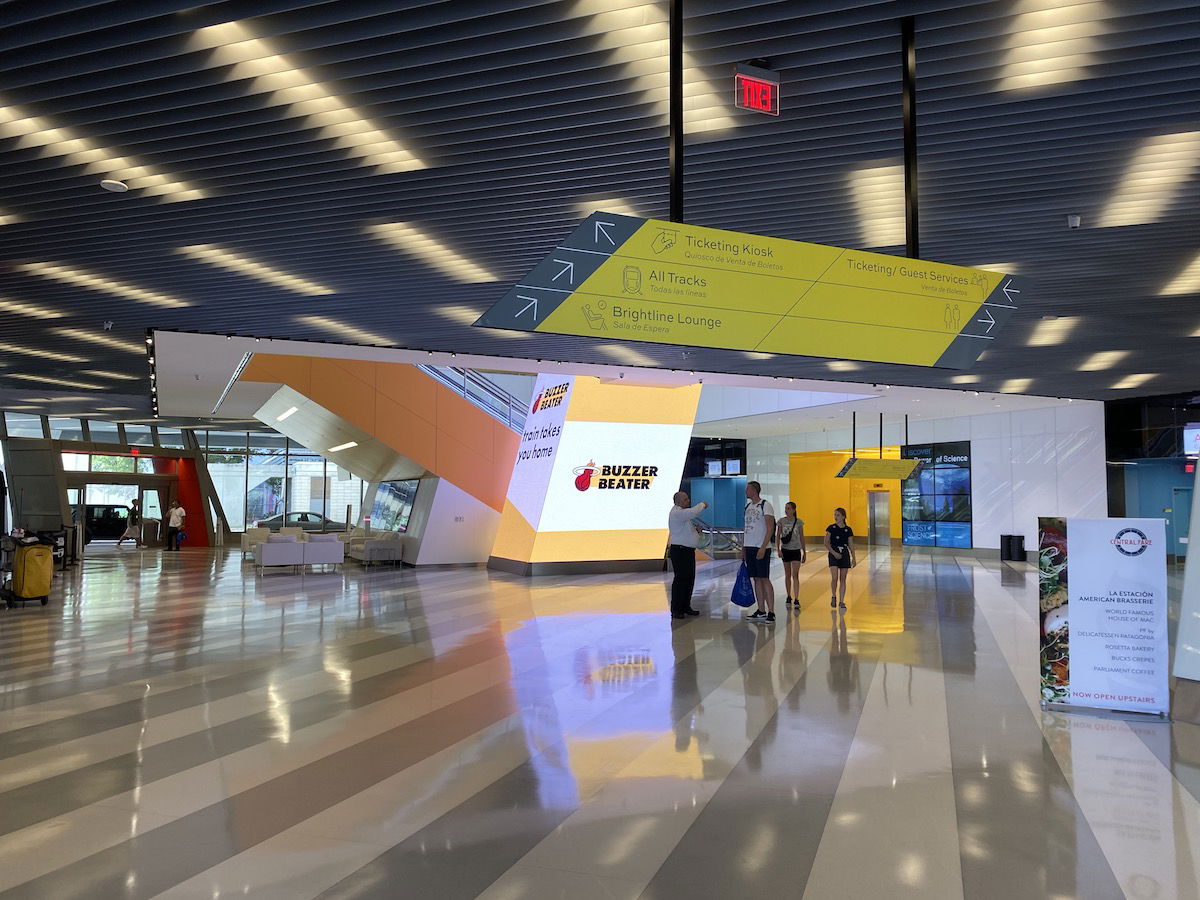 Virgin Miami Central station ground floor
You had to scan your tickets to enter, and then there was a quick security check, though only for those with bags. There was nice seating for all guests, as well as a cafe with food and beverages available for purchase.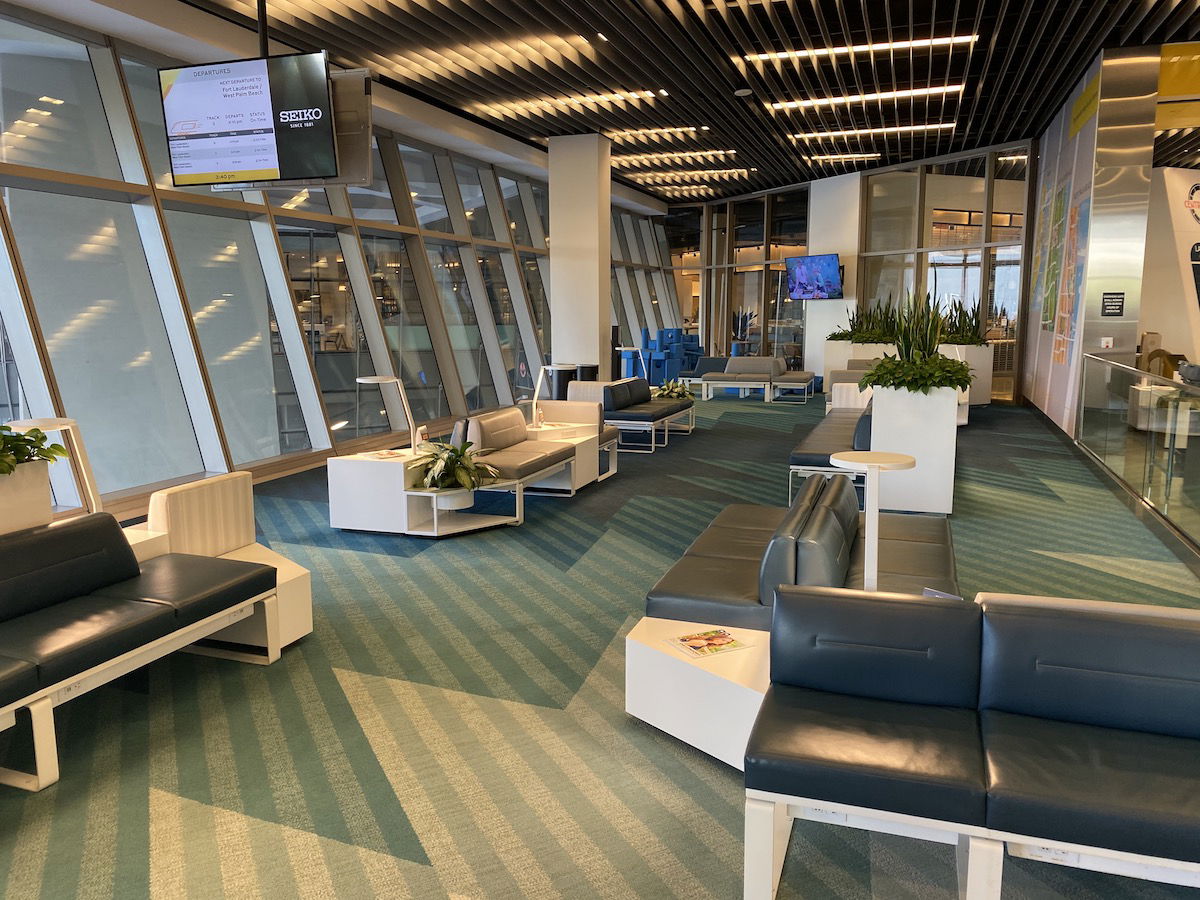 Brightline station Miami seating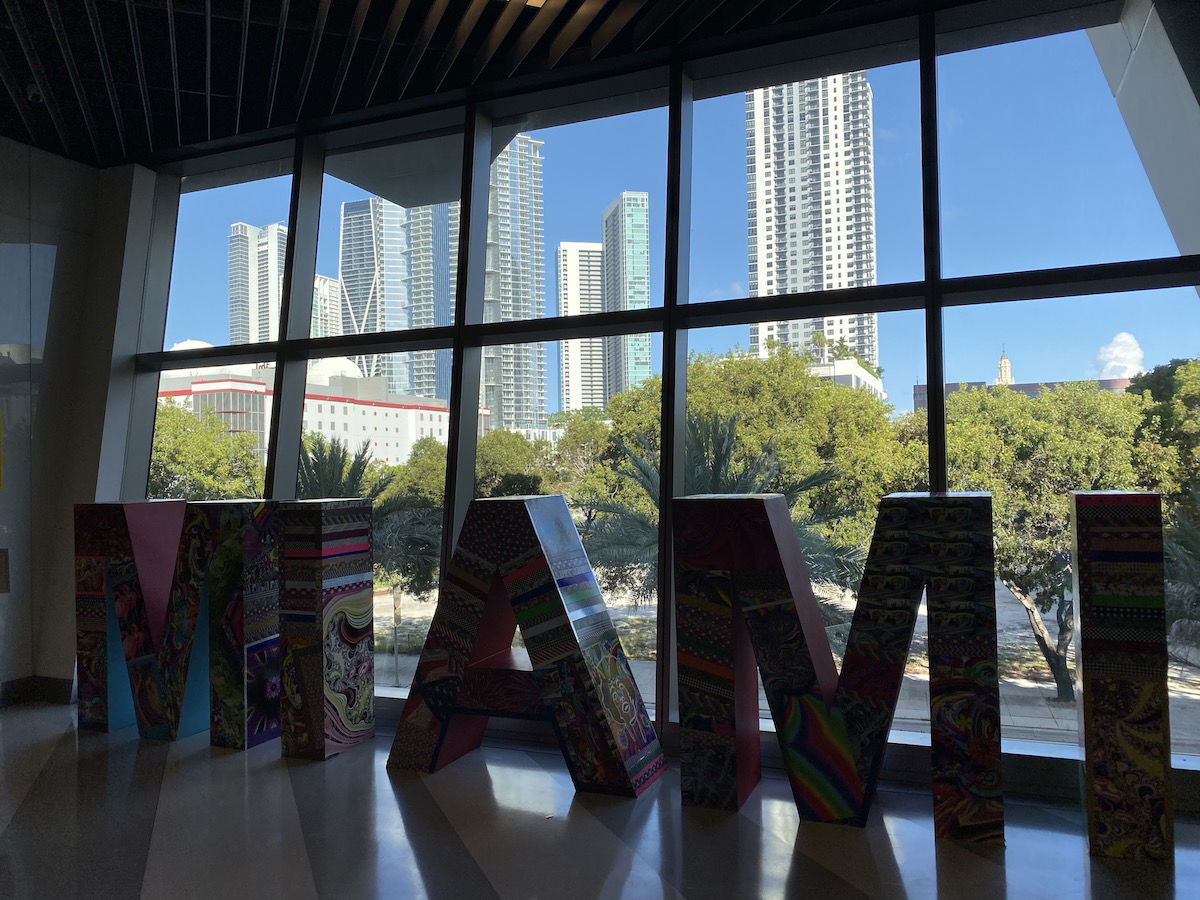 Brightline station Miami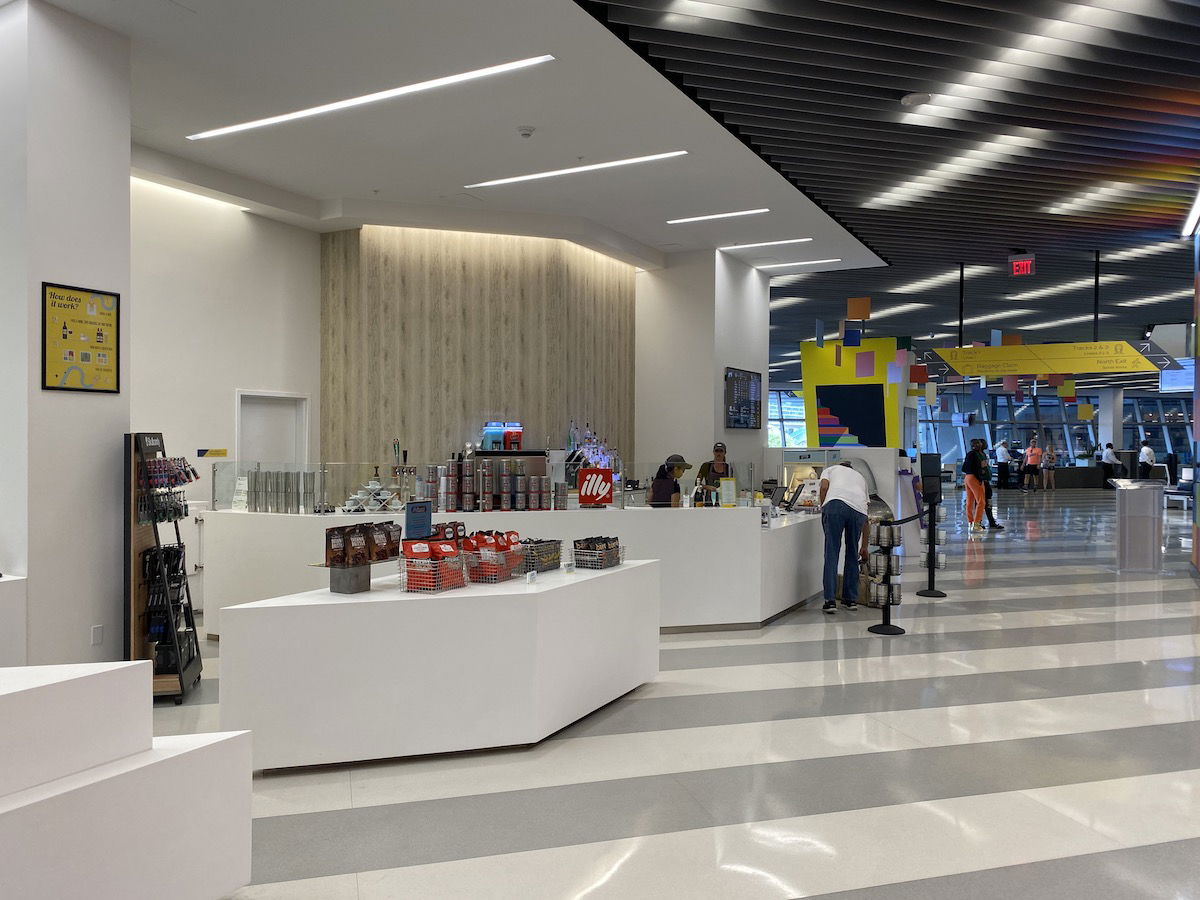 Brightline station Miami cafe
Since we were traveling in Select we had access to the Select Lounge, so we followed the signage in that direction.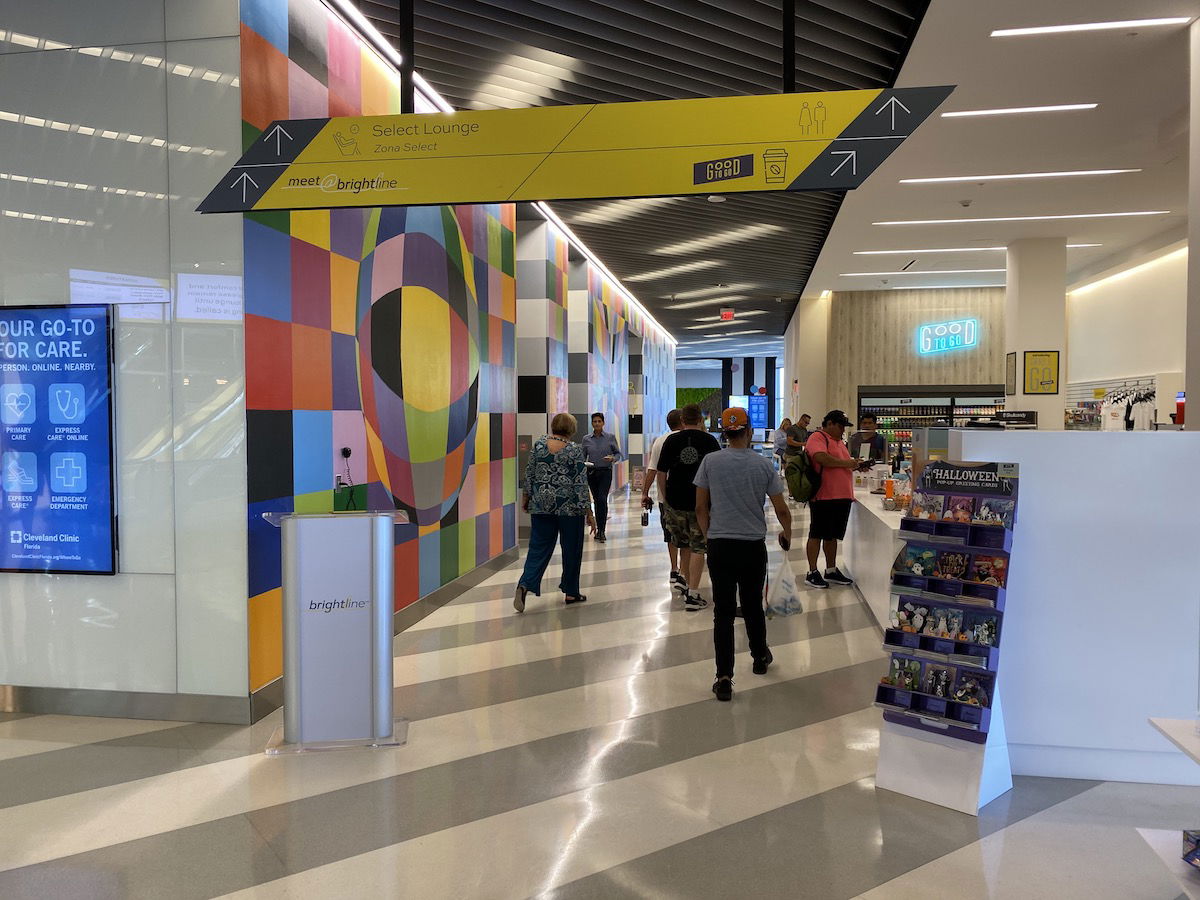 Brightline station Miami
You just had to scan your boarding pass, and then the gate opened to admit you.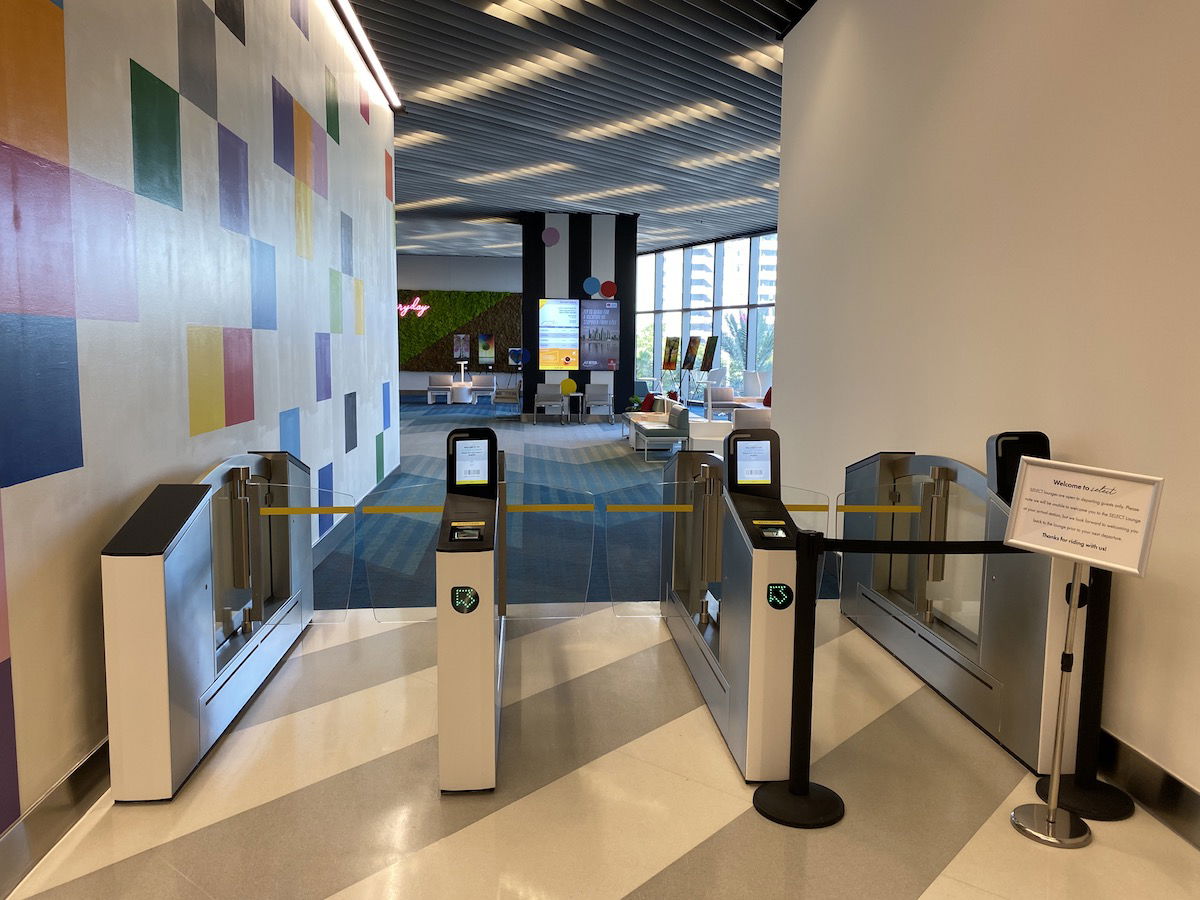 Brightline Select Lounge Miami entrance
What a cute lounge — this is nicer than just about any Admirals Club! The lounge was large and quiet, had great views, and had several different sitting areas.
There were couches, there were workstations, and there's even a conference room you can reserve for free (buying a Brightline ticket might just be the cheapest way to get a conference room in the city!).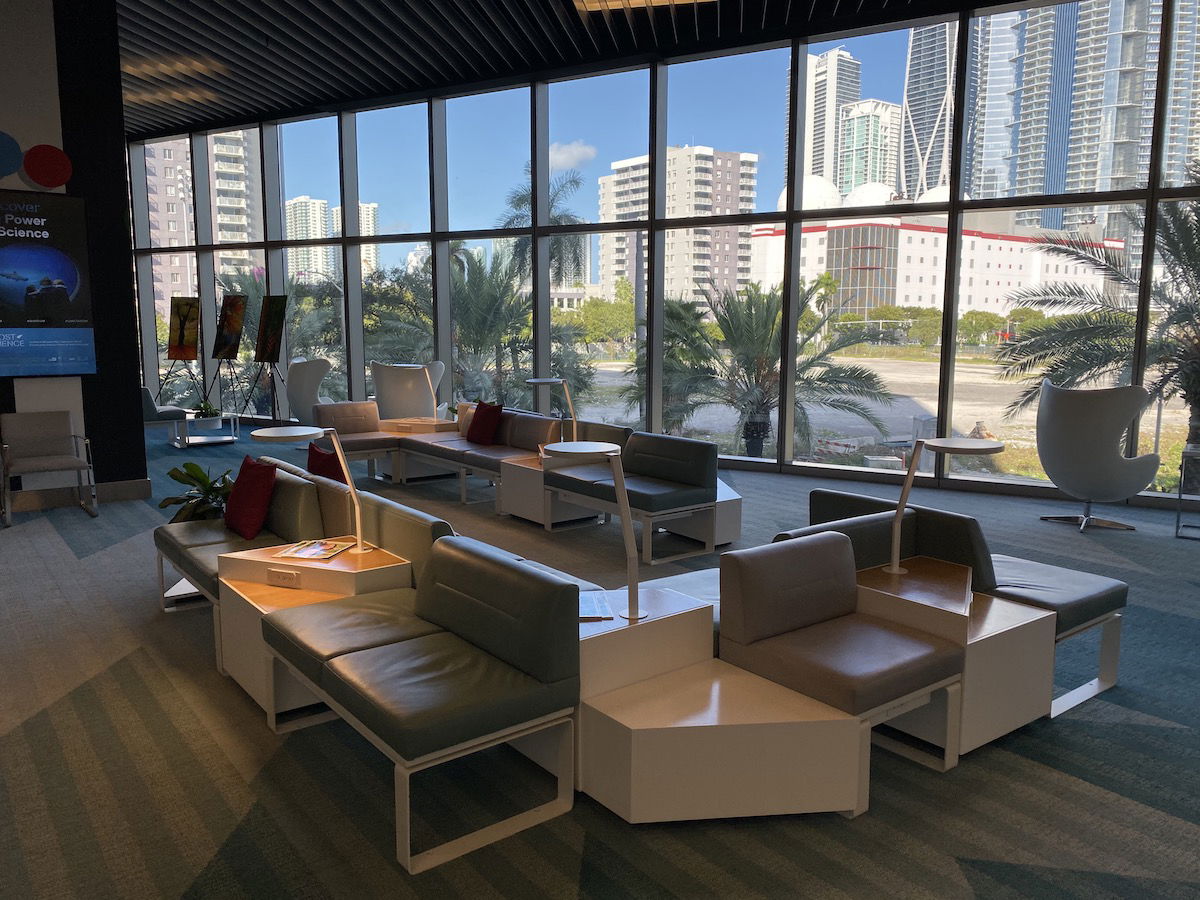 Brightline Select Lounge Miami seating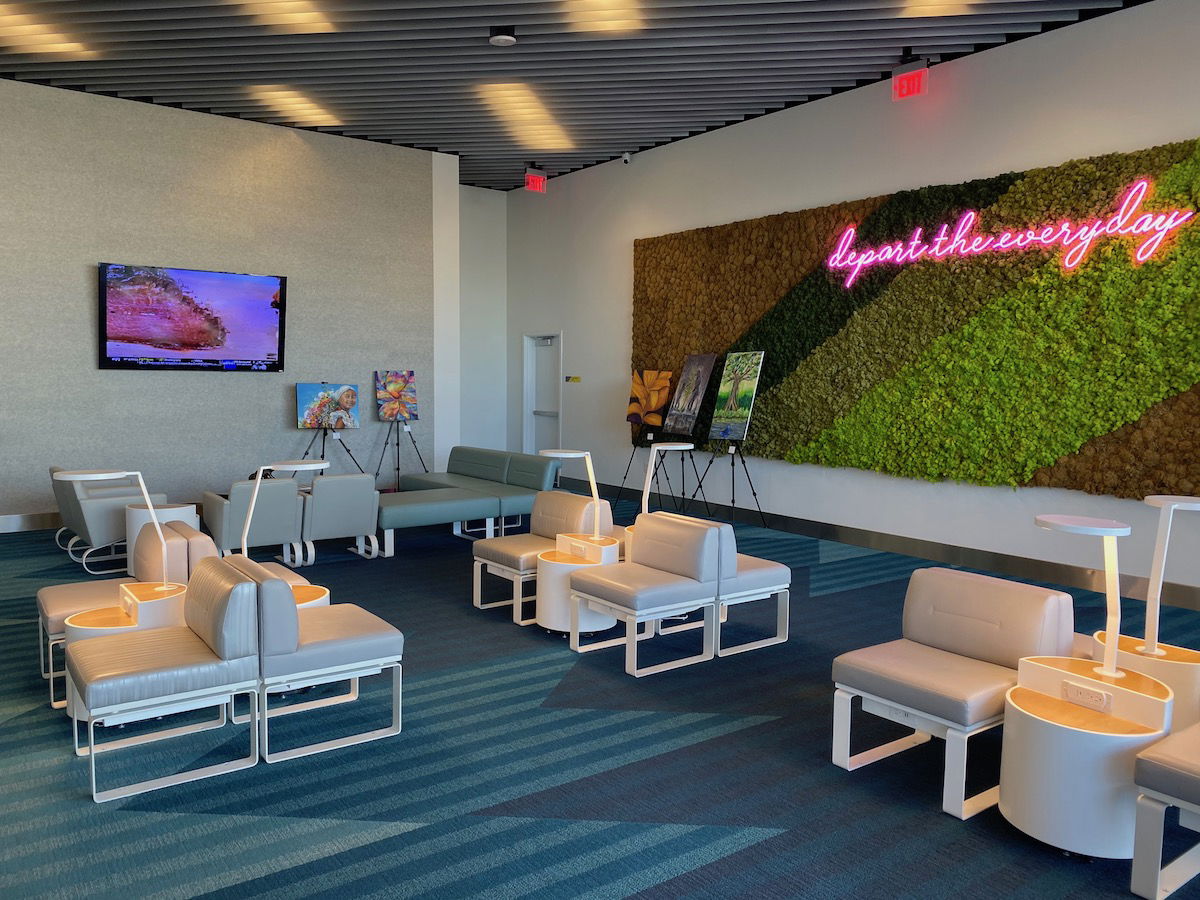 Brightline Select Lounge Miami seating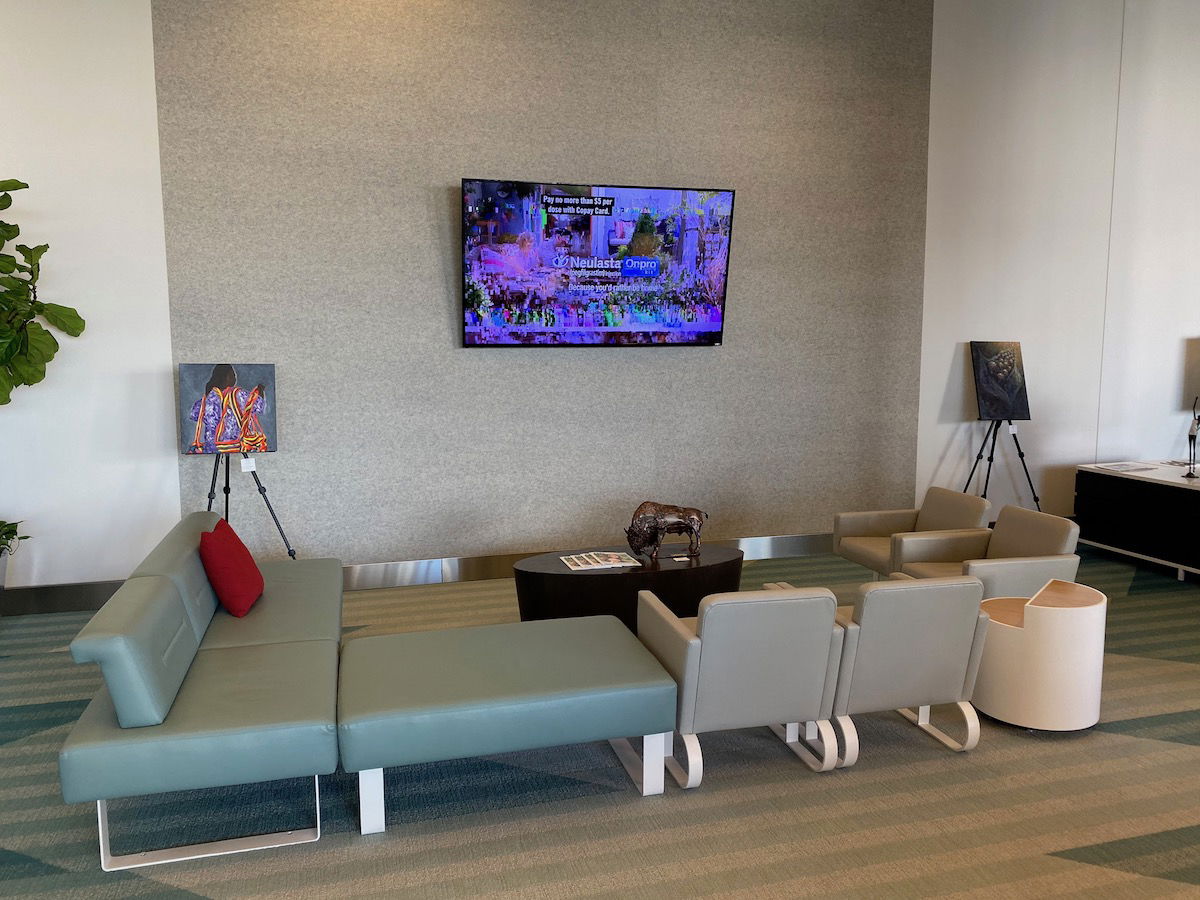 Brightline Select Lounge Miami seating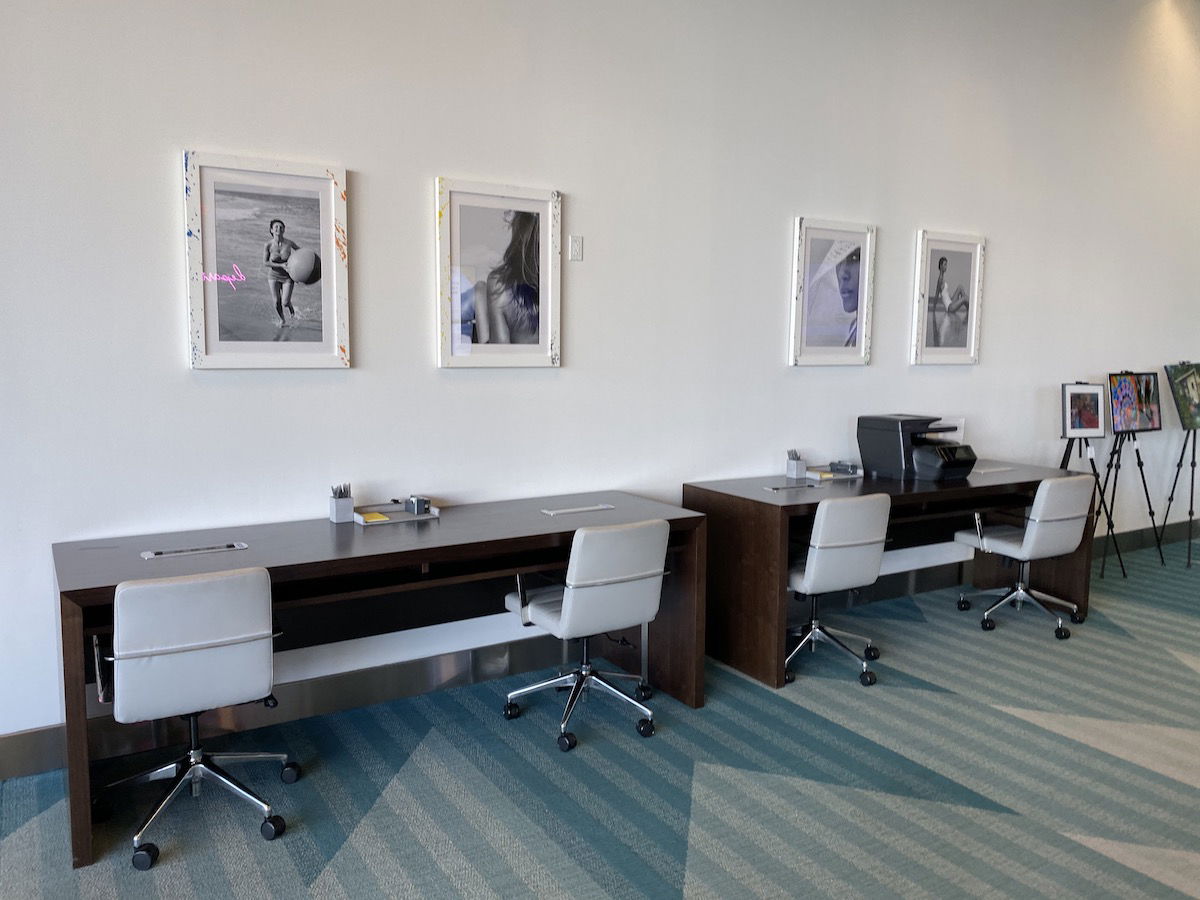 Brightline Select Lounge Miami business center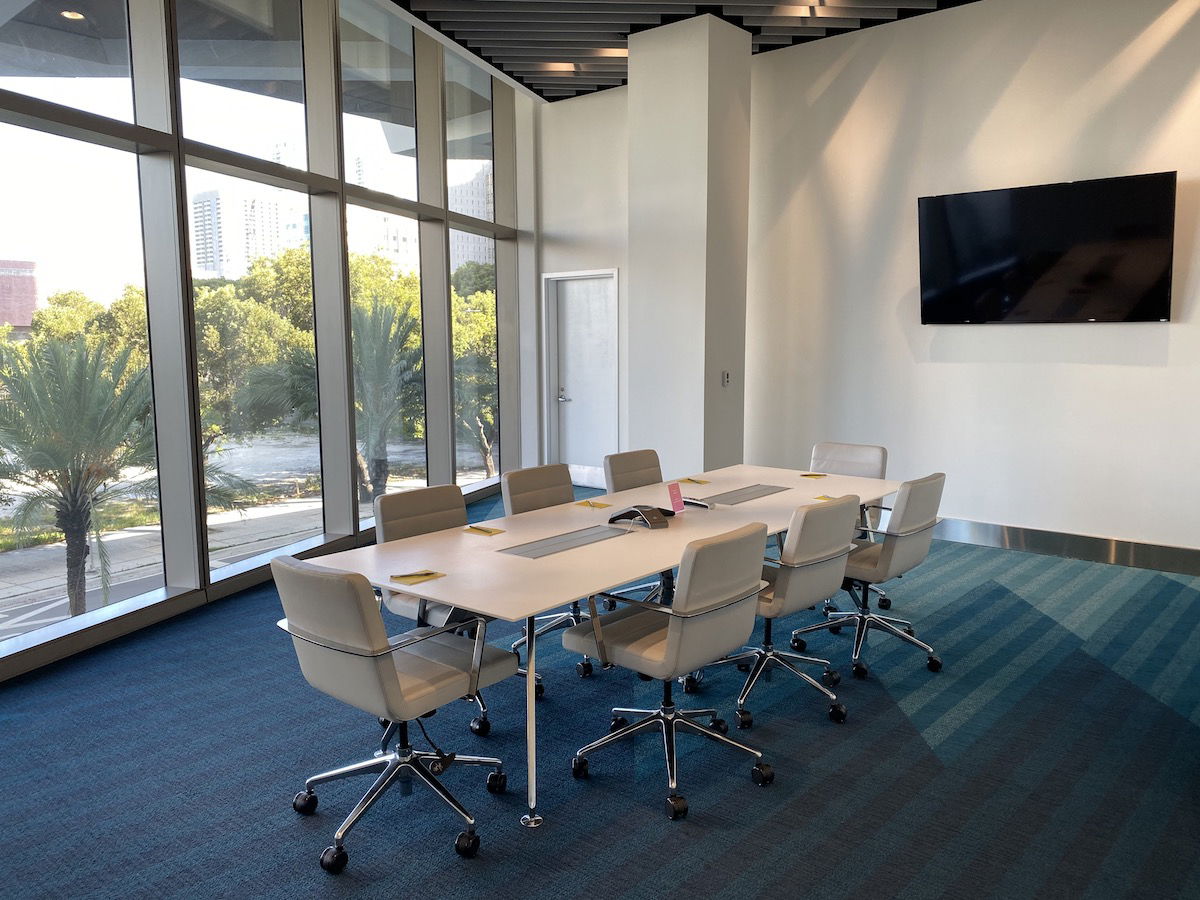 Brightline Select Lounge Miami conference room
They also have complimentary food and drinks all day. Since we were on an afternoon service, they had cold cuts and cheese, as well as a variety of bread.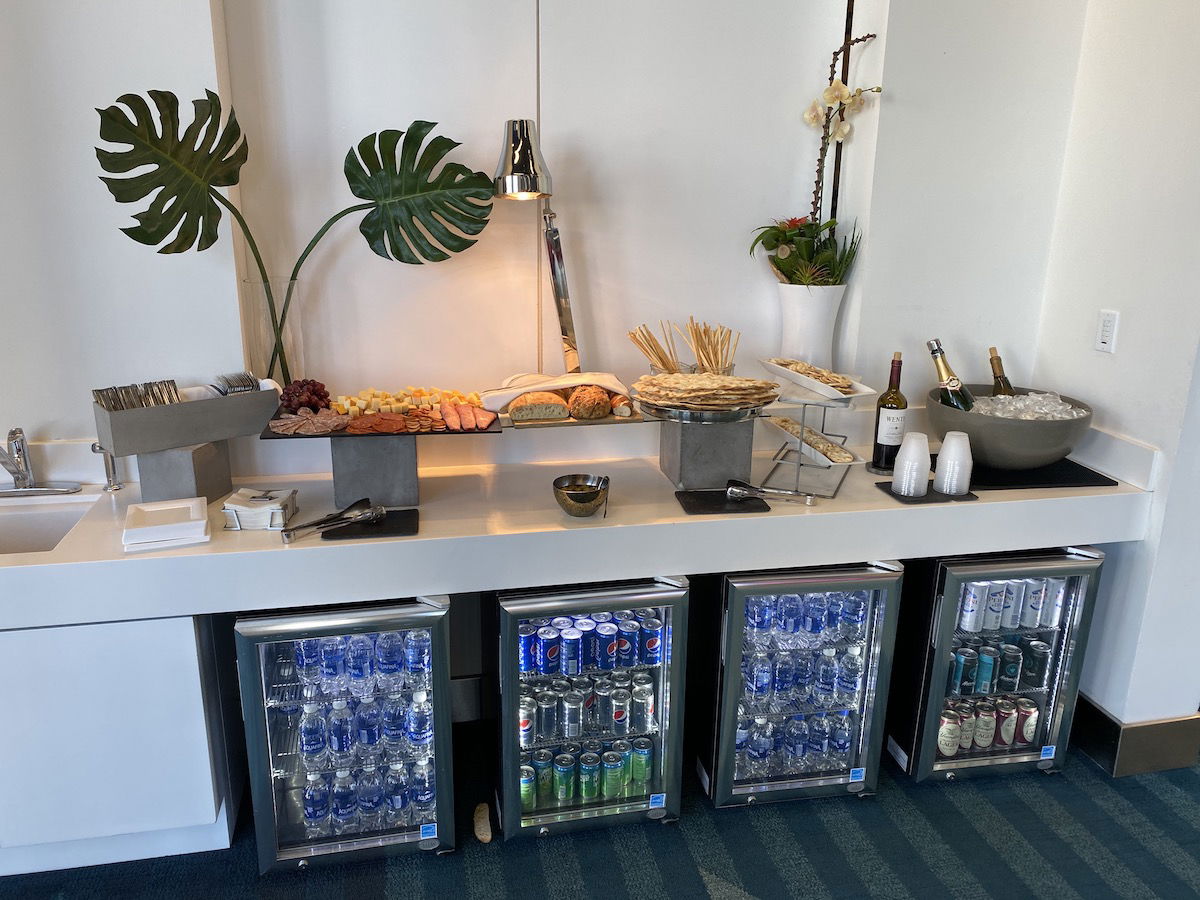 Brightline Select Lounge food & drinks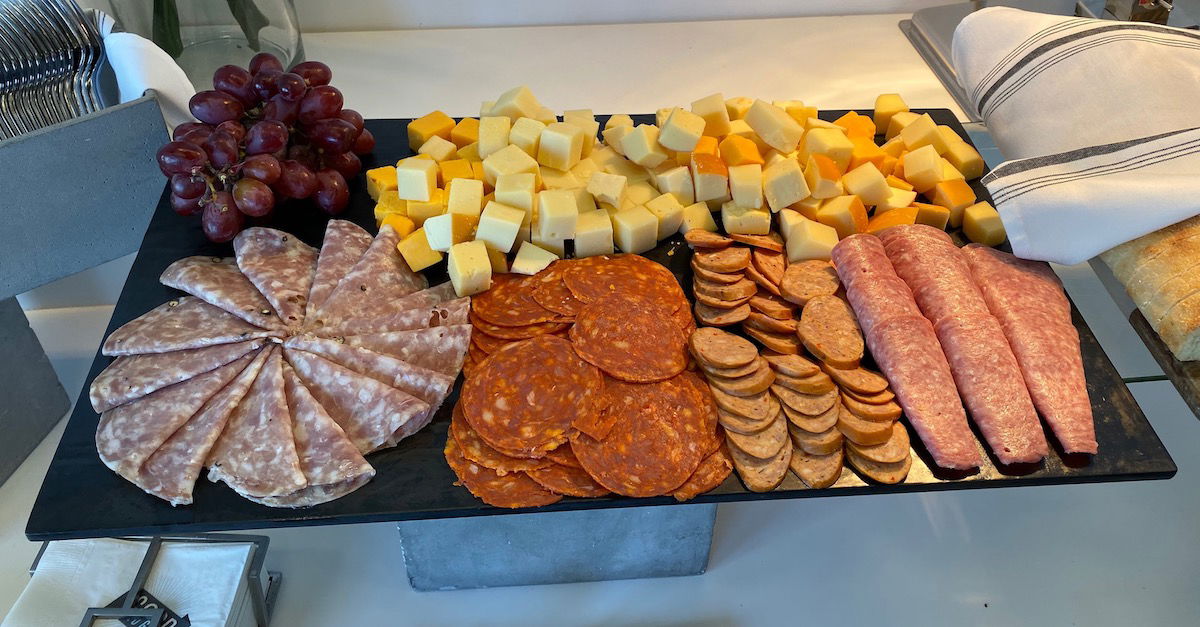 Brightline Select Lounge food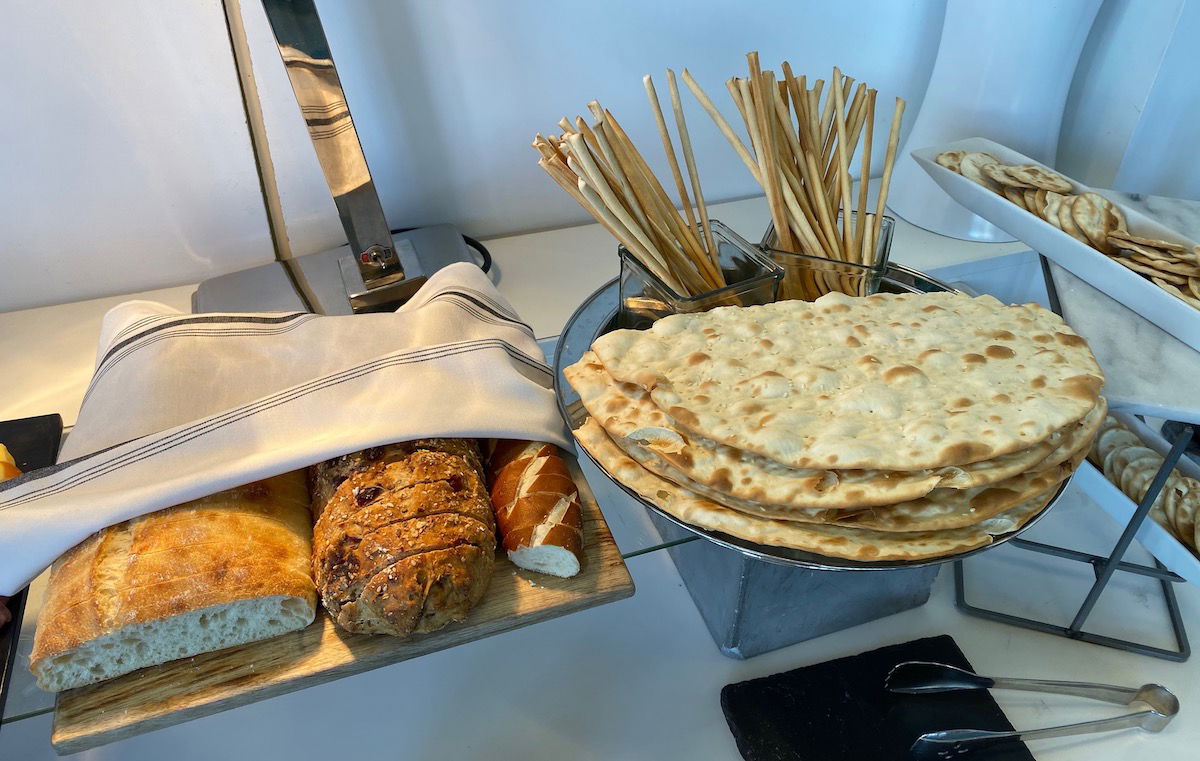 Brightline Select Lounge food
There was also self serve coffee, soft drinks, water, beer, and wine (there's no hard liquor in the lounge, but there is onboard).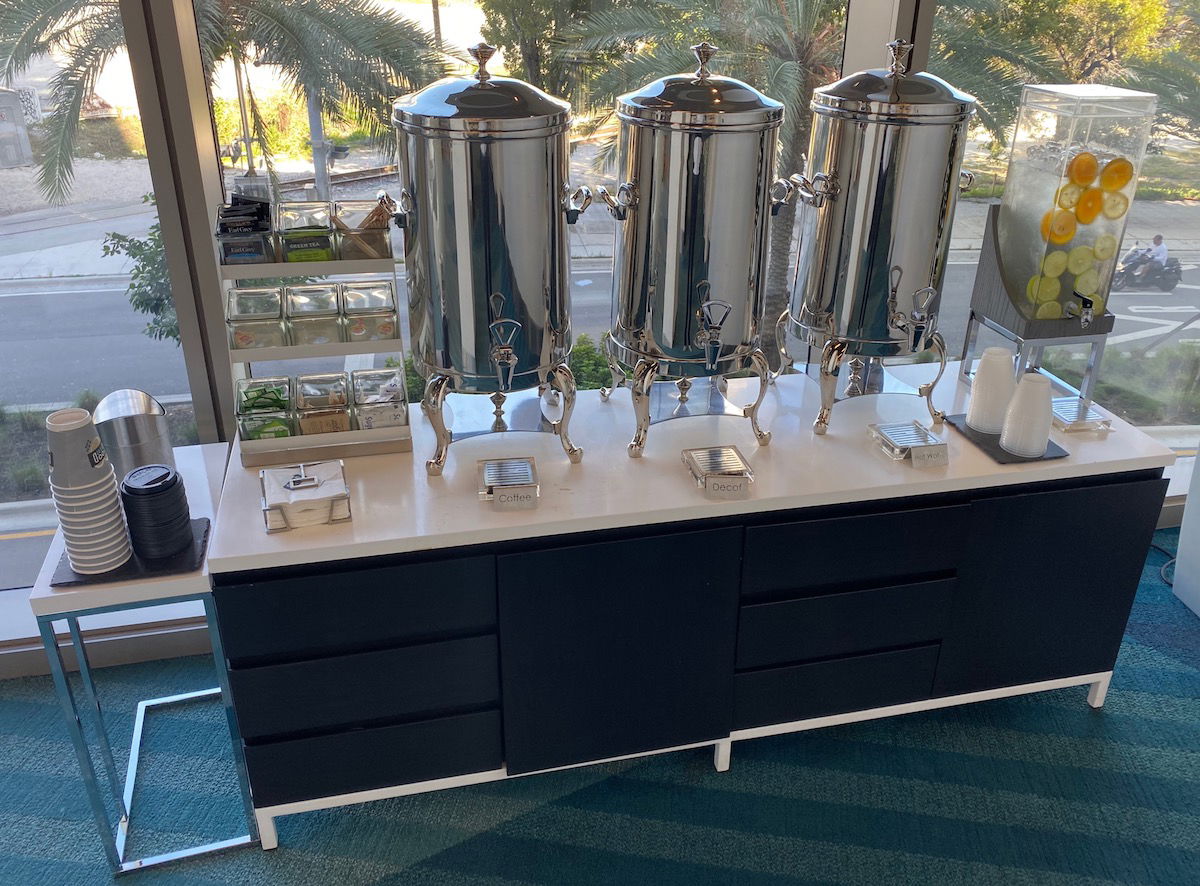 Brightline Select Lounge coffee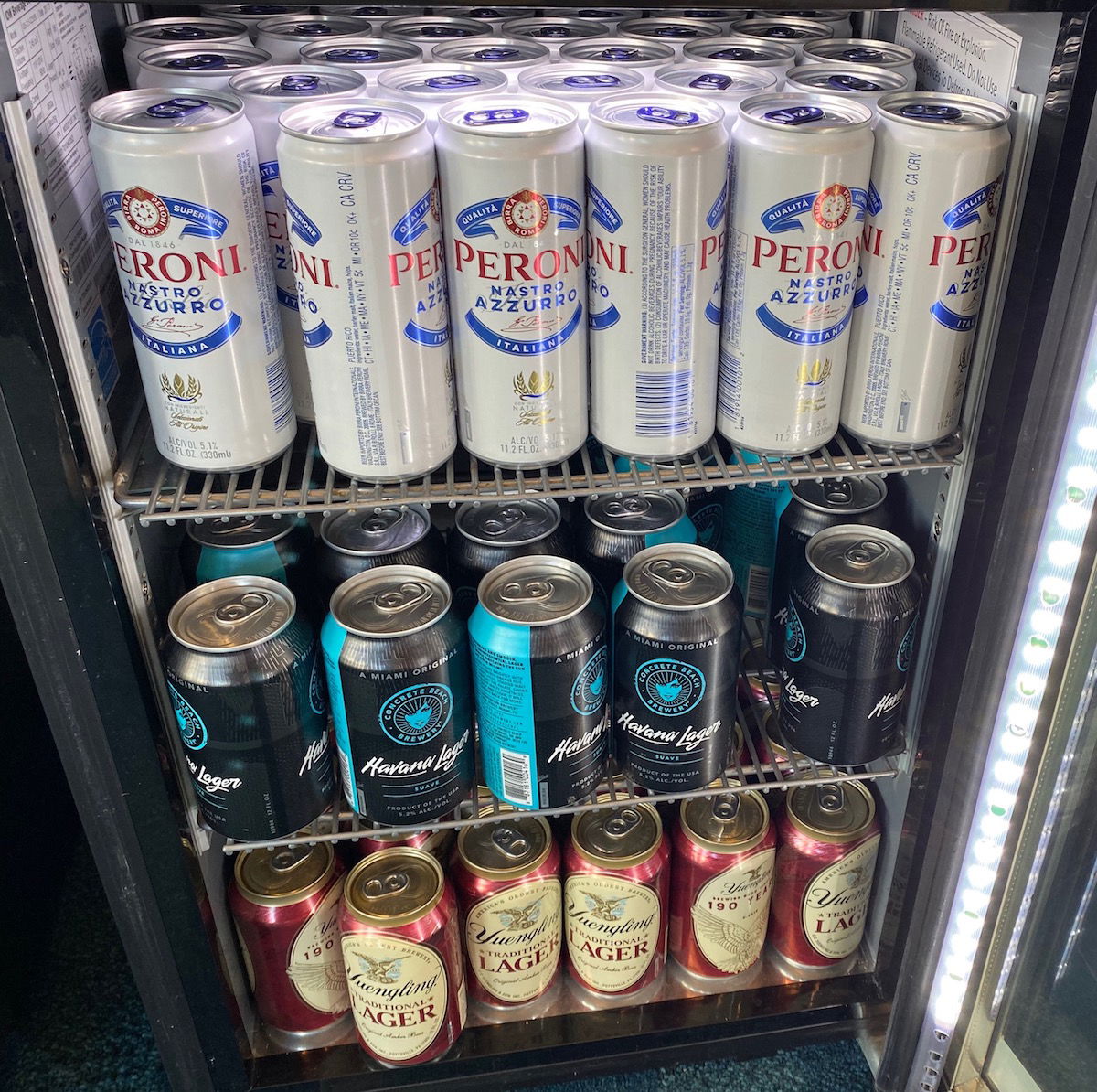 Brightline Select Lounge drinks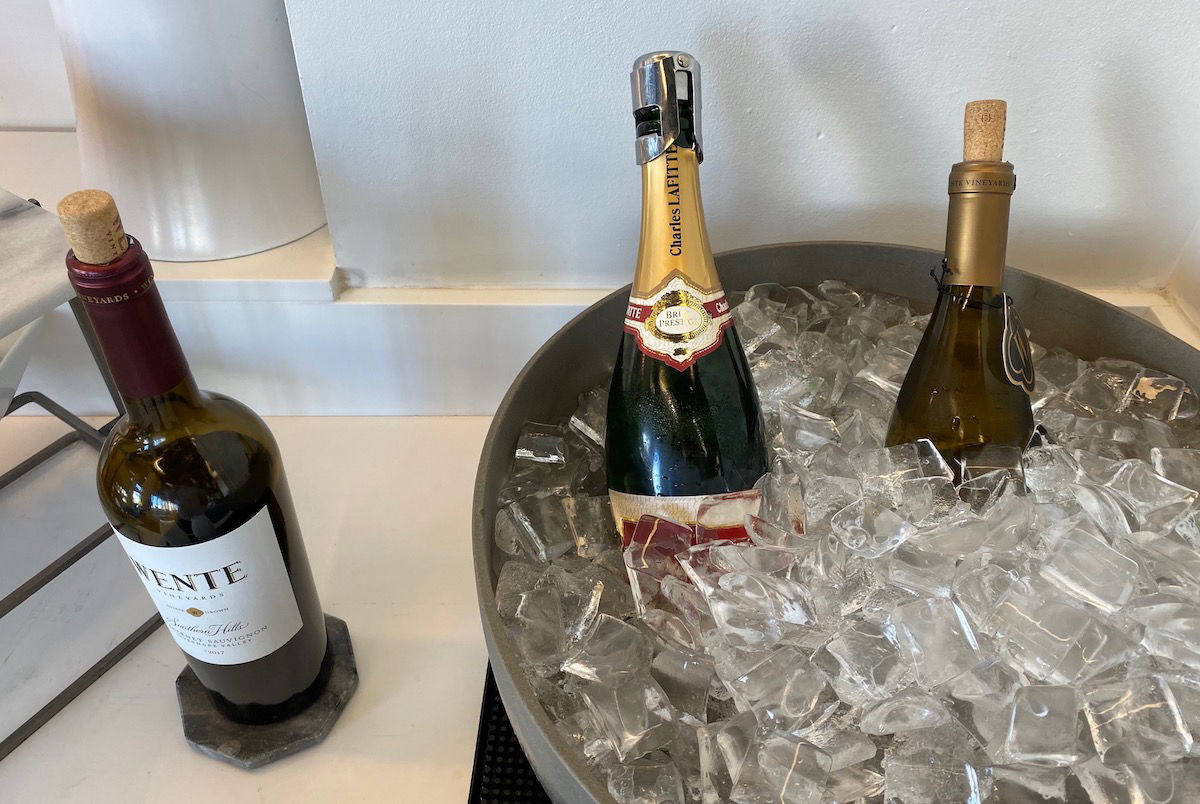 Brightline Select Lounge drinks
There were monitors in the lounge showing the departure times, and also indicating when boarding would start.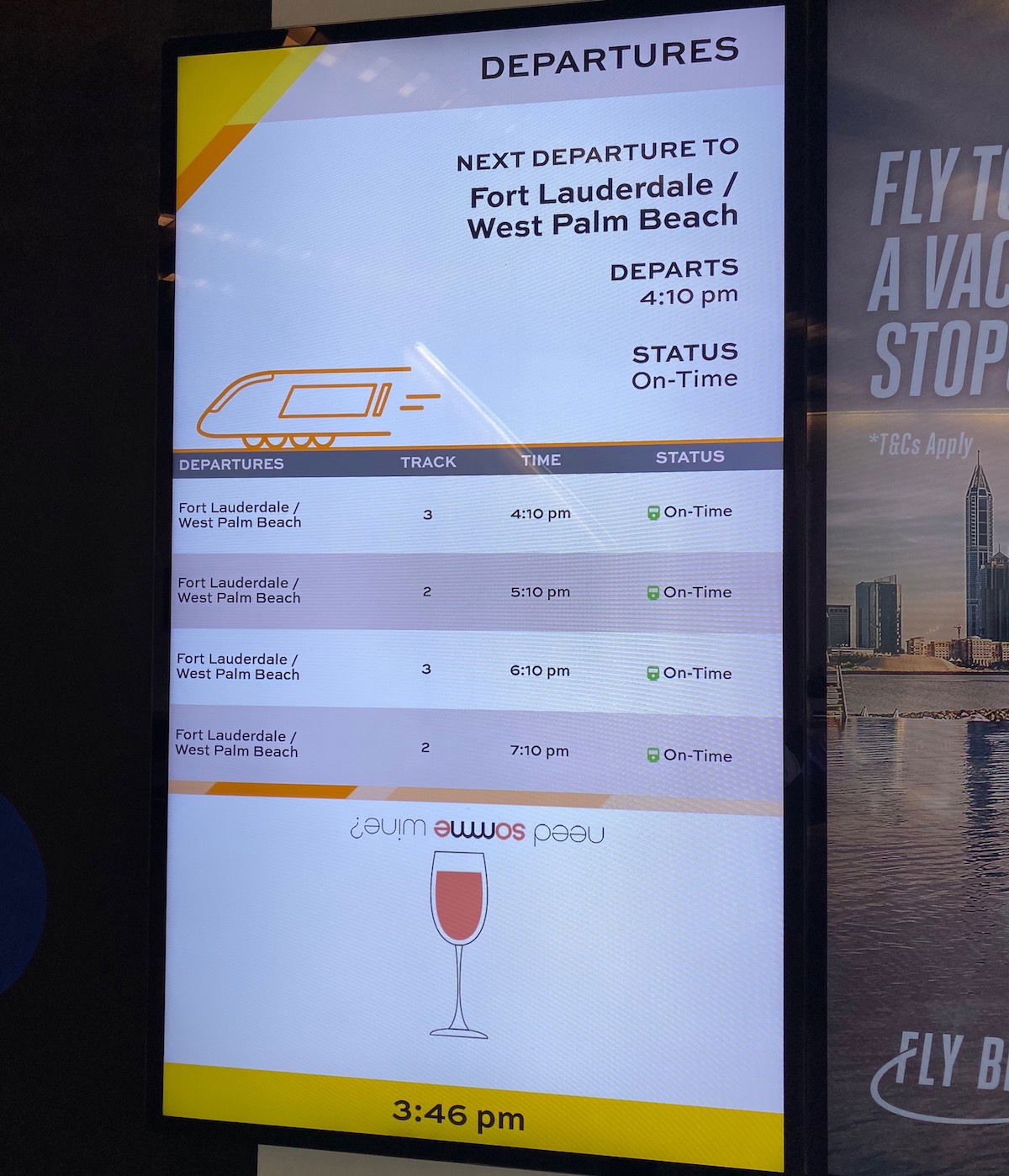 Brightline departures monitor
We were on a 4:10PM train, and boarding started at 4PM, with Select passengers being invited to board first.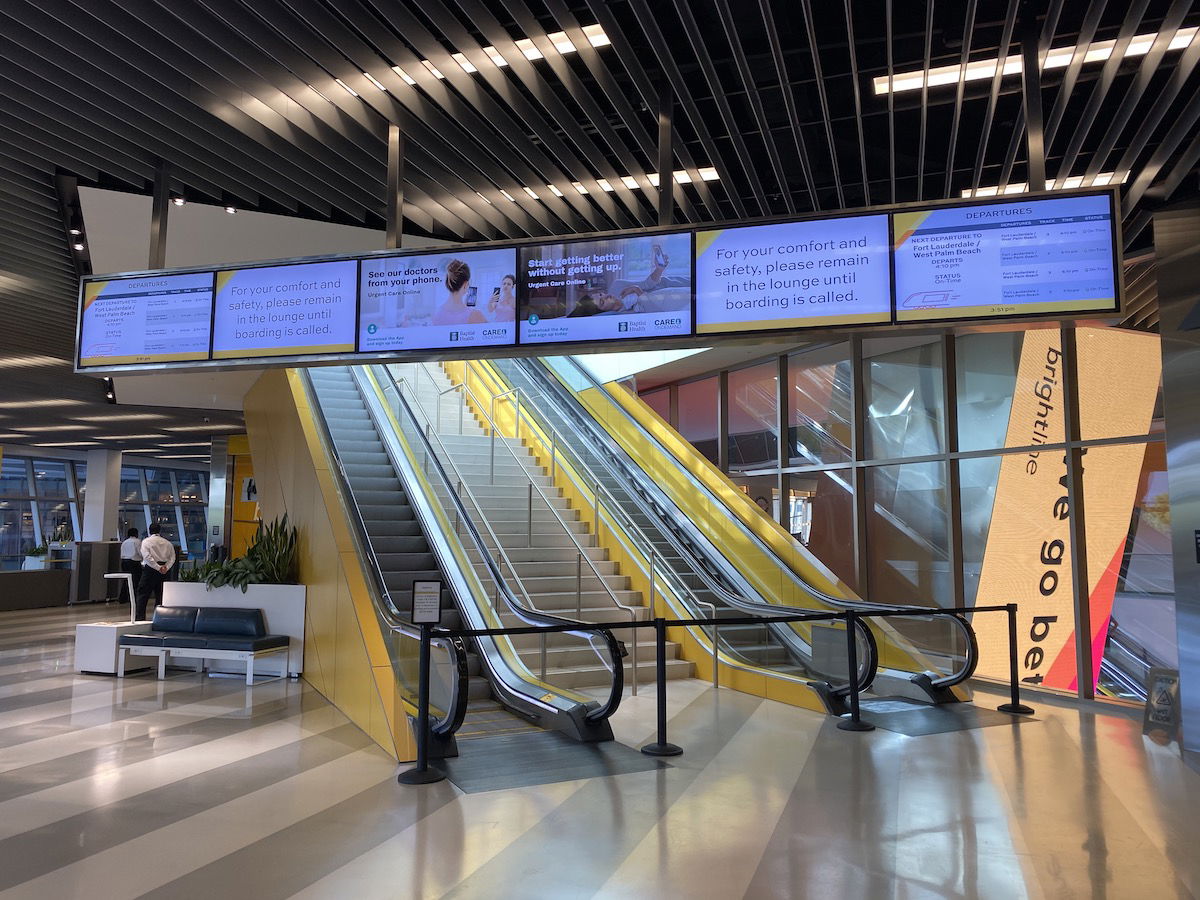 Brightline escalators to tracks
This required going up another set of escalators to the train tracks. The signage towards the Select car was good as well.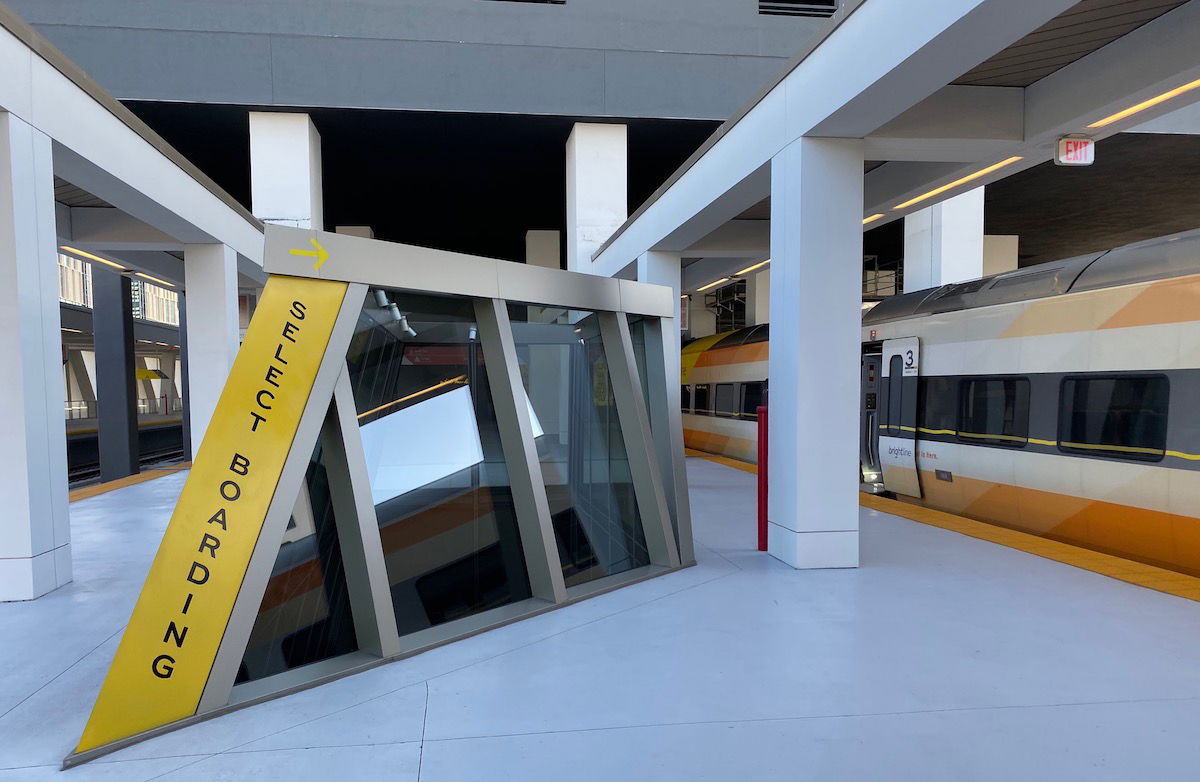 Brightline Select boarding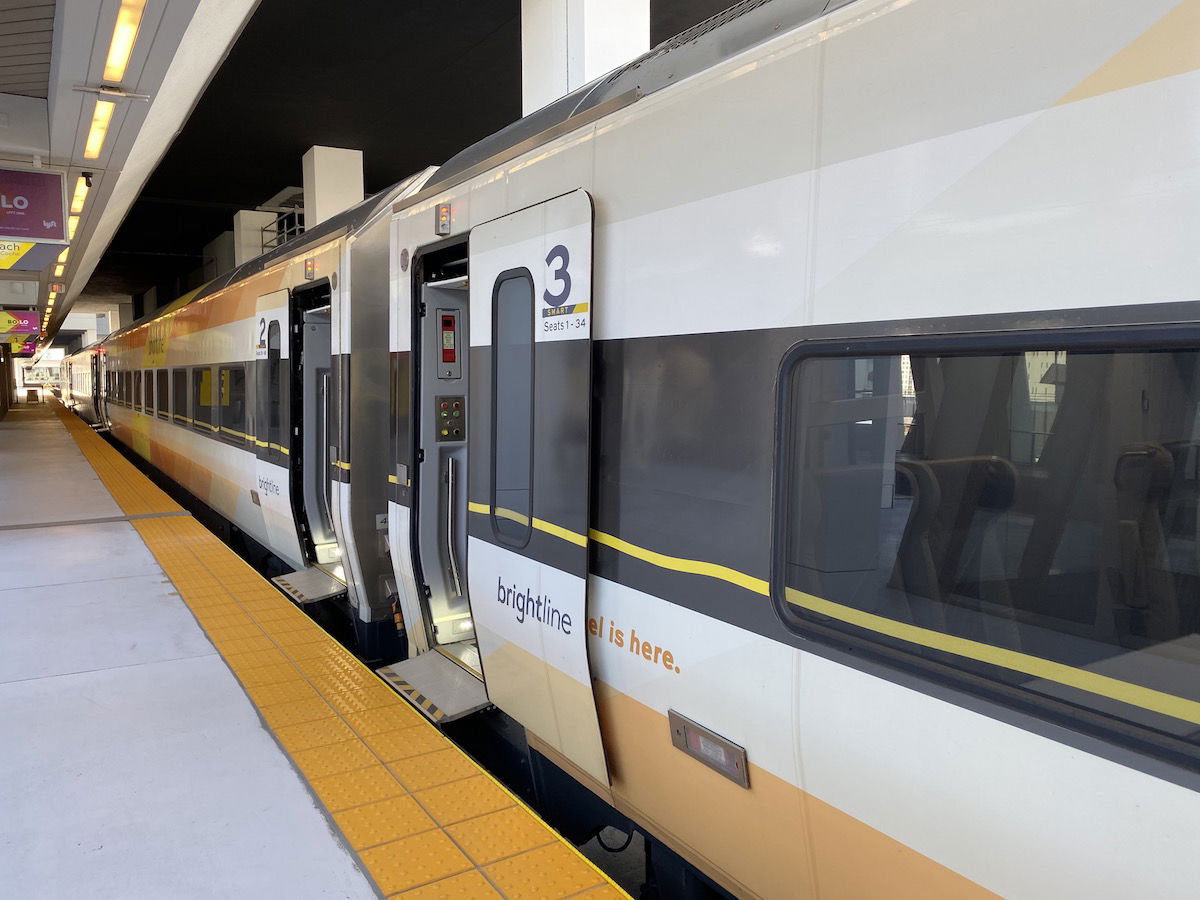 Brightline train
Brightline Select Review
The Brightline Select car has 46 seats, and as mentioned above, seats are in a 1-2 configuration.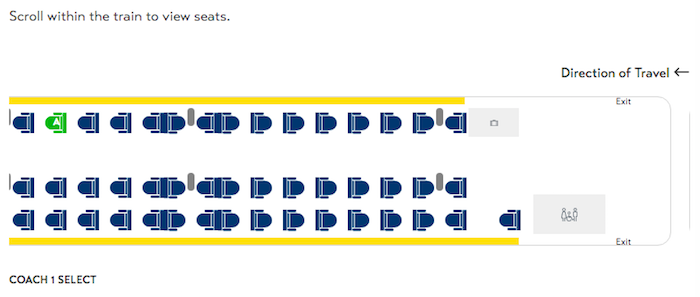 The train was bright, modern, and clean.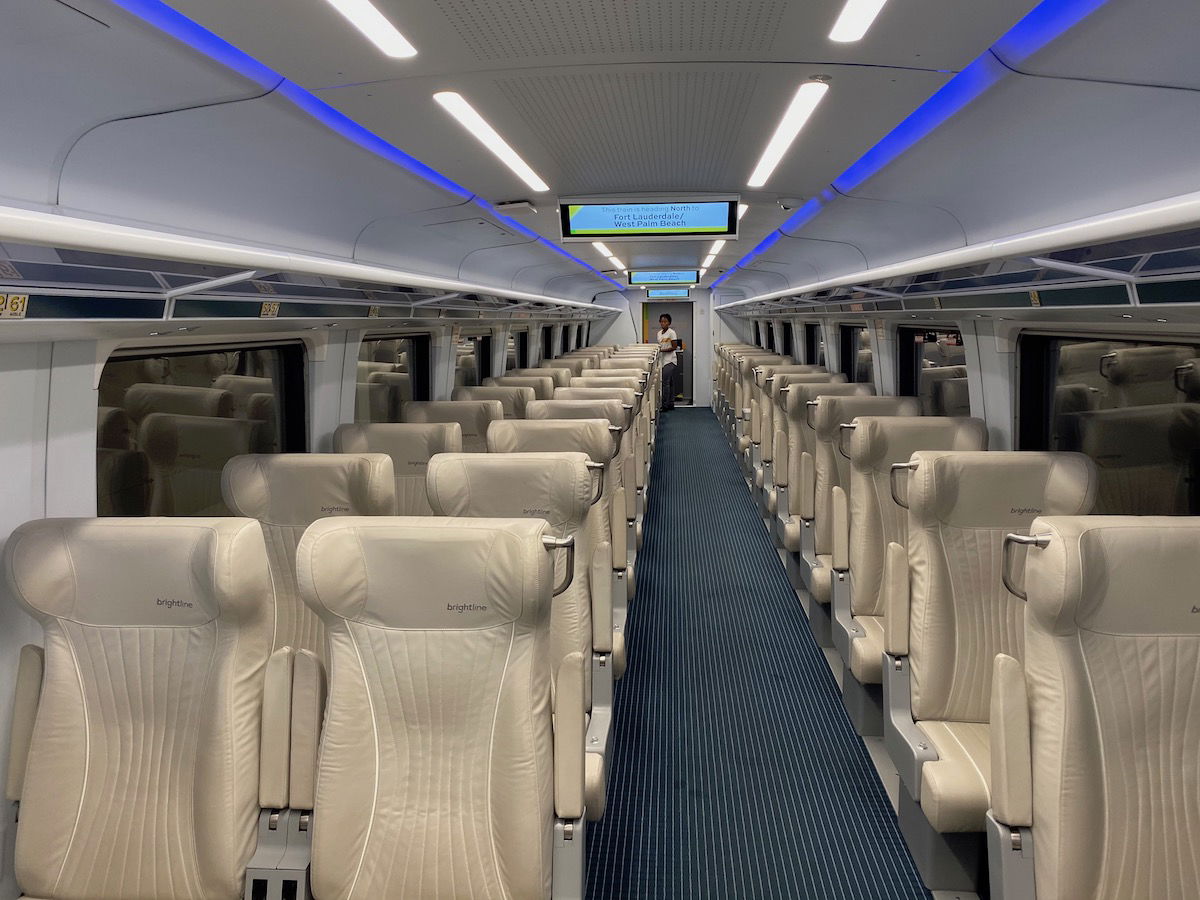 Brightline Select cabin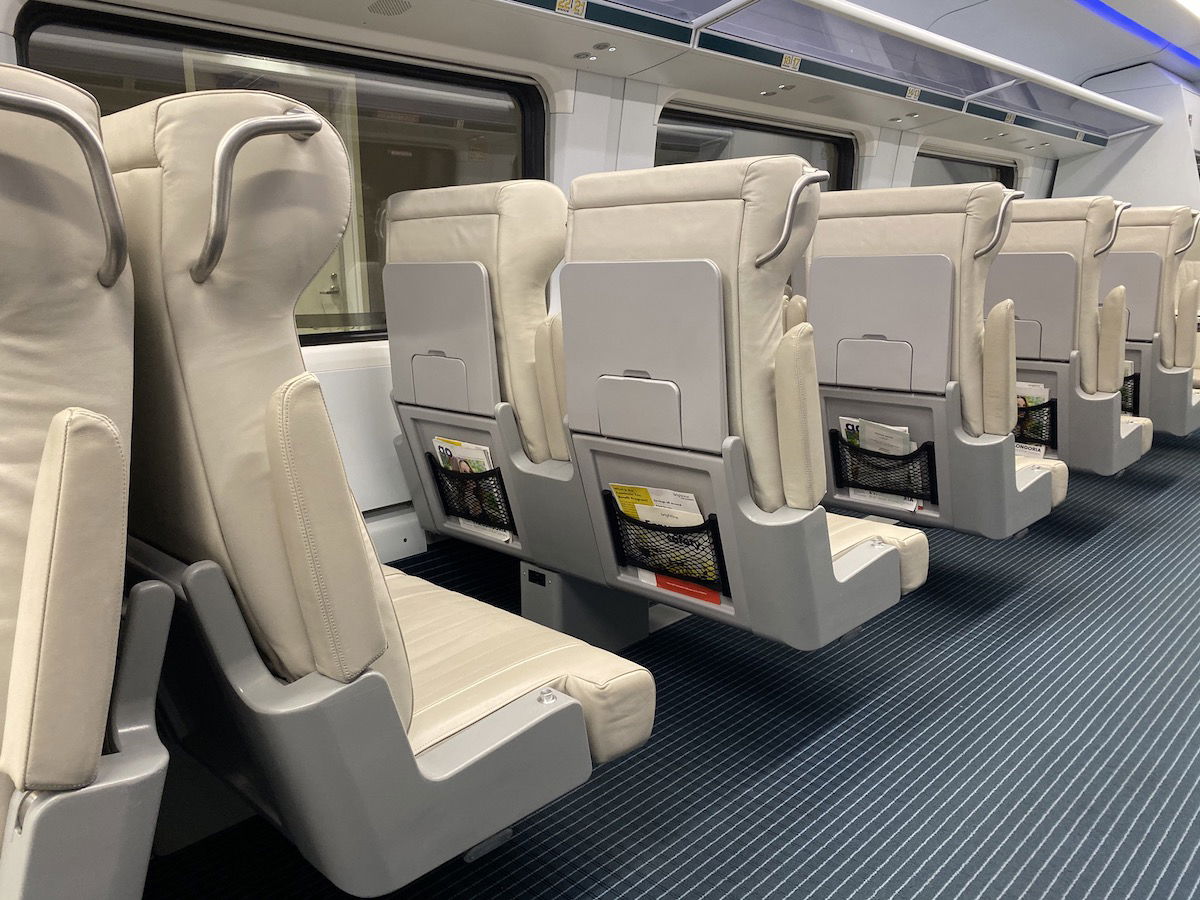 Brightline Select cabin
There are a variety of seating options available. Most seats are either forward or rear facing, with no "conference" table.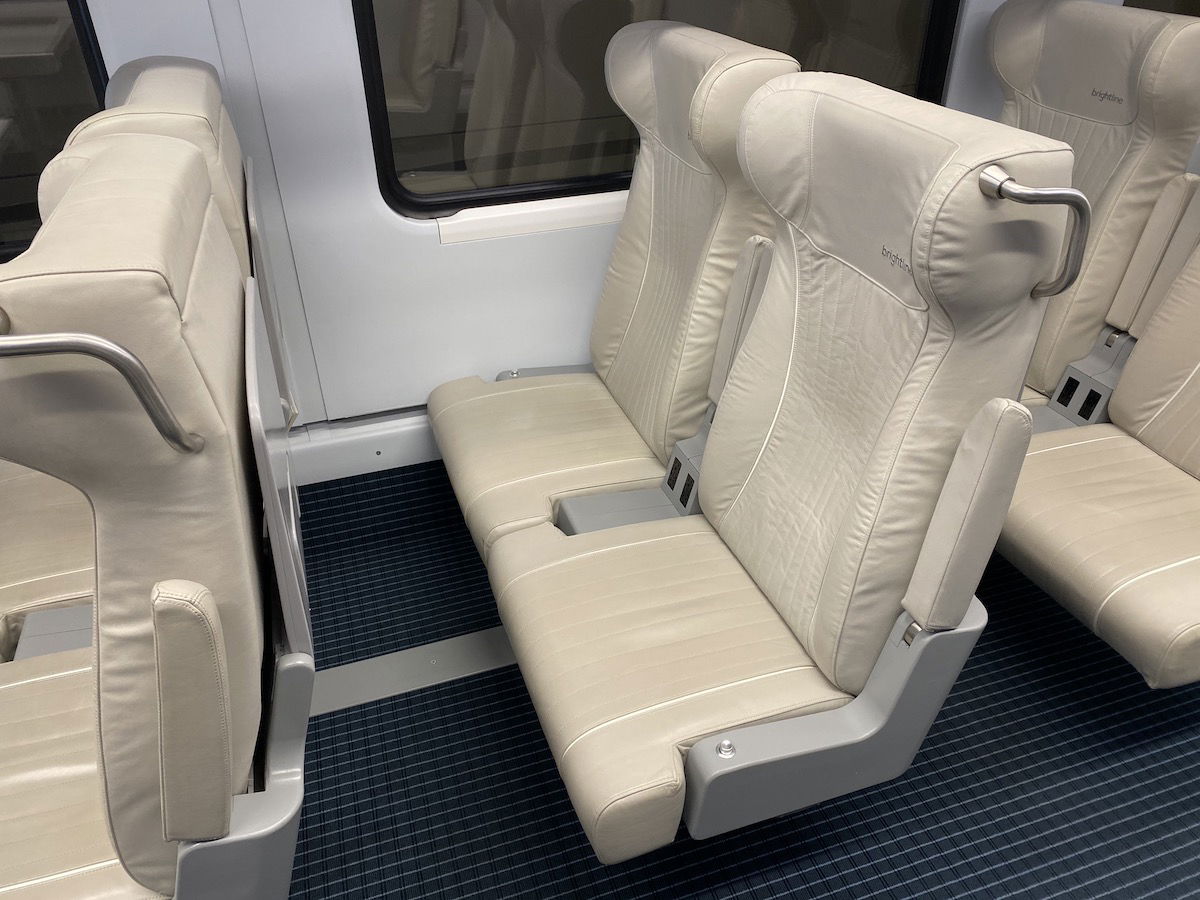 Brightline Select seats

Brightline Select seats
The standard seats have both big trays that can be extended, as well as smaller trays you can extend if you just want somewhere to put a drink.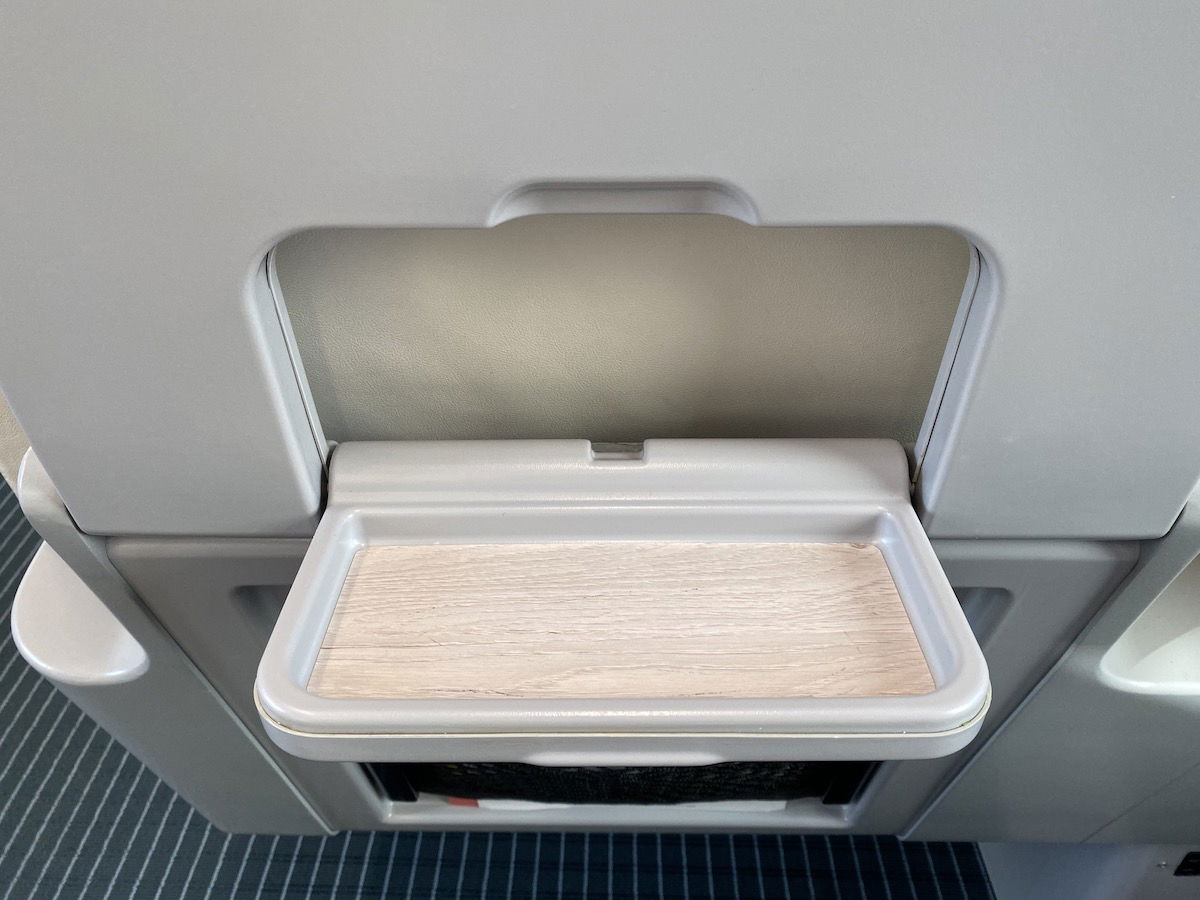 Brightline Select seats tray table
Each seat also has a power outlet.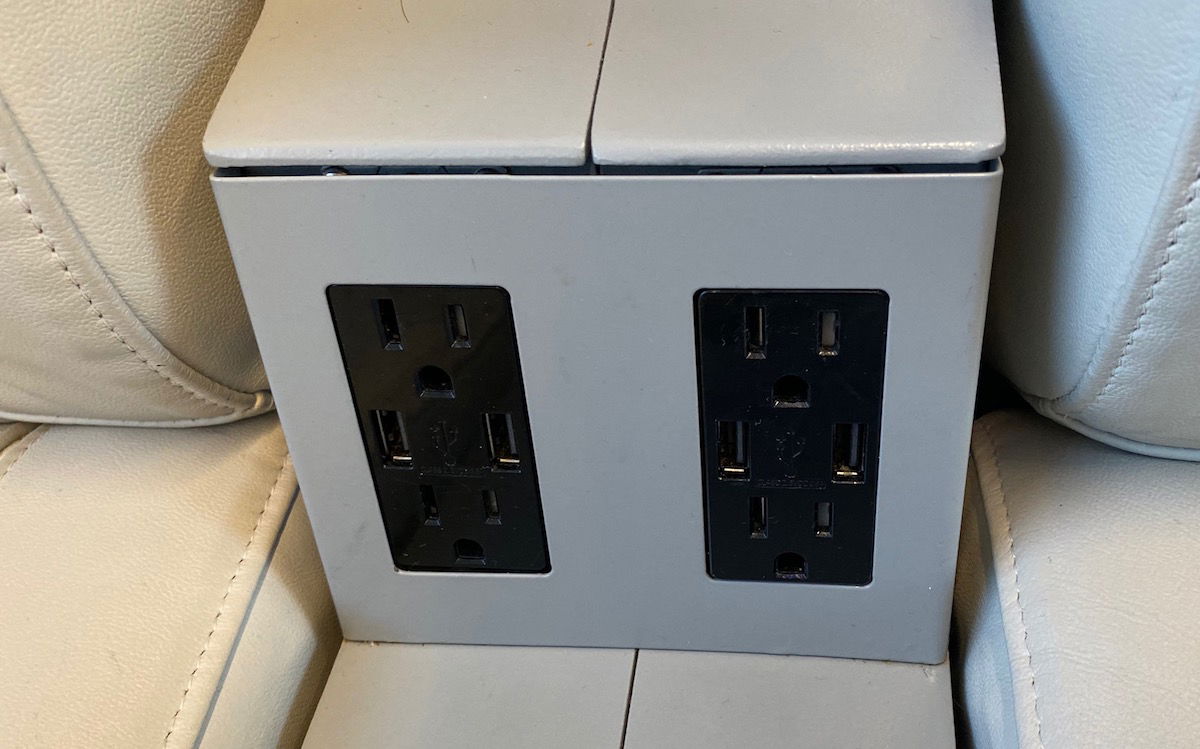 Brightline Select seats outlets
There are also 12 seats that face a table, which seems to me like the ideal place to sit. Ford and I selected table seating across from one another in the section with just one seat on the side.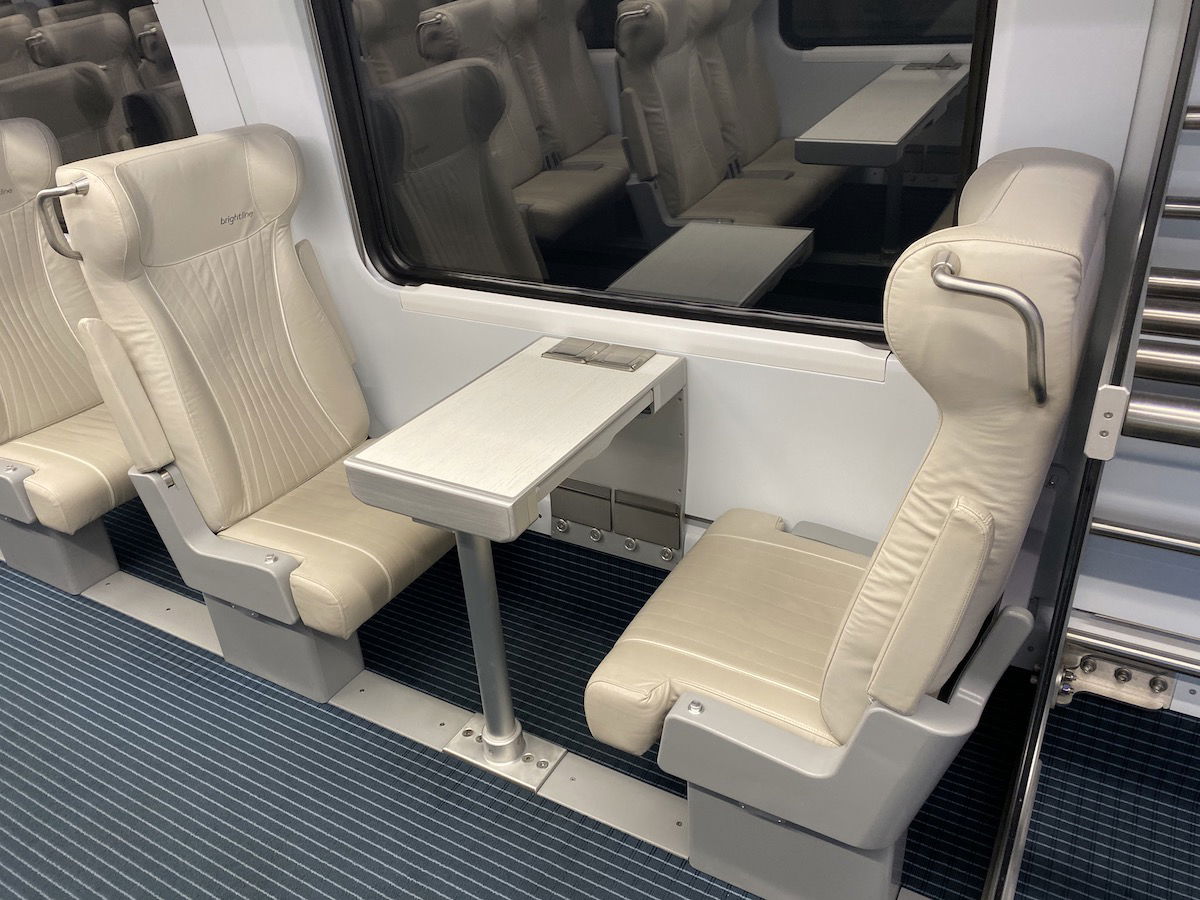 Brightline Select seats
For these seats the outlets pop out from the table.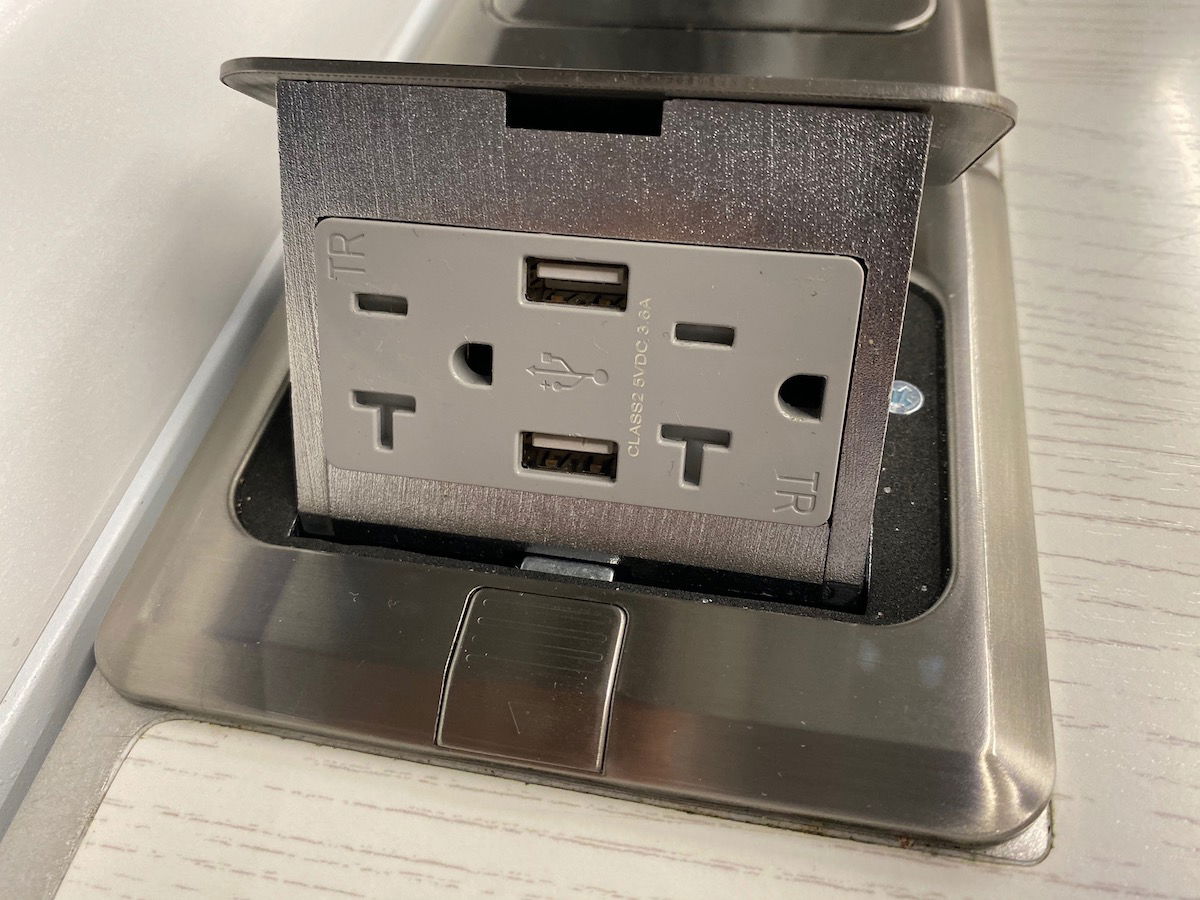 Brightline Select seats outlets
Brightline does have complimentary Wi-Fi that's easy to connect to, and there's not even a log-in page. However, speeds were slow and I found it was faster just to tether (which I would have done either way, since I desperately need to use data when in the US).
The Select car had a bathroom, which was spotless, to the point that the toilet paper was folded in a perfect triangle. Is this Singapore Airlines or a US inter-city rail?!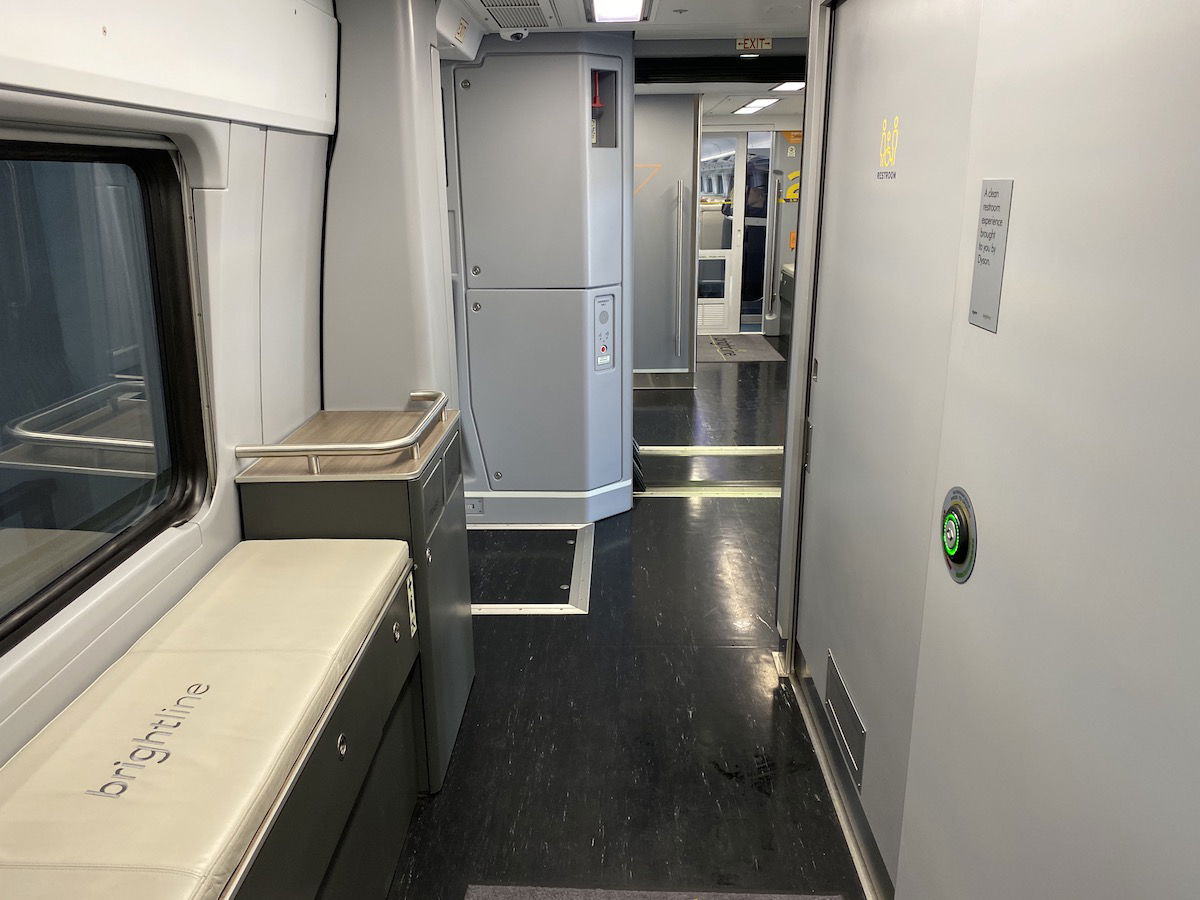 Brightline Select bathrooms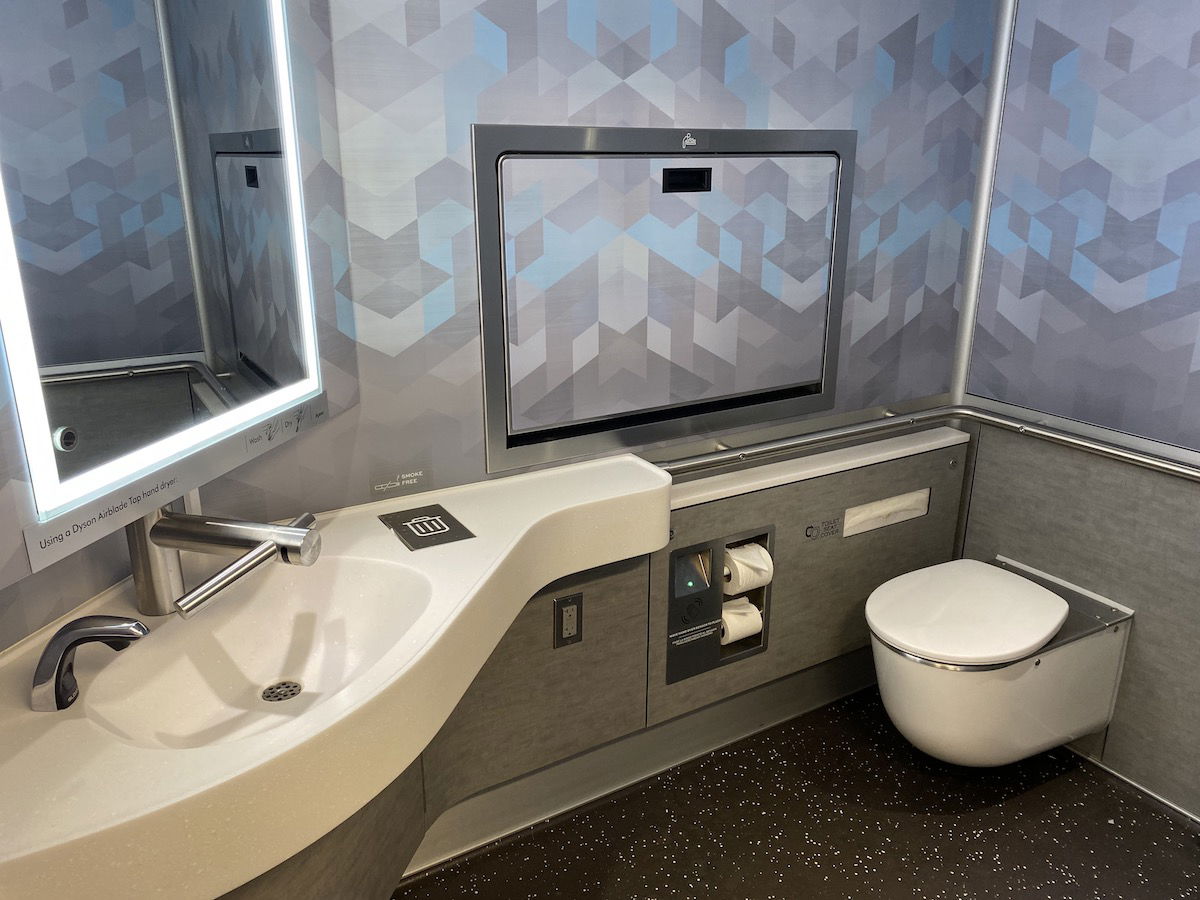 Brightline Select bathrooms
Select has a dedicated attendant, and on both of our trips they couldn't have been friendlier. The attendants wear sport coats and are dressed rather stylishly, which you wouldn't usually expect from a train-conductor-type.
The second we departed the attendant began the service. First there was a warm towel.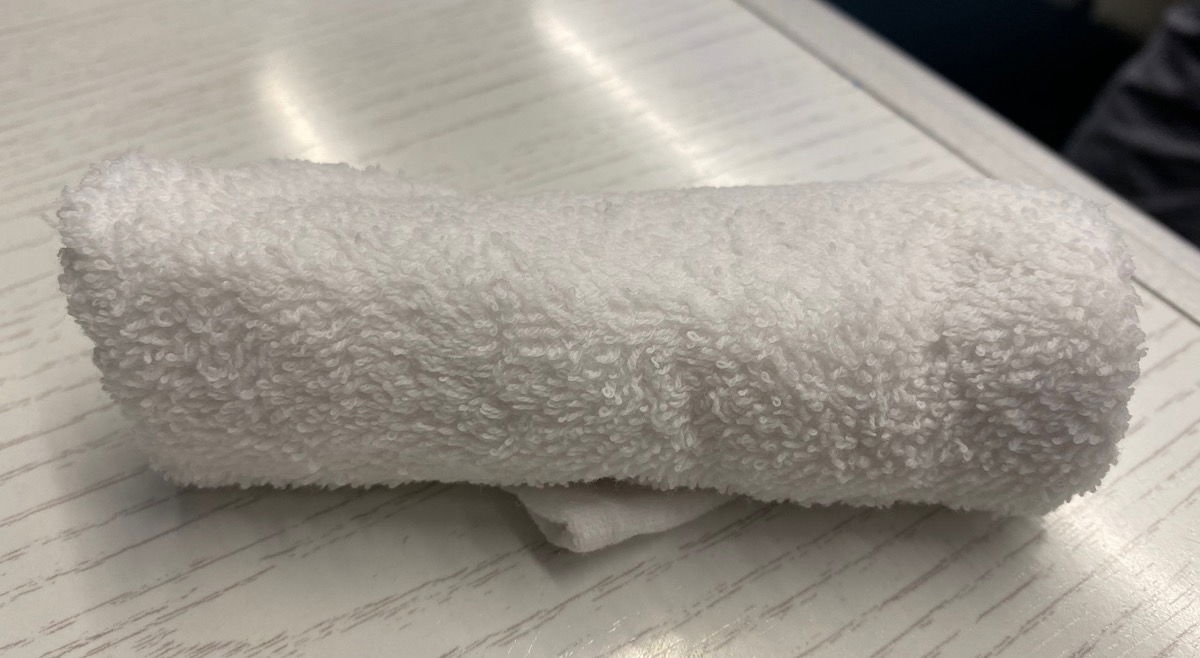 Brightline Select warm towel
Then there was a snack basket.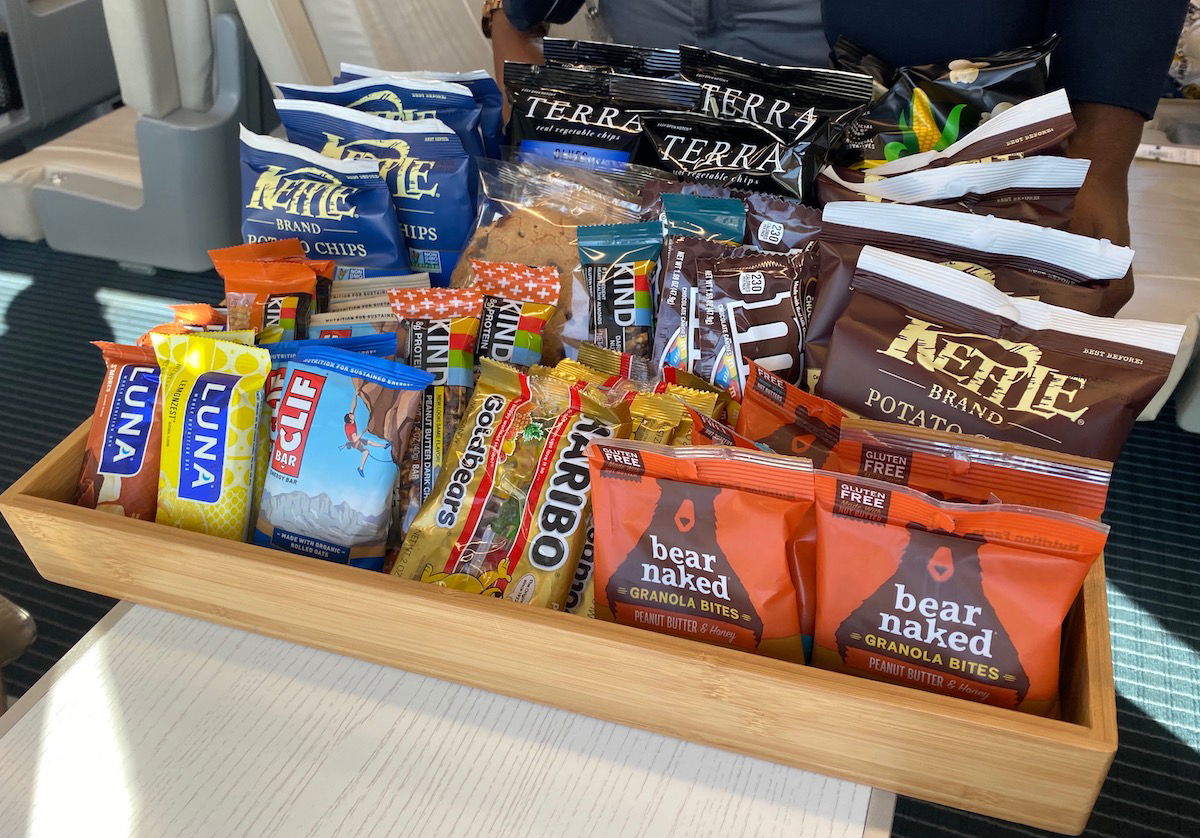 Brightline Select snack basket
Next a cart was rolled down the aisle with drinks of choice. The drink menu read as follows: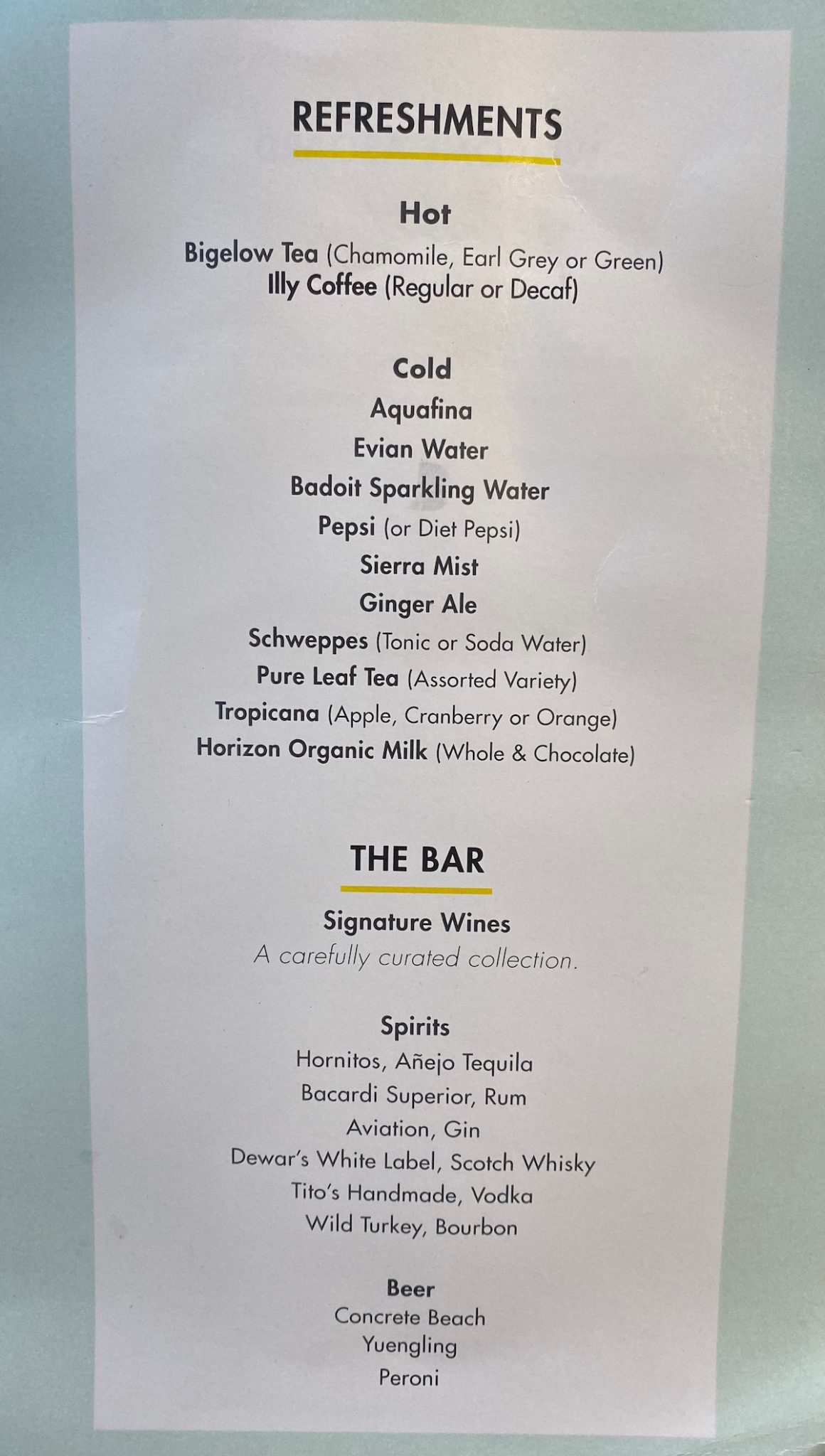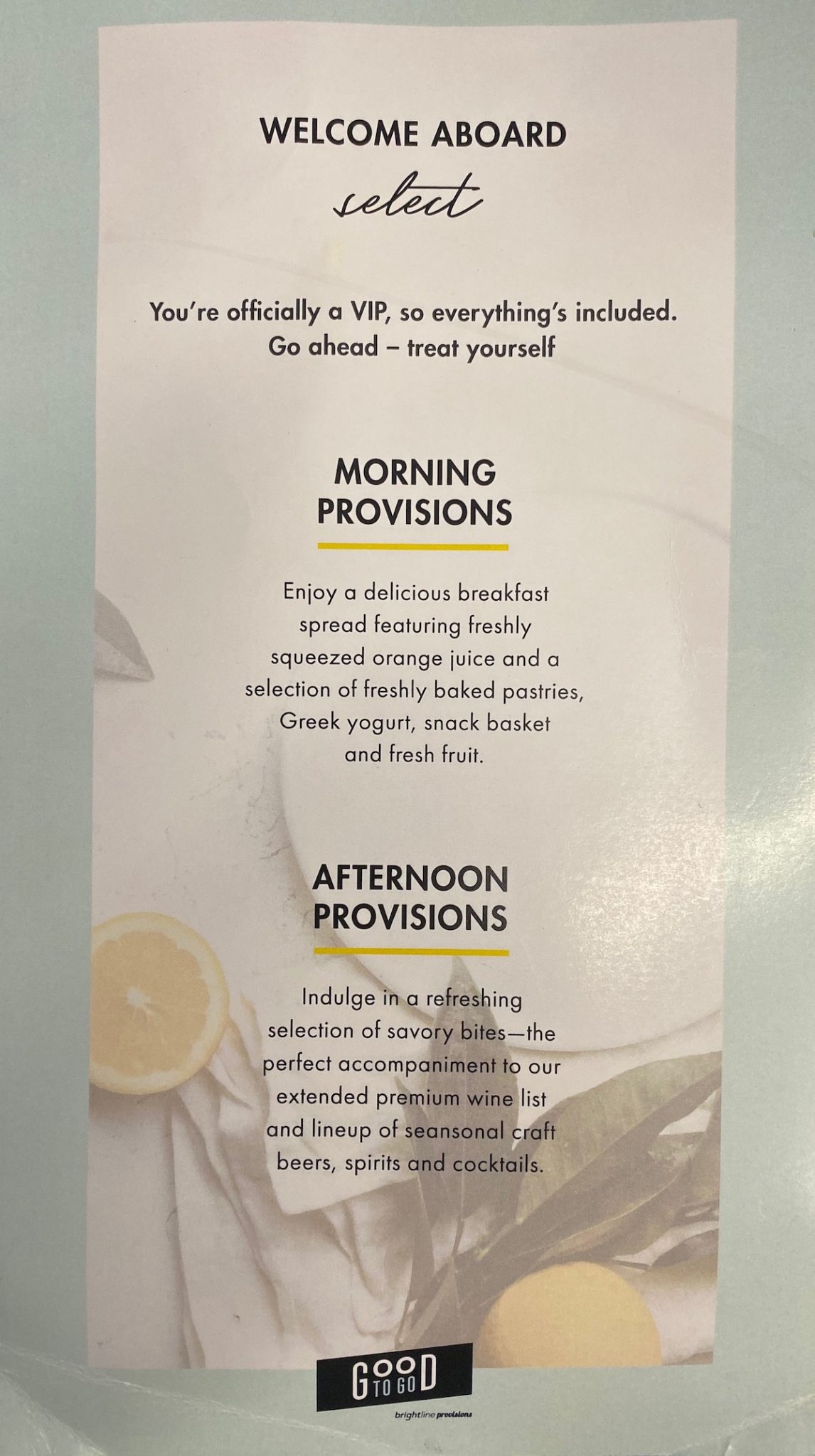 I had a glass of sparkling wine, which was Charles Lafitte and surprisingly not terrible. Ford had a tequila soda.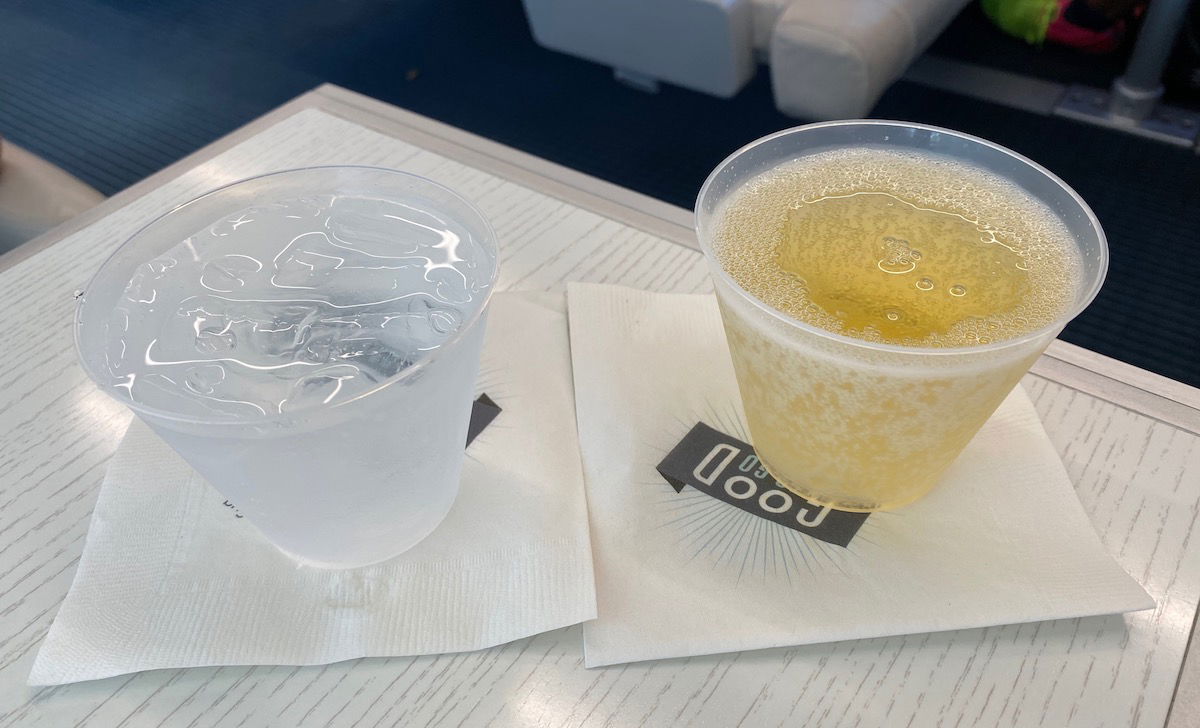 Brightline Select drinks
We were also offered our choice of three "bento boxes," as they were described, which contained pita, olives, cold cuts, cheese, etc.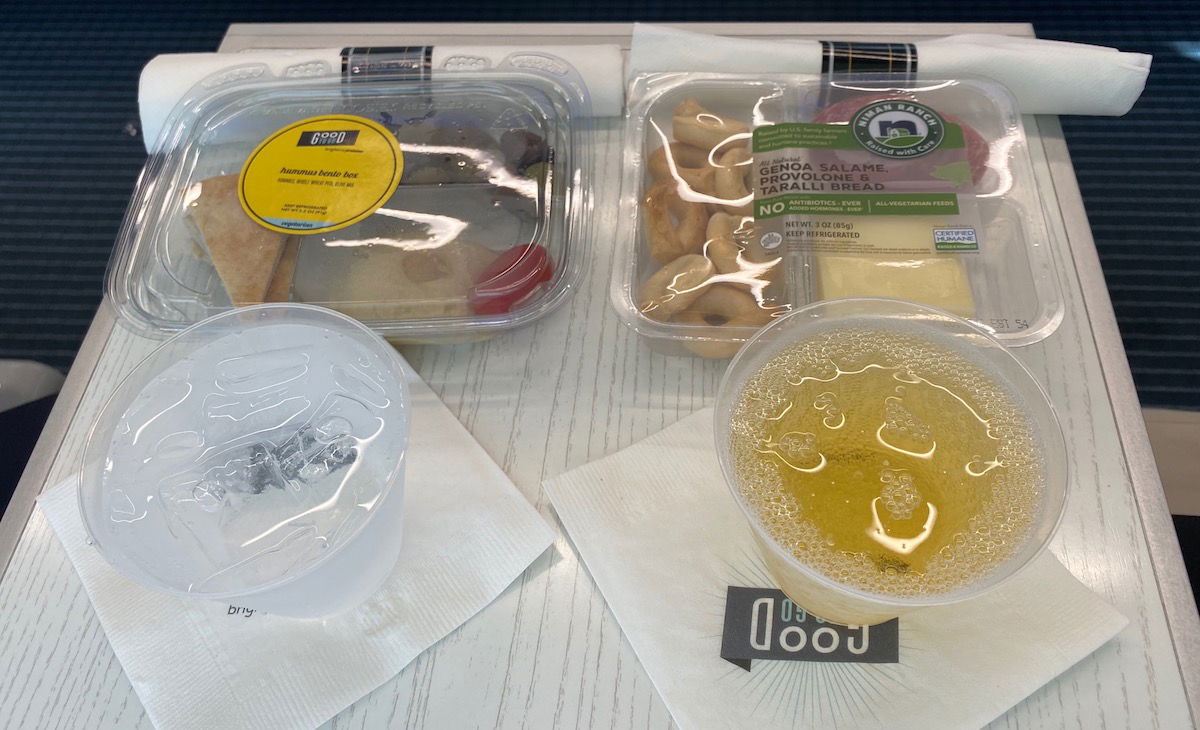 Brightline Select drinks & snacks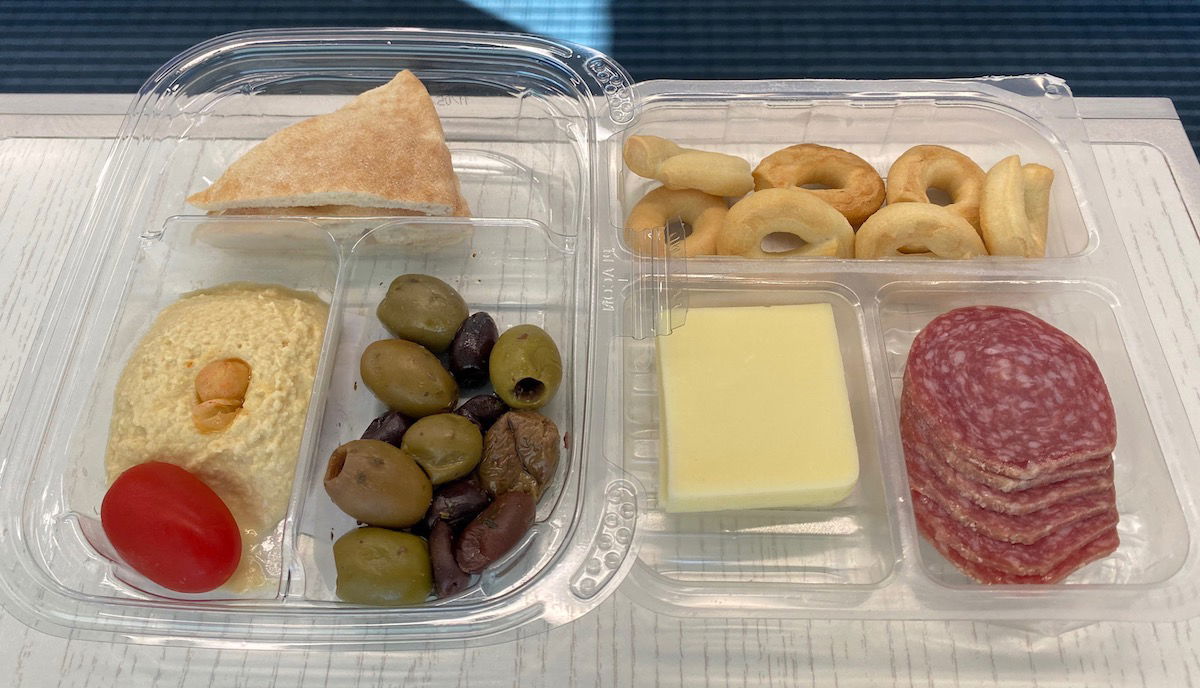 Brightline Select snacks
After the attendant finished her first round of drinks she came through the cabin again to offer refills… and this was all during the sub-30 minute trip to Fort Lauderdale!
Then from Fort Lauderdale to West Palm Beach was another 45 minutes, and we were offered yet another round of drinks. I decided to have a tequila soda as well.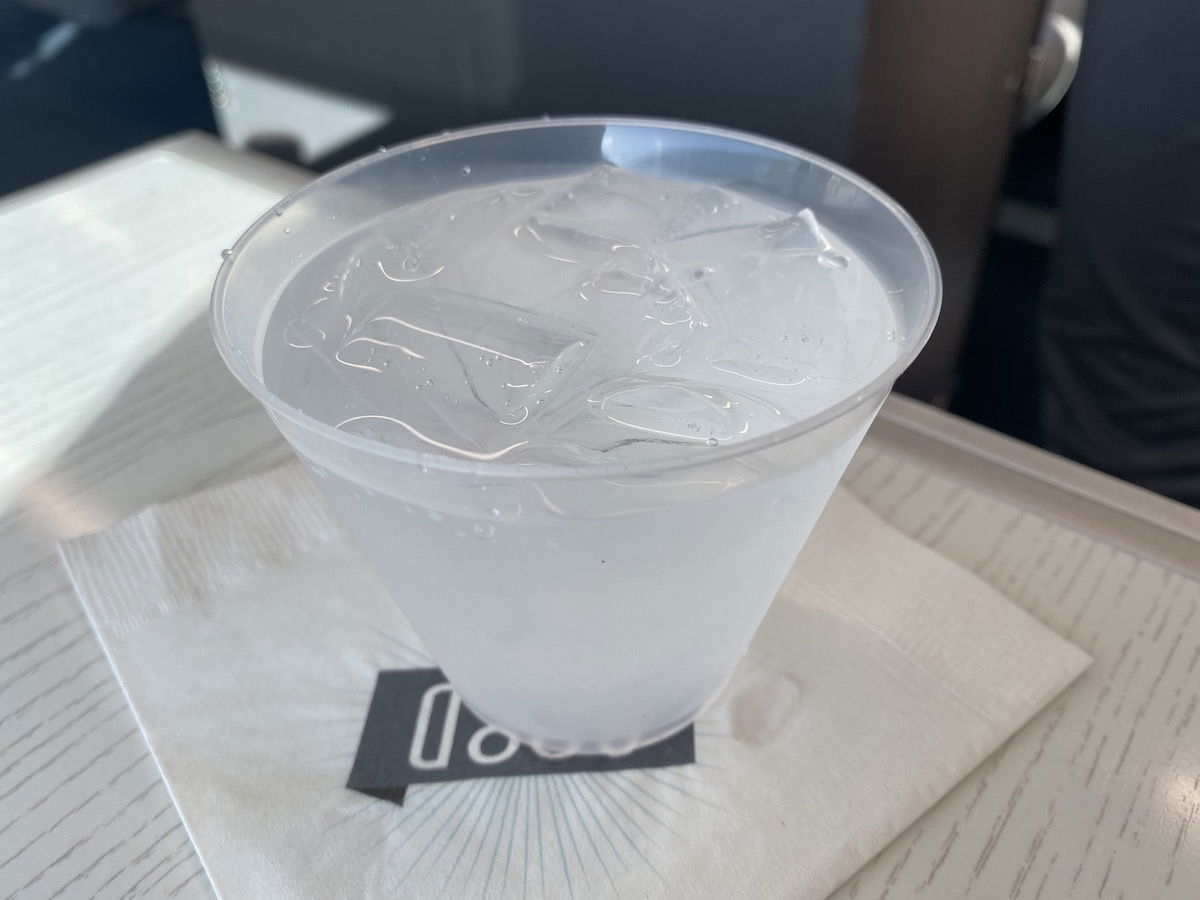 Brightline Select drinks
And once she finished that service we were offered a fourth round of drinks. Like what the actual hell?!
As far as the views go, Florida isn't exactly the most scenic place aside from the coast, so don't expect much in the way of views (this isn't like a coastal train in California)…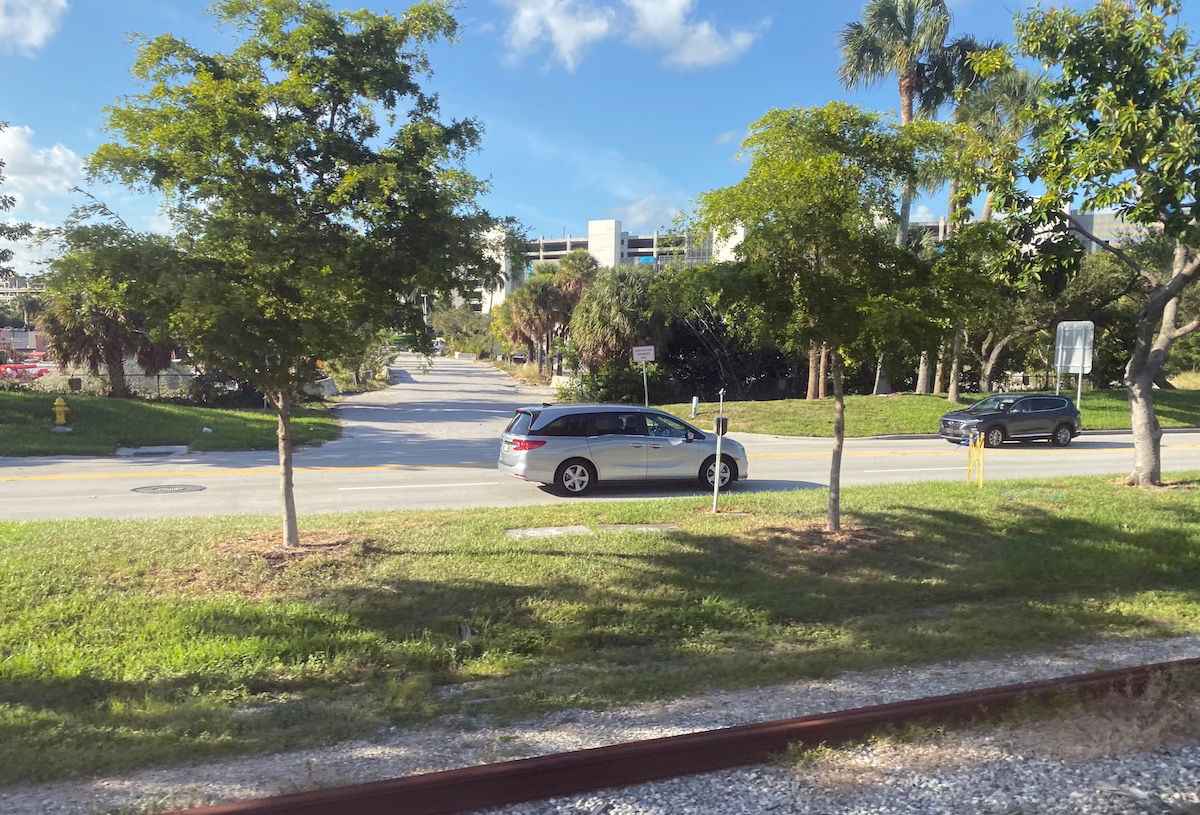 Brightline view
…then again, I'd say my view wasn't too bad.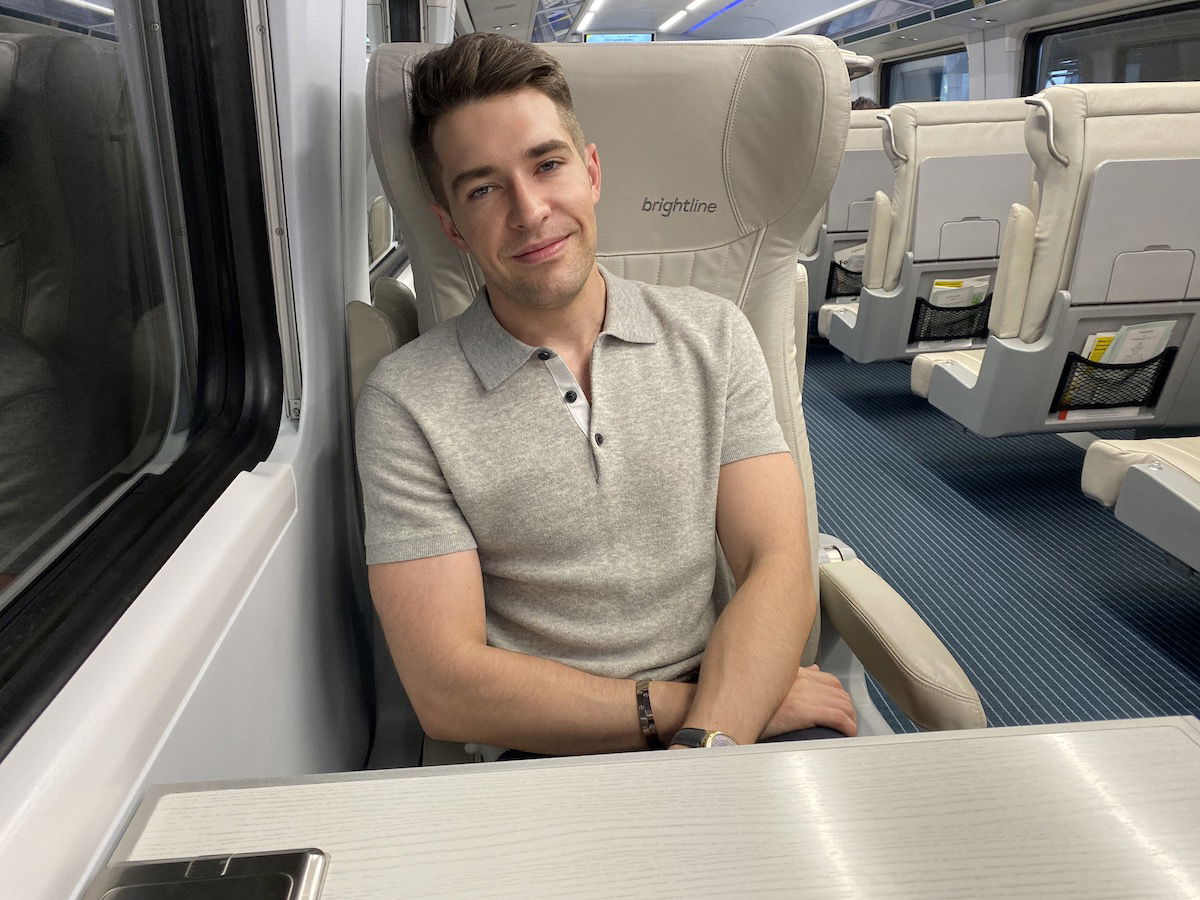 Ford not hating Brightline!
Both of our trains departed on-time and arrived ahead of schedule.
Would I Take Brightline Again?
I loved Brightline, but would I take it again? We live about a 75 minutes drive from my mother-in-law's home in West Palm Beach. Meanwhile Brightline takes 75 minutes, and then it's about a 10 minute drive from our home to the station, and a five minute drive from the station to her home.
That doesn't factor in needing to leave a bit of a buffer, how long it takes to order Uber, and it also doesn't factor in that it's nice to have a car when you get there, rather than needing to Uber.
Brightline was so much more enjoyable than driving, because Florida interstates aren't exactly exciting places to drive, unless you have a lawyer billboard fetish, or get a thrill out of seeing just how bad drivers can possibly be.
So, would I take Brightline again? If I were going for more than just dinner and/or during the day, I would probably drive, because it's faster and I'll have a car when I arrive. However, if I was going for dinner and wanted to get kinda turnt, I'd take Brightline again any day. And frankly given how much fun Brightline was, I might just have to do that more often…
Brightline Bottom Line
Brightline is an absolutely incredible rail service. This is unlike any other train travel in the US — the stations are gorgeous, the trains are beautiful, every Brightline employee I interacted with was friendly and seemed to enjoy their job, and the trains both arrived ahead of schedule.
I'm only slightly kidding when I say that if Ford were out of town I might just spend my Saturday nights driving up and down the coast on Brightline, because I don't think there's a cheaper happy hour in town.
That being said, I find this whole operation to be a complete head-scratcher, and imagine they must be hemorrhaging money? The Select cars on both of our trains had a handful of people in them, not to mention the pricing is so low to begin with.
I get there might be demand during sporting events and Art Basel, but is there otherwise a big enough market to sustain this? I really want the concept to succeed, but I wonder how big this market is, let alone the market all the way to Orlando.
Is this like so many companies nowadays, which are all about building market share at a loss in hopes of being an attractive acquisition target? But who wants to acquire a train service anyway?
But seriously, Brightline is incredible, and I can't recommend taking them enough.
Has anyone else had the chance to take Brightline? What was your experience like? Can anyone make sense of the economics here?