As ya'll know, I'm pretty excited/hormonal about La Compagnie, the new all business class airline flying between Paris and Newark.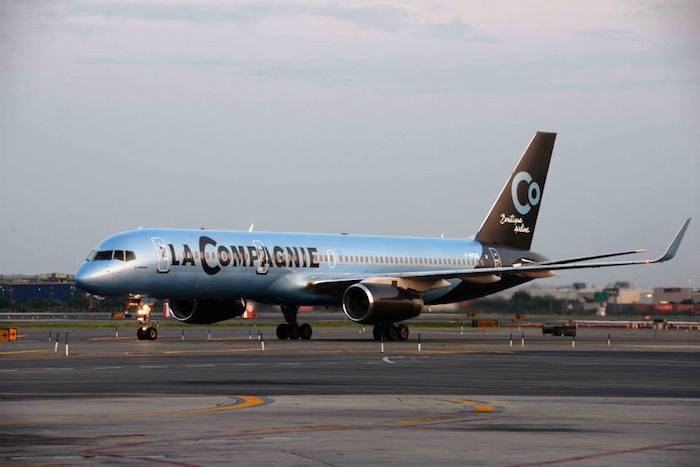 La Compagnie 757, per their Facebook page
Their business model is as flawed as the 787's battery was for the first year, but that's part of the fun.
What's fascinating is that even though their service was supposed to launch on July 11, they've experienced rolling delays without any explanations. When I asked them last week when their inaugural flight would be, they said "soon, very soon." Well that's useful!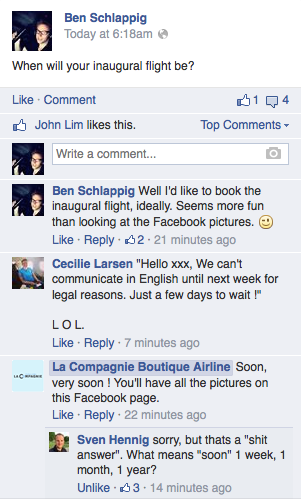 Then they flew what looked to me like an empty plane from Paris to Newark last week and called it the inaugural, though their schedule still only shows roughly once weekly service.
I've been monitoring Paris to Newark availability, and haven't seen much space at all. Their first flight looked like it would be last week.
Fast forward to this morning.
I've been in Brussels for two days, and have hardly slept. The night I arrived I took a nap from 6PM till 10PM, but then due to jetlag and commitments, haven't slept otherwise. So last night I went to bed without an alarm, and woke up at 10:17AM this morning. Crap, the main reason I extended the stay at my hotel another night was because I wanted to be sure I reviewed the breakfast buffet (which I couldn't the previous day due to the Tomorrowland flight I took to Frankfurt and back), so I ran down as fast as I could to snap some pictures.
I didn't realize my shirt was on the wrong way around and that I forgot my glasses until I was down there, but minor details. Then at breakfast while having a cappuccino I opened up La Compagnie's website to see when they were selling their next tickets.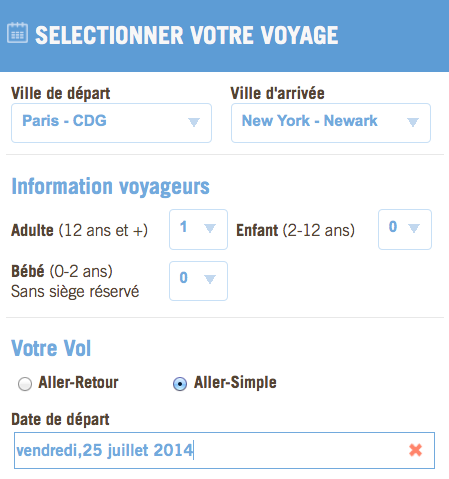 I nearly wet myself when I saw that they were selling business class seats at the lowest cost for this evening's flight from Paris to Newark.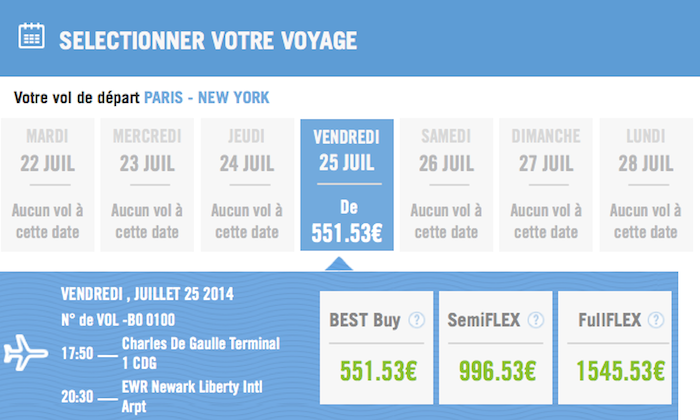 I can't properly describe how excited that made me. So still half asleep I ran to the concierge, and like a madman said "I need to get to Charles de Gaulle. Now. How?"
I packed up my stuff, showered, and moments later was on the TGV to Paris Charles de Gaulle.
I had aspirations of going to Tomorrowland or Stockholm or something, but this was clearly more important, because the opportunity to fly La Compagnie is much rarer. 😉
I'm so excited to give this product a try… you guys have no clue.
With my luck, I feel like a Qatar Airways A380 might just be subbed in for the flight. 😉
My only hope is that they're legally allowed to communicate in English on the flight… unlike on Facebook!
WOOOHOOO!
Any predictions? How full will the flight be, given that they seemingly haven't actually been selling tickets? How will the service be?