My good friend (and champagne connoisseur!) Matt recently returned from a trip to Australia. In his previous installment he reviewed Virgin Australia business class from Los Angeles to Melbourne and then Melbourne to Sydney, for which he redeemed Delta SkyMiles. While I've reviewed a ton of airlines, Virgin Australia isn't among them, so I was thrilled he was able to share that experience.
Now it's time for his review of the Park Hyatt Sydney, for which he redeemed Hyatt Gold Passport points pre-devaluation.
Pardon the picture quality as he wasn't planning on writing a report, but hopefully you guys find it interesting! You can follow Matt on Instagram.
Hope you guys enjoy, and thanks for the report, Matt!
---
I have wanted to stay at the Park Hyatt Sydney for a number of years, so when we decided to go to Sydney it was the only hotel option we considered. We were lucky enough to confirm the hotel well in advance, months before Hyatt Gold Passport had even announced its devaluation. Thus, when we booked, the Park Hyatt Sydney was only a category six hotel, requiring 22,000 Gold Passport points per night. It has since become a category seven hotel, which means it now costs 30,000 points per night. It is definitely worth it even at the increased rate. You should also think about using cash and points to book the stay, although it's worth noting that the hotel does not offer any standard suites and hence does not accept diamond suite upgrades.
For those of you thinking about paying for stays at the Park Hyatt Sydney, it belongs to both American Express Fine Hotels & Resorts and Virtuoso. However, the rates are generally quite high—usually exceeding $1,000 AUD (~$900 USD) for a standard "City Harbor View" room. Given those rates, you're getting over 3 cents per Gold Passport point even at the category seven price. I'd say that this is still a great points redemption.
After our flights on Virgin Australia we took a taxi from Sydney International Airport to the Park Hyatt Sydney. SYD is located quite close to the city center, so it took no more than about 20 minutes to get from the airport (with very little traffic at around noon on a Saturday) to the hotel, which is located in the Rocks neighborhood on the harbor directly across from the opera house. Overall, I'd say this hotel might have the most spectacular views of any hotel I've ever visited, including Park Hyatt Tokyo.
The entrance to the hotel is very modern and understated. I think this sets the perfect tone for the hotel, which is effortlessly elegant. The entire hotel is a recently remodeled mix of dark wood and white marble, which looks amazing now and should age gracefully. Unfortunately I wasn't originally planning on reviewing the hotel, so I don't have pictures of the lobby or entrance, and a lot of the pictures are less than ideal, but the hotel website photographs are fair representations.
We arrived a little after 12PM, and check-in is at 3PM. Our bags were taken from the taxi and we were told they would be sent on to our room in due course. We assumed we would have to wait around for a few hours to check-in as this was the end of summer in Australia and the hotel appeared quite busy. Instead, my Diamond status (from a current trial) was noted and we were informed that the GM was working on getting us assigned to a "better" room. He then came over and escorted us to The Bar and after going through a customary exchange about how our travel was, etc., he invited us to order "anything" to drink off the bar menu while we waited. He assured us the wait would not be too long and that he would come get us afterwards.
A part of me wanted to see what the outer bounds of "anything" really consisted of, given that there was cognac and champagne by the glass for more than $50 AUD. Since they were being more than generous we both opted for a glass of the 2010 Bannockburn Sauvignon Blanc. It's an extremely interesting wine, and we actually ordered a couple glasses another evening in the hotel and bottle with dinner at Café Sydney. For those of you that are into wine, 25% of the blend is aged in new oak barrels so it has a bit of that Napa Chardonnay style while remaining very citrus focused (as you'd expect from sauvignon blanc). I recommend trying it if you can get your hands on it.
Anyway, the drink really helped pass the time, and in what felt like 5 minutes we were whisked away to our room on the third floor. (The hotel has four floors, with only a couple suites and the rooftop pool occupying the fourth floor.) We were assigned room 319, a standard "City Harbor View" room, but it was situated such that anyone sitting or standing on the balcony had more or less unobstructed views of the opera house.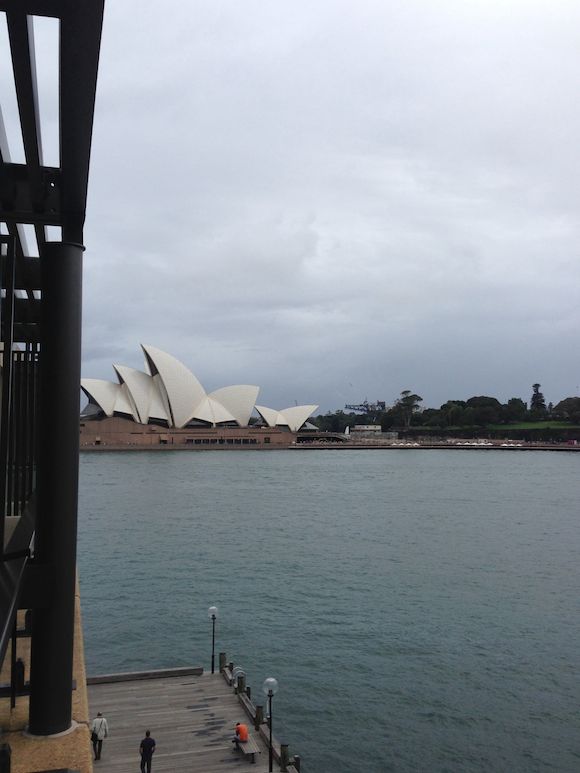 Park Hyatt Sydney Park Deluxe King Room View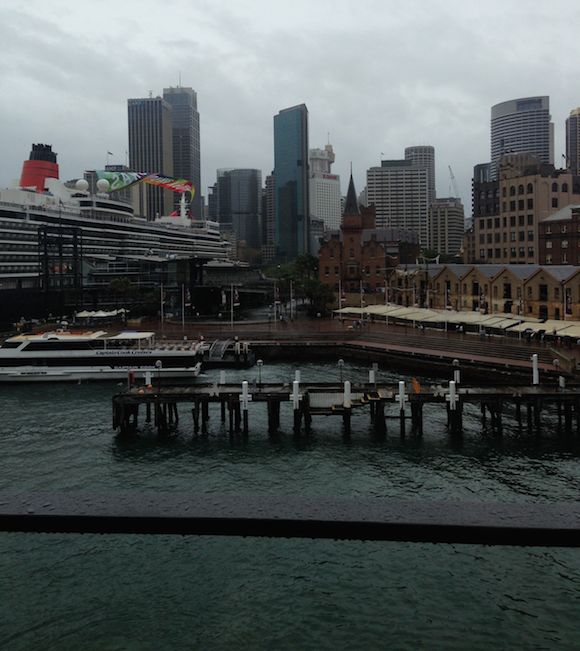 Park Hyatt Sydney Park Deluxe King Room View
The rooms in this hotel are generally quite large, and ours was no exception. The "living area" included a king size bed, a substantial dining table and chairs, and a sitting area with two chairs and a coffee table. The room is shaped like a rectangle such that you're looking out into the city harbor area. There always seemed to be large cruise ships in port at the Overseas Passenger Terminal, including Queen Mary II. Apparently "she" is a really big ship—at least by Australian standards—as no less than five people in the tourism industry proudly pointed out what a massive ship "she" was during our stay.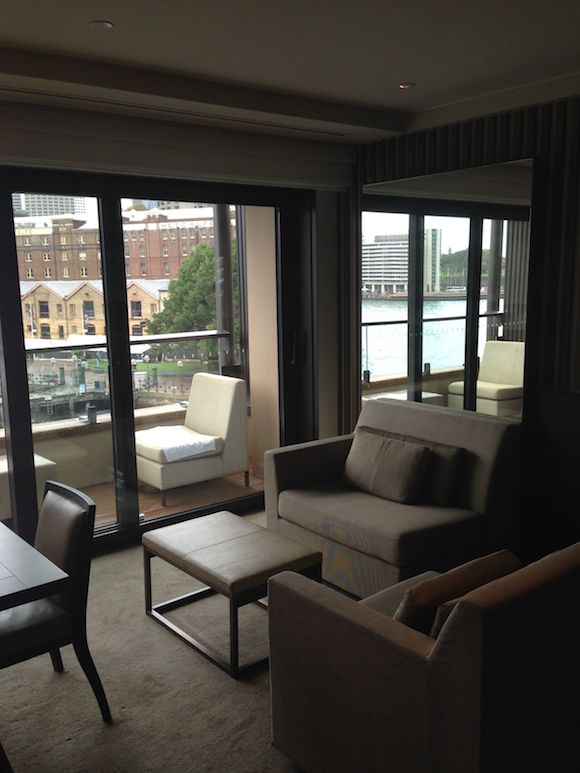 Park Hyatt Sydney Park Deluxe King Room

The room also has all of the same amenities you would expect from a Park Hyatt, including a mini bar and Nespresso machine with complimentary espresso pods that are refreshed daily. Complimentary Park Hyatt Sydney bottled waters were also given out liberally in-room, at the gym, and at the front desk when on your way out for a walk about the Rocks neighborhood. We were also given a fruit plate and a card welcoming us to the hotel. As we were being escorted up to the room we were told that a bottle of sparkling wine would be sent up later in the evening (at a time we suggested), as the other half of our welcome amenity. The fruit was actually refreshed midway through our stay, which was even better!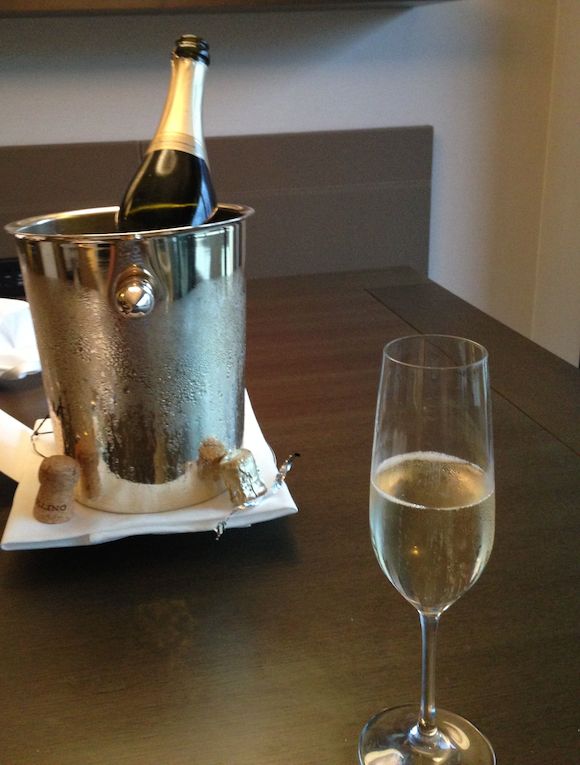 Park Hyatt Sydney Diamond Welcome Amenity

One of my favorite fragrance brands is Le Labo. I love the Santal 33 scent – if I am wearing cologne it's definitely Santal 33. Thus, I was very excited that the Park Hyatt Sydney offers Le Labo shampoo, conditioner, shower gel, and body lotion in the Bergamote 22 fragrance. (I definitely took a few bottles home with me!)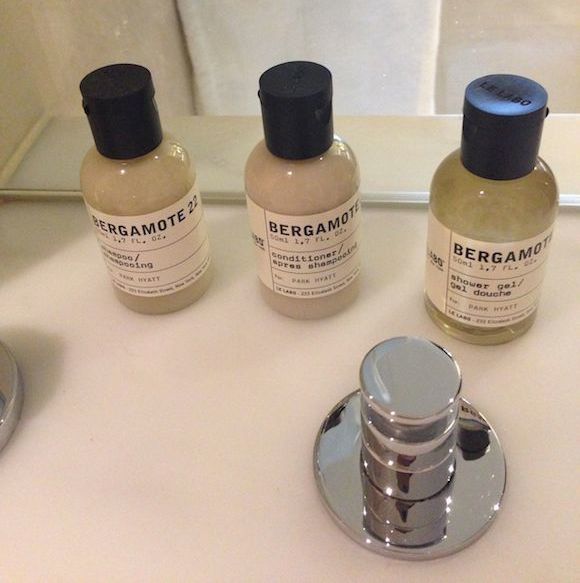 Park Hyatt Sydney Toiletries
In addition, the bathroom itself was sleek and functional, with a walk in shower and tub, his-and-his sinks, and a Toto toilet.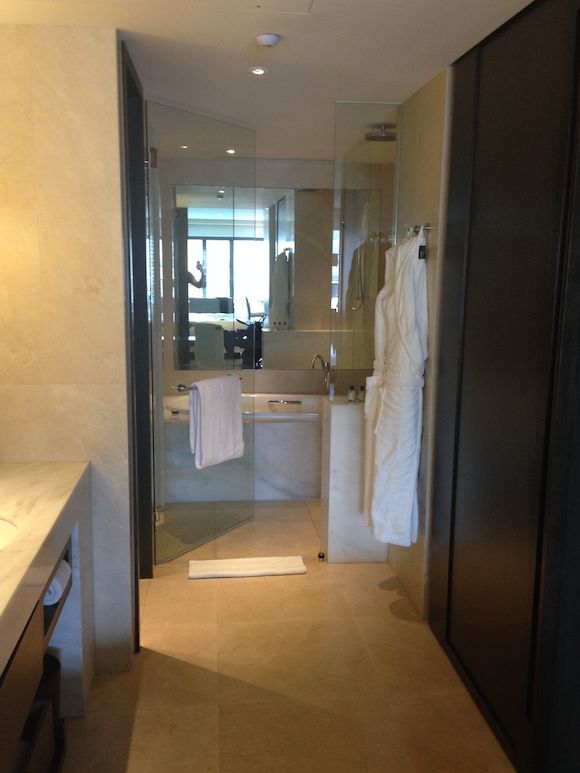 Park Hyatt Sydney Park Deluxe King Room Bathroom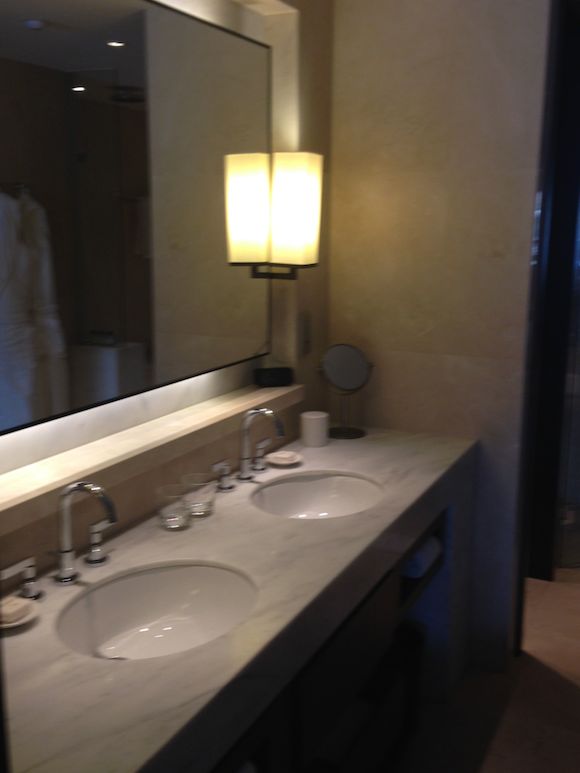 Park Hyatt Sydney Park Deluxe King Room Bathroom
The rooftop pool was absolutely amazing. We had more than our fair share of rainy weather while in Sydney, but still had a couple of nice days at the pool. The pool is accessible via stairs in the gym on the third floor as well as directly off the elevators on the fourth floor. Towels were provided, as was bottled water. You were also able to order room service to the pool at any time, while servers had menus from which you could order on days where weather permitted (which really means when it's especially nice out).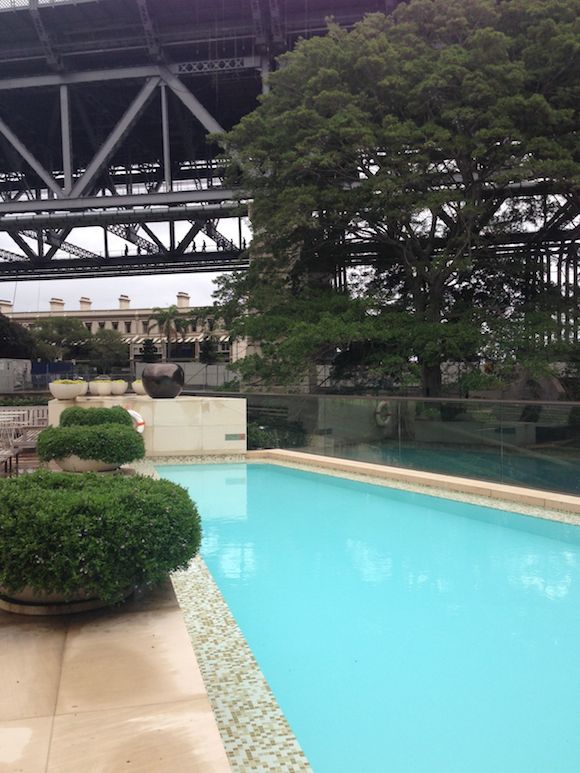 Park Hyatt Sydney Pool


Park Hyatt Sydney Pool
The gym was also excellent for a hotel gym. There was a good mix of free weights, just about every type of weight machine you could reasonably expect to see in a hotel, plenty of cardio machines, yoga mats, balls, etc. Apples and—you guessed it—Park Hyatt Sydney bottled waters were also available in the gym (and refreshed very frequently). The gym has separate male and female "locker rooms" complete with steam rooms too. Finally, it's worth noting that the gym is open 24/7.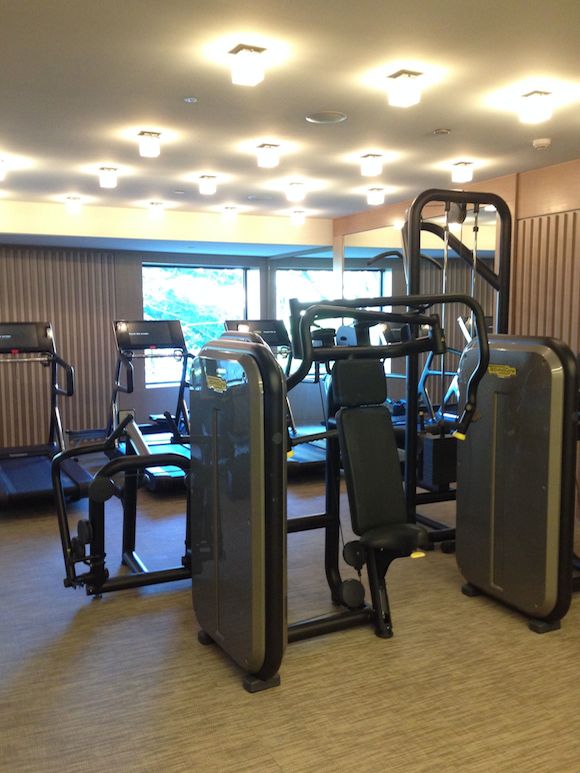 Park Hyatt Sydney Gym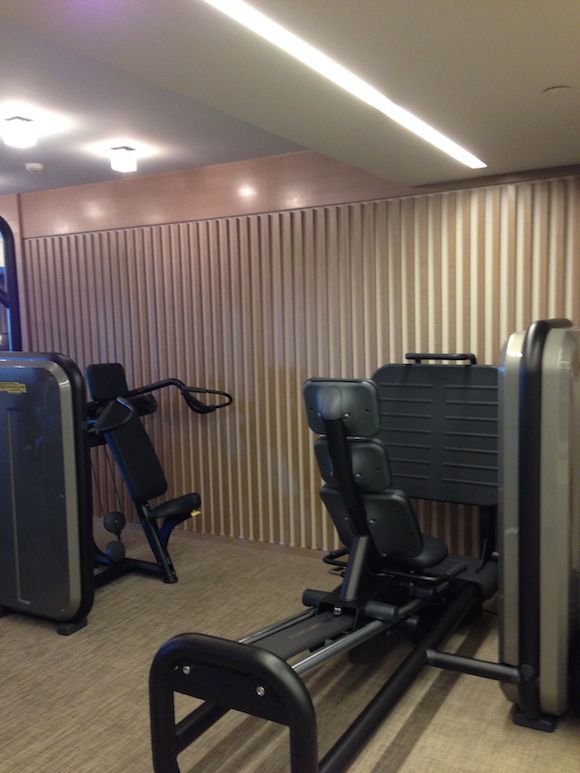 Park Hyatt Sydney Gym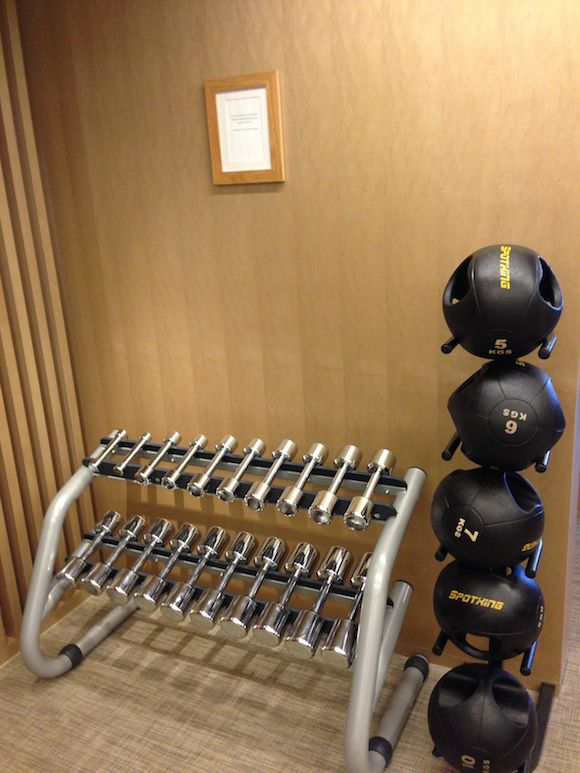 Park Hyatt Sydney Gym
As Ben has pointed out on many occasions, the fact that full breakfast is included in Diamond stays at hotels without a club lounge is one of the status's greatest benefits. We took our breakfast in The Dining Room every morning. Diamonds could essentially order anything off of the menu as a main course (including coffees—or "long blacks"—and freshly squeezed juices, etc.) and were also invited to help themselves to anything off of the very elaborate continental bar (that incidentally also included several hot items after 7AM). If you're not a Diamond, the continental bar is $35 AUD (~$31 USD) and includes coffee and juices. That's not a bad deal given the quality. You could easily eat enough that skipping lunch is feasible.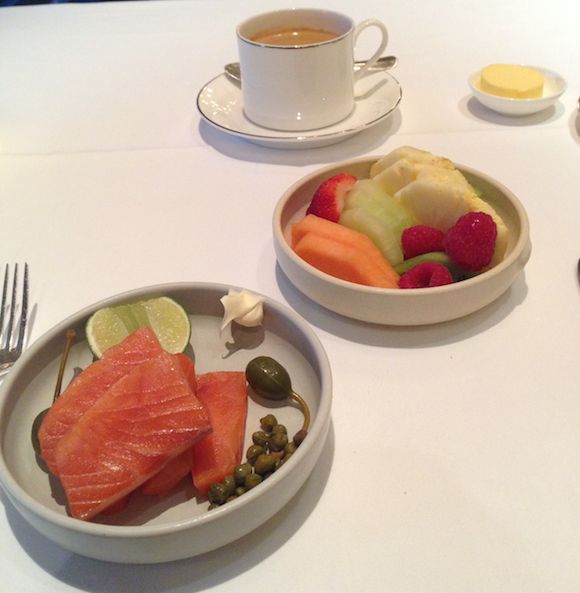 Park Hyatt Sydney Breakfast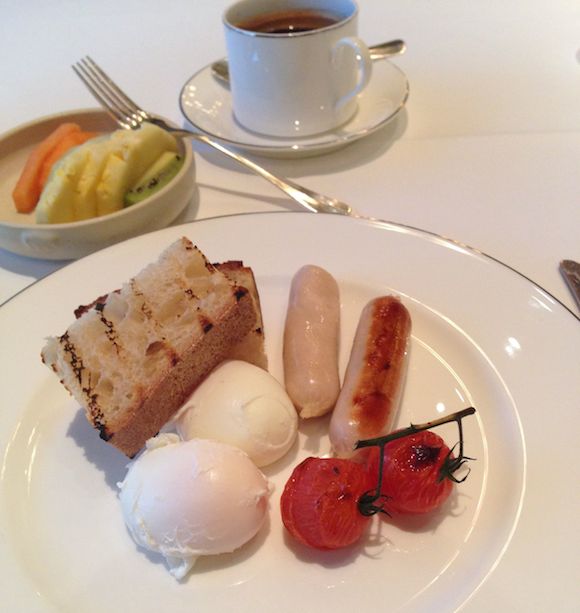 Park Hyatt Sydney Breakfast
Someone on Flyertalk was complaining about the breakfast and service at the hotel generally during our stay. I don't know what happened in his case, because I'm not particularly easy to please and I found the breakfast and service to be excellent. Where else—besides Cathay Pacific First Class—can I get thick smoked salmon like this? And just to one up Cathay, I could help myself to as much as I wanted at the Park Hyatt Sydney. I am really boring when it comes to food, so I had smoked salmon, fruit, and poached eggs as my main almost every morning. (With sufficient encouragement from Ben I did enjoy the pancakes one morning, which were also delicious.)
If the food isn't enough, how about the view I got to wake up to?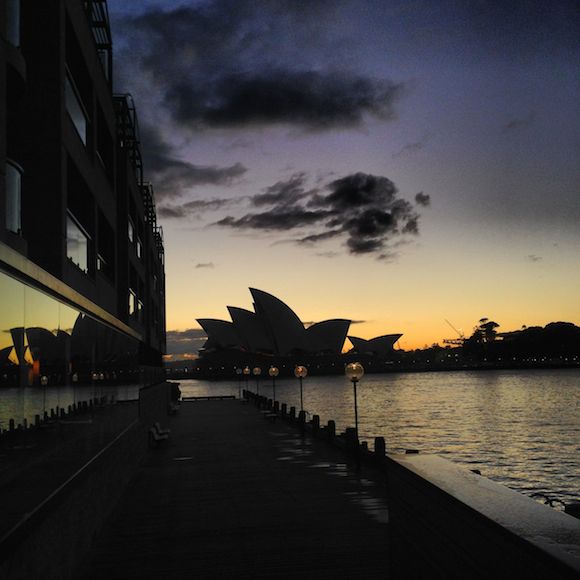 Park Hyatt Sydney Sunrise View

Obviously I was impressed with the way we were treated at check-in, and appreciated the fact that we received a room with a nice view. Beyond that, though, I found the staff to be incredibly friendly in every encounter. Every morning as I walked by the front desk would say good morning, and 7/10 times they would even address me by name. Service at breakfast was always very attentive, and we had an excellent prix fix meal with wine pairings at The Dining Room on the night we arrived. The server and sommelier were incredibly knowledgeable and friendly, and the food was excellent (well worth the cost). And again, there's the view.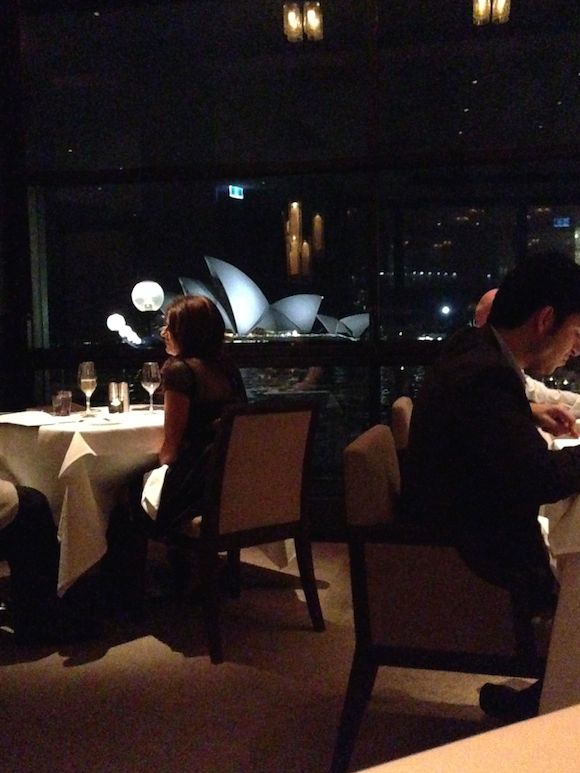 Park Hyatt Sydney The Dining Room View
Things to Do and Places to Eat
I also thought that some of you might want to hear suggestions about things to do and places to eat while in Sydney. I would definitely recommend going to the Featherdale Wildlife Park. It's probably a 45 minute or so drive from the Park Hyatt Sydney, but where else can you hang out with kangaroos and get your picture taken with koalas like my buddy Rueben? (Nowhere, probably…)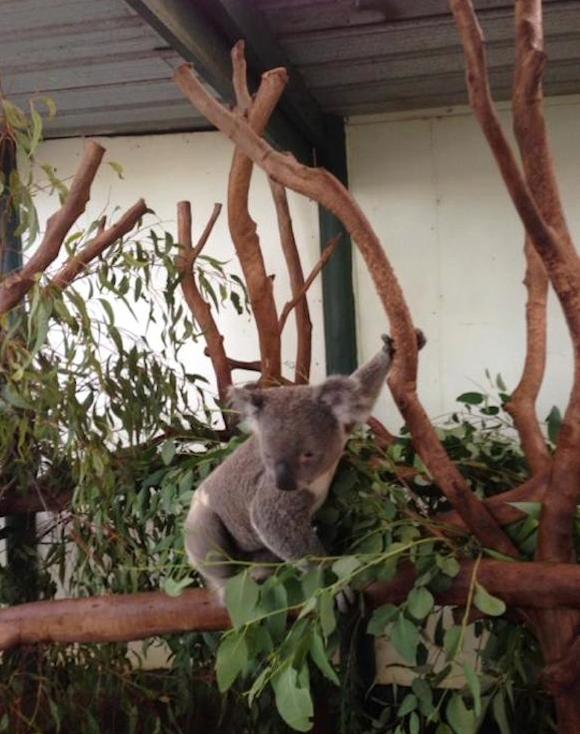 Rueben At The Featherdale Wildlife Park
Better still, you can actually book this as part of the "Blue Mountain" tour through the Park Hyatt Concierge. In addition to going to Featherdale, we were taken another hour or so outside of Sydney into the Blue Mountains where we got to see canyons that are apparently many thousands of years older than the Grand Canyon. And of course we saw the "Three Sisters" rock formation. The tour costs $165 AUD and includes lunch. You can reserve online through the Park Hyatt E-Concierge and pay using a Visa/Mastercard on the day of. I'd definitely recommend this if you have more than a few days in Sydney.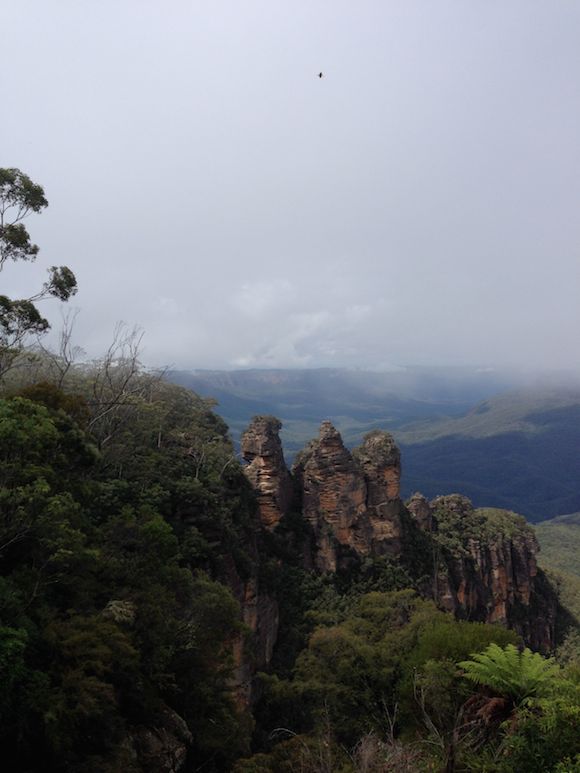 Three Sisters Rock Formation
We also went on a wine tour of Hunter Valley, also booked through the Park Hyatt E-Concierge. It was really far away, and I only enjoyed one of the wineries we went to. I'd say skip this—Yarra is probably more where it's at. However, it's certainly beautiful in the Hunter Valley.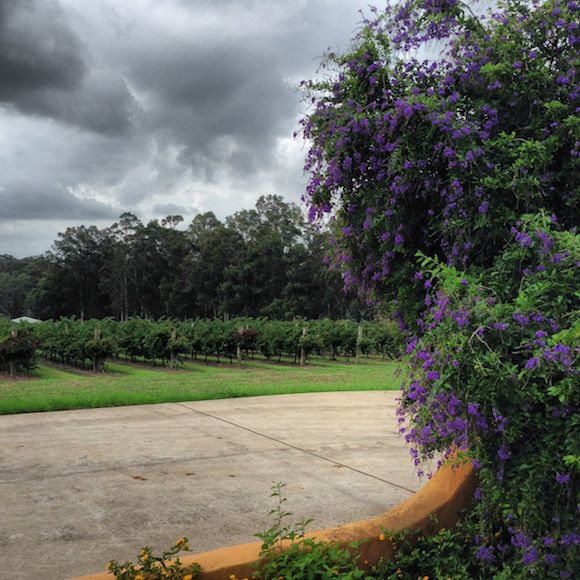 Hunter Valley Wine Tour
Finally, and perhaps my favorite activity in Sydney, is The Bridge Climb. I have to be honest; I've wanted to do this since I saw Mary Kate and Ashley Olsen do the climb with two Aussie boys that they met while hiding out in Sydney in the movie Our Lips Are Sealed. (I'm not even joking.) It totally lived up to the roughly 15 years of anticipation I had built up. You go in groups of about 12 customers and one climb leader.
Climbs start early in the morning and run all day, with sunrise and sunset climbs being the most sought after (and expensive). I thought it was fun that I had to do my first breathalyzer test before climbing—you cannot climb if your BAC is higher than the maximum permitted to operate a motor vehicle (.04—if I remember correctly). Thus, do not plan on doing this on your day of arrival, as you'll surely have had too much 2004 Lanson on Virgin Australia or 2004 Taittanger Comptes de Champagne on Qantas. The views are stunning, and the climb is totally doable (and really not even very aerobic), though it's definitely a bit scary to look down at certain points. Best of all, while we were at the top, the tour guide explained that while 16 people had died during the bridge's construction, one person fell and lived. So who knows, maybe I could've jumped. Maybe I'll try that next time.
We also really enjoyed the Museum of Contemporary Art Sydney. It's located about 5 minutes from the Park Hyatt Sydney, and admission is always free! I'm not an art expert, but I thought some of the exhibits were very interesting and thought provoking, which is more than I ever ask for. I sent the picture below to my 16-year-old sister, who jokingly responded, "Sounds like our parents." :p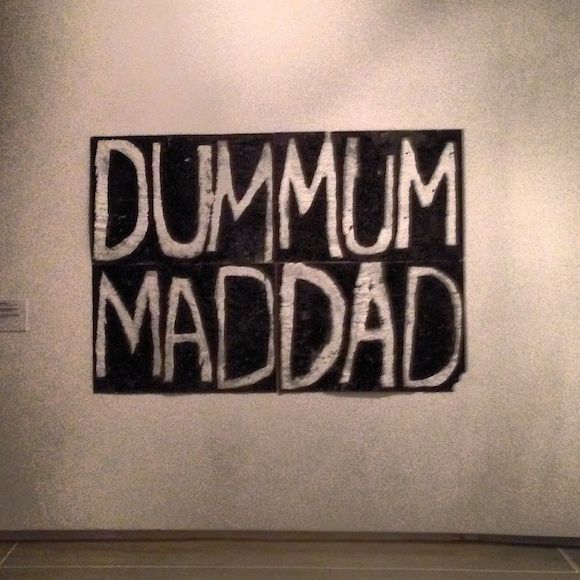 Museum of Contemporary Art Sydney
There was no shortage of good food in Sydney, either. Besides our meal at The Dining Room we also had stellar meals at Otto Ristorante (great Italian food with spectacular city views about 10 minutes by car from the hotel) and Café Sydney (superb Contemporary Australian food with, of course, great views). I would definitely recommend Café Sydney as it is an easy walk from the hotel. In fact, I've told Ben he must take his dad there when in town with him in November.
In both cases I would recommend using the hotel concierge to book reservations. We came in at 8:45 for our 8:30 reservation at Café Sydney and were seated immediately outside with a great view, while a couple of other groups with 8:30 reservations were told to take a seat in the lounge and wait. We also received some type of amuse bouche "compliments of the Park Hyatt." Not to put too fine a point on it, but I'd say being seated on time was considerably more valuable than the flavor of the amuse bouche. But a nice gesture nonetheless.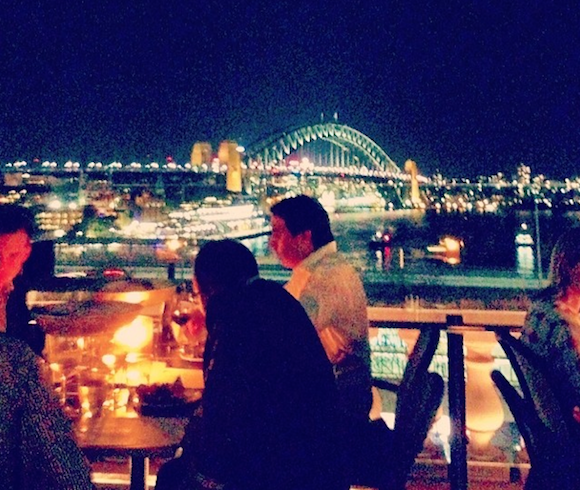 Café Sydney View
Finally, I'd definitely recommend checking out The Lobo Plantation for drinks. It's an easy walk from the Park Hyatt and the scene was fun even on a random Wednesday night. They make great Manhattans, and seemed to be the only place in all of Sydney that had any idea what I meant when I asked if they had any rye whiskeys. (Let's be real, it's not a Manhattan if it's not made with rye.) I don't know why it is necessary to light a drink on fire (especially if I am to drink it afterwards), but it does look cool.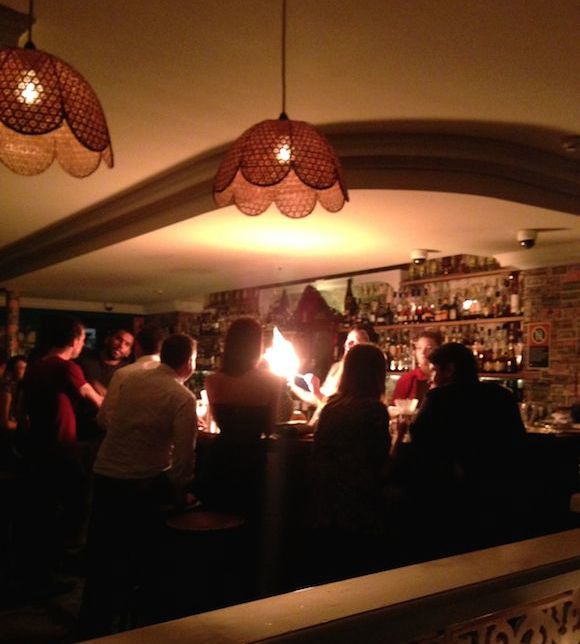 The Lobo Plantation
Conclusion
In conclusion, we both loved Sydney and the Park Hyatt. It is such a great city and the Park Hyatt definitely lived up to my expectations. We have stayed in several other Park Hyatts throughout the world, including some North American locations and locations in Paris, Tokyo, and Buenos Aires. While no Hyatt is likely to outdo the Park Hyatt Tokyo (at least my experience there), I would say this hotel easily offers more value than the Park Hyatt Paris. Although, like Ben, I think the property and service was excellent in Buenos Aires, I would give this hotel the upper hand by a small margin.