My good friend (and champagne connoisseur!) Matt recently returned from a trip to Australia, for which he redeemed Delta SkyMiles for travel in Virgin Australia business class. While I've reviewed a ton of airlines, Virgin Australia isn't among them, and I've been itching to hear how they are.
So after the fact I talked Matt into sharing his thoughts about his experience on the blog. Pardon the picture quality as he wasn't planning on writing a report, but hopefully you guys find it interesting! You can follow Matt on Instagram.
Hope you guys enjoy, and thanks for the report, Matt!
---
This is the first of a two part Virgin Australia / Park Hyatt Sydney review that I am putting together. Part One deals with my long and short haul flights on Virgin Australia. Part Two will include my review of the Park Hyatt Sydney and my thoughts on some restaurants and things to do while in Sydney. I hope everyone enjoys.
How To Redeem Miles On Virgin Australia
There are numerous ways to redeem for Virgin Australia flights. Ben has covered this in several other posts. I booked these flights using 150,000 Delta SkyMiles, which is probably the best option given that bookings with SkyMiles incur only ~$117 in taxes and fees, whereas redemptions through the Virgins require taxes and fuel surcharges of more than $1,000. It's worth noting that these redemptions now cost 160,000 miles, only marginally more after Delta's devaluation. Best of all, however, is that there is fantastic availability – even during peak times. My boyfriend and I were easily able to snag two seats that fell during a specific 9-day vacation period. I don't know of any other airlines that routinely release as much space to Australia, and as this review should make clear, I was very impressed with Virgin's products and service. So much so that I think it is actually worthwhile to consider applying for AMEX co-branded Delta cards (in addition to cards accruing Membership Rewards points, of course!).
Los Angeles To Melbourne
Instead of breaking this into several segments like Ben generally would, I will condense my review into the long haul and short haul segments.
My boyfriend and I checked in for our LAX-MEL flight a few hours before boarding so that we would have time to check out the Star Alliance lounge (which Virgin Australia uses despite being more aligned with SkyTeam through its Delta partnership). Check-in is somewhat strange in that Virgin Australia flights now (as of late 2013) depart from Tom Bradley International Terminal, but passengers still check-in at the Virgin Australia kiosks in Terminal 3—shared with Virgin America. Fortunately, it's a quick walk that is even covered most of the way, in the unlikely event it is raining in Southern California, and we were in the Star Alliance Business Class lounge in no time.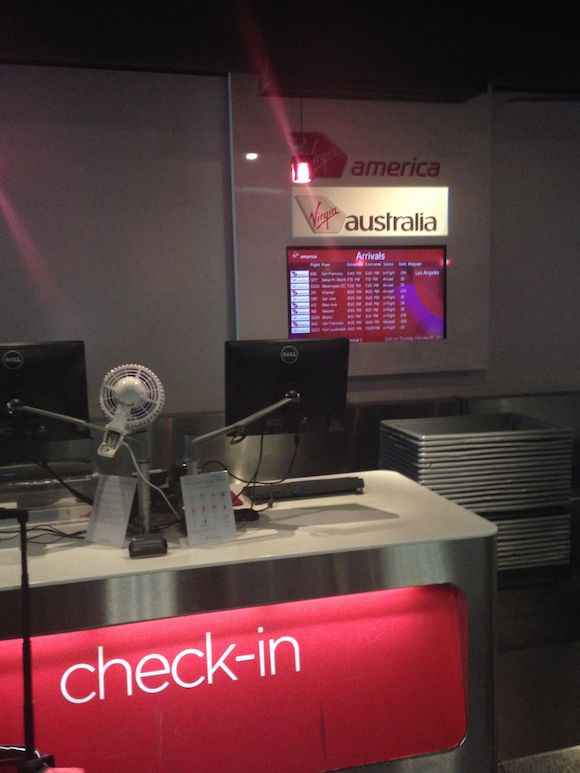 Virgin Australia Check-In LAX
This was actually our first trip to the relatively new Star Alliance Business Class lounge. It was very crowded when we arrived, but we still enjoyed our experience. The food offerings were more than sufficient, with cheese and cracker selections, teriyaki chicken, some type of noodle dish, and cookies / brownies for dessert. There is also a make-your-own pho station that was so extensive it frightened me off. As for beverages, there was a plethora of self-serve red and white wine, along with a sparkling wine that I have never heard of before (and did not try). You can also order beer and other mixed beverages from one of two bars. The sauvignon blanc was certainly drinkable, although I was saving myself for the 2004 Lanson that Virgin Australia serves in business.
Overall we both enjoyed the Star Alliance lounge. The indoor and outdoor terraces are very unique (although becoming more common—e.g., Delta at JFK and ATL). I wouldn't hesitate to spend a few hours in this lounge. As an aside, it is worth noting that Virgin Australia gives its Velocity Platinum members access to the Star Alliance First Class lounge—something not even offered to top tier Star Alliance flyers. Kudos to Virgin Australia for that.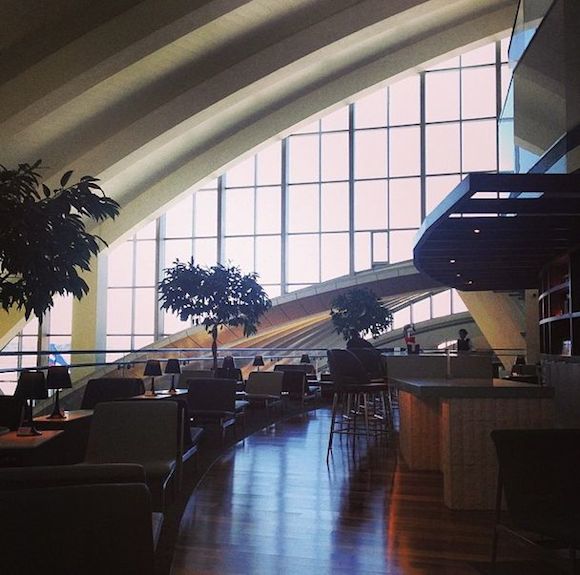 Star Alliance Business Class Lounge LAX (taken during subsequent visit)
Virgin Australia VA24
Los Angeles (LAX) – Melbourne (MEL)
February 27
11:20PM-10:05AM (+2 days)
Seat 4A/4B
Boarding began roughly 30 minutes late. (I'm not sure exactly why, since the plane arrived more than 12 hours earlier, but I was in no real hurry.) Virgin Australia boards by zones, with Velocity Gold and Platinum invited to board along with Business Class passengers. The Virgin Australia experience began the moment we stepped inside. Everyone was quite cheerful and the lighting was classically Virgin, which is to say dim and tinted. Within about 5 minutes of boarding—admittedly a little longer than either of us would have liked—we were greeted with champagne, amenity kits, and offered pajamas. Who would say no to any of those? Not me.
As I mentioned in my review of the best first and business class champagnes, VA is the only airline besides EVA to offer vintage champagne in Business Class. I had enjoyed non-vintage Lanson on several prior occasions, and (though I know there are dissenters) I believe 2004 to be an excellent year for champagne, so I was quite excited to try it on board. Fortunately, it did not fail to impress me. It is very youthful and acid-driven, with chardonnay taking front and center over the pinot noir. If I had to be picky, I'd say this needs another two years to be ideal, but that certainly didn't stop me from enjoying more than a bottle with the dinner service alone. The bubbles were incredibly aggressive—take a look at the picture below right after the pour; it looks like I'm having a beer!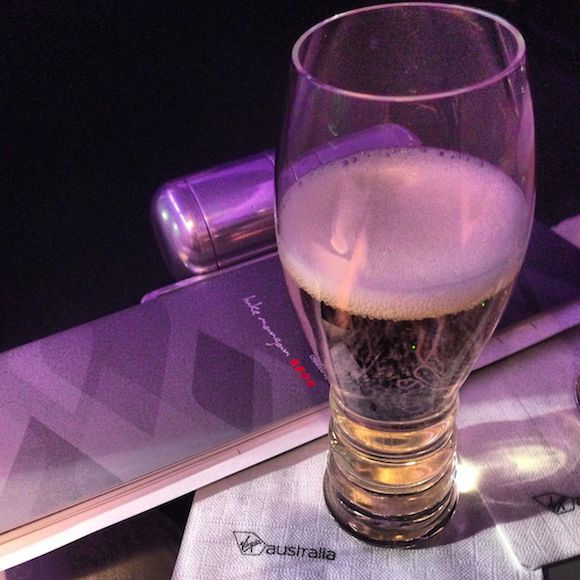 Virgin Australia Pre-Departure Champagne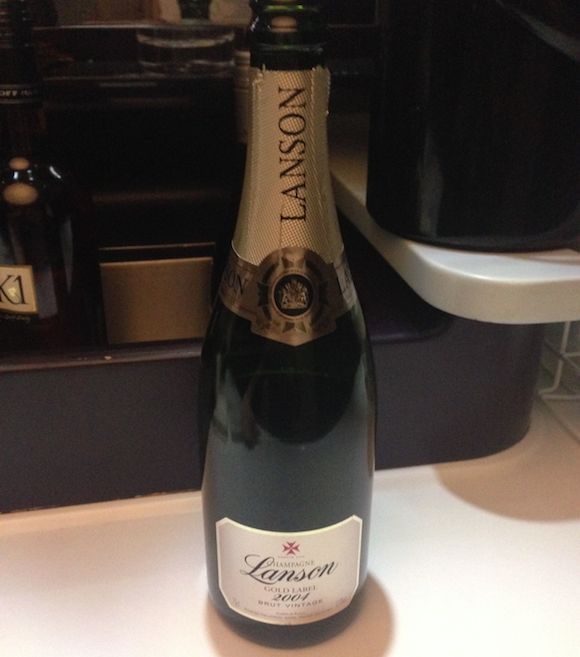 Virgin Australia Lanson 2004 Bottle
Virgin Australia's Business Class amenity kits offer all the basics plus a bit more. You get a dental kit, ear plugs, facial tissues, a pen, socks, an eye mask, and a comb that all come together in a grey VA branded kit. In addition, Virgin Australia provides a razor, along with Grown Alchemist shaving cream, lip balm, and hand cream. This is one of the first times I've seen shaving cream and a razor be provided as part of a Business Class amenity kit. I'll also note that I found the Grown brand to be quite nice. It's much like the Australian brand Aesop, which you'll find at the Park Hyatt Tokyo.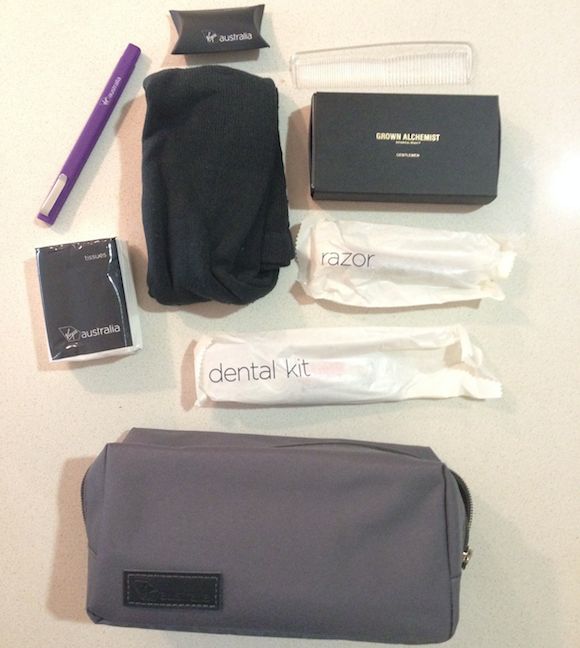 Virgin Australia Business Class Amenity Kit Contents
Finally, everyone loves pajamas. Ben especially loves pajamas. I may not love them as much as Ben, but I do like at least changing into the pajama bottoms for comfort. (And let's be real, it's not always easy to eat on a plane. I'd much rather spill on the PJs than my pants. Wouldn't you?) I found VA's pajamas to be excellent. They are made almost entirely of cotton and are a nice dark grey color with purple drawstrings. Of note to those of you that enjoy wearing airline pajamas at home, since these PJs have a low percentage of synthetic fibers in them, they do not shrink quite as much as 100% cotton PJs would. That puts them somewhere in between AA's (which hardly shrink at all) and Air China's (which could fit a Barbie doll after two cycles through the dryer).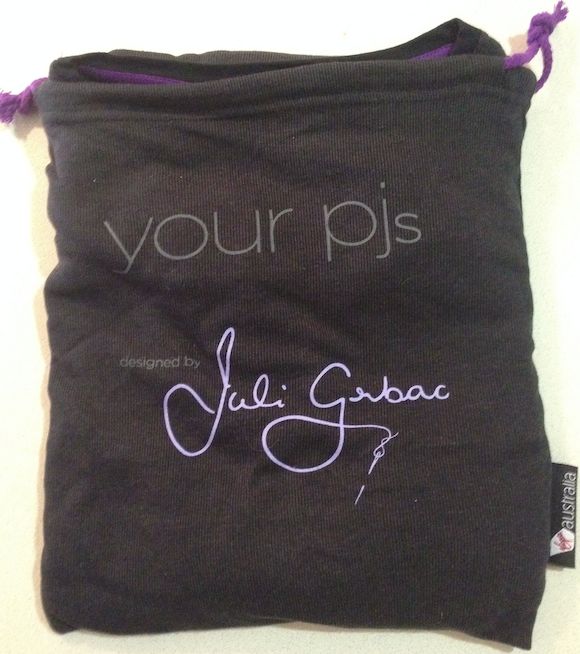 Virgin Australia Pajamas Pouch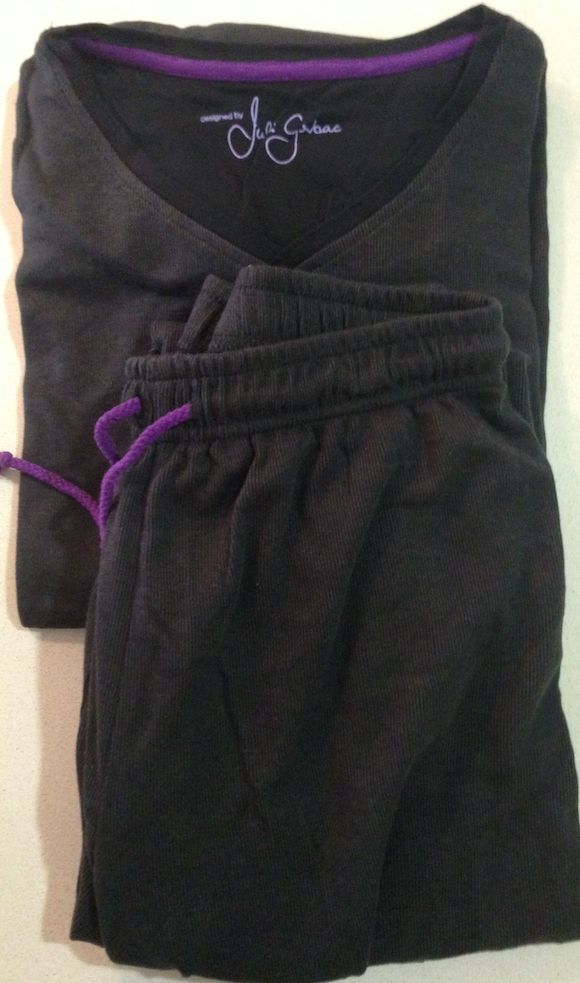 Virgin Australia Pajamas Pouch
I had so much fun playing with my amenity kits I almost neglected to pull the menu and wine list out from the seatback in front of me. But don't worry, that crisis was averted. To be honest, I wasn't in too much of a rush because VA actually publishes their menus online, so I already had a good idea of what was going to be offered. In fact, the dinner menu on our flight was identical to the one posted online.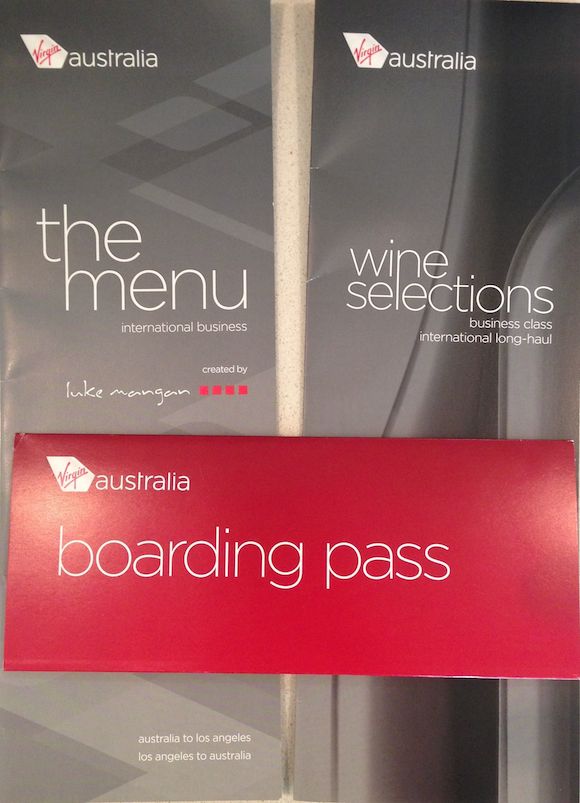 Virgin Australia Menu, Wine List, And Boarding Pass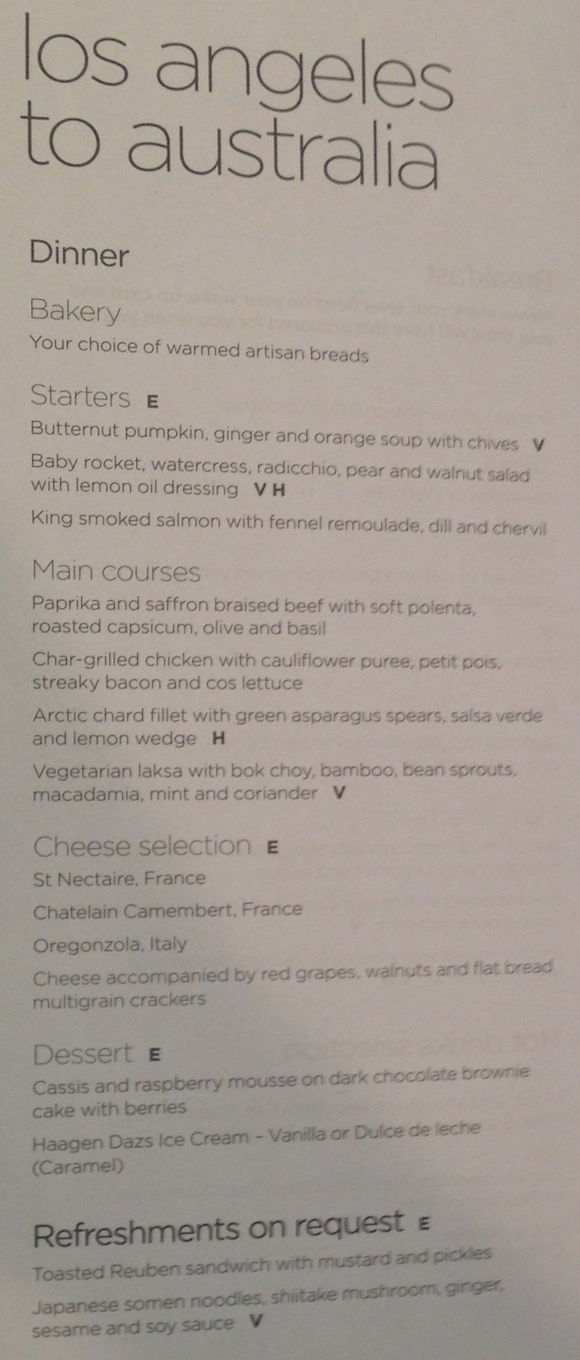 Virgin Australia Business Class Dinner Menu Los Angeles To Melbourne
As you can see from the pictures, VA offers a nice variety of options ranging from meat to fish to vegetarian. I always appreciate seafood options (no—not only because they pair better with champagne). We began with a mix of warm spiced nuts and a second glass of the 04 Lanson. (NOTE: the menu lists the champagne as 2002 Lanson, but only 2004 was catered on both my flights. The updated menu correctly lists 2004.)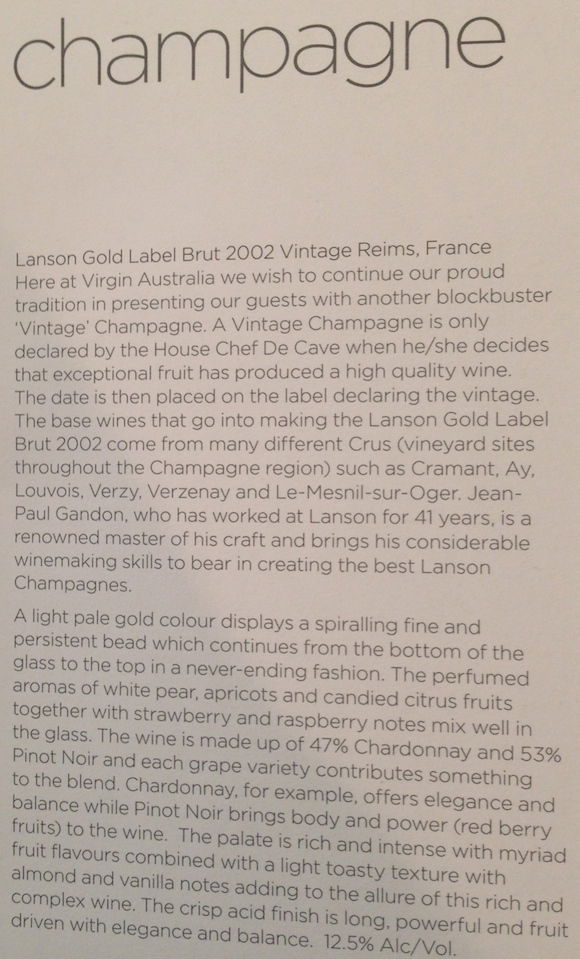 Virgin Australia Business Class Champagne Menu
To start, I had the butternut pumpkin, ginger, and orange soup with chives to start, while my boyfriend had the baby rocket, watercress, radicchio, pear and walnut salad. My soup was fantastic; I wouldn't hesitate to order it in any restaurant on the ground. The salad looked fantastic as well.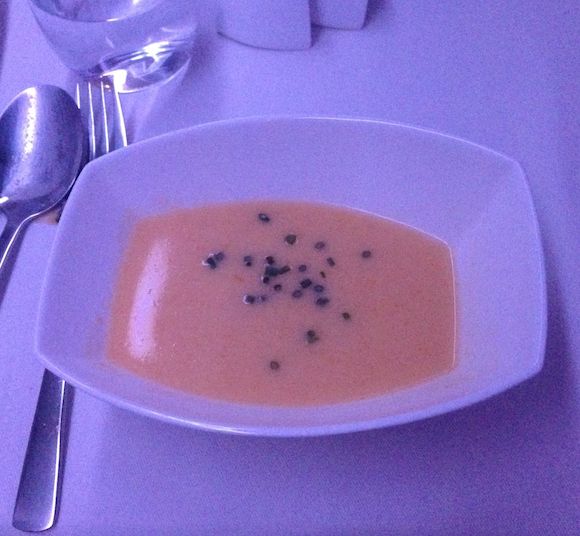 Virgin Australia Business Class Soup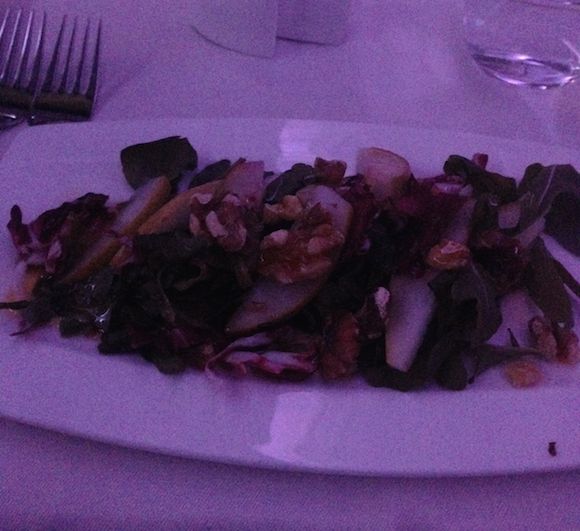 Virgin Australia Business Class Salad
For my main, I selected the arctic chard filet with green asparagus spears, salsa verde, and lemon wedge. It came as described, and was quite tasty. My boyfriend had the char-grilled chicken with cauliflower puree, petit pois, streaky bacon, and cos lettuce. He seemed to really like it.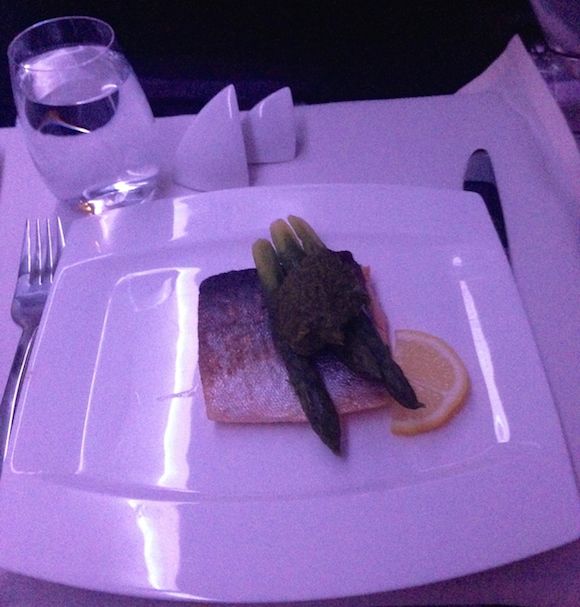 Virgin Australia Business Class Main Course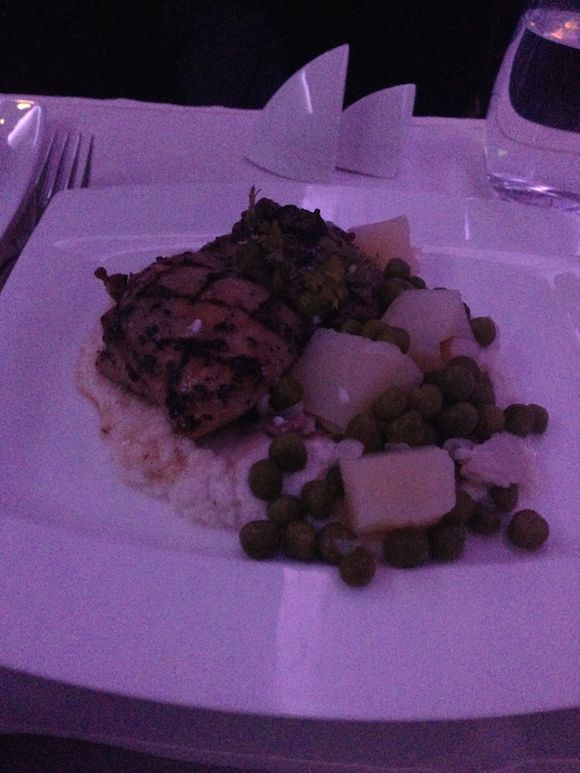 Virgin Australia Business Class Main Course
We skipped the cheese course, but the options looked fantastic. For dessert, we both had the cassis and raspberry mousse on dark chocolate brownie cake with berries. It was perhaps the best dessert I've ever had on a plane.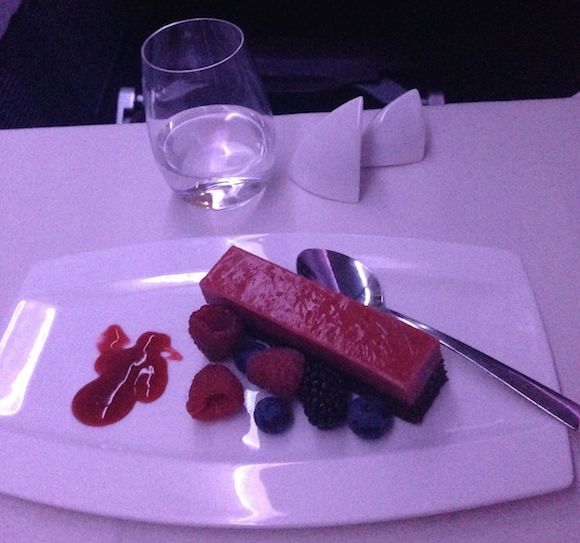 Virgin Australia Business Class Dessert
Virgin Australia has little "room service" style breakfast order forms, much like those used by LAN and other airlines. I failed to take a picture of breakfast, but the bircher muesli was fantastic. So fantastic that I asked for more. I wouldn't miss this on any VA long haul flight.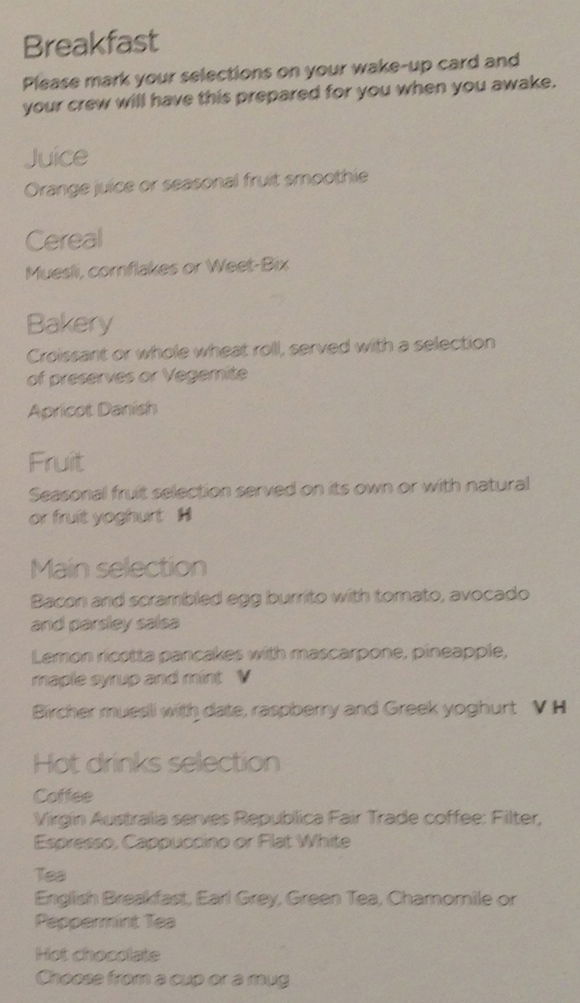 Virgin Australia Business Class Breakfast Menu Los Angeles To Melbourne
Virgin Australia uses the Virgin Red entertainment system. In Business Class, your IFE monitor flips out from the seat. It's a perfect size (12.1 inches), especially since it's much closer to you than it would be if built into the back of the seat in front of you, as is often the case these days. I thought the movie selections were superb. There were a number of blockbuster movies that you'd expect to see, along with quite a few Academy Award nominated films (this flight was a week before the Oscars). I first watched Twelve Years a Slave and then decided I needed something a little lighter, so I opted for Baggage Claim. Needless to say the former is considerably more praiseworthy than the latter, but both entertained me.
I realize it might strike all of you as strange that you have been reading for days a while and still heard no real mention of the seat. Don't worry! I was in it for 14 hours (twice), so I have plenty to say about that too. The thing is, things are a bit backwards on VA. Generally, most of us think of business class as being about the seat. We want something that lies flat and is comfortable. We'll manage to live on what few food items might be edible and, ideally, we'll sleep all the better due to a shortage of glucose. Not the case on VA. Not only was the food fantastic, the service was on par with some First Class service I have experienced. I didn't need to ring my call button at all during the scheduled service time because there were no less than three FAs in the forward cabin at any time. However, when I woke up thirsty with about 3 hours left before landing, I rang the call button and an FA appeared from behind the curtain in flash. Not only that, he actually hurried over to me. He made it clear that he wanted to provide excellent service. The same was true later in flight when I ordered a coffee (or, rather a "long black" as the Aussie's call them). The FA came rushing out to meet my request. Virgin Australia corporate—if you're reading this—the entire February 27 crew on VA24 deserves your praise.
I also loved some of the little touches that VA offers. The place settings were definitely among the best I've seen offered in Business Class. The opera house salt and pepper shakers are especially precious. It's also great that there was a self-service bar area located behind row 4. Many airlines offer bars in business class now, but it's not too common to see one as extensive as this on a 777. And I am certain that none of them have free pour vintage champagne in Business Class.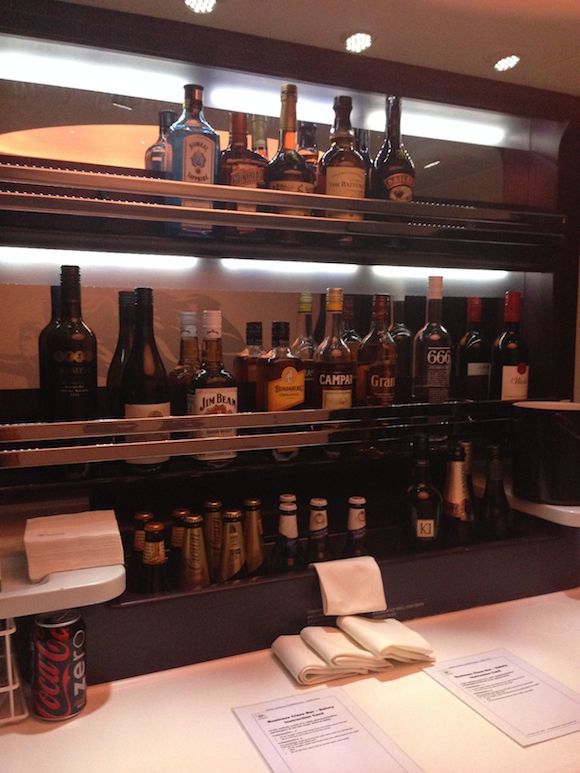 Virgin Australia Business Class Bar
Alright, you've waited long enough—the seat! Admittedly, this is not the newest or fanciest hard product out there. The cabin is laid out in a 2-3-2 configuration, which is not always ideal. However, we were traveling in one of the left-hand side twosies, and found it perfectly comfortable. The seats are certainly wide enough and well padded, with intuitive controls and in seat power. There is also a divider that flips out and makes it such that you do not see your seatmate if you get in a fight with them mid-flight don't want to. Moreover, there is enough space between rows that you can easily get up from the window or middle seat without disturbing the person next to you. Finally, it's worth noting that Qantas Business Class is not really any more private. On the other hand, Delta and Air Canada's seats are almost too private—in that you cannot talk to a travel companion at all when seated.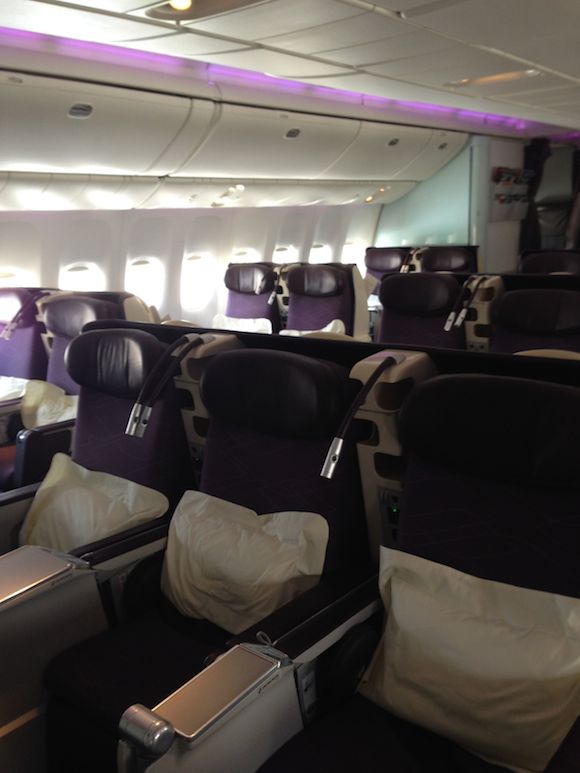 Virgin Australia 777-300ER Business Class Cabin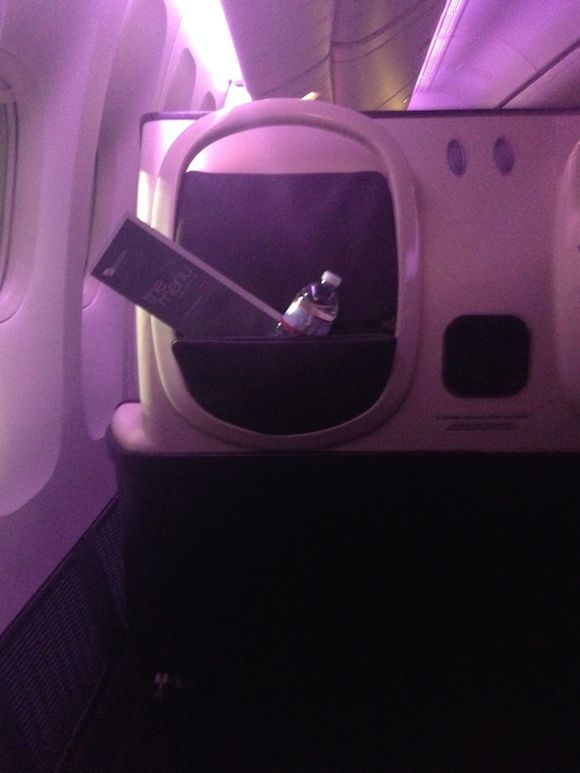 Virgin Australia 777-300ER Business Class Seat
The Virgin Australia seat converts into a 6'2" fully flat bed, and your delightful VA crew will happily offer turn down service complete with mattress pad and a substantial blanket. All this was done, according to my FA, to ensure I would have "sweet dreams." (As if the champagne wasn't enough.)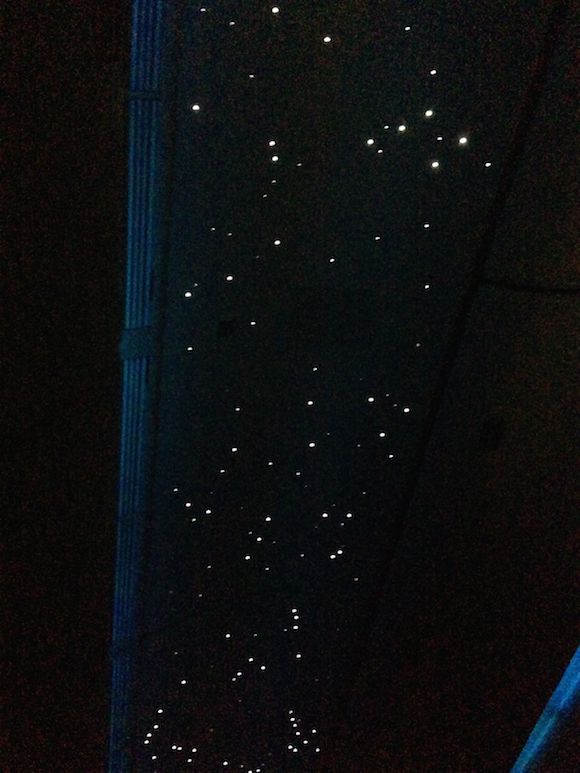 Virgin Australia Business Class "Stars"
I slept roughly 8 hours under Virgin's simulated starry night—as much as I ever sleep, anywhere. Overall, despite it being a bit older, even the hard product is well thought out and perfectly comfortable.
Before landing at Melbourne, the crew handed out customs forms and also provided each business class passenger with an "Express Path Card" for priority customs. I found that these were unnecessary as long as you presented a business class ticket.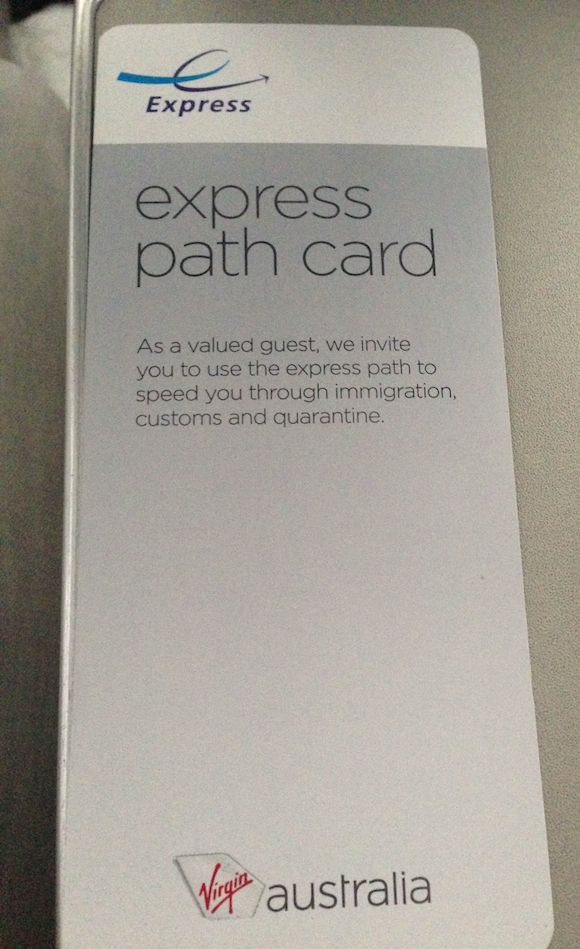 Virgin Australia Business Class Express Path Card
Transfer was a breeze in Melbourne, even in the early morning. If you are connecting through MEL you should note that the International and Domestic terminals are separate, such that you must clear security again (like in the US). On the positive side, domestic security in Australia is not nearly as intense as in many other countries. You need not remove liquids and shoes can stay on. It was refreshingly simple, like Pre-Check without a half-dozen confused first-time users and 32 otherwise idle TSA agents yelling conflicting commands.
Melbourne to Sydney
Business passengers have access to the Virgin Australia lounge network when traveling domestically. Notably, international passengers use Air New Zealand's Koru Clubs at SYD and MEL. The Virgin Australia lounge was perfectly nice. I actually only went inside to snap a picture or two for this report, given that our layover was quite short. The food offerings were more extensive than US domestic lounges, and the overall environment looked like a slightly trendier Sky Club.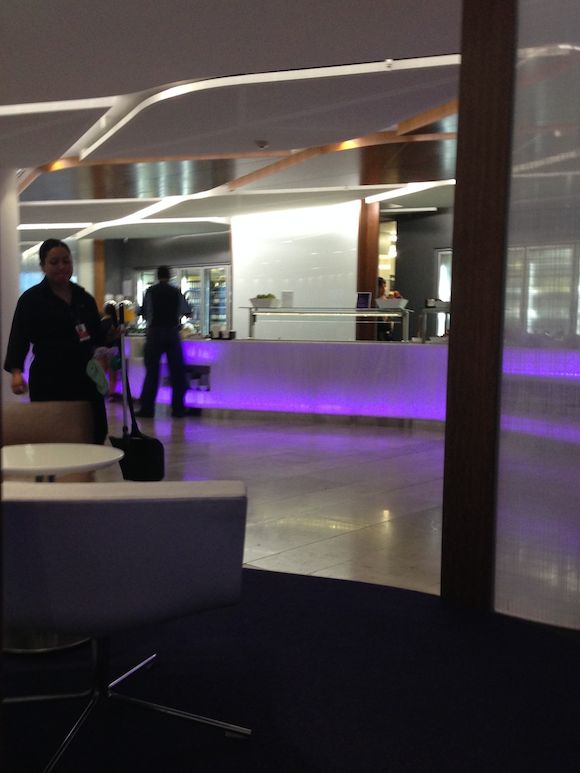 Virgin Australia Lounge Melbourne
Virgin Australia VA841
Melbourne (MEL) – Sydney (SYD)
March 1
12:00PM-1:25PM
Seat 2A/B
Unlike short intra-European business class flights, on which the middle seat of a standard economy row is blocked off and a better meal is provided, Virgin Australia provides a "true" business class cabin for its intra-Australian flights, even flights as short as MEL-SYD.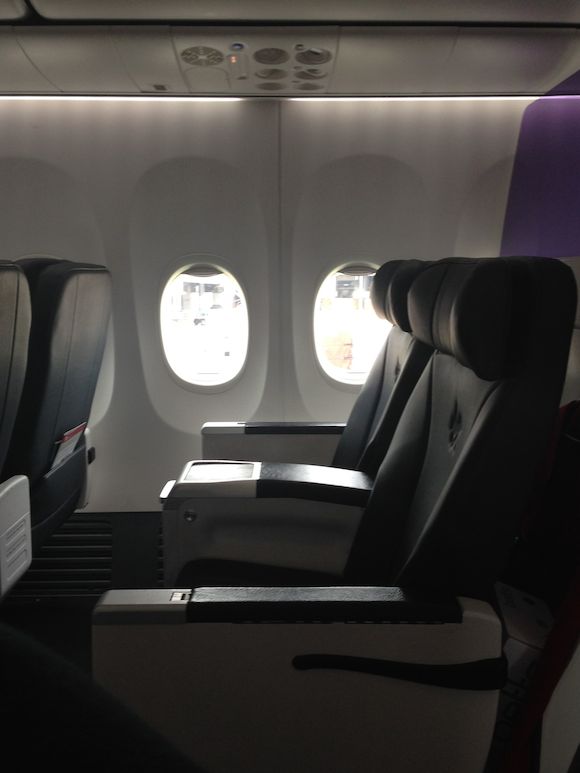 Virgin Australia 737 Business Class
VA boards short hops like this one only 30 minutes before the scheduled departure time. Their boarding process is rather unique, in that they board the first 15 rows through 1L and the rear of the plane through 2L on their 737-800s. VA managed to make boarding look easy, something US airlines cannot say. Once on board we were offered drinks and asked what meal we wanted. Our options were either a beet salad or something involving beef. Mind you this flight was scheduled for 1 hour and 1 minute of flight time. Impressive offerings if you ask me. We both opted for the beet salad, which was delicious (as was the chocolate and dried cherry rice crispy treat-like dessert).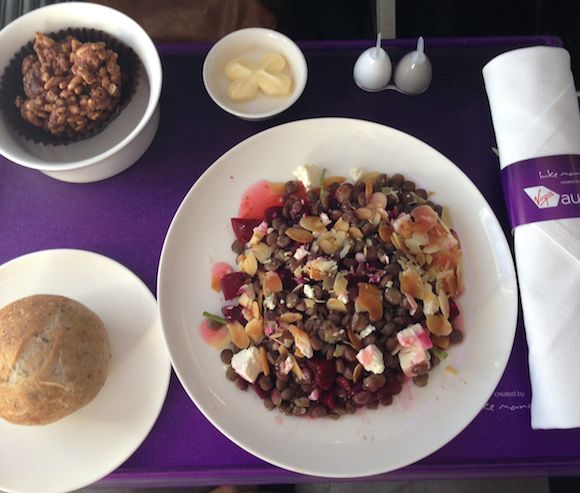 Virgin Australia Business Class Snack
Overall there is nothing bad to say about VA short haul service. The seat is as nice as anything you'll find on US carriers in domestic "first class" and the service was better than I generally receive on United or Delta. I also loved that the planes are new. I've certainly been on some newer American and United 737s, but this one even smelled new. It's also worth noting that the cabin was spotless—not a crumb or left over service item in sight.
Conclusion
I think the foregoing leads to only one conclusion: fly Virgin Australia!