---
Since we had plenty of time to kill before our 12:30am flight, we took an "Airport Limousine" bus from the Park Hyatt to Haneda Airport leaving at 9:20pm, which was very reasonably priced at about $10 per person. It was a 25 minute drive to the airport through a just-opened tunneled expressway, which apparently is the second-longest road tunnel in the world.
Haneda's International Terminal is huge, and seems brand spanking new (it was constructed in 2010). There are two beautiful shopping and dining areas pre-security — Edo Village, which is a meticulously constructed — and physically attractive — Japanese village of sorts containing shops and restaurants, and Tokyo Pop Town one level up, which celebrates the weirder, more design-forward aspects of Japanese culture. However, most of the pre-security shops close before 10pm, which isn't much use for a 12:30am flight. (Post security shops and restaurants, of which there are plenty, are open quite late.)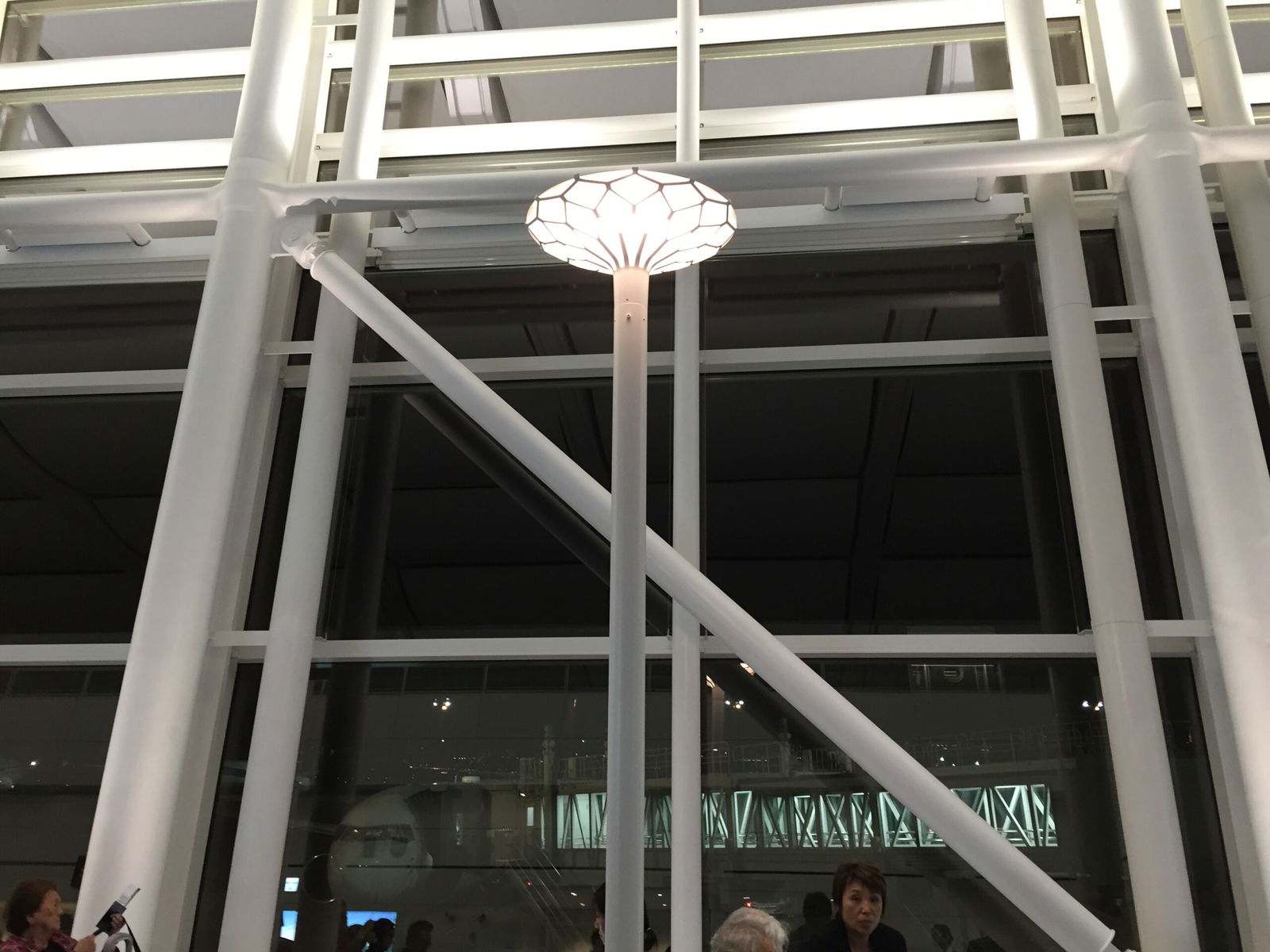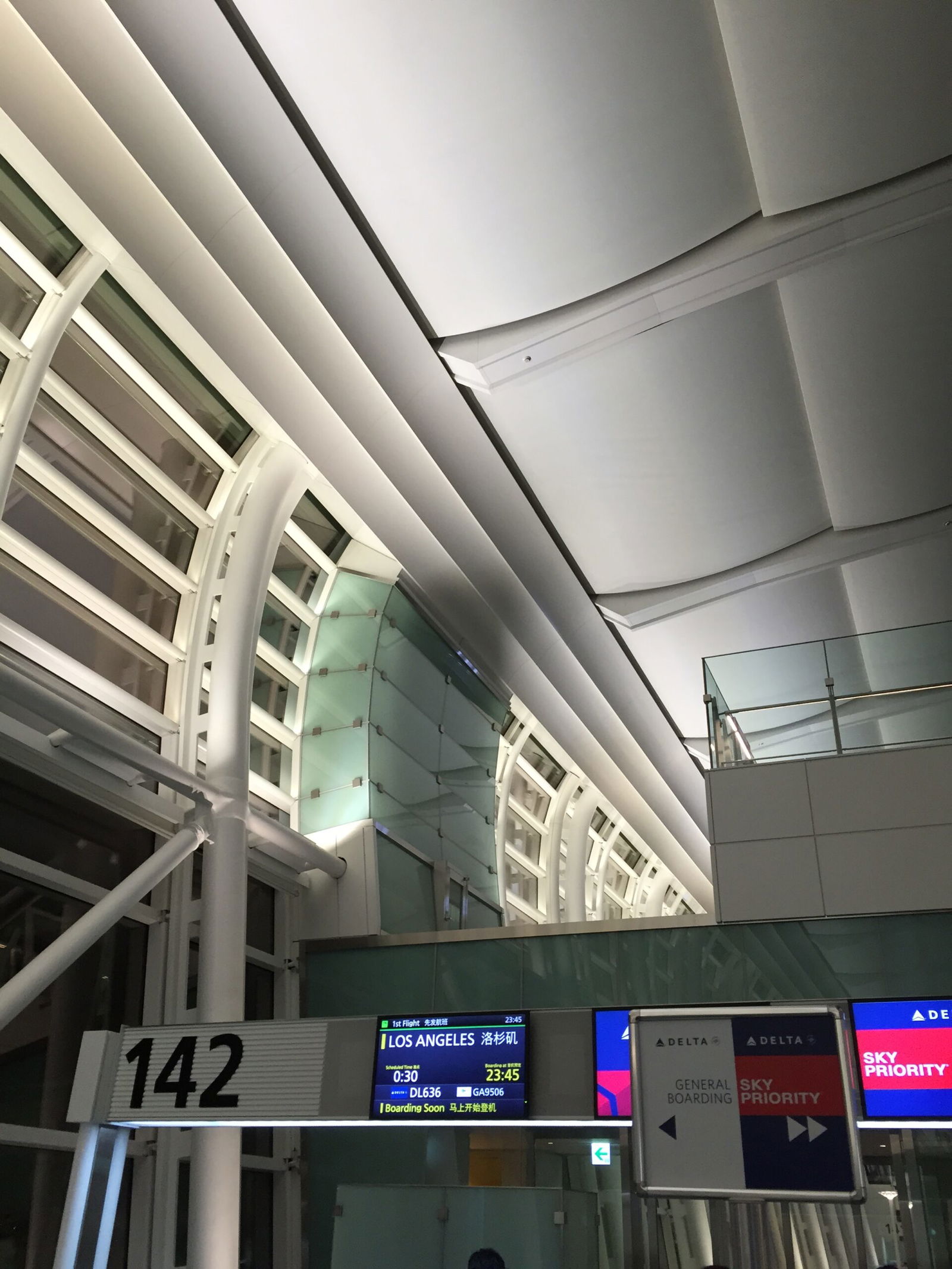 Delta 636
Tokyo Haneda (HND) – Los Angeles (LAX)
Thursday, October 8
Depart: 12:30AM
Arrive: 7:15PM -1 (October 7)
Duration: 10hr45min
Aircraft: Boeing 767-300
Seat: 4A (Delta One)
Boarding proceeded quickly and rather quietly, and I took my seat, 4A, which was a window seat with the seat itself closer to the aisle and the console located between the window and the seat.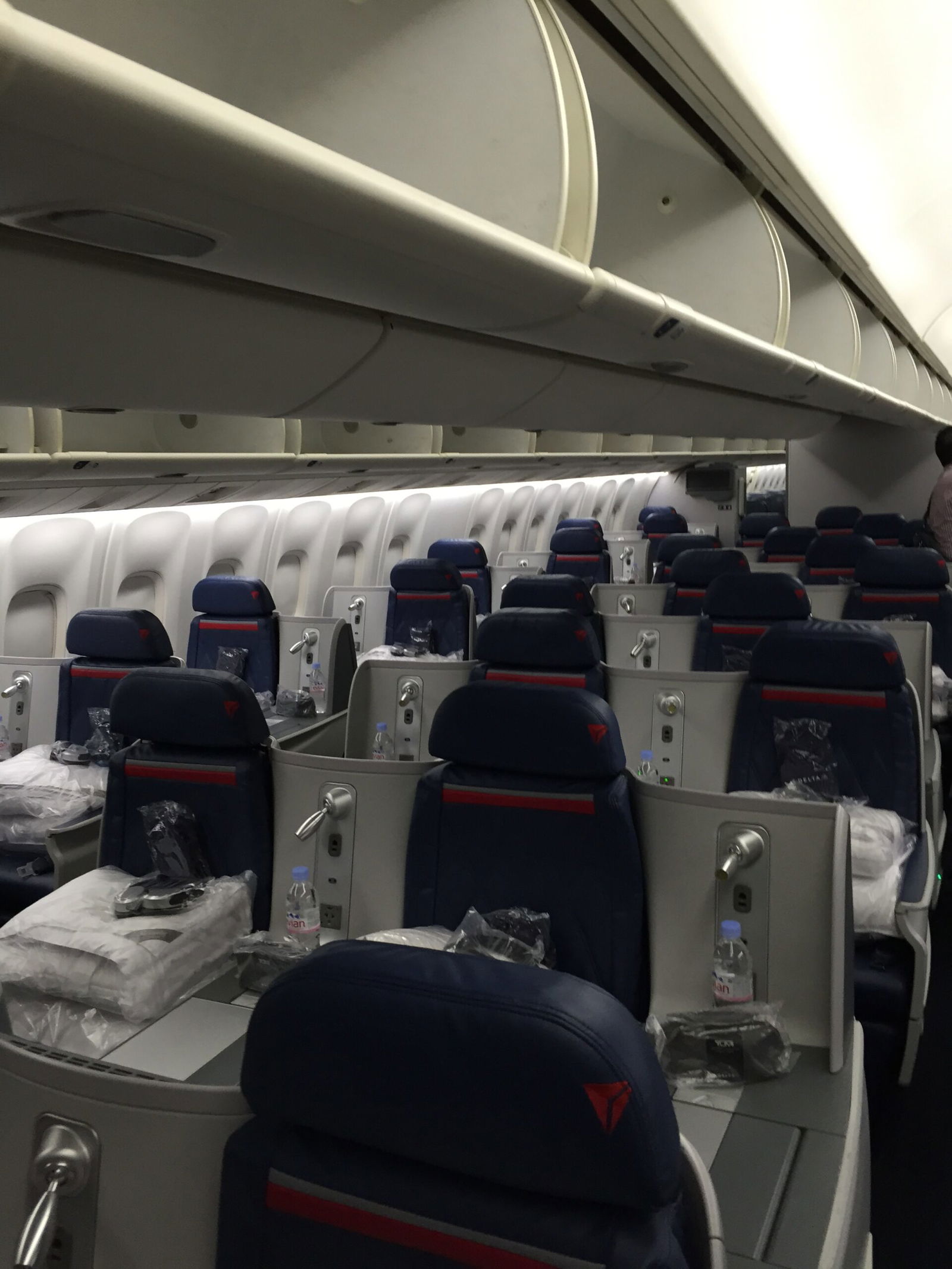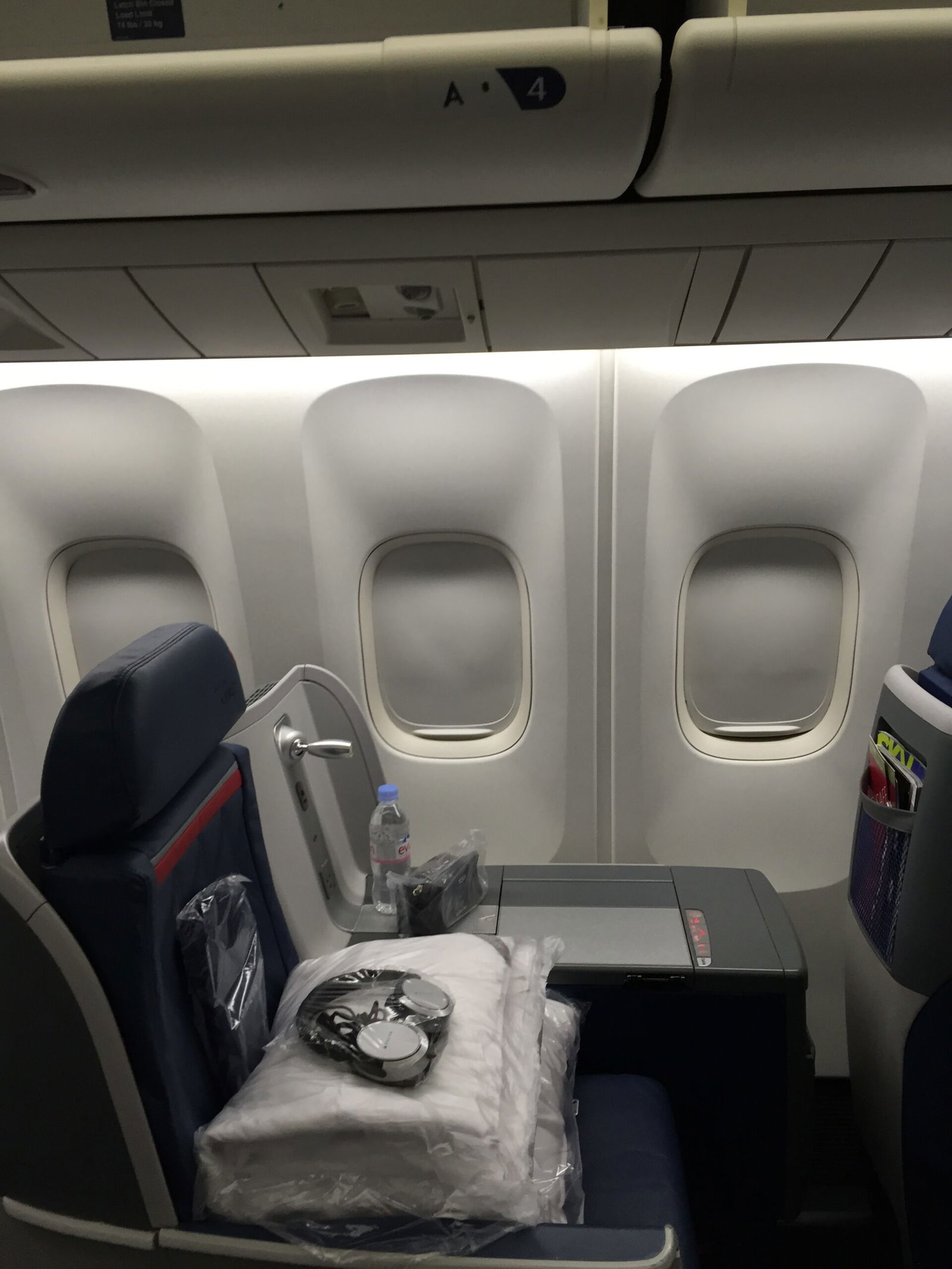 I actually much preferred this seat, which had more storage nooks by virtue of the console placement and thus a convenient place to, e.g., store shoes, as well as extra magazines (or other items) in a second pouch.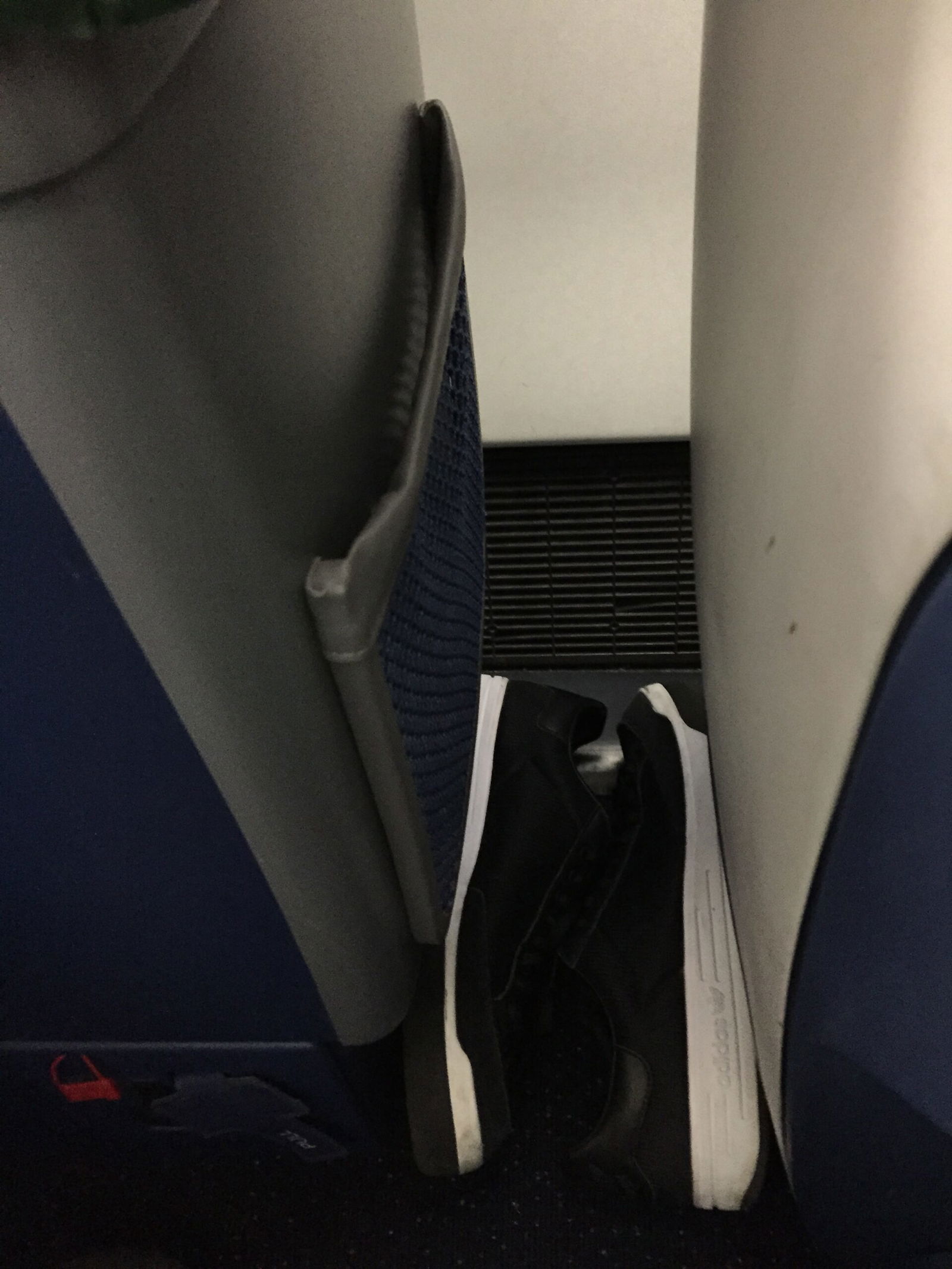 Westin Heavenly bedding and pillows, slippers, and headphones were placed on my seat.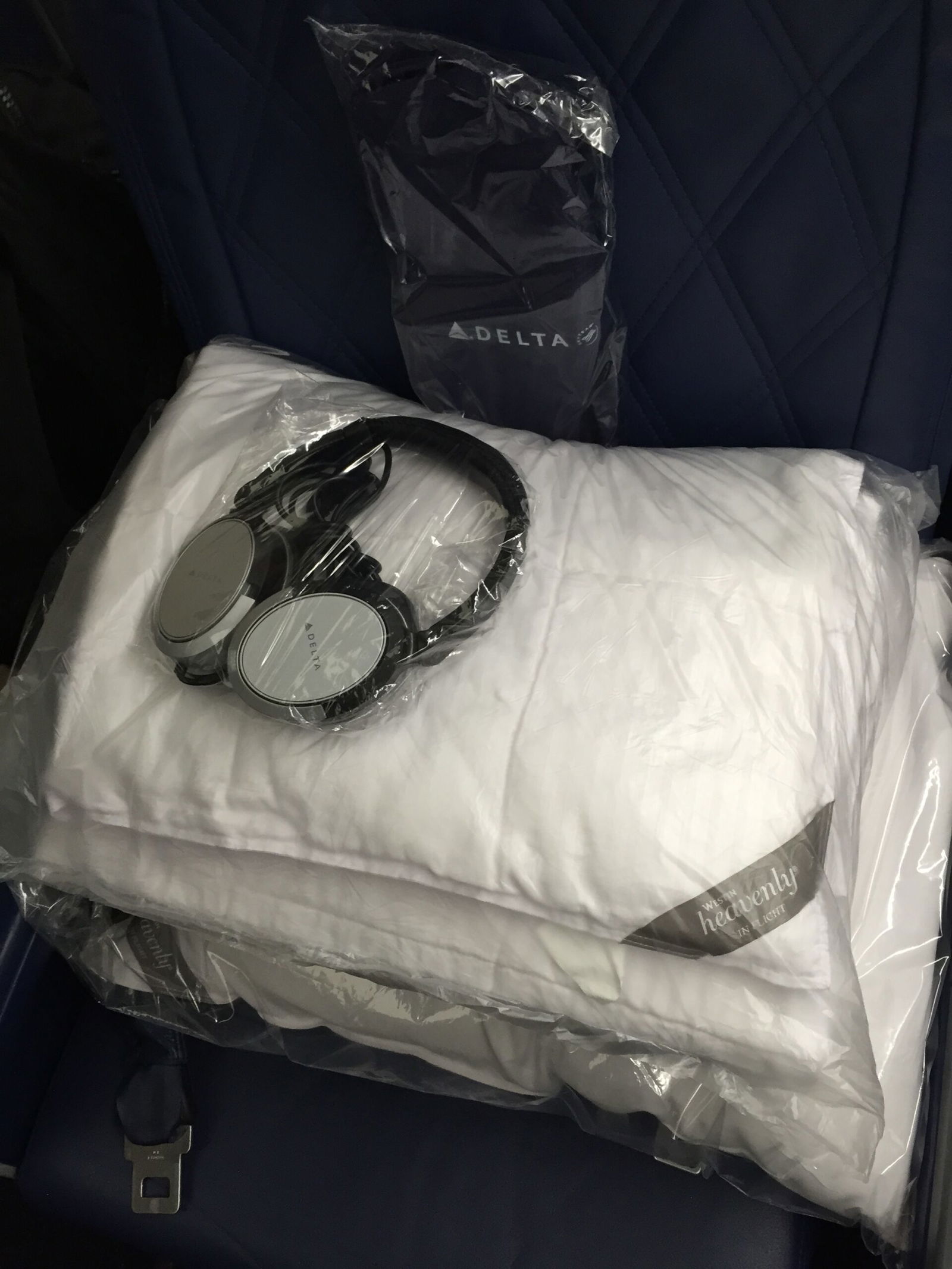 Meanwhile, a full-sized bottle of Evian and a Tumi amenity kit were placed on the console.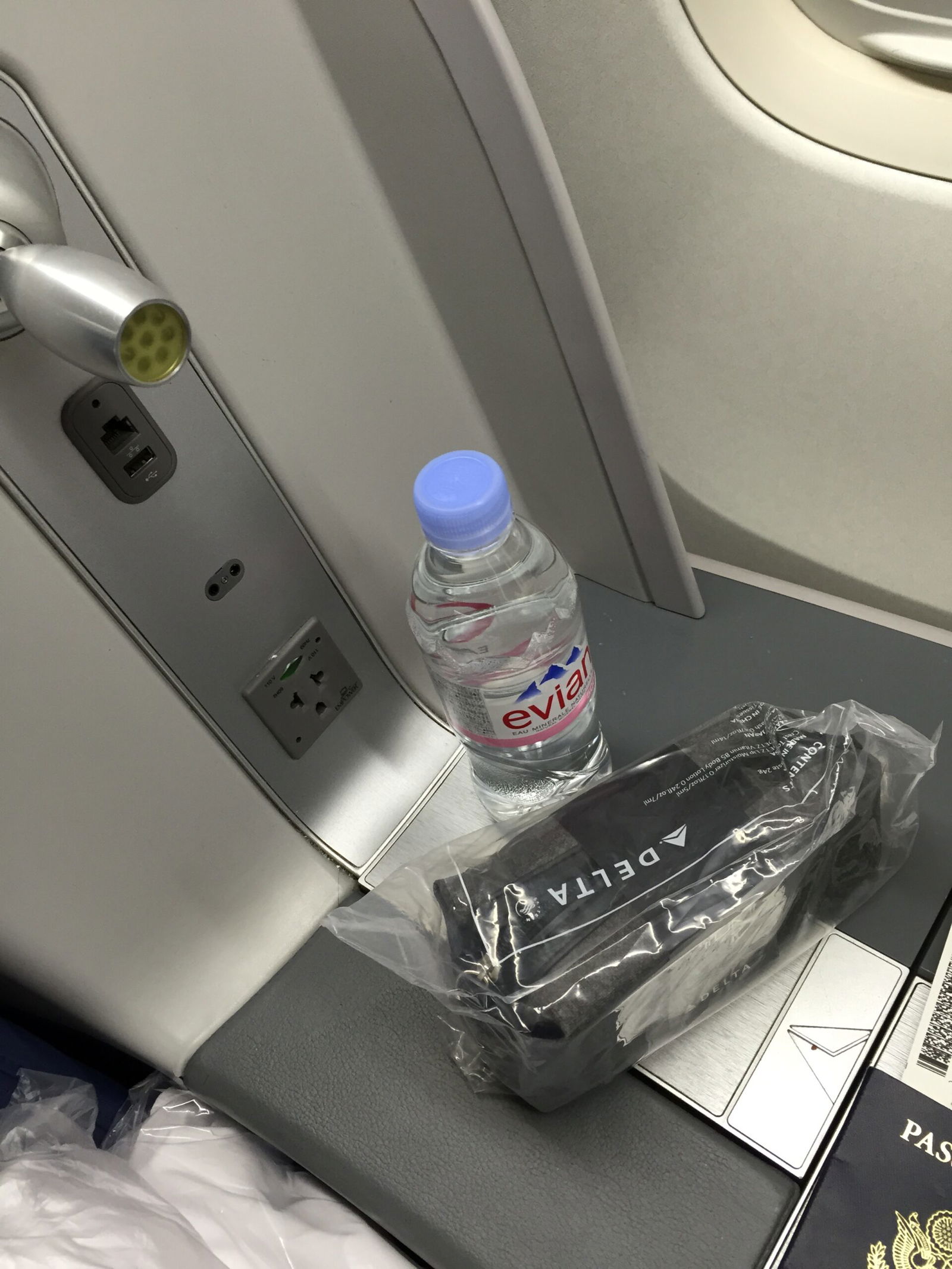 The standard reading light, USB port, and electrical outlet were to the right of the seat, above the console.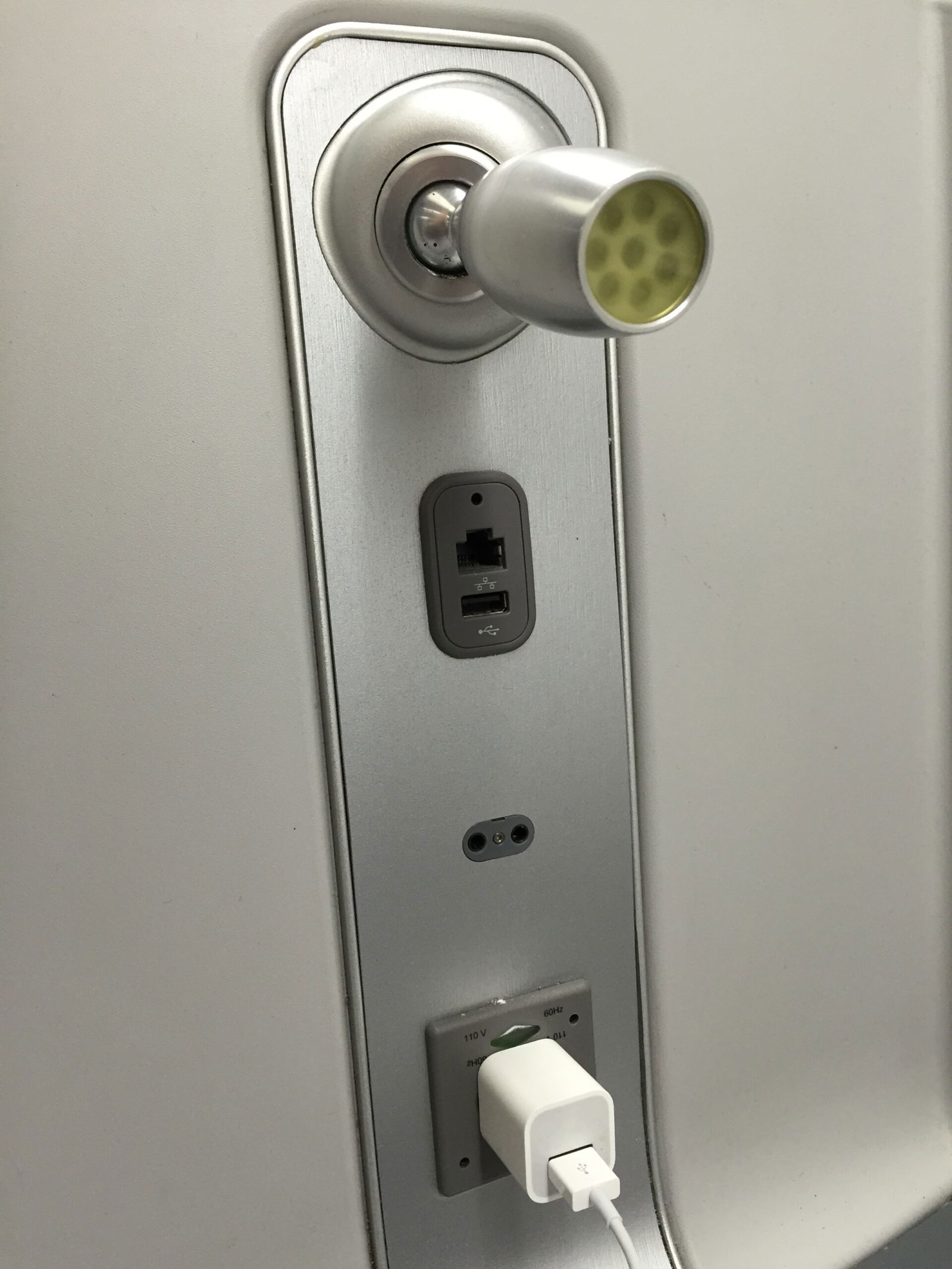 This particular amenity kit was a soft-sided Tumi kit. Delta offers hard-sided kits on westbound flights, and soft-sided kits on eastbound flights, which is a nice touch.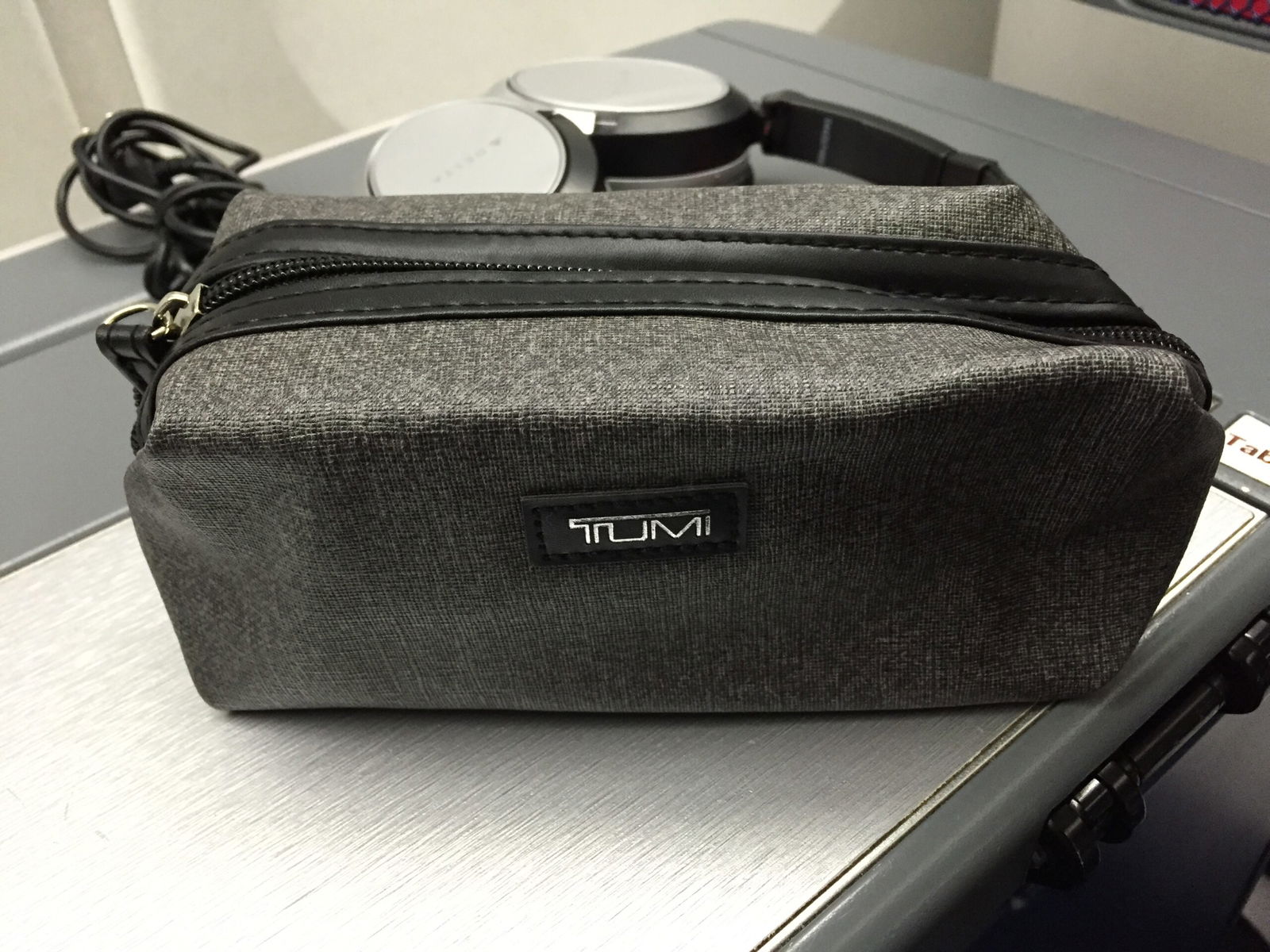 The seatback video screen was, as with all Delta 767s, small.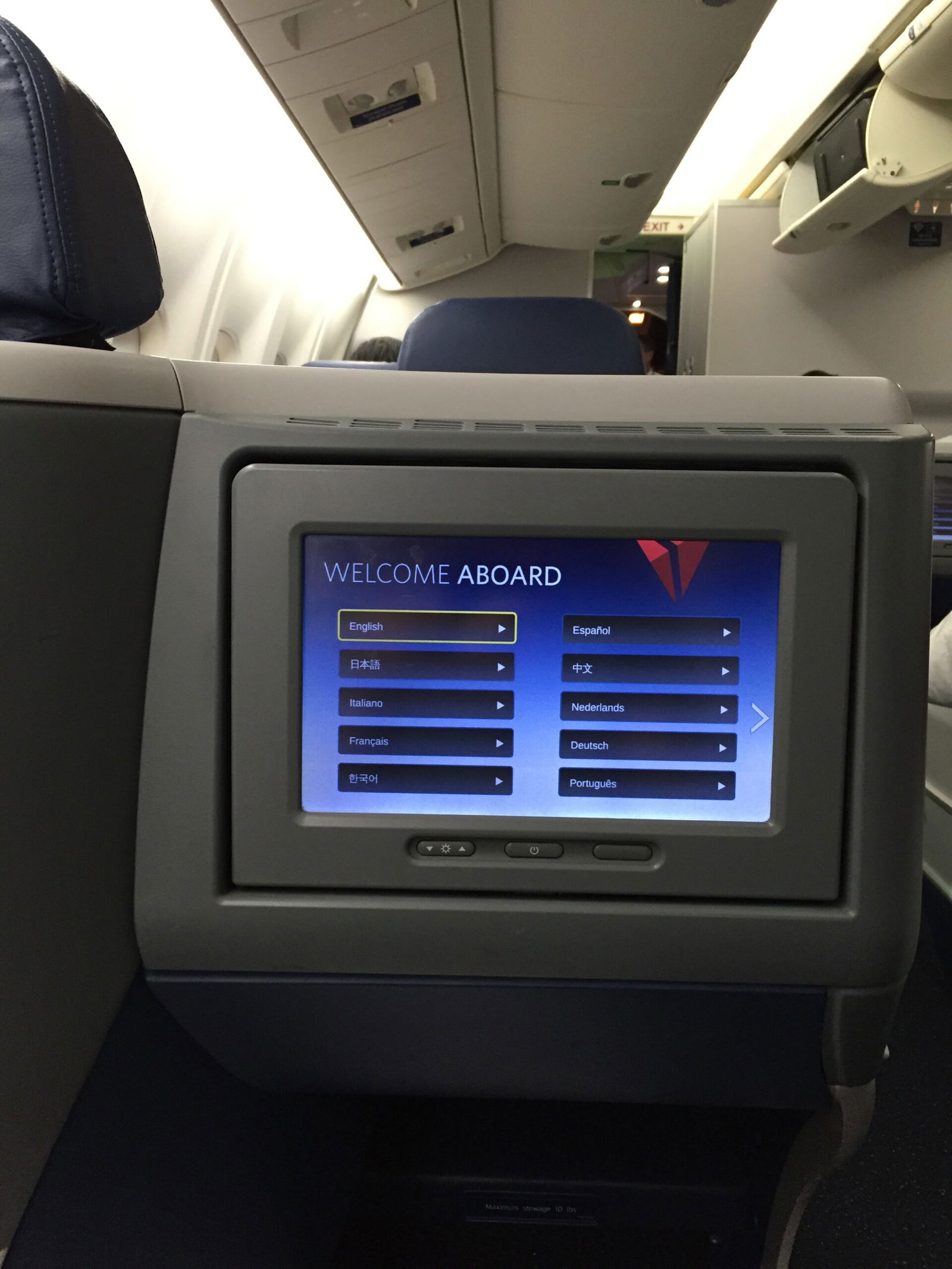 Shortly after being seated, a flight attendant came by with a tray of champagne, orange juice, and beer. I chose to have a glass of the Jacquart Brut Mosaïque champagne, and passed on the packaged glazed nuts.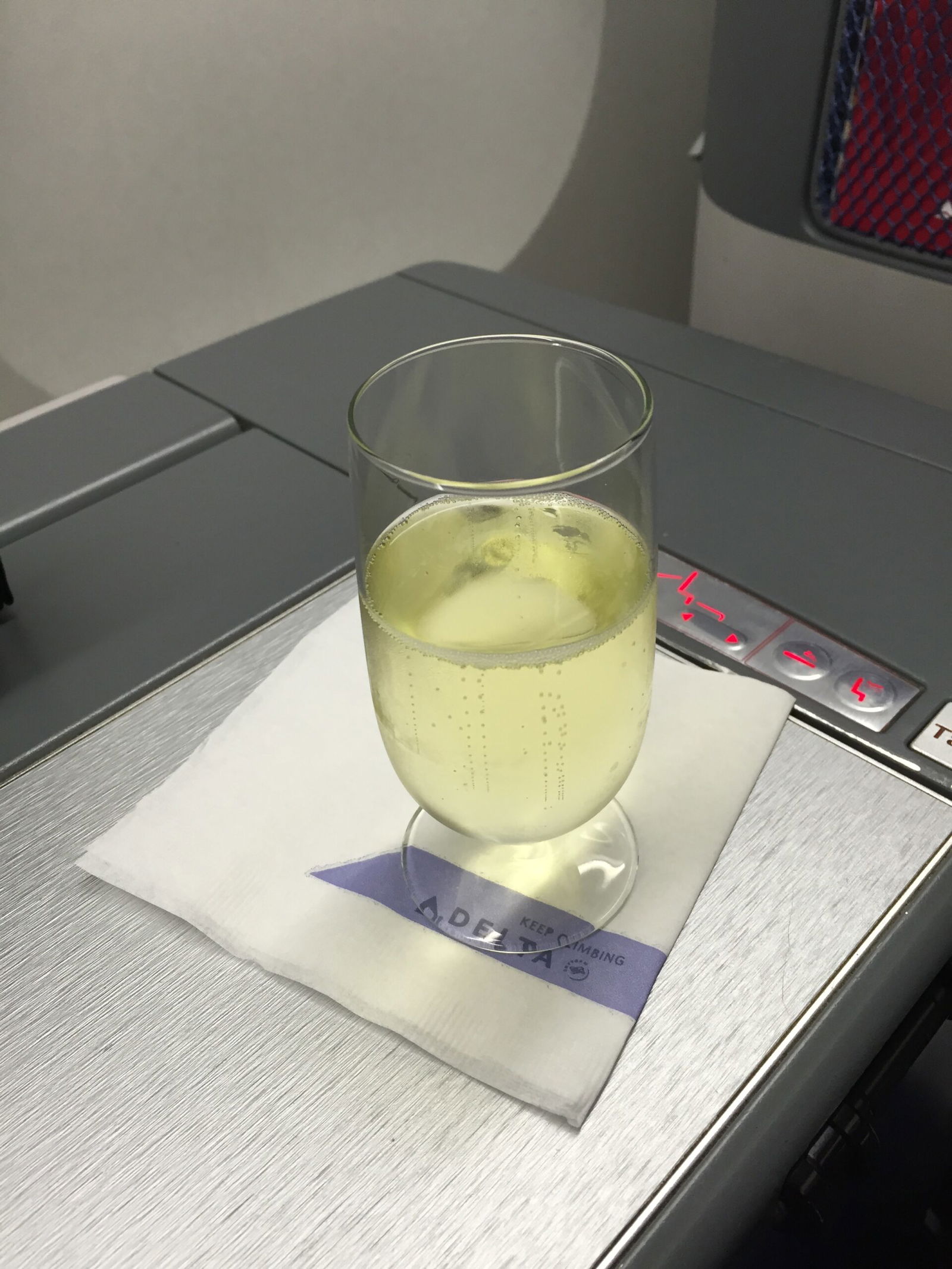 Because of the timing of the flight and the 12:30am departure, my intent was to sleep for the first two hours of the flight, and then be awake for the remainder of it, basically waking up in the late morning, Los Angeles time.
The purser, Pamela, passed out dinner menus. I asked her if it would be possible to order my dinner and save it for when I wake up (as opposed to dinner service shortly after takeoff), and she assured me it wouldn't be a problem at all, which was nice.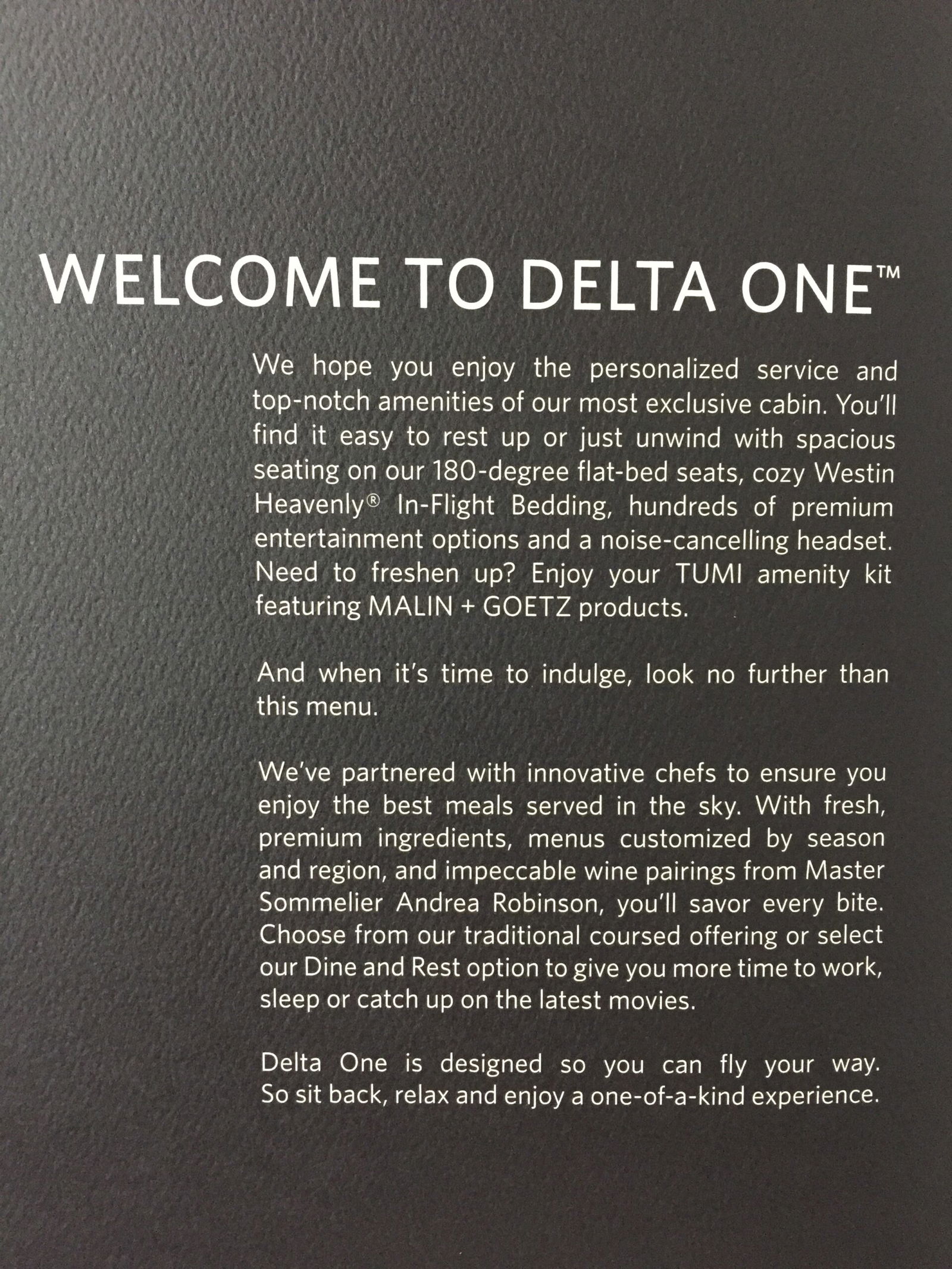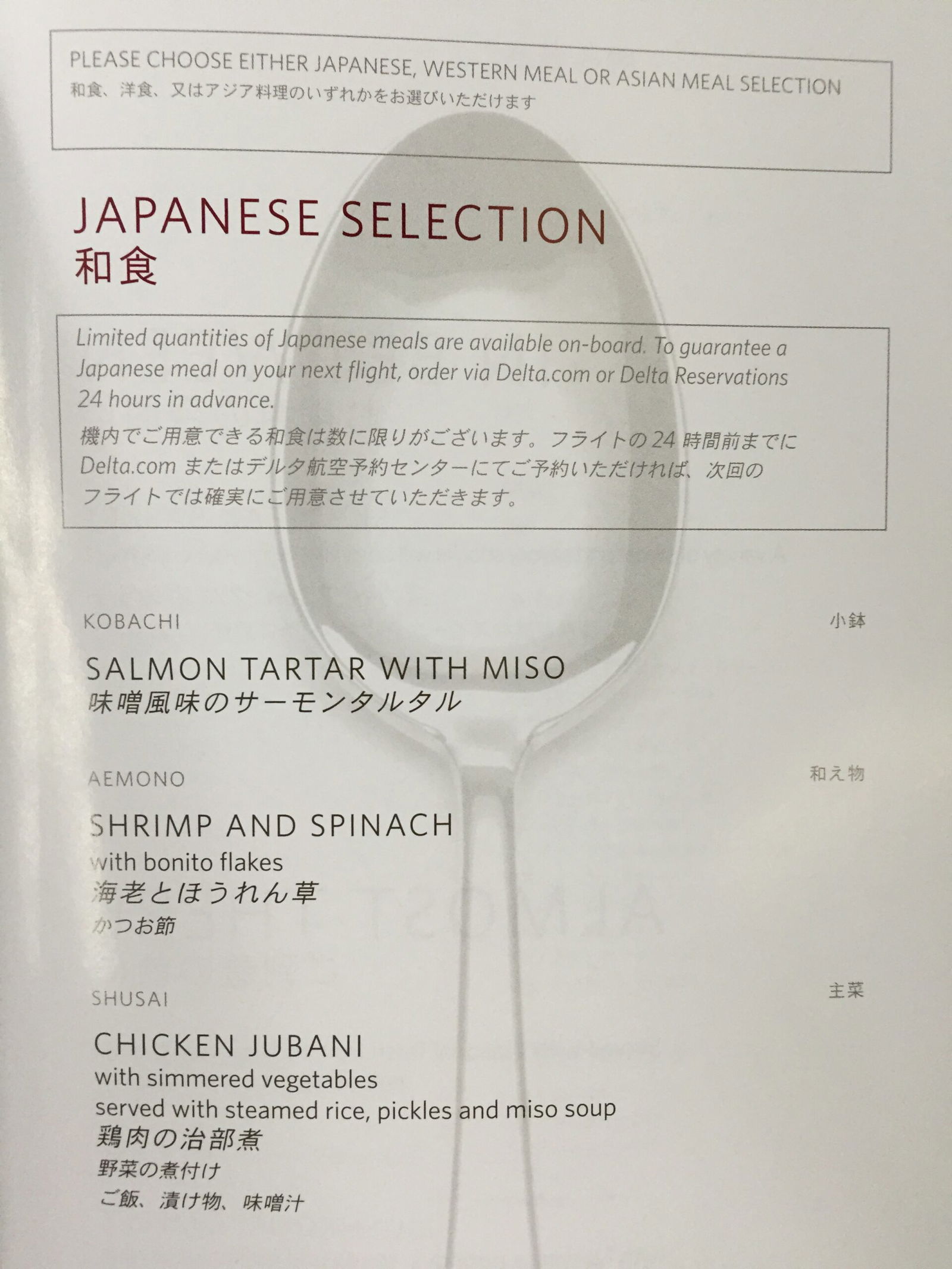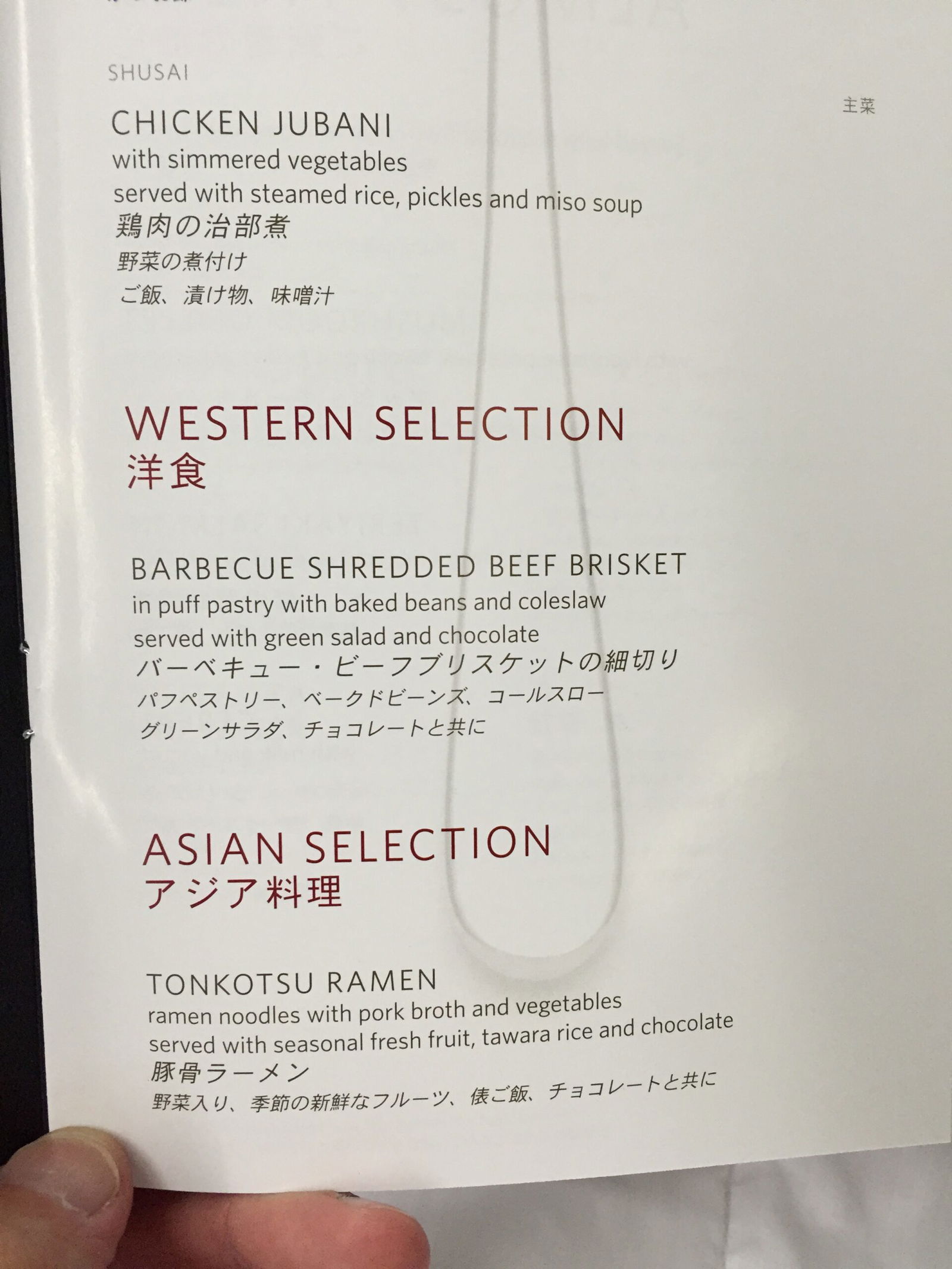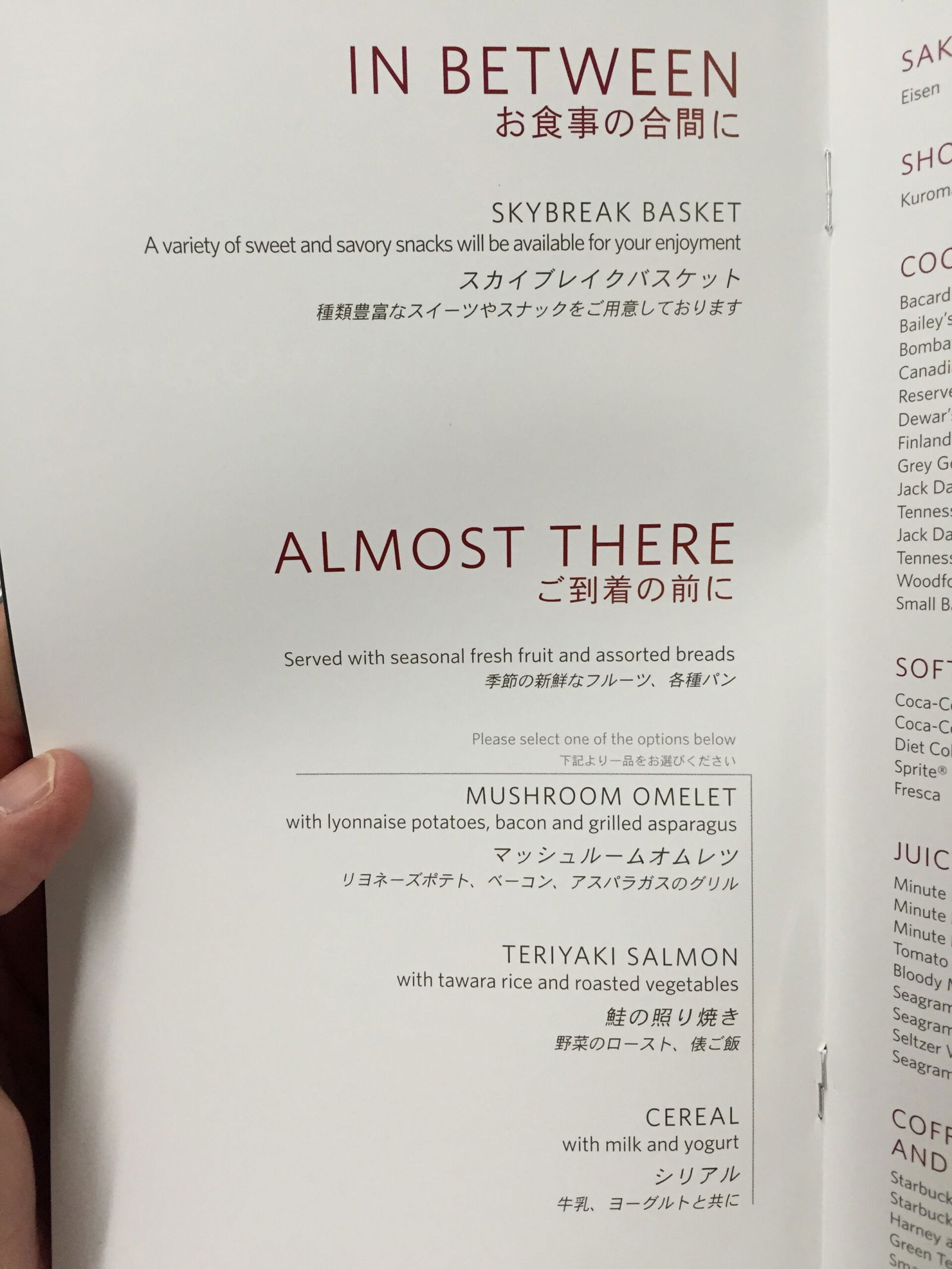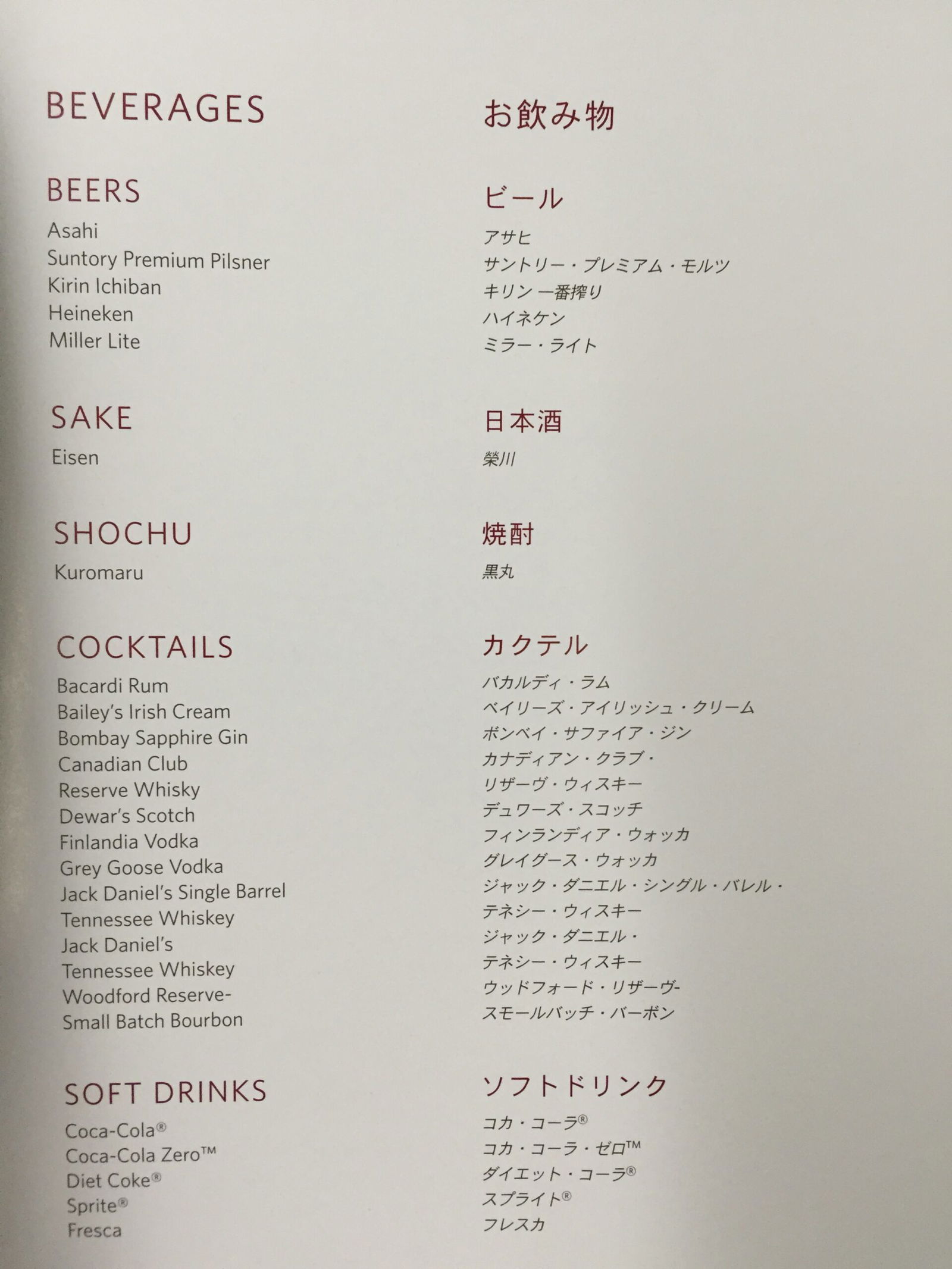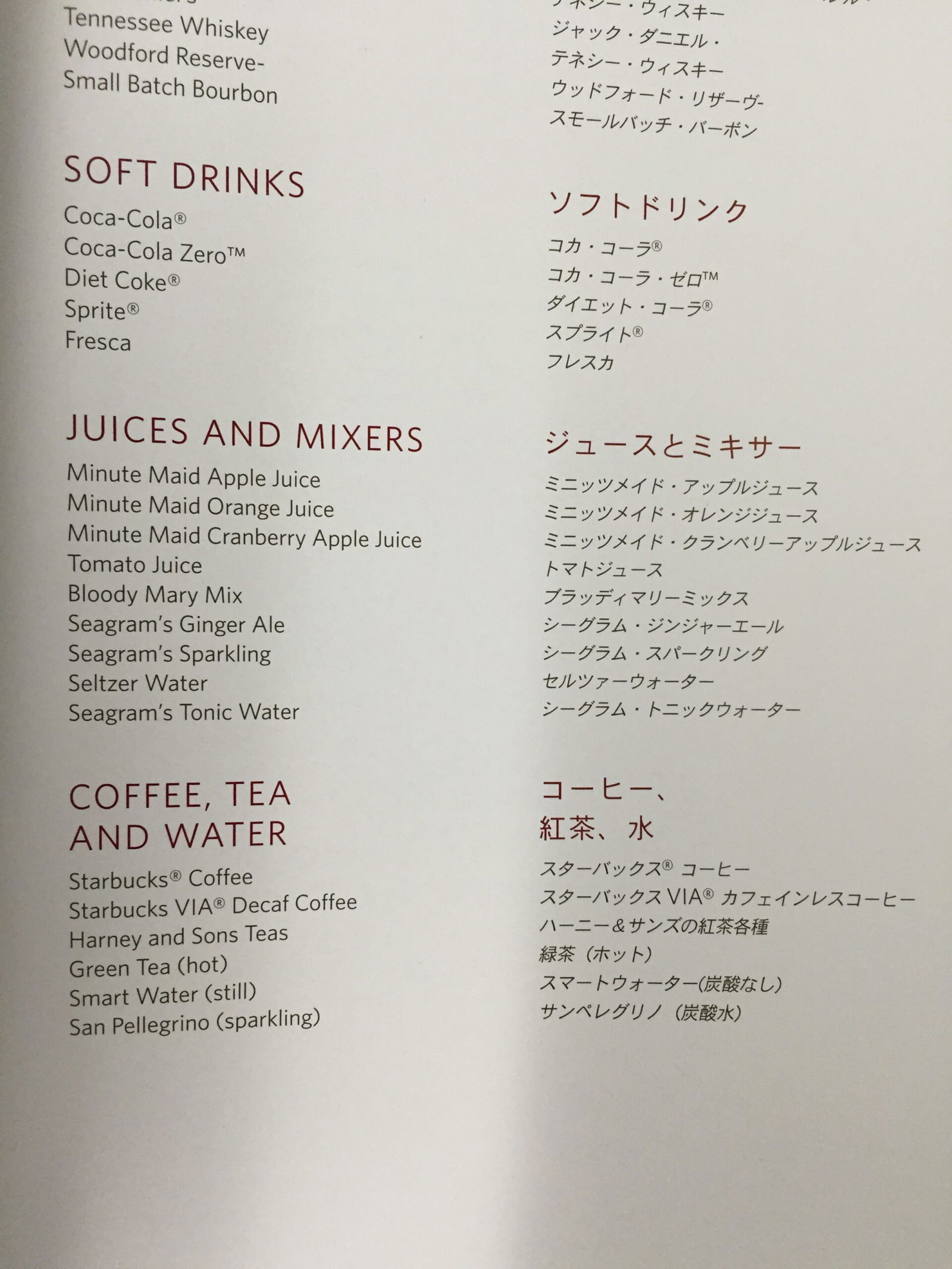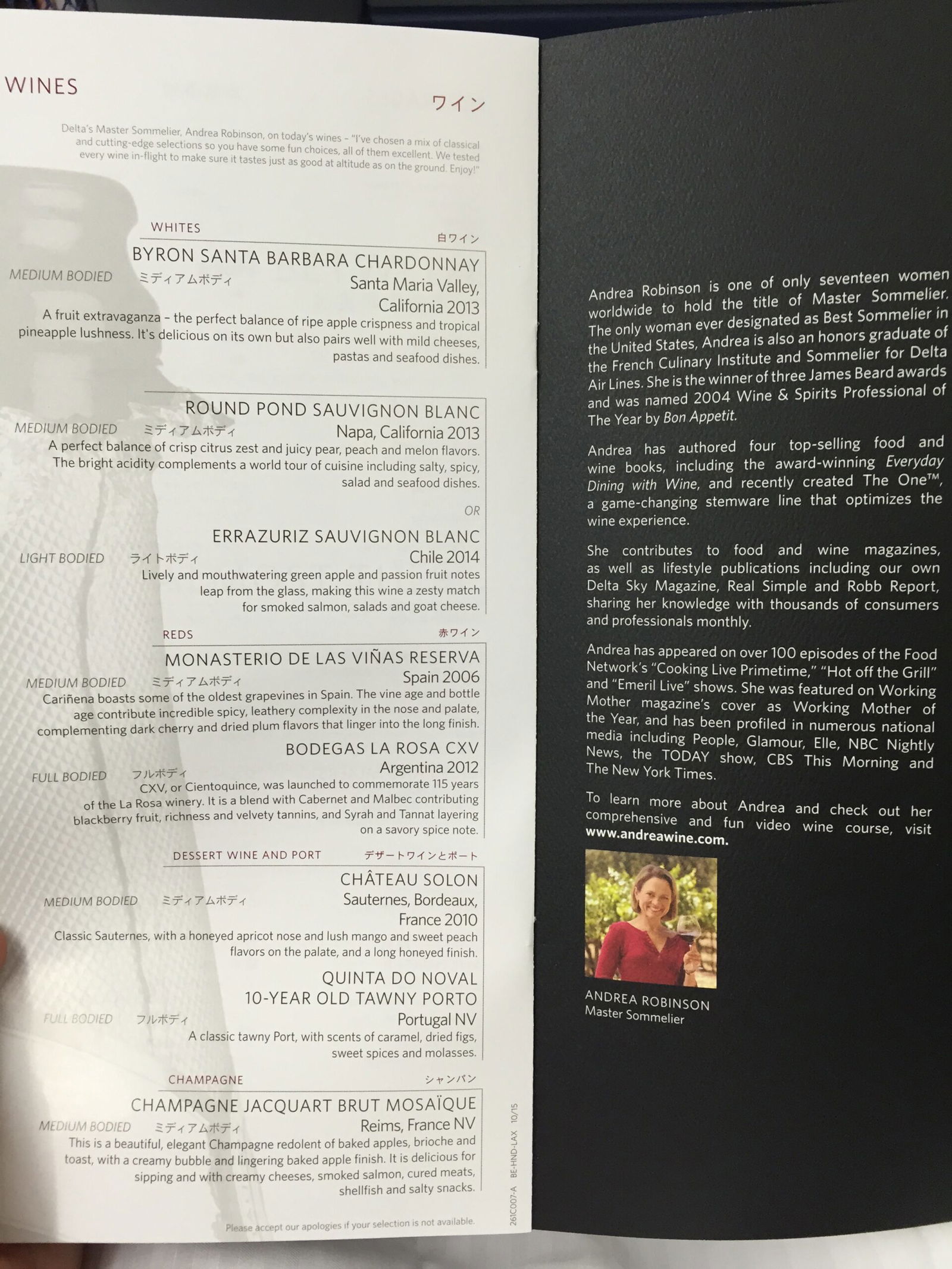 Because of the late-night nature of the flight, the entire menu was composed of "Dine and Rest" options on one tray, rather than the typical coursed dinner service we received on the outbound flight. It's a bit tacky there wasn't the option of a longer coursed dinner as opposed to a supper, but there didn't seem to be any demand for one, and in fact it was the last thing I wanted.
I ordered the "Asian Selection" (as opposed to the Japanese Selection and Western Selection), which was the pork broth ramen. Pamela said she'd reserve it for me and that it would take about 20 minutes to make, so just to give her a heads-up whenever I was hungry.
Just before pushback, the captain welcomed us aboard over the PA system and announced a flight time of 9 hours and 41 minutes.
I put on my eyeshades as we pushed back from the gate and dropped my seat into fully-flat bed mode just after takeoff. I slept for about two and a half hours.
When I woke up, I slipped the shades open just a little bit to bright daylight, and closed them again so as not to bother the other passengers. I noticed Pamela had brought me a fresh bottle of water while I was asleep, which was a nice touch.
I ordered a cup of coffee and Pamela came by to offer me my ramen course. While I waited for it to be heated up, I turned on Delta Studio and decided to watch a documentary I'd heard great things about, Finding Vivian Maier, about a photographer who gained fame only after her recent death.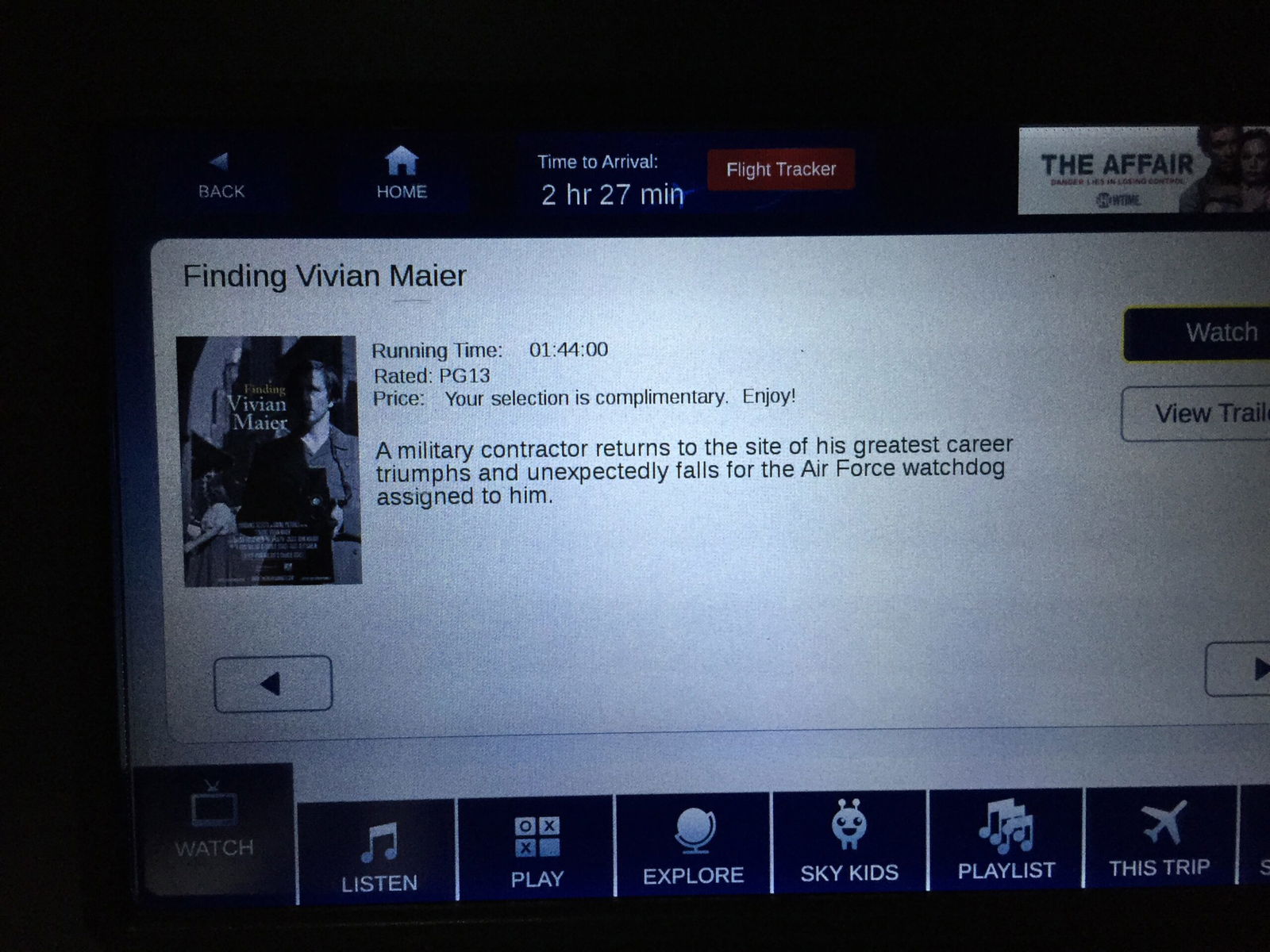 Though Vivian Maier was a mysterious woman, she was not, as far as I could tell from watching the documentary, either a military contractor or an Air Force watchdog.
I asked for a beer with my ramen, and when Pamela came by to deliver my dinner, she brought a tray with all three beers on offer that evening (Asahi, Heineken and Miller Lite), which was thoughtful. I took an Asahi.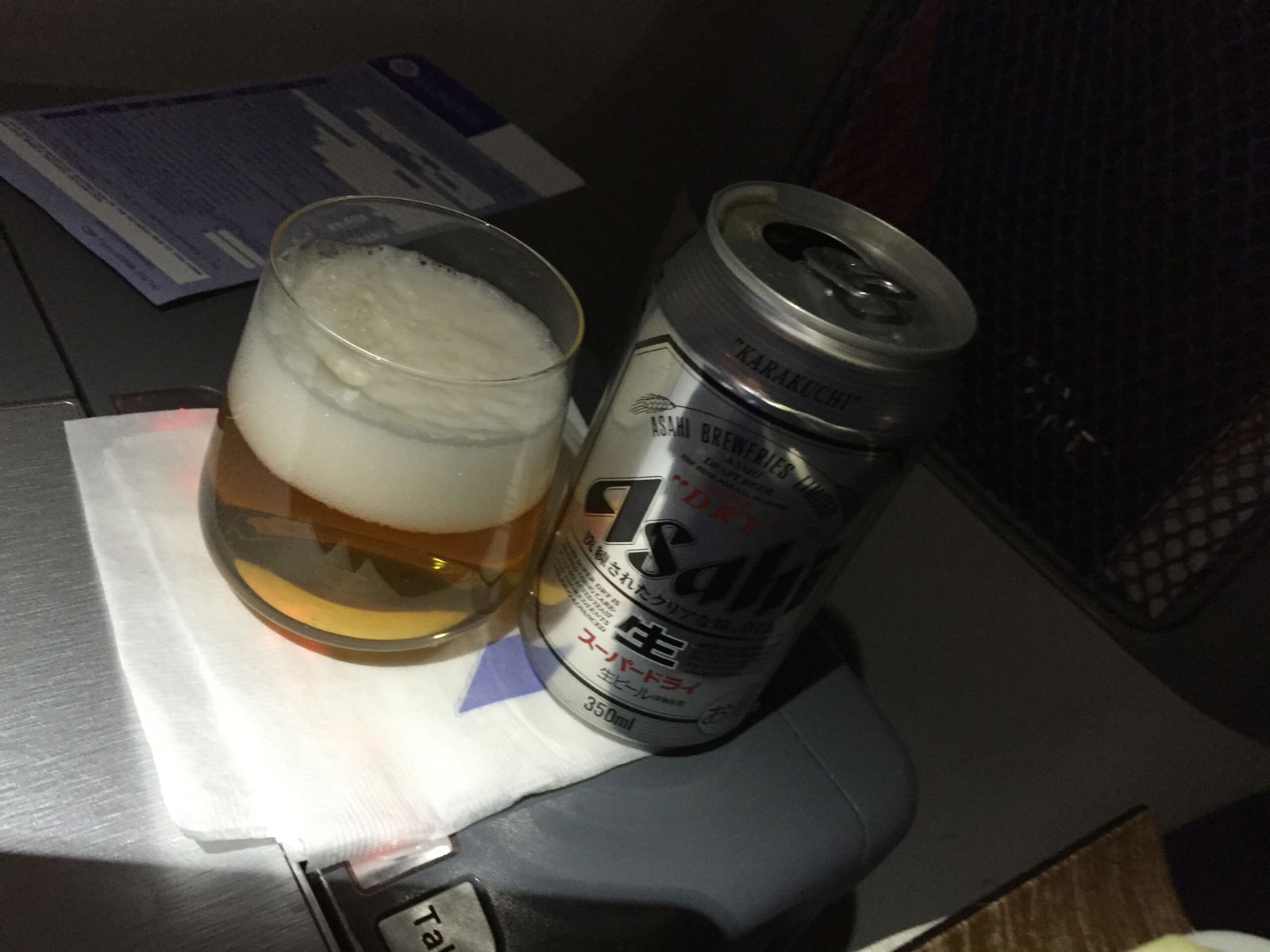 The ramen was actually quite delicious and satisfying – and a perfect way to wake myself up from slumber. The broth was meaty and delicious. Pamela also brought a bread basket by to go along with the rice.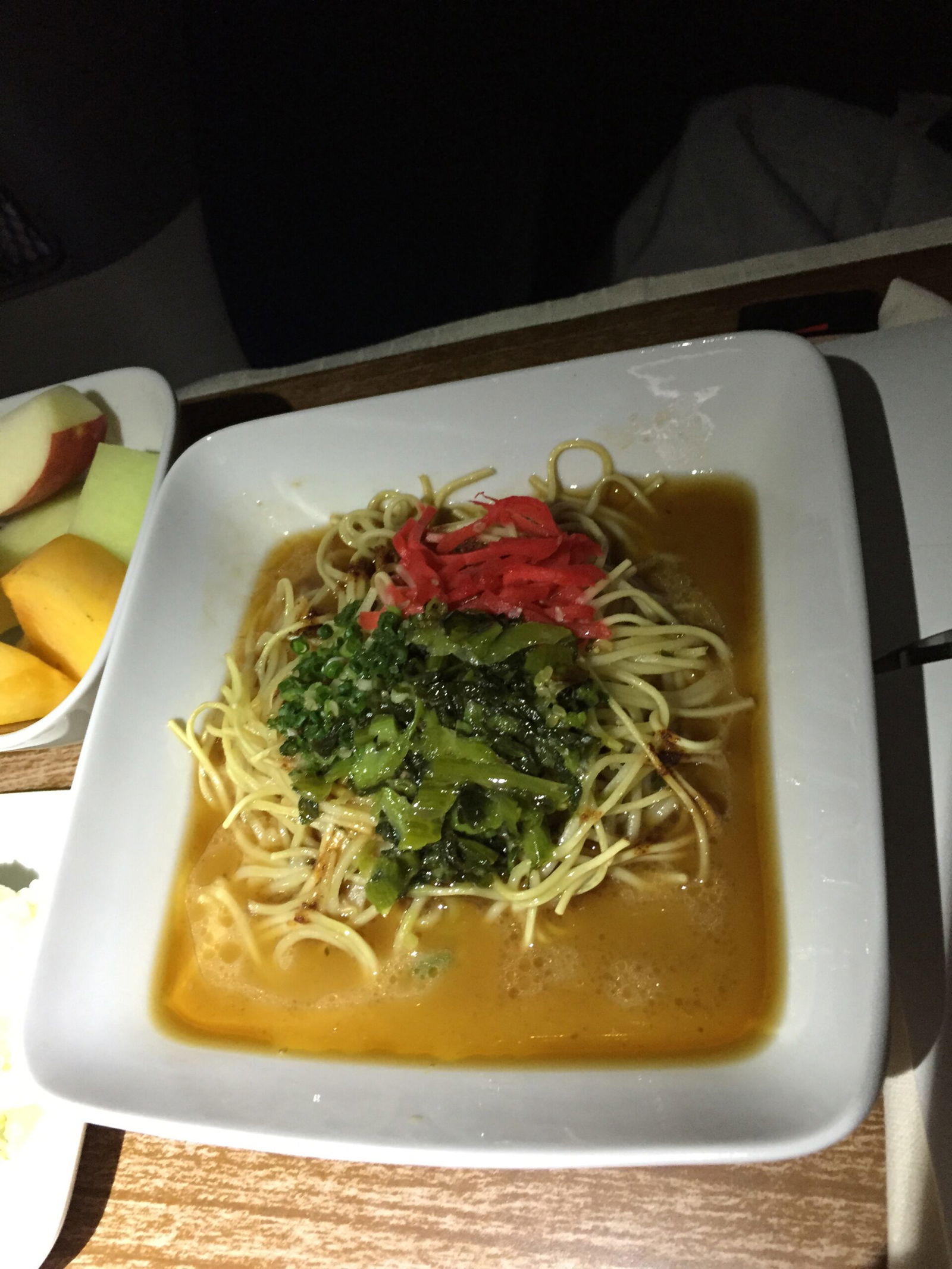 The ramen came with a somewhat dry fruit salad, as well as sticky rice, which I enjoyed.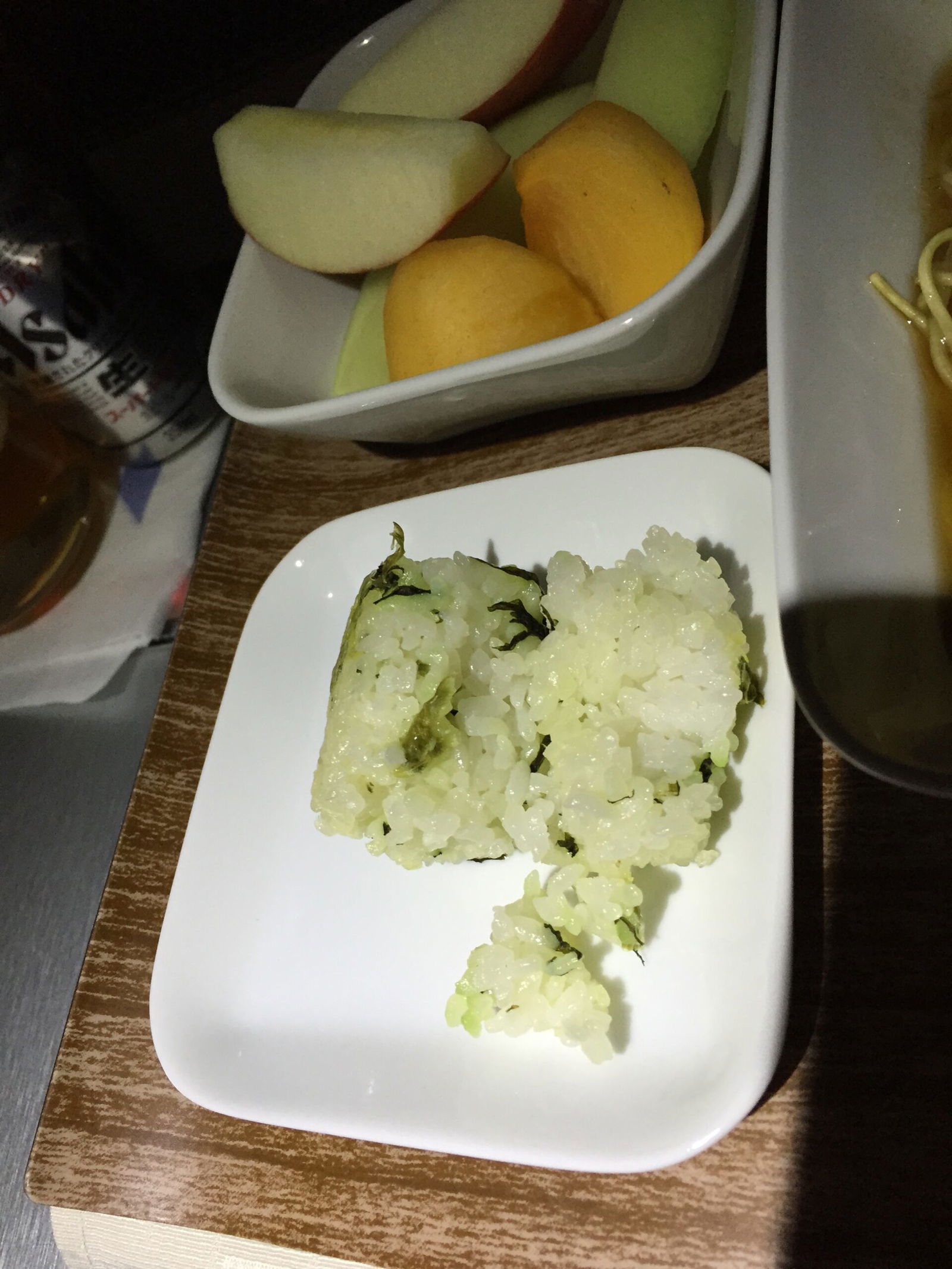 The meal wasn't fancy, but it hit the spot for the oddly-timed flight. I wasn't especially hungry throughout the flight, considering it left at 12:30AM Tokyo time and would land around breakfast-time — it's hard to get hungry in the middle of the night when your body is used to being asleep.
Throughout the remainder of the flight, as I finished Finding Vivian Maier, started watching the USA Network show Mr. Robot, and watched Sleepless in Seattle (my stay at the Park Hyatt had gotten me in a 90's retro mood), Pamela came by frequently to replace my bottled water. She also came by a few times with a snack basket (which had a nice variety of U.S. snacks as well as Japanese onigiri and candies), and gave me a package of chocolate-covered Macadamia nuts (which was part of a gift tray of chocolates a passenger had given her at boarding).
I want to really stress how lovely the service was from everyone on board. Led by Pamela, service was professional, thoughtful and passenger-oriented but also efficient and appropriately unobtrusive for a late-night flight. I was constantly amazed how my bottle of water was refreshed whenever I dozed off, or left my seat, without even knowing it.
The hours flew by quickly with inflight Wifi and a decent entertainment selection onboard — and, thanks to good tailwinds we were making great time. Around 90 minutes before landing the flight attendant came by to take the second round of meal orders. Because I was not particularly hungry (and certainly not for breakfast), and had dinner plans in Los Angeles, I ordered cereal.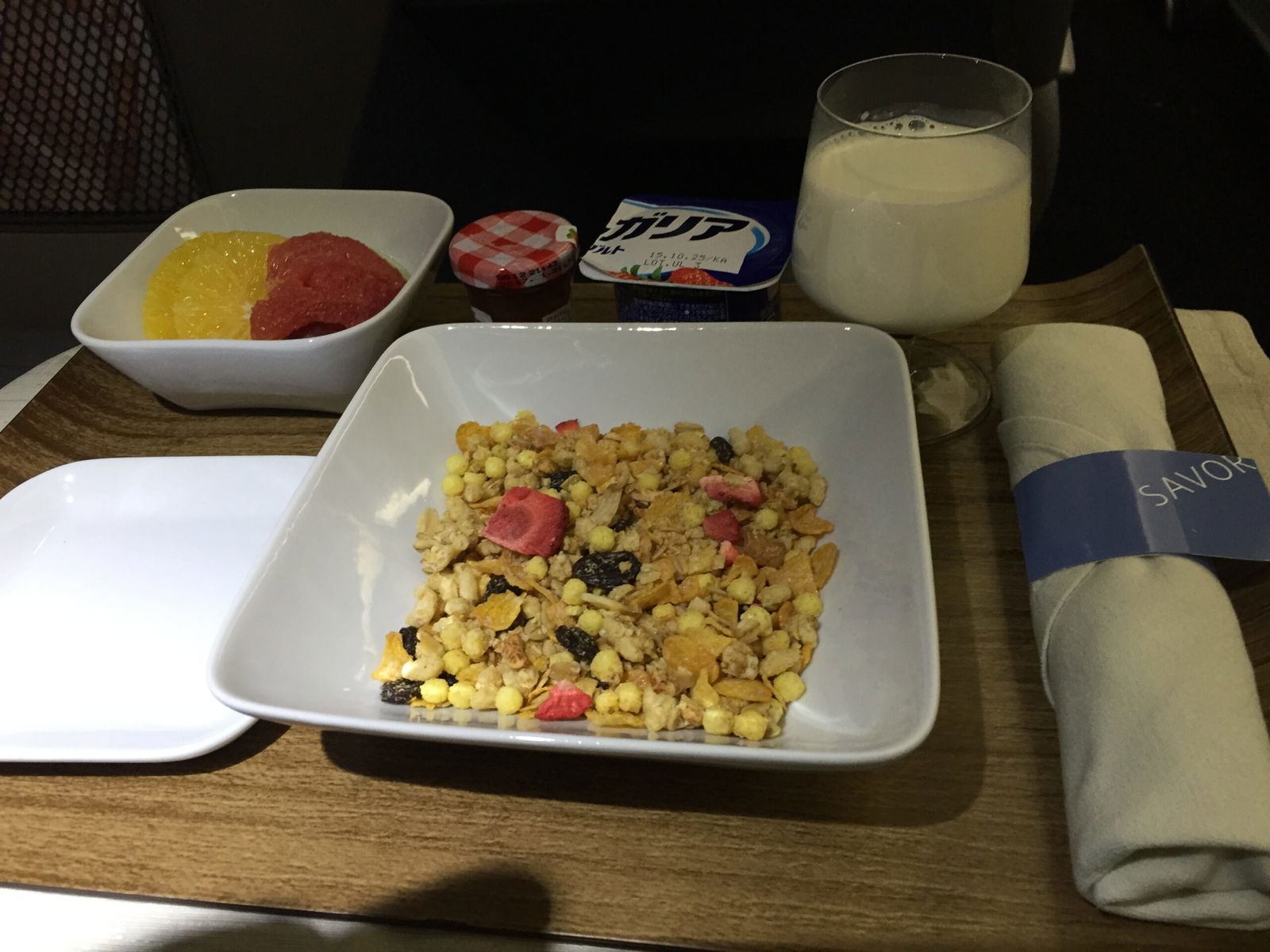 I just had a bite or two of dry cereal and the fruit salad, and a few bites of the croissant from the bread tray. There was also an option for a danish.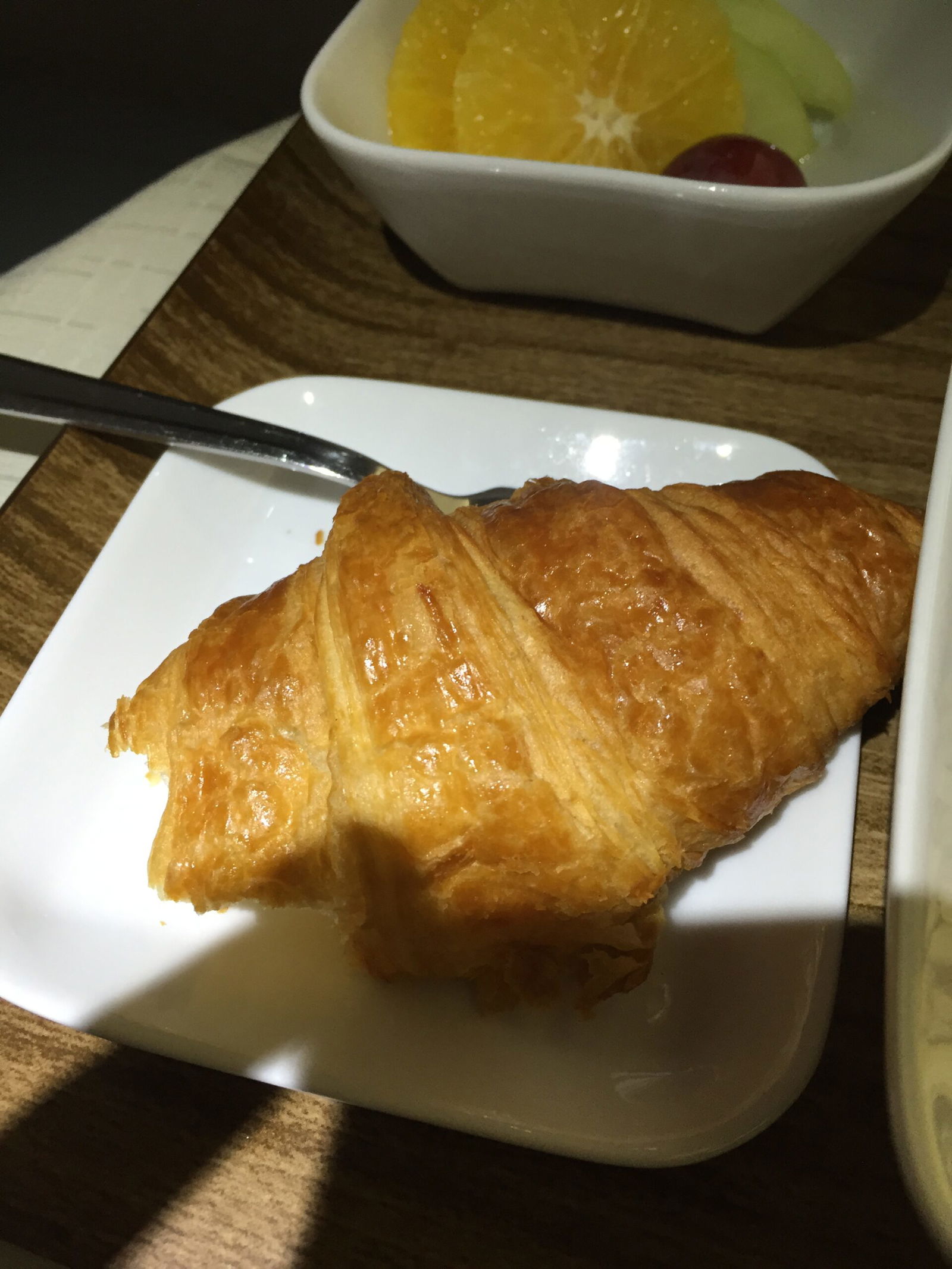 Surprisingly, the croissant felt fresh-baked and buttery and light, quite unlike most dense, Saran-wrapped airline croissants you'd get domestically.
Just on our initial descent, Pamela came by with a colorful box of assorted German chocolate bars with maybe a dozen different flavors as options. I chose a Hazelnut chocolate square.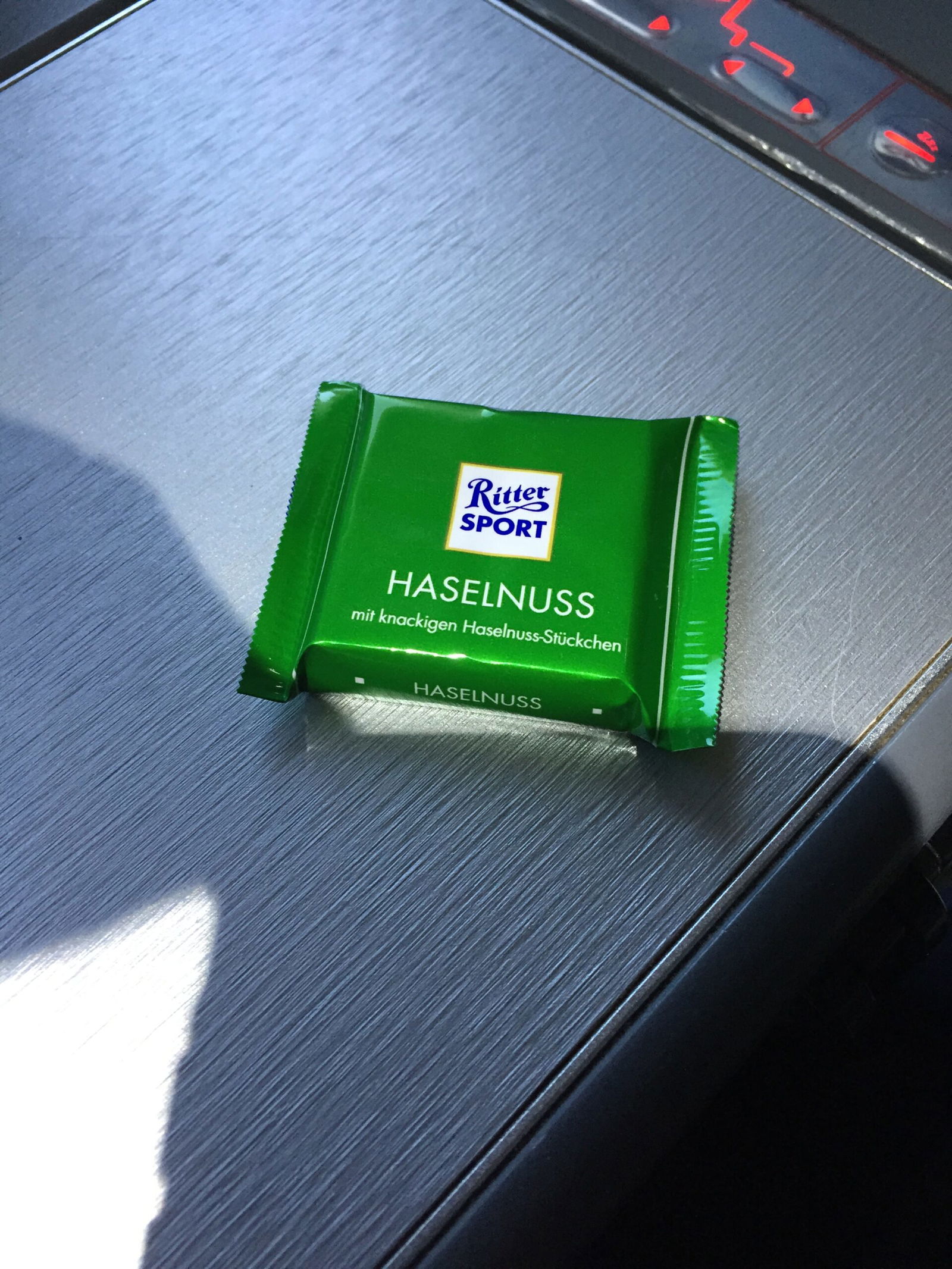 I noted that I'd never seen these chocolates on Delta before, and Pamela mentioned that they'd just replaced their Haneda-based caterer so everything was new to her.
Interestingly, my friend – who had ordered the Japanese meal, again – mentioned that his food was actually very meh, and far less tasty than his Japanese meal on the outbound. I found that surprising, since typically you'd expect the Japanese meal to be far better catered out of Japan.
Our approach to Los Angeles was quick, and we landed at "golden hour," with especially magical views of the city. However, because we landed early (around 6:10pm, when we were due at 7:15pm), the gate was still occupied, so we sat on the tarmac for a few minutes and were eventually towed in to the Delta terminal around 6:40pm. (I had checked a bag, and was able to make it through immigration via Global Entry and through baggage claim and customs in less than 12 minutes, which I found pleasantly surprising.)
Delta One 767 Bottom Line
My flight from Tokyo Haneda to Los Angeles was (relatively) short and sweet. Meal service was truncated due to the late-night nature of the trip, but I enjoyed what little food I did eat on the plane, though I noted my friend did not really enjoy his special Japanese meal.
What stood out for me on this journey was service that I considered exceptional, really almost on par with international carriers and certainly among the best Delta service I experienced. While service on the outbound leg was friendly, warm, and affable, service on this leg was predictive, which I liked. I thought the purser, Pamela, was outstanding (in fact, I'm reminded to fill out a Job Well Done certificate as I type this), setting the tone for a lovely flight with warm service and smiles from all of the flight attendants and just a general ability to cater to each and every passenger on a deeply personal level.
All in all, I was pleasantly surprised and impressed with Delta's Los Angeles to Haneda service, and especially impressed with international Wifi service, which I didn't expect these flights to have. Though a sub-10 hour flight isn't "short," it did seem to fly by with Wifi, onboard entertainment, a 2 hour nap and friendly service, and I really have to say it was not just painless, but actively pleasant — high praise indeed for a US-based carrier on an international route in business class.