I spoke this past weekend at the Frequent Traveler University in Newport Beach, and very much enjoyed meeting many of you and sharing tips on using miles.
As we were going through the materials during my sessions, I found myself referencing several other posts and resources. While I'm not going to post my slides from the event, I did want to put together a list of tools that will be useful in constructing itineraries and redeeming miles.
Hopefully, this provides a handy reference list, and even those who weren't at the event should bookmark some of these posts so you have them at hand when you go to redeem miles in the future!
Redemption tips
I feel quite strongly that the best way to learn about miles is to actually try to use them. By doing so you'll develop a stronger sense of which programs make the most sense for you, and will be able to focus your mileage earning. To help you get started:
There are also times when it makes sense to buy miles (particularly if you don't have access to or interest in the credit card programs in the US), and the Alaska Mileage Plan program can be a particularly good option right now.
For more in-depth explanations of some programs and their quirks, these are good program-specific resources:
If you run into problems, have a quick question, or just want to share tips with others, the Ask Lucky forum is a great place to get extra help.
You can also check out Ben's Tips & Tutorials for more detailed explanations of search tools and strategies.
Other resources
While we didn't have time to go in-depth on many of the hotel programs, there's a ton of detailed information out there. In addition to the resources here on OMAAT you'll want to check out posts from the other speakers:
And while there's no single source for those considering some more exotic travel experiences, I think Matthew's trip report to Saudi Arabia and Afghanistan is a good place to start to learn more about the kinds of obstacles and challenges you might encounter when visiting more difficult destinations, along with Stefan's tips on becoming an expert traveler.
Want to attend a similar event?
Who doesn't want to meet other like-minded travelers, really? While OMAAT and the other blogs cover most of this information on a daily basis, some people really like the in-person format. And of course, getting the chance to meet other people who are interested in miles and points is always fun!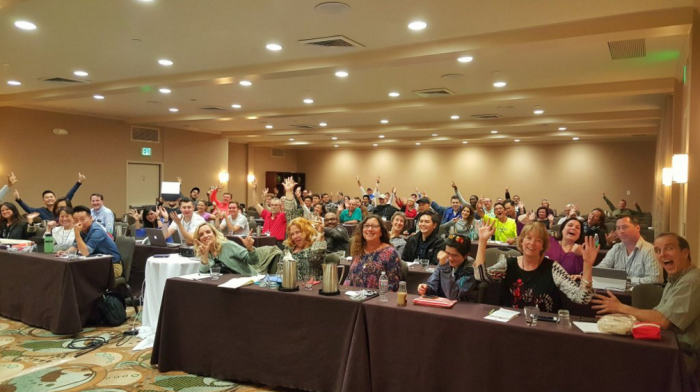 Photo credit: Tahsir Ahsan
The next event will be in Las Vegas, Nevada from April 29 through May 1, 2016. Hopefully, we'll see many of you there!
Thanks again to everyone who attended, and hope you had a nice weekend!