Reader Uri posed a question in the "Ask Lucky" forum recently, wondering how to go about finding award space when one has lots of miles and points:
So, it is clear that to check for award space, you need to do it one leg of the trip at a time.

But – with so many options near any large metro area, and so many airlines, how does a person who has (say) many points on (say) Chase Sapphire – search for award space?

Is there a single search engine, or do you need to log into both AAdvantage, British Airways, and so on?
The direct answer to his question is that yes, you need to search space in each alliance separately. But it made me think about how we can decide which miles to use for our award tickets.
As I spend much of my time guesstimating which mileage currency is going to be most practical for a given award, I thought it might be useful to walk through the process I use.
What do you want?
This is the obvious starting point for me. Some people might want to fly first class on every A380, others might want a nonstop flight which limits their options, etc.
For most people though, the real question is usually going to be "Where do I want to go?"
Which are the best awards?
Once you have a destination in mind, you can start teasing out the comparative values in each award chart.
If you know how many miles are needed for an award ticket in each program, you can come up with your own rankings to determine the best values. The program with the lowest mileage requirement isn't necessarily the best — you might have way more miles in a certain program and thus want to use those first, there are fuel surcharges to consider, etc.
But do your best to come up with 2-3 theoretical options that seem worth exploring.
Best value versus best reality
Once you have a couple of awards you're interested in, you can start to see which program might make the most sense for this particular trip.
My mental process is somewhat like this: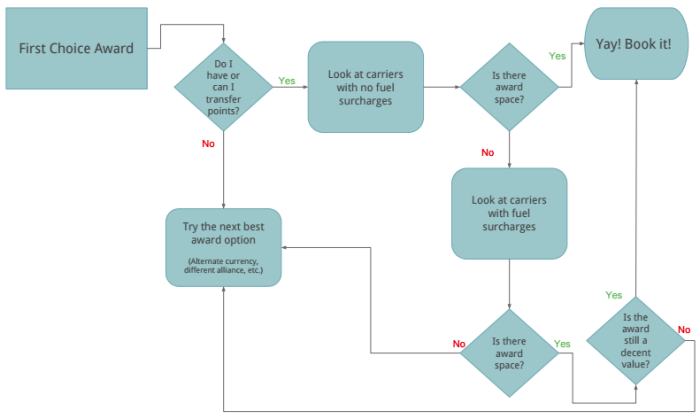 To put this into more concrete terms, let's look at an award between North America and Europe, more specifically between Miami and Nice.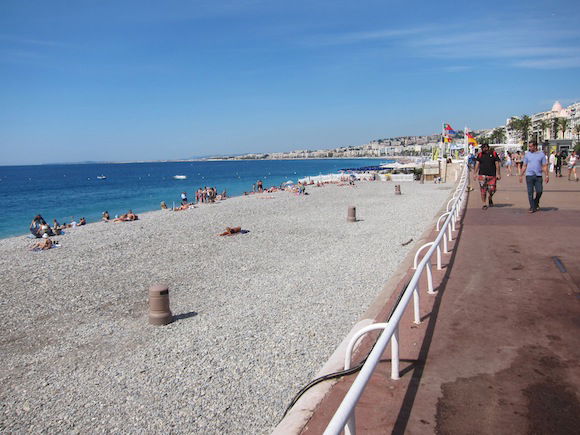 Personally, I would think that the "overall best value" award in this case would be through Air Canada Aeroplan. 45,000 miles for one-way business class, and the plethora of Star Alliance transatlantic options means award space is generally good.
So let's work through this as an example.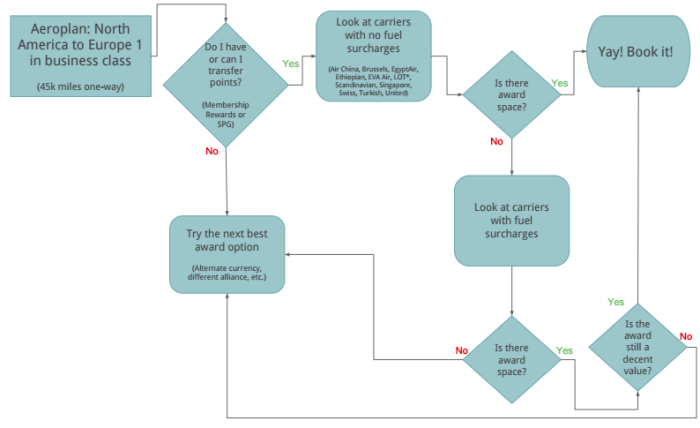 Do you have points that can transfer to Aeroplan?
Starwood Preferred Guest is a transfer partner of Aeroplan, as is American Express Membership Rewards in the US and Canada. You might have other options in your country as well.
If you don't have points that you can move to Aeroplan, then this is all a moot point, so you'll want to start looking at your next best option.
Look at carriers with no fuel surcharges
Aeroplan levies fuel surcharges on most award tickets, but they have about a dozen partners where you can avoid those hefty fees. You'll want to look at award space on these carriers first in order to preserve the value of your award.
Is there award space?
This is where it starts to get fun! After all, just because something sounds nice in theory doesn't mean it's going to work in practice. So you'll need to dig in and actually search for award availability over your dates.
For an award from Miami, my first pick of carriers would be Swiss. They have a direct flight to Zurich, no fuel surcharges, and should have several connecting flights a day to Nice. And since we're looking at an Aeroplan award, we won't pay fuel surcharges on Swiss.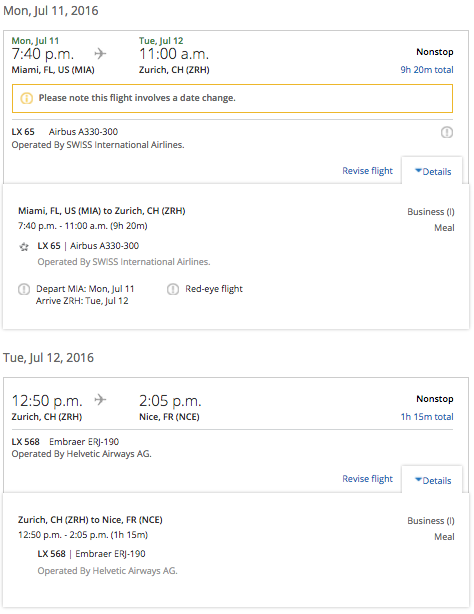 Ta da!
What if there isn't award space?
Well, there are a few options here:
Play with your dates — even a day can make a huge difference
Look at adding a connection or even a positioning flight
If those don't work, then it can make sense to look at the carriers that would incur fuel surcharges. In most cases though, that's going to be a tough sell.
Are awards with fuel surcharges still a good value?
They can be. If it's your only option for getting where you need to go, it might be a fantastic value compared to buying a ticket.
If you have flexibility though, you might want to evaluate other options before settling on an award with hefty fees.
For example, if you're considering spending 45,000 miles and $750, it might make more sense to look at other redemption options. 70,000 miles and $100 could be a better value — you have to determine that for yourself.
So if it's not a good value for you, then you should start the process again using a new mileage program.
Bottom line
This is a big part of why it helps to know your travel goals when deciding which miles to accrue.
If you want to go to Tahiti it doesn't matter how great the offers are, or how easy United miles are to accrue — they won't realistically get you there. And if you don't have or can't get miles into a given program, it doesn't really matter how spectacular the values are on the award chart.
So there is a bit of back and forth that goes into determining the best options, and the best values. Having a better understanding of the tradeoffs will go a long way towards getting the most for your miles.
How do you decide which miles to use for an award?