In the interest of full disclosure, OMAAT earns a referral bonus for anyone that's approved through some of the below links. These are the best publicly available offers (terms apply) that we have found for each product or service. Opinions expressed here are the author's alone, not those of the bank, credit card issuer, airline, hotel chain, or product manufacturer/service provider, and have not been reviewed, approved or otherwise endorsed by any of these entities. Please check out our advertiser policy for further details about our partners, and thanks for your support!
For the longest time, Alaska Airlines was the strangest airline to me. I hadn't actually flown them until 2012, when I status matched to MVP Gold after I moved from Tampa to Seattle.
When I moved to Seattle it was the start of the rainy season, and I'd often find any excuse I could to escape the depressing weather. I'm not the world's best planner, so I'd rarely take advantage of any cheap advance purchase fares, but that didn't mean I wanted to pay for expensive last minute tickets either. Alaska is relatively good about releasing award space even close to departure, which made weekend jaunts possible.

Alaska 737-800
While British Airways is a member of the oneworld alliance, they do separately partner with Alaska Airlines, and their distanced based award chart leads to some especially lucrative award redemptions. The unfortunate part is that British Airways prices first class redemptions on Alaska at the first class award price, which is three times the cost of an equivalent economy award.
British Airways Executive Club is a transfer partner of American Express Membership Rewards, Chase Ultimate Rewards and Starwood Preferred Guest, so it's pretty easy to rack up the points quickly:
British Airways has a distanced-based redemption chart, which prices awards on a segment-by-segment basis:
Zone // Flight Distance
Economy
Off Peak // Peak
Premium Economy
Off Peak // Peak
Business
Off Peak // Peak
First
Off Peak // Peak
Zone 1
1-650 miles*
*Not available in North America
4,000 // 4,500
5,750 // 6,750
7,750 // 9,000
15,500 // 18,000
Zone 2
651-1150 miles
6,500 // 7,500
9,500 // 11,250
12,750 // 15,000
25,500 // 30,000
Zone 3
1151-2000 miles
8,500 // 10,000
12,750 // 15,000
17,000 // 20,000
34,000 // 40,000
Zone 4
2001-3000 miles
10,000 // 12,500
20,000 // 25,000
31,250 // 37,500
42,500 // 50,000
Zone 5
3001-4000 miles
13,000 // 20,000
26,000 // 40,000
50,000 // 60,000
68,000 // 80,000
Zone 6
4001-5500 miles
16,250 // 25,000
32,500 // 50,000
62,500 // 75,000
85,000 // 100,000
Zone 7
5501-6500 miles
19,500 // 30,000
39,000 // 60,000
75,000 // 90,000
102,000 // 120,000
Zone 8
6501-7000 miles
22,750 // 35,000
45,500 // 70,000
87,500 // 105,000
119,000 // 140,000
Zone 9
7001+ miles
32,50 // 50,000
65,000 // 100,000
125,000 // 150,000
170,000 // 200,000
A great resource for figuring out flight distances is Great Circle Mapper, which I also use to make the route maps I include in my posts.
As an example, consider a flight between Seattle and Los Angeles. Alaska would charge 25,000 Mileage Plan miles for a round-trip saver award ticket between any domestic city pair, while British Airways would only charge 15,000 Avios.
Finding Award Space On Alaska Airlines 
British Airways is able to book both economy and first class awards on Alaska Airlines flights. There are three relatively straightforward methods to finding Alaska Airlines award space:
For the average traveler who doesn't have an ExpertFlyer membership, award space can be found using either Alaska's or American's websites.
Keep in mind that Alaska Airlines has different tiers of award prices, and only the lowest award types can be booked by partner carriers. American and British Airways should have access to all the same space, since they're both just pulling the saver level award space.
Make sure to look for nonstop or direct flights (two segments under one flight number), as you're paying separately for each flight in the award.
Using alaskaair.com
On the homepage, simply enter flight details into the "Book a Trip" section of the website and make sure to check the "Use Miles" box.

"Book a Trip" section of alaskaair.com's homepage
You'll be presented with options on the next page, but you'll want to make sure you're finding award availability that corresponds with their lowest tier of award prices. 

alaskaair.com Award Results Page
As you can see, Alaska is actually quite generous with award space. All the flights on that day have saver award availability in both economy and first class.
For reference, here are the saver level prices you should be looking for when using alaskaair.com to search award space bookable with Avios:
| Award Type | Alaska Airlines Saver Award Price |
| --- | --- |
| Continental U.S. & Canada – Coach | 12,500 miles |
| Continental U.S. & Canada – First Class | 25,000 miles |
| Intra-State – Coach | 7,500 miles |
| Intra-State – First Class | 15,000 miles |
| Hawaii – Coach | 20,000 miles |
| Hawaii – First Class | 40,000 miles |
| Mexico – Coach | 17,500 miles |
| Mexico – First Class | 32,500 miles |
On the homepage of aa.com, simply enter in your flight details under the "Find Flights" tab. Make sure to check the "Redeem Miles" button.
Using aa.com

aa.com homepage "Find Flights" tab

On the "Select Dates" page, make sure to check a "MileSAAver" tab, whether for economy or first class. American will only display partner award flights under the "MileSAAver" tabs on their site.

aa.com AAdvantage award "Select Dates" page
From there, click "Continue," to see award options. To make the search easier, you can uncheck any airlines other than Alaska on the left side of the results.

aa.com AAdvantage award flight selection page
Alaska Airlines flights show up, which means these are definitely bookable with Avios. American displays Alaska awards with "AS" prefixed to the flight number.
Using ExpertFlyer
When searching with ExpertFlyer, you don't even need to use the "Awards & Upgrade" search feature. You can search under regular "Flight Availability," which is a bit faster. 
In the "Airlines" box, enter in AS, which is Alaska's two letter IATA airline code.
In the "Only Show Class(es)" box, enter in A and W fare classes. "A" is Alaska's first class award fare code, while "W" is Alaska's economy award fare code.
Expertflyer.com flight availability search page
In the results, you'll see Alaska is releasing two first class award seats on each flight that day, and at least seven economy award seats. Amazing!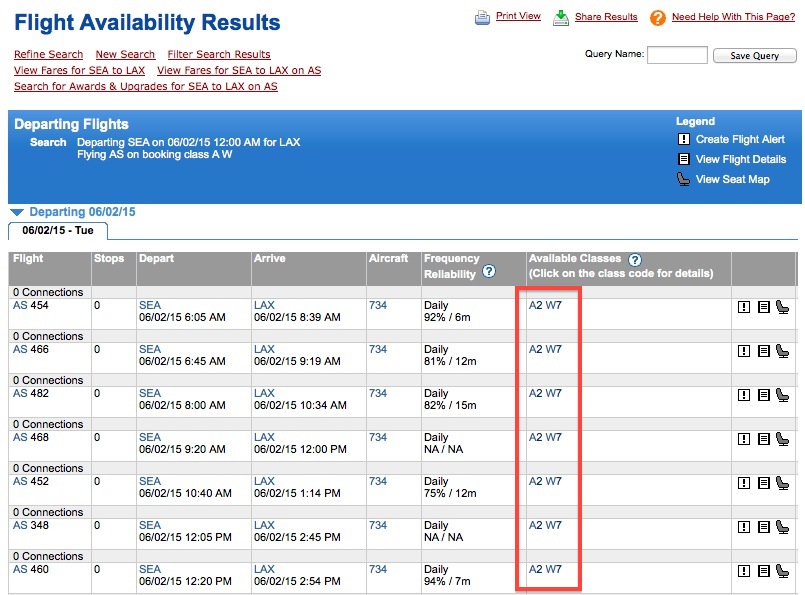 Expertflyer.com flight availability results
Redeeming Avios on Alaska Airlines
British Airways doesn't make the redemption process easy. You can't book Alaska Airlines Avios redemptions online, you have to call the Executive Club call center.
I've written in the past about calling British Airways, and it's never a fun experience. The hold times are insane, but a good work around is calling one of their foreign Executive Club offices. I recommend calling their Japan or Singapore offices, as I find the hold times to be much shorter (~5 minutes), and they are open in the evenings while the US number is not. Using Skype or Google Voice is a great way to make cheap international calls.
There's a USD $25 fee for booking over the phone with an agent, but I've found that if you ask politely and explain that you can't book Alaska Airlines redemptions over their website, agents are usually willing to waive this. Sometimes I get pushback, but if you ask for a supervisor, you'll usually get around this.
Once you get ahold of an agent (if you can), be sure to provide them with the flights you found that had award space. If an agent tells you awards are unavailable, or they can't find the flight you're talking about, ask them to "scroll down" or look for a specific flight. I find that about half the time, I have to ask twice about the specific flight I'm looking to book. However, I've never had BA not see an award seat I've found using one of these search methods.
There are no fuel surcharges on Alaska Airlines flights, so you should just pay the ticket taxes that you'd pay if you booked directly through Alaska's own Mileage Plan program. Government imposed ticket taxes total $5.60 for a one-way Seattle > Los Angeles award, and the fees should be identical when booking with Avios.
Keep in mind
Any changes or cancellations have a USD $55 fee per ticket, in addition to a USD $25 fee for changes over the phone. As this can't be done online I've had good luck in getting this second fee waived.
All changes or cancellations must be made at least 24 hours before departure. This is especially frustrating because BA doesn't operate a 24 hour call center in the US, and not all of their foreign call centers are open on the weekends. My rule of thumb is to leave at least two days before the flight if I want to make any changes.
British Airways doesn't like to give you the Alaska Airlines confirmation number. They have it in their system, but I find that their agents quite often don't want to look for it. I generally end up calling Alaska to secure the Alaska confirmation number and seat assignments.
You can still receive many elite status benefits from Alaska, American, and Delta. If you call Alaska, they'll be able to update the frequent flyer number from your Executive Club account number to whatever you'd like. Keep in mind, you won't receive redeemable or elite-qualifying miles or complimentary upgrades, but you'll receive benefits like priority seating and free checked luggage as you would on paid tickets.
"Same Day Flight Changes"can be made in accordance with Alaska's policies. This is especially helpful when you need to make a change close-in on a route that has multiple frequencies. Award inventory isn't required, and you can generally change to any open seat in your ticketed cabin.
You can purchase paid upgrades if "U" class is available. Alaska has a pretty affordable paid upgrade program, and sells upgrades at online check-in, kiosk check-in, or at the gate. Complimentary elite upgrades are processed first, but routes with few elites, like Oakland > Maui or a late evening Portland > Los Angeles have good paid upgrade chances. You can view upgrade inventory on ExpertFlyer, but if a seat in "U" is available at check-in, the option to upgrade to first class will be displayed. Just don't count on getting upgrades on midcon or transcon flights.
Hawaii on Avios
I find these to be some of my favorite redemptions using Avios. West Coast to Hawaii awards are only 12,500 Avios one-way in economy. This is especially useful for West Coast flyers, as a round-trip ticket to Hawaii is only 25,000 Avios, whereas Alaska would charge 40,000 Mileage Plan miles for the same flights.
First class Avios redemptions to Hawaii cost 37,500 Avios one-way, which isn't nearly as good a value, but is in line with what other major programs would charge. For comparison, Alaska would charge 40,000 Mileage Plan miles for a one-way first class award ticket.
Alaska has tons of flights to Hawaii, and award space is generally plentiful.
Award space is much better out of secondary cities like Oakland or San Diego
Seattle is usually pretty tough for awards to Hawaii, but Seattle to Honolulu has multiple flights a day which proves better for award space
If you're based in the Seattle or Vancouver areas, don't forget that Alaska flies out of Bellingham (BLI) to Honolulu and Maui seasonally

Alaska's Hawaiian Route Network
Taking a look at award space for this December, Seattle to Honolulu has decent economy award space for at least seven passengers on several flights. This is a great way to get your entire family to the islands right around Christmas.

Award Space from Seattle to Honolulu, December 2014

Award Space from Honolulu to Seattle, December 2014
Space can also be quite good at the last-minute. Last December I redeemed Avios for friends the day before departure for Seattle > Lihue with a return from Kona. Paid fares were well over $800 per person, so it pays to keep checking.
Bottom line
In general I find there to be better uses of miles than for domestic award tickets, but British Airways Avios are the exception. Personally, I've found Avios great for when I've needed to get between Seattle and Vancouver to catch a first class award on Lufthansa from Vancouver to Munich. 😉
Considering Avios can also be used on American at the same redemption rates, BA's award currency is actually very useful for US-based Executive Club members, and I've redeemed more Avios than any other currency in the past year.
Have you redeemed Avios for travel on Alaska? If so, on which routes?