On Thursday I had the opportunity to fly on Qatar Airways' inaugural commercial A350 flight from Doha to Frankfurt.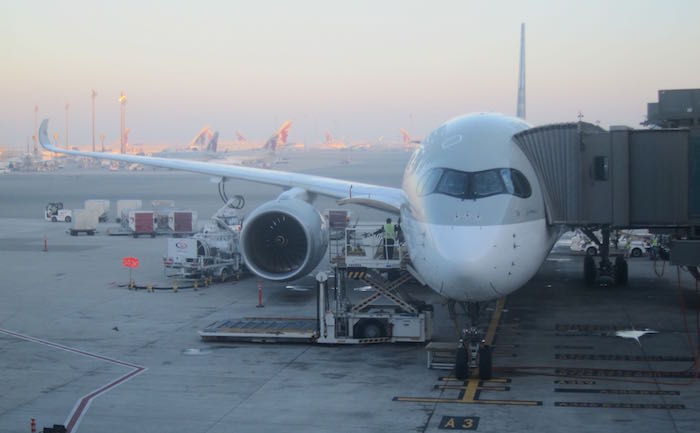 The plane itself was gorgeous, the business class hard product was great, and the plane was so quiet.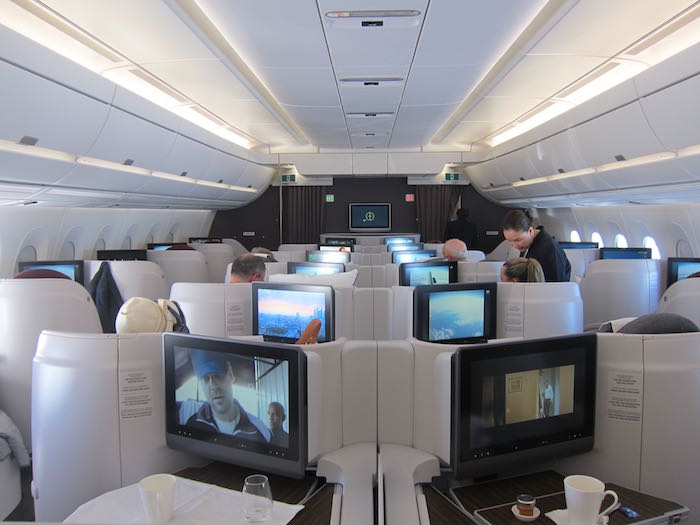 But I left out what may have been the most interesting detail of the flight — Qatar Airways' CEO, Akbar Al Baker, was aboard.
Who cares about Akbar Al Baker?
The airline industry is my life. I'm passionate about it beyond words. It's one of the most interesting and challenging industries out there given the number of moving parts that have to come together for everything to work well.
Akbar Al Baker aka "His Excellency" aka "The Chief" is unarguably the most prolific guy in the airline industry.
I think the two phrases which best describe Akbar would be "detail oriented" and "passionate." How detail oriented is he? Rumor has it that he inspects every single plane that the airline takes delivery of personally. You'd think that's something he could delegate, but he's so passionate about the details…
You can really see his attention to detail in this CNN interview from a couple of years back about the new Hamad International Airport:
While the guy isn't very accountable himself, he holds everyone else to the highest possible standards. On the plus side, there's never any question as to how Akbar feels, and he isn't afraid to call things as he sees them (even if he's completely off base).
I once spoke to someone that works fairly high up at Qatar Airways and said "it must be difficult to work for The Chief." He responded "it's actually quite easy. He tells you exactly how he wants things, so there's never any confusion as to what he wants. When I delegate things and people ask me why it should be a certain way, I simply say 'because The Chief says so.'"
For example, here he is chiming in on the A380 delays that Qatar Airways experienced:
What other airline CEO throws shade like that?
On the darker side of things, while Emirates and Etihad treat their employees reasonably well, the same can't be said for Qatar Airways, where the crews have curfews even when at home. Akbar will proudly boast that the airline "gets more out of their employees" than any other.
I saw Akbar at the Airbus delivery ceremony in Toulouse several weeks back, where I said he was "quite possibly the most arrogant, opinionated, and unapproachable guy I've ever seen in my life." And I stand by my perception at the time. But I also realized that's only one side of him…
Flying with Akbar Al Baker
After flying with Akbar, I saw him in a completely different light. Don't get me wrong, he still came across as arrogant, opinionated, and quasi-unapproachable.
But more than than that I actually found him to be quirky, proud, and enthusiastic beyond words. What I realized about him is that Qatar Airways really is his baby. He really, really loves the airline, and it's his life. And while I don't entirely agree with the way he runs his airline, no one can deny his zealousness.
A while back I heard Rudy Giuliani speak about the traits of a good leader. Regardless of how you feel about him, I do agree with this:
"There are many qualities that make a great leader. But having strong beliefs, being able to stick with them through popular and unpopular times, is the most important characteristic of a great leader."
I don't think there's anyone in the airline industry with more strongly held beliefs than Akbar.
How His Excellency acted
I think part of Akbar's problem is the people he surrounds himself with. At all times he has an entourage of about 20 people, and they only say "yes sir." So I don't think he actually gets much honest feedback about his airline, or else he might realize Qatar Airways isn't in a completely different league than any other airline.
He boarded last and took seat 1A, and had a bunch of handlers. About a dozen people in business class were Qatar Airways employees, so he was well taken care of.
Hilariously he changed into pajamas the second he boarded, and pranced around the cabin in them, including to economy. The funniest thing had to be that when he ate he hung the massive cloth napkin from his buttonhole, and then started walking around with it still attached.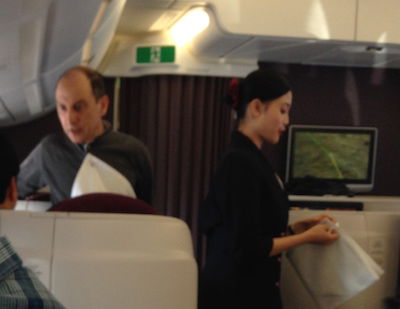 He was actually rather approachable. He came around to several passengers after takeoff to welcome them and ask what they thought of the A350.
Later he even stood in the galley and talked to a group of us. Someone addressed him as "Your Excellency," and he said "I am not Your Excellency, I am Akbar." That really impressed me and caught me off guard.
I was also impressed by how he interacted with the crew. He was friendly and seemed rather approachable to them. Based on what I've heard, crews working his flights are usually terrified, since he has a tendency to fire people on the spot if he notices something he doesn't like. But he was friendly on this sector, and none of the crew seemed too uncomfortable.
That being said, he really didn't get an accurate representation of the service. He was completely done with his meal before most of us even had our starters cleared (or in my case, before I even had my starter).
The funniest thing had to be that while we were standing in a circle talking to him, the seatbelt sign was turned on. It was clearly a very precautionary flick of the switch, since it was just some very light chop. I was slightly outside the circle since I was talking to someone else, so the flight attendant came up to me and said "sir, the seatbelt sign is on, could you please be seated."
Akbar looked over in his pajamas and said "it is okay, I am crew and it is safe, you can stay. We will be seated in a minute." The look on the flight attendant's face was priceless.
What His Excellency said
What Akbar says really gives you an amazing glimpse into how he thinks. He's a really bright guy, clearly. He understands the industry. But he also has blinders and is incredibly confident in the product that Qatar Airways offers.
Most interesting had to be his comments on Etihad's The Residence. He said that he was "hearing from people" that Qatar Airways' A380 first class was better than Etihad's A380 The Residence.
And he said it with a straight face…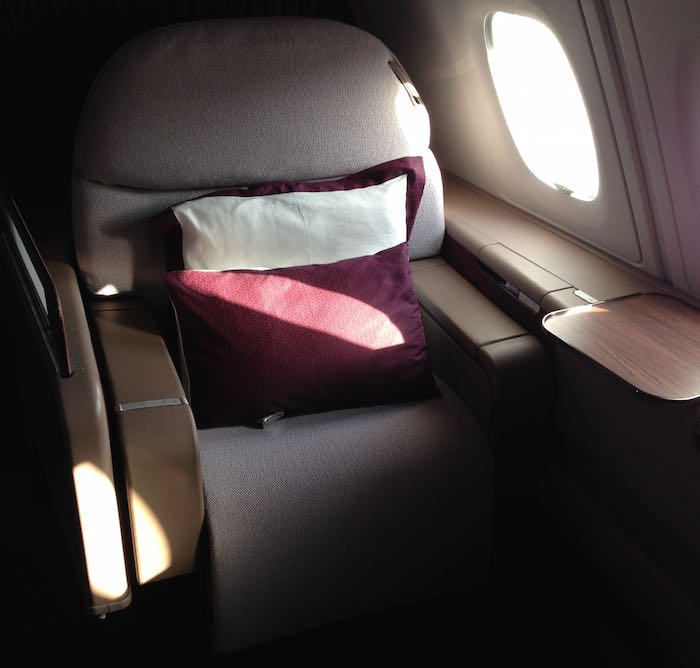 Qatar Airways A380 first class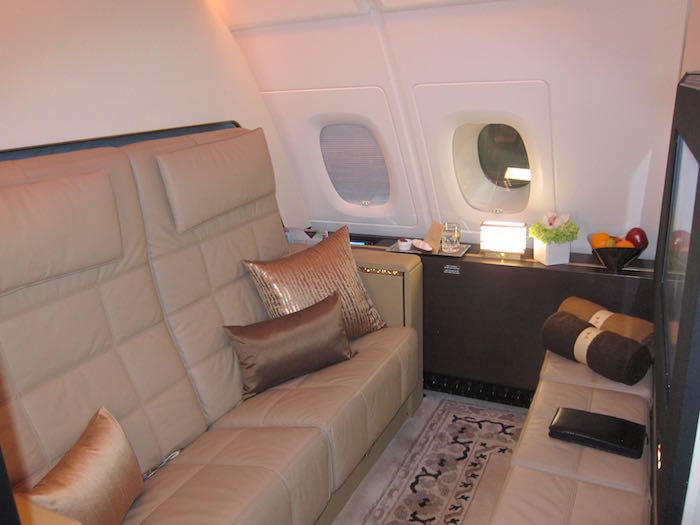 Etihad A380 The Residence living room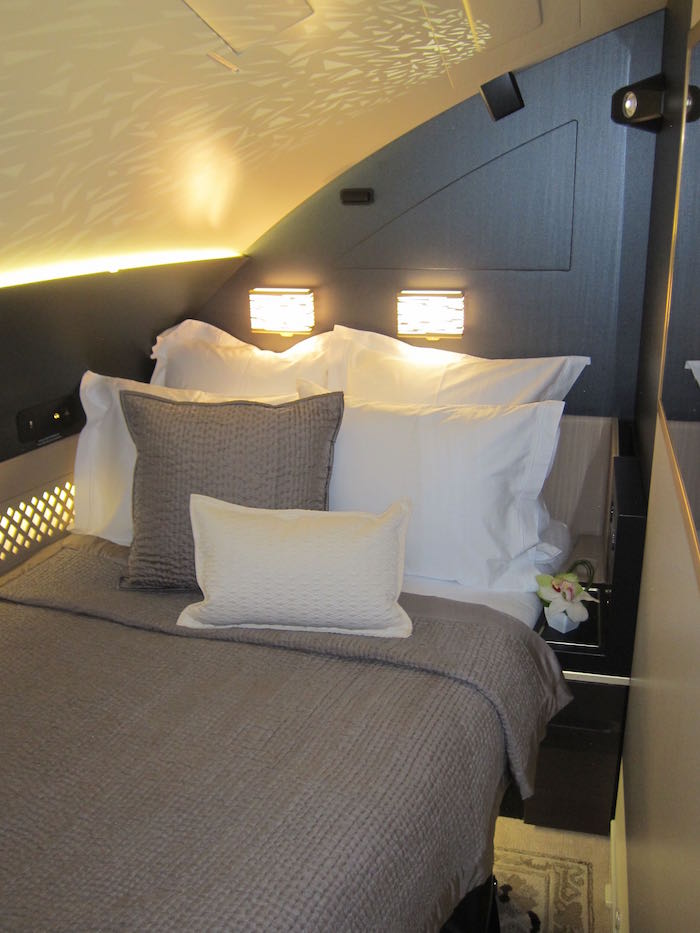 Etihad A380 The Residence bedroom
He went on to say that Qatar's new business class product will be even better than The Residence at business class prices.
Quite possibly the most ironic topic he brought up is how all other airlines are getting subsidized and therefore doing poorly. "Qatar Airways, we don't get any subsidies like these other airlines."
Which, I mean, Qatar Airways is 100% government owned and will proudly admit they make a loss in the name of building the country's infrastructure/accessibility. So pointing fingers at other airlines for getting subsidies just seemed… odd…
Bottom line
Flying with The Chief made me see him in a different light. No, fundamentally how I feel about him hasn't changed.
But what I really got some perspective on is just how passionate he is about "his" airline. And as someone that's also passionate about the airline industry, I respect that. Seemingly his main mission in life is making Qatar Airways as good as it can be. Does he always go about it correctly? No. But I think he sincerely has the airline's best interests in mind with everything he does, not because he has to, but because he wants to.
And I appreciate that about him…