On Friday I posted about how Qatar Airways announced a further month-long delay to their scheduled A380 service, from August 1 to September 1, 2014.
Qatar's A380 has already been delayed by a lot. Originally it was supposed to be delivered early this year, but due to the delayed opening of the Hamad International Airport, they had to postpone that (since the old airport couldn't accommodate the A380). The revised inaugural flight was supposed to be mid-June, and they've had rolling delays ever since:
Well, this didn't take long — Qatar's A380 has been delayed a further month, until at least October 1, 2014. Per airlineroute.net:
QATAR Airways continues to adjust its inaugural date of planned Airbus A380 service on Doha – London Heathrow. Based on schedule update on 06JUL14, The newly-revised date is now scheduled on 01OCT14, instead of 01SEP14.

Although further changes remains highly possible, current inventory listing shows all 3-class of service are open for reservation (based on Doha departure), on/after 01OCT14. For the month of September 2014, QR003/004 is operated by Airbus A340-600 aircraft.
This is now a minimum of a three and a half month delay, apparently due to the "fine tuning of the interior." This means the A380 will be sitting on the ground in Toulouse for months without earning any revenue, so you've gotta wonder whether Airbus or Qatar is footing the bill for this delay.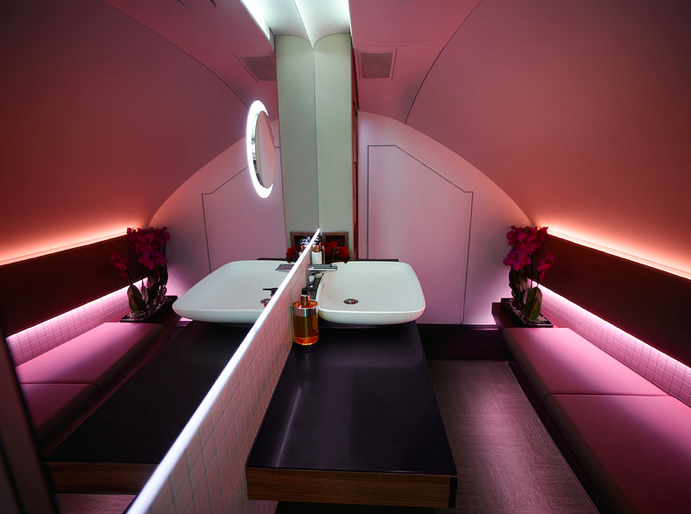 Qatar Airways A380 first class bathroom
I'm really quite curious what's causing this. My suspicion has been that Qatar is trying to spruce up their first class product after Etihad announced their new amazing A380 interior, and Emirates announced that they'd match. At the same time, that doesn't seem like something that could be done in a matter of months.
What do you think is causing Qatar's A380 delays?