For those of you that haven't been following along with the Drama in Doha (my new term for anything involving His Excellency, Mr. Akbar Al Baker):
The delay in A380 service was puzzling, and especially frustrating for me since I was booked on the inaugural flight (and booked several positioning flights around it). I hoped that when they announced the new inaugural for July 1 that they actually had a firm plan in place. If there's going to be a huge delay in A380 service it's just crappy of them to keep announcing dates and pushing them back. People are excited about the plane and want to book it, and it's just not fair to keep changing schedules on them. I mean, look at the new A380 inaugural on July 1 — it's sold out in first class.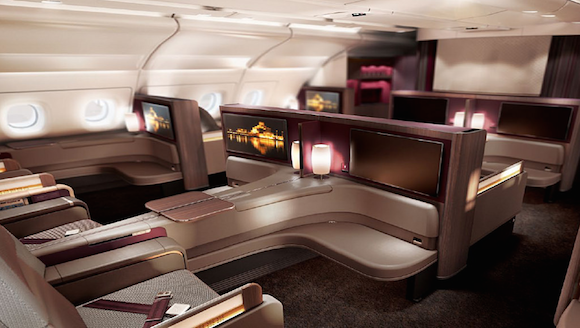 Qatar Airways A380 first class cabin
So if they don't know when they'll actually start A380 service, they just shouldn't publish the schedule, in my opinion.
Per Reuters, it looks like we now have a real update as to what happened:
Qatar Airways has delayed taking delivery of its first Airbus A380 by "several weeks" while the planemaker tackles last-minute problems with the cabin, the airline's chief executive told Reuters.

The airline has asked Airbus to address requests it made after the usual pre-delivery customer inspection, Qatar Airways CEO Akbar Al Baker said on Friday.

"It is customary for the inspection process of delivering a new aircraft to an airline to go through several rounds, and this is not deemed to be an unusual case, though this will lead to a delay of several weeks before its first scheduled commercial route will commence service," Al Baker said in an emailed statement.

The delay is because of "issues with the interior of the cabin", he added.

Airbus confirmed the delay, with a spokeswoman saying: "Qatar Airways and Airbus have agreed to some fine-tuning elements on the first A380 to be delivered to Qatar … New dates will be communicated once confirmed."
I think it's highly unlikely that Qatar Airways will actually start A380 service in July, so if you're booked to London or Paris, I wouldn't count on flying the A380.
I don't think I was too far off in my conjecture at the bottom of my last post:
But I'm sure His Excellency will chime in soon with an explanation. My guess? "I told Airbus almost three weeks ago that I wanted to install a third floor private villa with falcon quarters, and they told me it would take at least six weeks. This is ridiculous, what am I suppose to tell the royal family?" Or something like that. 😉
I posted a link to this video at the bottom of my last post, but I think it's worth reposting. This Richard Quest interview with His Excellency really tells you everything you need to know about him and what's going on:
Could you imagine having that guy inspect the plane you're delivering to him?
On the plus side, at least the new Hamad International Airport has a 35,000 pound, 23 foot, $6.8 million dollar teddy bear on display.