Four weeks ago Qantas operated a nonstop flight from New York to Sydney, which generated a lot of publicity. Well, today they're operating a nonstop flight from London to Sydney, and that plane is now in the air.
This is actually the second time that they're operating this route, as in 1989 they ferried a 747-400 between the two cities.
Details Of Qantas' London To Sydney Flight
This morning Qantas flight 7879 (operated by a 787-9… get it?) is flying from London to Sydney. This is the same flight number they used for the New York to Sydney flight.
Passengers boarded at around 6AM London time for the 19.5 hour, 17,800km (~10,600 mile) flight, and it will land in Sydney tomorrow.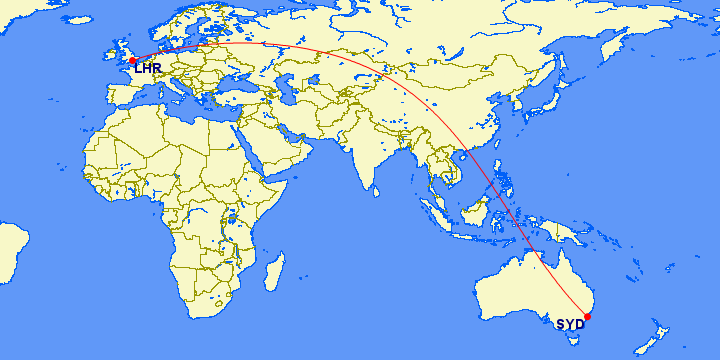 You can track the flight using Flightradar24 here.
This plane has been positioned to London from the US. Qantas just took delivery of this plane from Everett. So they flew the plane from Everett to Los Angeles, then from Los Angeles to London, and now from London to Sydney. So I guess you could say they're flying it home the very long way.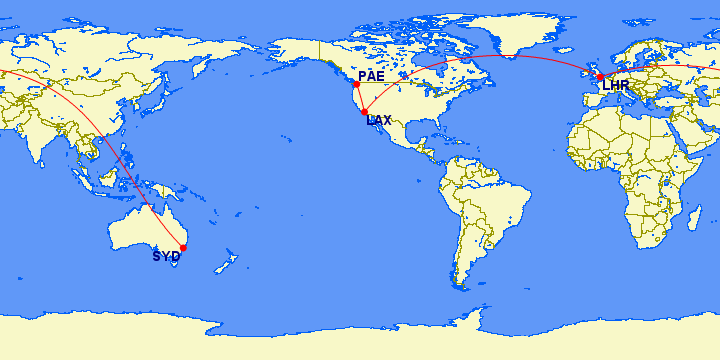 Why Qantas Is Operating This Flight
Qantas hopes to eventually operate nonstop flights between the East Coast of Australia (Sydney and Melbourne) and both New York and London. The problem is that as of now no plane is capable of operating these flights nonstop.
It's expected that within a few years there will be a plane up for the challenge, and Qantas hopes to have the title for operating the world's longest flight.
So they say that today's flight from London to Sydney is a test flight. They're able to operate it nonstop because it will have a total of just 50 passengers and crew on board, meaning the plane will have the range to fly nonstop.
Qantas claims the purpose of the record-breaking flight is to "conduct scientific research on passengers and crew on an ultra-long haul flight, with the aim of increasing health and wellness, minimizing jetlag and identifying optimum crew rest and work periods."
In reality, I'd say the flight is more of a publicity stunt than anything else, though I doubt you'll get Qantas to admit that. 😉
Expect Lots Of Exaggeration
The New York to Sydney flight a few weeks ago went viral, even in the mainstream media. The whole basis of this is such an exaggeration, though. Even my mom and dad called me about it.
"Did you hear about that new nonstop flight from New York to Sydney?"
Well, yeah, except it's a one time thing, it's not commercially viable, and there were only a few dozen people on it. There was a lack of emphasis on those details.
But of course a big deal was made of it, with people onboard talking about how they "survived" the 19+ hour flight, when in reality it's maybe an hour longer than the current longest commercially viable route (between Singapore and Newark). Not to mention everyone was in business class.
At a minimum, if research is the priority, shouldn't they seat some people in economy, all in the same row with no empty seats? I want to hear from those people!
Just to further drive home the point, Scoot has flown 787-9s nonstop from Charleston to Singapore when taking delivery of them, which is further than New York to Sydney. But did anyone talk about those? Nope.
Anyway, I guess I'm part of the problem by writing about this. 😉
I say all of this to acknowledge that this is a brilliant publicity stunt on Qantas' part, and they're generating a lot of attention over it. That's smart. But that's ultimately what this is.
Bottom Line
It's cool to see a commercial airliner fly nonstop from London to Sydney for the first time in 30 years, though for now this will just be a test. The airline will be operating a total of three of these flights (from New York and London to Sydney), all part of new 787-9 deliveries.
What will actually be most interesting is if/when Qantas can operate these flights in a commercially viable way. There are still a lot of things standing in the way of this happening, ranging from new contracts with their pilots and cabin crew, to having a plane capable of operating the flight.
Regardless, as an aviation geek it's a fun flight to track…