Update: Here's a detailed review of the new Qantas First Lounge Singapore.
In 2011, Qantas opened a new lounge at Singapore Changi Airport Terminal 1. It was a single class premium lounge, replacing the separate first class and business class lounges it previously operated in Singapore, with British Airways. At the time, this made sense, because Qantas was no longer offering first class service to Singapore, instead routing its flights from Australia to London via Dubai, following its new relationship with Emirates.
The lounge has a capacity of 460 passengers, is open daily from 14:30 to 23:00, and is generally well regarded.
Singapore is a very important market for Qantas, with dozens of flights each week between Australia and Singapore, carrying thousands of business and leisure travellers.
Earlier this year, as part of a major network reshuffle, Qantas moved A380 flights back to Singapore, dropping the Dubai stopover instead.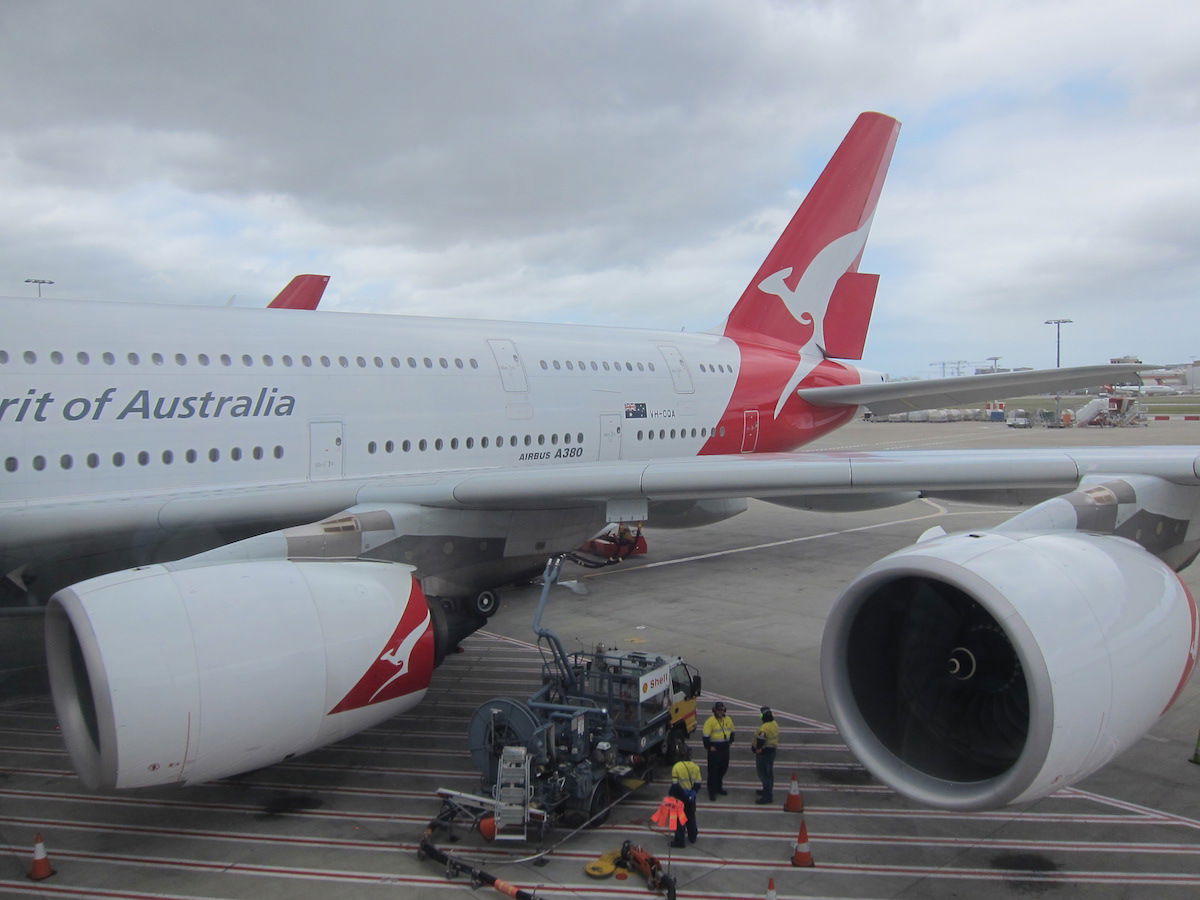 This presented a big problem for Qantas.
The upgrading of three daily flights from Singapore to an A380 service (one to each of Melbourne, Sydney and London) meant that suddenly a lot more passengers have access to the Qantas Singapore lounge, and unlike Hong Kong or London Heathrow, Singapore is not a oneworld hub, so there are not a plethora of lounge options for passengers to choose from.
Compounding the situation is that most Qantas flights from Singapore depart within a few hours of each other during the 8pm to 11pm period. While the lounge remained quiet during the day, even with a large capacity, there were suddenly hundreds of passengers flooding into the Qantas lounge every evening.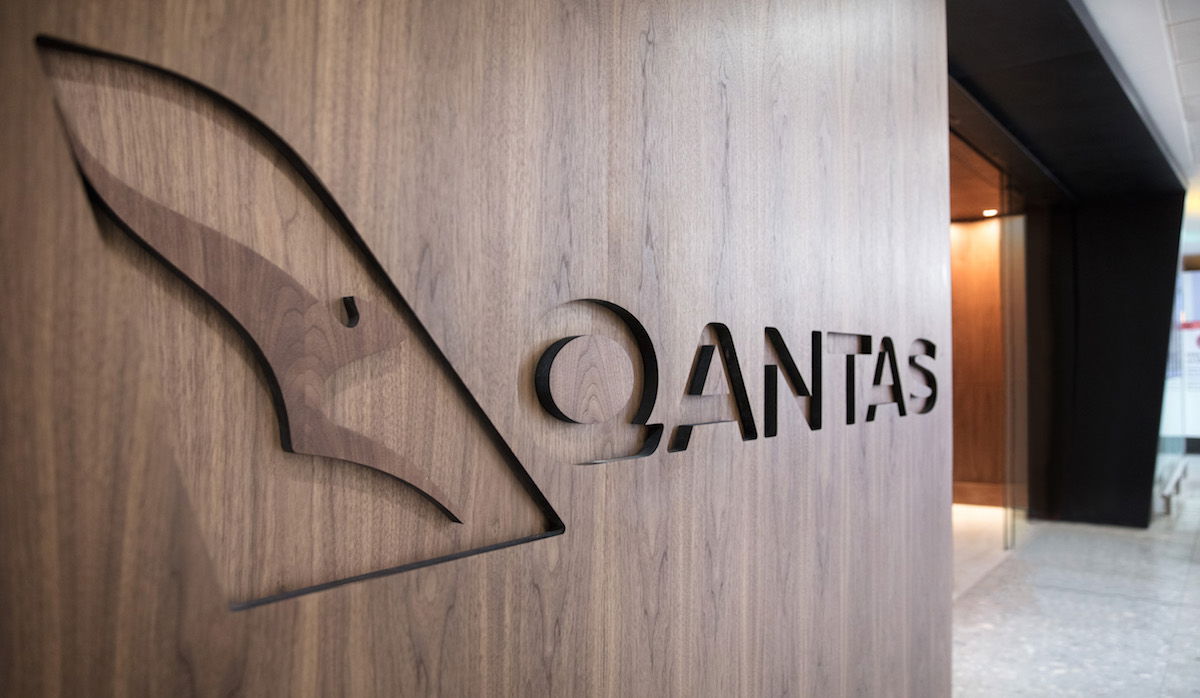 First class passengers
Qantas operates a big 14 seat first class cabin on its A380, with three flights per day from Singapore. This means up to 42 first class passengers each day use the lounge. As it is technically a business class lounge, naturally these first class passengers are expecting more than the average oneworld Sapphire status member traveling economy will receive.
Qantas has done what it can to cater to these first class passengers, including:
a reserved seat in the dining area
real champagne
priority access to showers
shoe shine
shirt pressing service
I believe these services are also provided for Qantas Platinum One status members, which is the highest Qantas status that can actually be earned by flying.
This isn't that much, especially compared to the wonderful experience Qantas first class passengers receive at Qantas first class lounges in Sydney and Melbourne, where they can enjoy a detailed a la carte menu and complimentary spa treatments.
I imagine some passengers actually paying for a first class seat from Singapore to Australia or London may be disinclined to book with Qantas given the lounge situation, especially compared to the substantial offerings and schedules provided by Singapore Airlines on the same routes.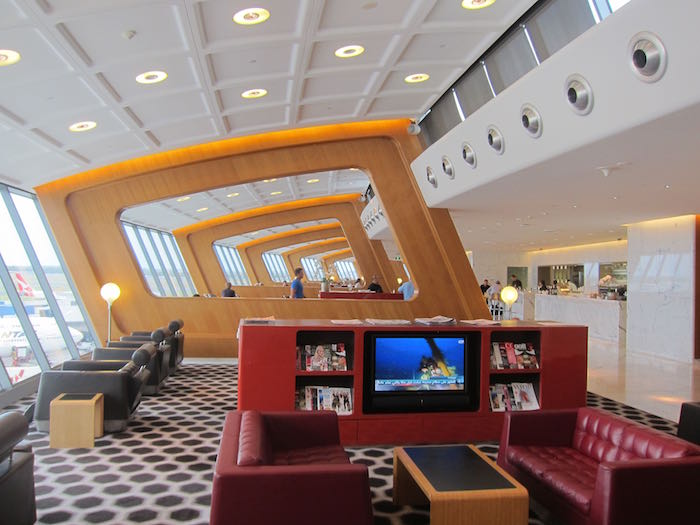 Qantas premium and oneworld Sapphire and Emerald status members do also have access to the nearby British Airways lounge in Singapore.
I don't doubt Qantas would like to do more, but they have limited space they can work with, and using more of the lounge space for additional first class services reduces the space available for the rest of the lounge, which brings me to the second, even larger problem.
Restricting access
There are a huge number of passengers who have access to the Qantas Singapore lounge, from first class travellers and Qantas Chairman's Lounge members (Qantas' highest level, invitation only status), right down to those who have purchased an annual Qantas Club lounge membership, or have been given a one time use Qantas Club lounge pass as part of a credit card offer, or for reaching Qantas Silver status.
Qantas has managed to squeeze an additional 40 seats into the lounge, bringing its capacity up to 500 in total.
Ever since the A380 services were brought back to Singapore, Qantas has, during some peak times, been restricting access to some Qantas Club members and lounge pass passengers, and directing them instead to the nearby SATS Premier lounge, also in Terminal 1. Ben reviewed this lounge a few years ago, and while it is a Priority Pass lounge, he described it as 'nothing to complain about.'
While the redirecting of some eligible passengers from the Qantas lounge to the SATS Premier Lounge has always been at the discretion of lounge staff, and of course dependent on the number of passengers in the Qantas lounge at that time, AusBT is now reporting that Qantas will redirect all Qantas Club and Qantas lounge pass holders to the SATS Lounge until at least September of this year.
I would expect this restriction to remain beyond September, while the lounge remains at its current size.
To compensate, those Qantas Club members who are redirected will have 5,000 Qantas Points given to them for their inconvenience. Those holding Qantas one time use lounge passes will still be redirected, but not have any Qantas points given to them as compensation.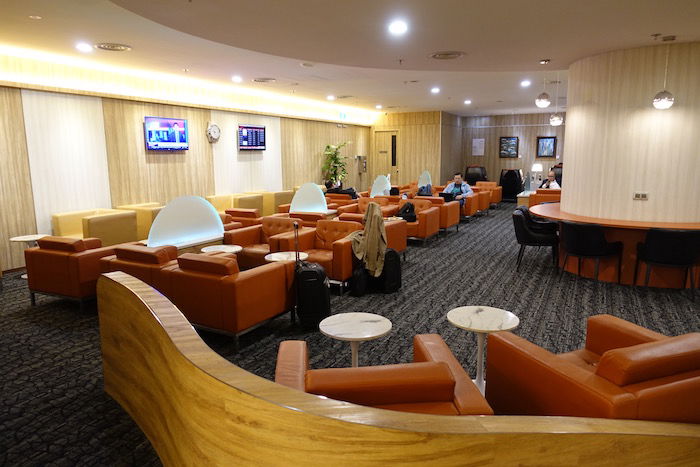 Bottom line
Qantas is in a tough position here. The lounge is a victim of its own success.
The lounge was built at a time when Qantas was sending its largest planes to Dubai, not Singapore. Like Centurion Lounges in the US, airlines are usually very limited in the space available to them for building lounges, especially at premium airports like Singapore Changi.
Qantas has been creative in trying to deal with the two biggest problems with their Singapore lounge — insufficient facilities for first class passengers, and insufficient space for everyone else. If there is ever the ability to expand their lounge I have no doubt they will do so, and at least build a first class section.
Right now they can't cater to first class passengers without further restricting those with paid Qantas Club memberships.
5,000 points (which I would value at around AUD$50) for a Qantas Club member is a fair amount to compensate, and as far as Priority Pass lounges go, the SATS lounge is pretty decent.
Have you experienced the Qantas Singapore lounge?