For as long as I can remember, Qantas has always promoted how their fares have 'everything included.' For years as I drove into little Adelaide Airport, there was a giant billboard at the entry road with a Qantas aircraft seat stacked high with luggage, movies, food and drinks to illustrate this.
But increased competition from low cost carriers has meant that their oneworld partners, like British Airways and American Airlines, have introduced 'buy-on-board' on certain short-haul flights, as well as their highly restrictive 'basic economy' fares.
There was a huge outcry when British Airways introduced buy-on-board to their European flights last year as passengers felt something of value was being taken away from them. But the complimentary 'snack' that was being given out on these flights had by that stage become so minuscule that it was hardly worth even offering. Crackers and dip do not a meal make.
But ultimately, life went on.
I recently flew Norwegian short-haul, and it reminded me how Norwegian is easily the best low cost carrier in Europe. If you don't have oneworld status, there is really no difference between flying Norwegian or British Airways on an intra-Europe flight.
Buy-on-board vs. Basic Economy
It's worth noting the differences between the two concepts as I've seen them used interchangeably this week. I look at 'buy-on-board' as being a 'normal, un-bundled fare,' with nothing included, that allows you to then pick and choose the extras you want to pay for, both before the flight (such as baggage, seat selection and perhaps priority boarding) as well as during the flight (food and drinks, and perhaps inflight entertainment and Wi-Fi). British Airways does this for European flights, just as low cost carriers like easyJet do.
Basic economy is more about having a very restrictive booking process that passengers are strongly dissuaded from booking, while the actual flight once boarded is not that different to the the more expensive 'main cabin/normal' economy fares. If you choose to book a basic economy fare, there will be little or no ability to change or cancel the ticket in advance, no way to assign seats or perhaps earn miles, you will board in a later group at a later time, and you may not even be able to bring hand baggage onboard.
But once the plane takes off, the experience won't be that different. On American in basic economy:
Regardless of whether they are traveling on a Basic Economy fare or a regular Main Cabin fare, all Main Cabin customers will have the same experience, including the same free entertainment, soft drinks, snacks and meals offered today.
Is Qantas next?
Well, now Qantas may be considering introducing buy-on-board too.
Australian Business Traveller is reporting that Qantas has contacted their secret, high-value Customer Advisory Panel to seek their reaction to how they would feel about the introduction of a buy-on-board model, for flights between Australia and New Zealand. As Qantas explain it to their panel:
The ability to purchase a base fare, then add on items such as baggage, food & beverage, in-flight entertainment (and) seat choice for an additional cost – only as you require them
Although it wasn't sent to me, I have seen the questions sent to a member of the Qantas Advisory Panel, so can confirm that Qantas has at least asked these questions.
Their rationale
Qantas' 'everything included' fares mean that all the extras like luggage, food and drinks are built into the cost of your fare, meaning you pay for them even if you don't want or use them. So if you aren't hungry, you pay for the food you are served whether you eat it or not.
Naturally, Qantas has to charge higher fares for this than their low cost competitors that unbundle fares, have a lower cost base, and can therefore advertise much lower prices.
If customers use an online search engine to search a popular route that plenty of carriers fly (like Sydney to Auckland), and see a low cost carrier is half the price of a full service carrier, it is very difficult to get price conscious consumers to book full service. This is even though they know they may pay more than the advertised price of the low cost carrier once they have factored in seat selection, paying by credit card, etc.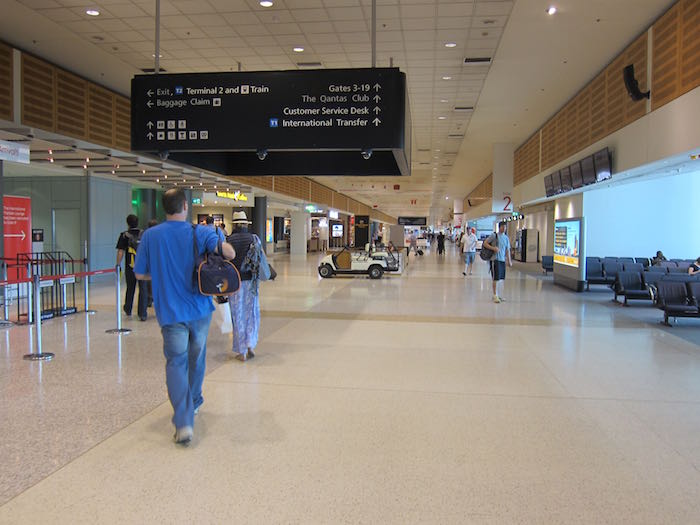 What about Jetstar?
Qantas already has buy-on-board from Australia to New Zealand in the form of their low cost arm, Jetstar. Unless Qantas is considering dropping the prices down to Jetstar's lead in prices, I can't see how popular Qantas unbundled fares will be if they strip out everything they can.
Qantas back-flipping already?
Within 24 hours of AusBT's report of the Qantas Advisory Panel questions, this was quickly picked up by the mainstream media in Australia, and as expected met with a very negative response from both media and traveling public.
Within just a few days, Qantas changed their message from a standard PR 'no comment' response:
We regularly conduct surveys with our Advisory Panel, asking for their feedback on a range of topics and ideas. We are always looking at ways to improve the customer experience, however have no plans to introduce this at this stage
To a much more specific:
We have no intention on un-bundling our fares
So for now, the idea seems to have been put on the back-burner, perhaps because they seriously underestimated how negative the public reaction would be.
Bottom line
As of now this is just Qantas testing the waters with some of their most important customers. I expect the feedback will be resoundingly negative with many of the Advisory Panel anyway. I could see them responding something along the lines of 'if I wanted to fly Jetstar I would just book that.' It's surprising Qantas doesn't already understand their customers' mindsets enough that they actually have to ask them this.
The fact that the mainstream media picked up and ran with this so early on and so negatively may have taken the decision out of Qantas' hands, for now at least.
Buy-on-board and even basic economy is, however, a fast-growing trend in the Northern hemisphere, so it may not be far off down under.
Would you book a buy-on-board or basic economy fare with Qantas?
(Tip of the hat to Australian Business Traveller)