In mid-2017, Qantas announced that they'll be refreshing their fleet of Airbus A380s. The airline currently operates a fleet of 12 Airbus A380s, and the plan was to refresh all the cabins, and in particular to install all new seats in business class and premium economy.
Well, while the project has been a bit delayed, it's an exciting day for Qantas and the A380.
First Refurbished Qantas A380 Now Flying
The first Qantas A380 with enter service today. It's scheduled to fly tonight from London to Singapore, and the seatmap reflects that (here's the business class seatmap, showing the new 1-2-1 configuration, compared to the old 2-2-2 configuration).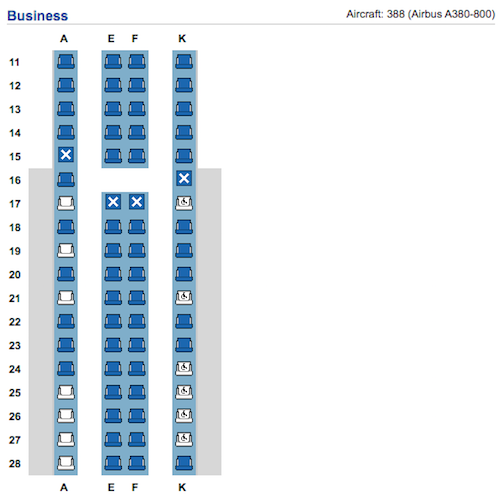 That plane has the registration code VH-OQK, should you want to track it.
Not only that, but:
Three additional A380s with the new interiors should be flying by the end of 2019
All Qantas A380s should have the new interiors by the end of 2020
Which Flights Feature Qantas' Reconfigured A380s?
Qantas won't initially assign the reconfigured A380 to any one route consistently, but rather it will be cycled through the system. I get that this may be the only practical option when they have just one plane reconfigured, but I wonder at one point they'll start assigning them to specific routes.
That being said, as noted by ET, the airline has revealed the plans for the coming week and a half, as the plane will exclusively operate the QF1/2 service, as follows:
September 30 — QF 2 (London to Singapore to Sydney)
October 2 — QF1 (Sydney to Singapore to London)
October 3 — QF 2 (London to Singapore to Sydney)
October 5 — QF1 (Sydney to Singapore to London)
October 6 — QF2 (London to Singapore to Sydney)
October 8 — QF 1 (Sydney to Singapore to London)
October 9 — QF 2 (London to Singapore to Sydney)
The plan is that after that the plane will also start operating transpacific flights.
How Qantas' A380 Seat Count Is Changing
It's impressive that Qantas is able to increase their seat count on the A380 by one seat, all while installing new cabins:
Qantas' new A380s will have 485 seats, compared to the current 484 seats
Business class is gaining six seats, premium economy is gaining 25 seats, and economy is losing 30 seats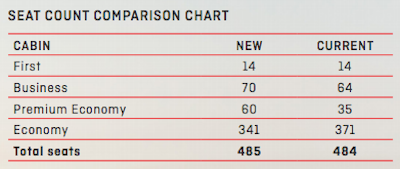 The good news is that economy isn't actually getting tighter. The A380 is maintaining exactly the same footprint on the lower deck, and Qantas is just removing 30 economy seats from the upper deck, and is replacing them with business class and premium economy seats.
So how is Qantas able to replace 30 economy seats with 31 premium economy and business class seats?
Here's what the layout will look like for Qantas' reconfigured A380: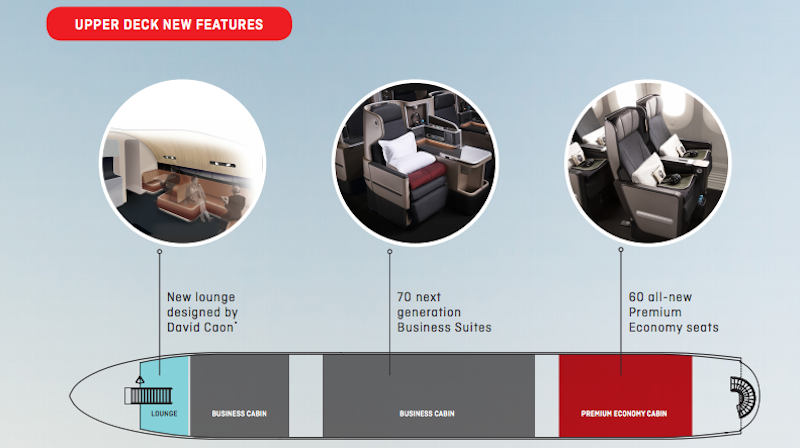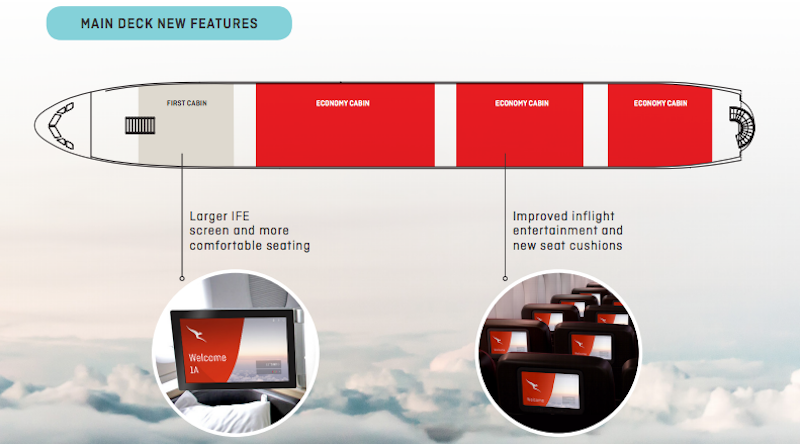 Then here's the general description of the new cabins: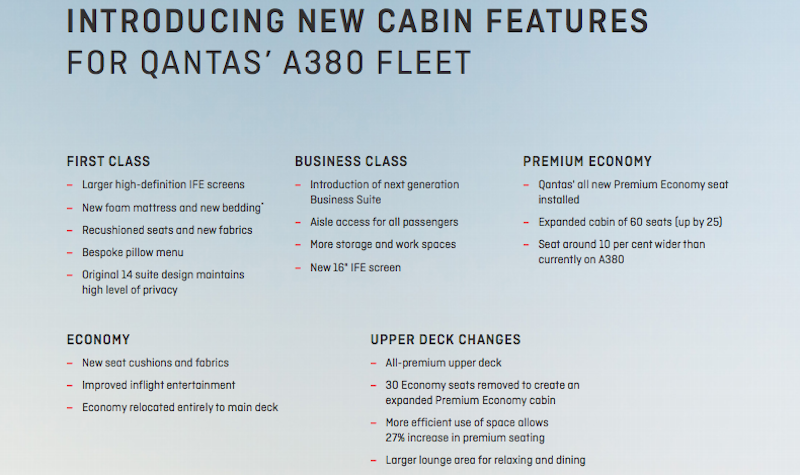 At first passengers sure will be surprised and delighted. We're seeing 30 fewer economy seats, and then 25 more premium economy seats and six more business class seats, so we'll likely be seeing quite a few passengers getting complimentary upgrades when on this plane.
Qantas' New A380 First Class
First class will continue to have 14 first class seats that will be on the lower deck. It looks like this cabin is just getting a light refresh, with a bigger IFE screen and new fabrics, but the "bones" of the seat should stay the same.
Unlike many other airlines, Qantas is keeping first class on the lower deck. I wouldn't expect this to be that big of an upgrade. The airline did recently roll out new foam mattresses and a pillow menu, which are probably as significant as anything else that's changing.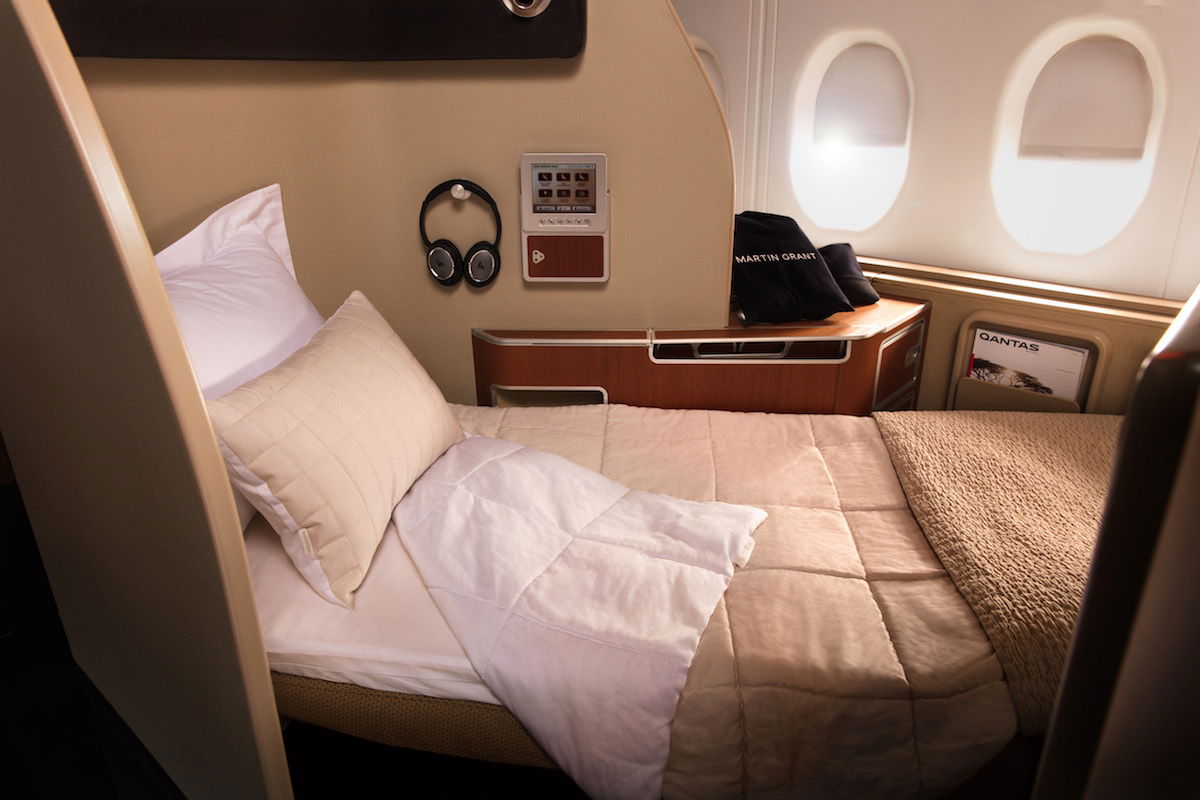 Qantas' New A380 Business Class
Business class is probably where the biggest upgrade is happening. Currently business class features fully flat seats in a 2-2-2 configuration, which is okay, but hardly private given what long flights Qantas operates with the plane.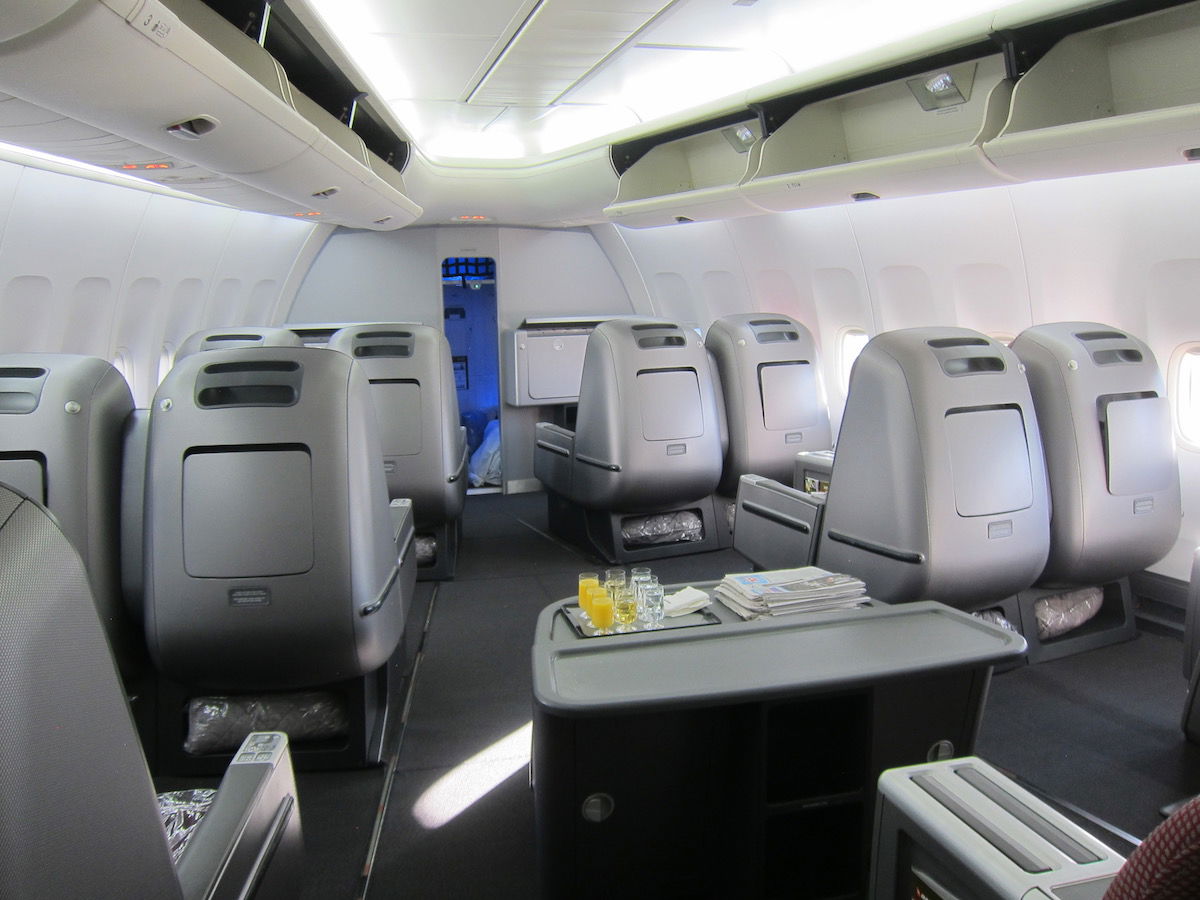 These will be replaced with similar seats to what Qantas has on their 787s, which are fully flat staggered seats with direct aisle access.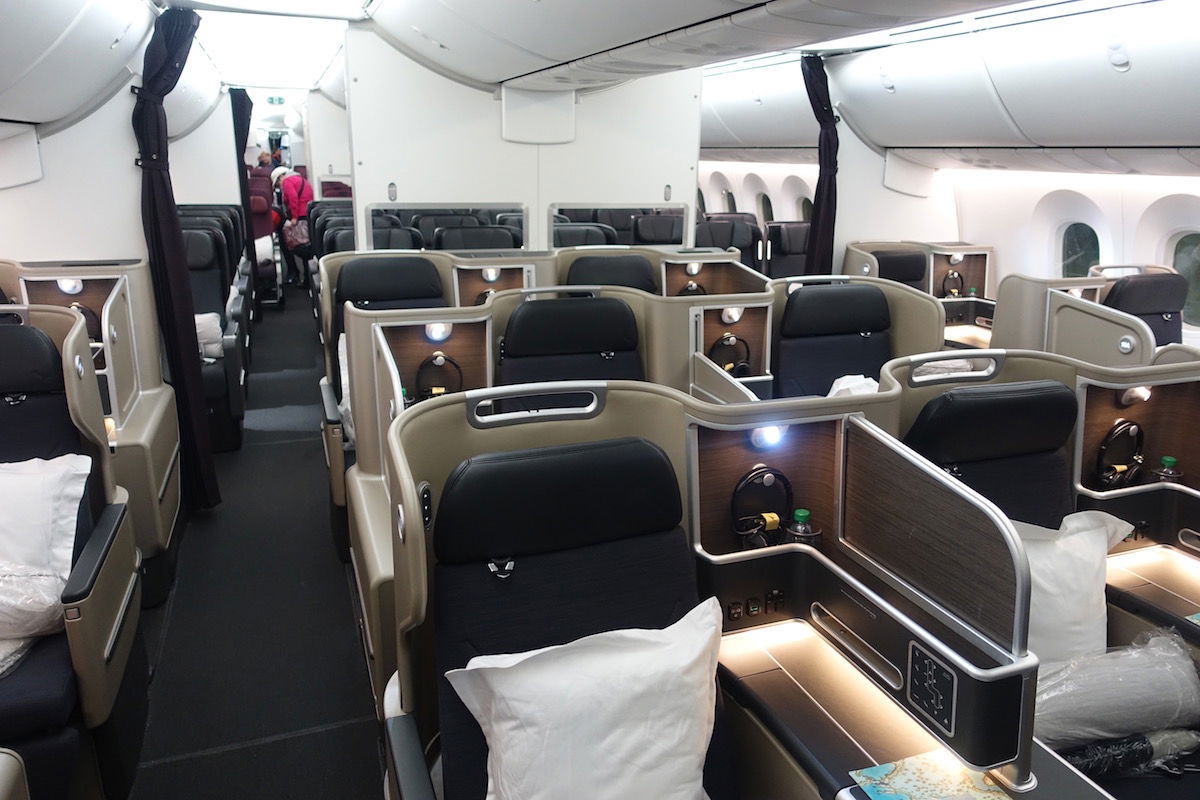 Qantas is also updating their onboard lounge area, located at the front of the upper deck. Here's what it looks like right now: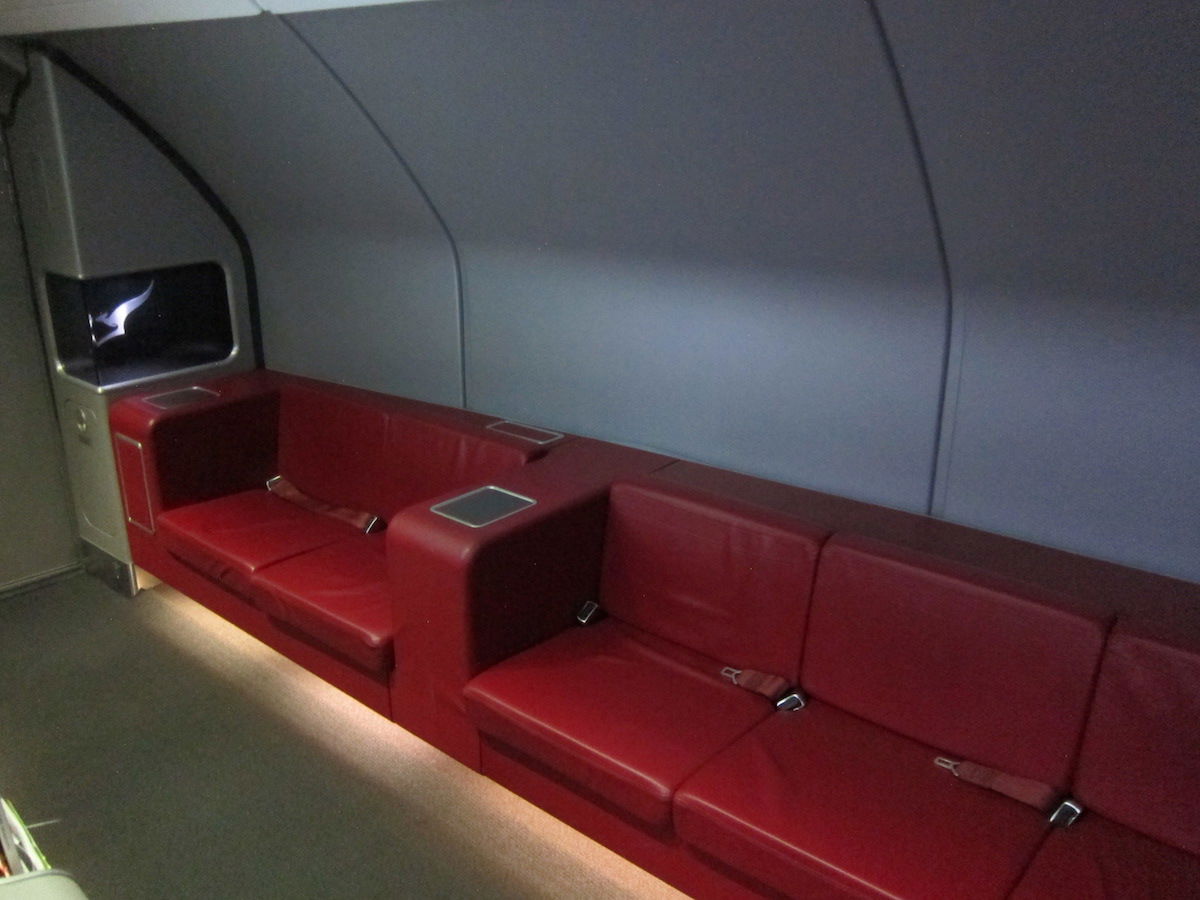 And here's what it ill look like once it's redesigned: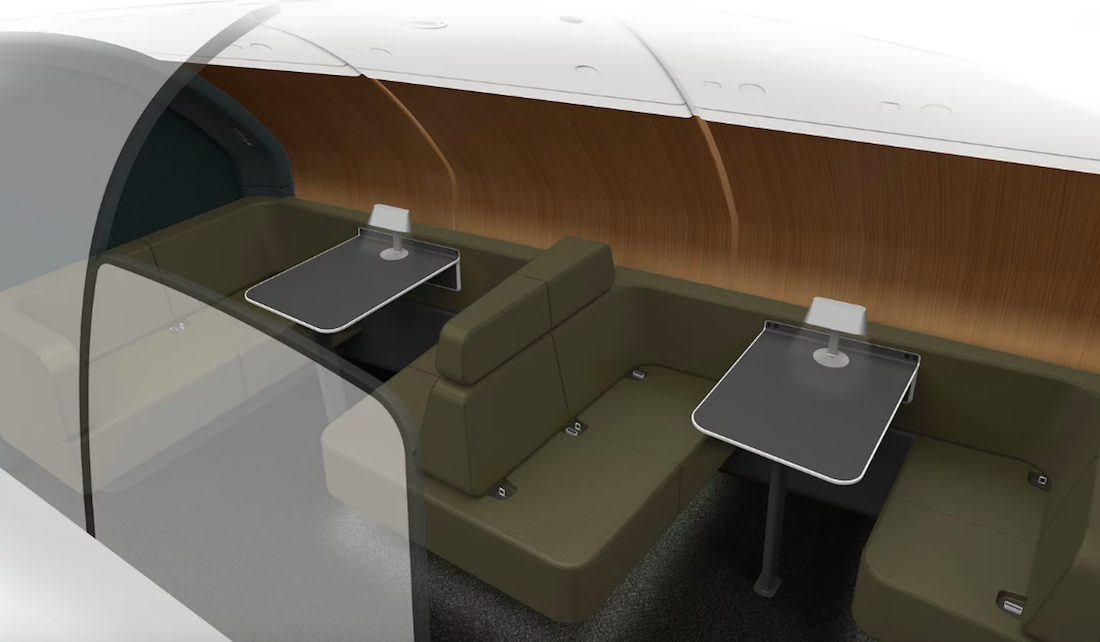 Qantas' New A380 Premium Economy
Qantas will also nearly be doubling the number of premium economy seats they have on the A380s, and will update the seat to the ones they have on their 787s.
While Qantas says that these seats are almost 10% wider, they haven't been especially popular with passengers.
The seats will still be in a 2-3-2 configuration, which is pretty tight when you consider that economy up there would be in a 2-4-2 configuration.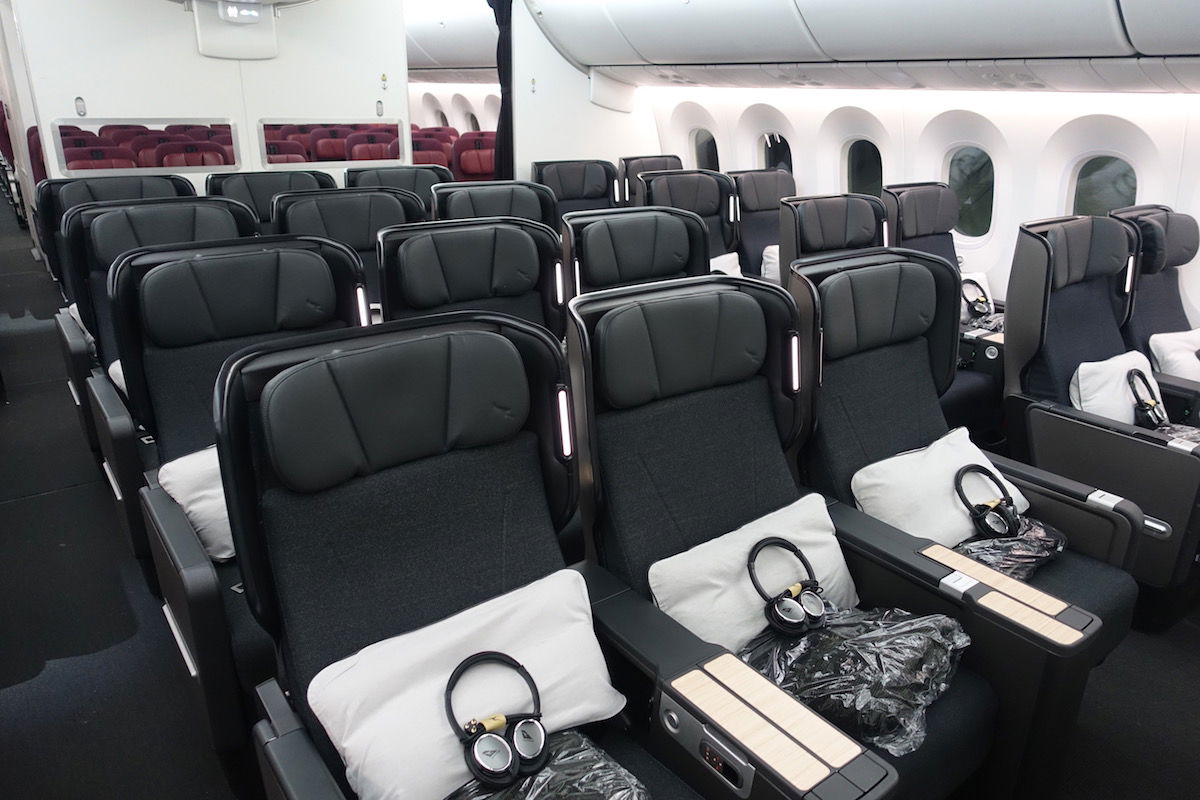 Qantas' New A380 Economy Class
As far as economy goes, the cabin is getting new seat cushions and better inflight entertainment, but otherwise it looks like not much will be changing there.
Qantas' A380s Still Won't Have Wifi
Qantas still doesn't plan to install Wi-Fi on their A380s. When they first talked about the new configurations in 2017, they said the following to justify this:
Qantas is continuing to investigate new technology to offer fast Wi-Fi on its international routes. A trial on the A380 in 2012 showed low levels of take-up due to slow connection speeds over remote areas of ocean. Fast domestic Wi-Fi has become a reality only recently due to new technology and next generation satellites serving the Australian mainland. Qantas intends to be the first Australian airline to offer next generation Wi-Fi on international routes as it becomes available.
To me this is a bit of a cop-out. Sure, Wi-Fi isn't super high speed, but there's Wi-Fi out there that's reasonably fast (Etihad, Lufthansa, etc.), and in many ways Wi-Fi has become a standard amenity on international flights nowadays.
Bottom Line
I'm happy to see that Qantas' first reconfigured A380 will start flying today.
I wouldn't expect much in terms of the updates to first class and economy. Premium economy changes might even be negative for some, as Qantas' new premium economy hasn't been very popular with passengers. It's business class where the biggest changes are happening, as the airline finally installs seats with direct aisle access.
I do feel like I need to mention that even in business class some might not be a fan of the new cabins. While direct aisle access seems like a necessity nowadays, a lot of people loved Qantas' old A380 business class seats, as they're great if traveling with someone, and were also great for sleeping in terms of having unrestricted space for your feet (which is an issue I have with a lot of new seats nowadays).
Are you excited about Qantas' refreshed A380s, or will you miss the old cabins?