Update: Here's an even more interesting Air Greenland flight.
For the most part there has been nothing but bad news in the airline industry lately. If there's any silver lining, as an aviation geek there have been some cool stories of airlines getting creative in light of all of this.
I've written about how Qantas is operating an A380 at the moment nonstop from Darwin to London, which is pretty awesome. However, arguably that's not the most interesting route right now.
As noted by Simple Flying, Air Greenland is operating what might just be the most uncomfortable flight in the world right now.
Air Greenland's normal operations
Air Greenland is an airline that has long fascinated me. The airline operates a fleet of eight planes, including:
One A330-200, which the airline usually flies between Kangerlussuaq and Copenhagen
Seven Dash 8-200s, which the airline primarily uses for flights within Greenland, though also seasonally for flights between a few points in Greenland and Keflavik, Iceland
Air Greenland has suspended flights
For a while Greenland didn't have any confirmed cases of COVID-19, though that recently changed. The first case was confirmed on March 16, and at this point Greenland has at least five confirmed cases.
In order to stop the spread of this, Air Greenland announced plans to suspend operations from March 20 through April 4, 2020. We've seen similar two week service suspensions in many other parts of the world.
Air Greenland's Nuuk to Copenhagen flight
While all flights were initially suspended, Air Greenland is operating an essential "capital to capital" flight every couple of days, between Nuuk, Greenland, and Copenhagen, Denmark.
Allegedly there are a few reasons for this:
To transport essential travelers and those returning home
This is the primary way that mail and other cargo can get between the two places
Apparently COVID-19 tests can't actually be processed in Greenland, so the tests have to be flown to Copenhagen
The airline has been flying this route since March 22, and has several more of these flights scheduled.
How this turboprop flight works
There's not demand for an A330 to operate this route, not to mention an A330 can't currently take off from Nuuk Airport.
Instead this flight is being operated by a Dash 8-200, which has a capacity of just 39 passengers. There's only one small problem — the direct air distance between the two cities is 2,200+ miles, while the Dash 8-200 has a range of a little bit over half that.
So the turboprop is flying from Nuuk to Copenhagen via Keflavik in Iceland, with a refueling stop there.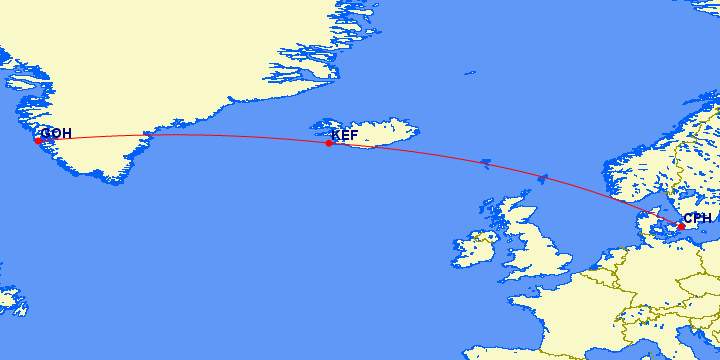 How long does this flight take? On March 22, Air Greenland operated flight 6780:
The Nuuk to Keflavik flight (874 miles) took 3hr8min
The plane spent just over an hour on the ground in Keflavik refueling
The Keflavik to Copenhagen flight (1,337 miles) took 4hr11min
In this case, the plane was in the air for 7hr19min, and everyone was on the plane for well over eight hours.
On March 23 the plane returned as Air Greenland 6779:
The Copenhagen to Keflavik flight flight took 4hr58min
The plane spent just over half an hour on the ground in Keflavik
The Keflavik to Nuuk flight took 3hr2min
In this direction the plane was in the air for exactly eight hours, and everyone was on the plane for well over 8.5 hours.
Bottom line
For the time being, Air Greenland is operating a Dash 8 between Nuuk and Copenhagen, to keep an essential link between the two places. It's unknown how many people are actually taking these flights.
I would imagine it's mostly essentials being transported, though presumably some people are also being transported back and forth.
Spending over eight hours on a turboprop sure is something, and makes Lufthansa's temporary flight to Pune a while back (which I previously called the world's worst flight) look luxurious by comparison…
(Featured image courtesy of Quintin Soloviev)