In the interest of full disclosure, One Mile at a Time earns a referral bonus for purchases made through some of the below links. These are products and services we use ourselves and are the best offers we know of. Check out our
Advertising Policy
for further details. Thanks for your support!
We've received lots of questions lately about the practicalities of booking private jets given the current travel environment. That's not our area of expertise, but fortunately we have smart friends and readers who know a lot about this, and offered to share some insights on how to get the best deal when flying private.
---
Hi OMAAT Family,
Tiffany has kindly (through persuasion and cookies) asked me to write a guest post all about flying by private jet. Now before you brutalize me in the comment section, rest assured my goal is to give you all the tips and tricks you need to "hack" flying private.
And with the current COVID-19 situation, I know more people than ever are looking at new ways of traveling safely.
For years, the miles & points community has coveted its ability to score the best deals around. Headlines such as "How I flew in a $15k First Class seat for $42 + some buttons I found in a drawer" regularly make the news.
What is slightly less well-known is that it is possible to score some seriously cheap flights by Private Jet if you have flexibility and know where to look. Typically reserved for the 1% of the 1%, flying private is generally seen as the pinnacle of success (or excess).
But over the past two years, using a variety of programs, I have flown in dozens of private jets from small Citation Mustangs to the infamous Gulfstream. The most I ever paid was $2k for a seat on a Gulfstream IV from London to New York.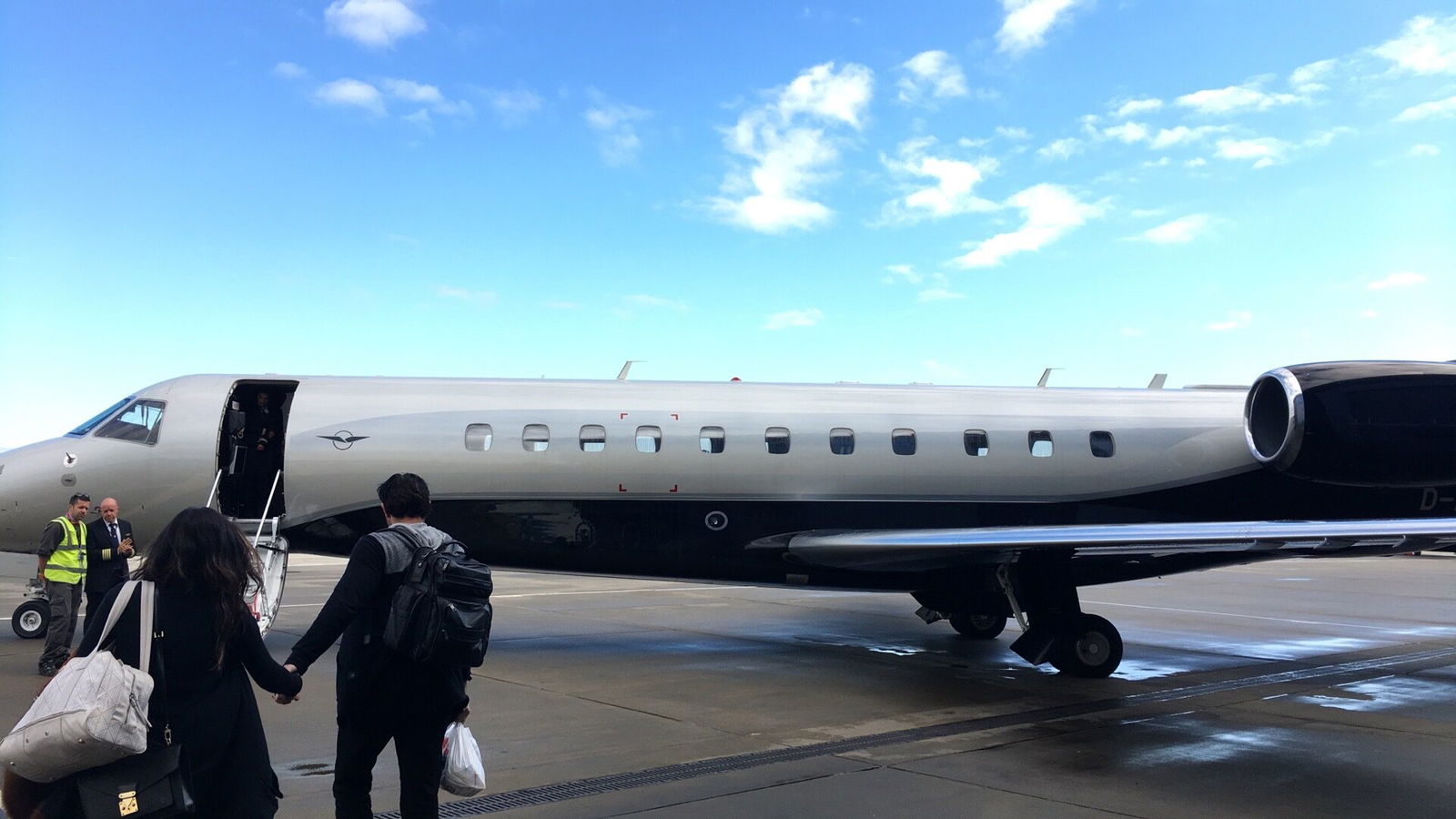 And while some of the best deals are no longer around (RIP JetSmarter Memberships), there are still ways to fly private on the relative cheap.
Pros and Cons of Flying Private
First lets jump into the benefits and negatives of the private jet experience (yes, there are negatives).
Convenience
This is the main reason people, who can afford to charter, fly private. Flying between two, or multiple destinations on their own timetable.
No TSA
No "Getting to the Airport Two Hours Early"
No "Boarding Groups"
No "Connections"
You get the picture.
When flying private the plane will have a "wheels up" time. If you are chartering the plane, the crew will, within reason, wait for you. You can be out the car and in the air within a matter of minutes. If you are booking a seat or an empty leg on a private aircraft, generally you'll want to arrive at the private terminal a whopping 15 minutes before departure.
Upon arrival at your destination, many rental car companies will work with the terminal to deliver your car straight to the aircraft. Or in the case of a trip to Las Vegas, the hotel was happy to pick us up plane side.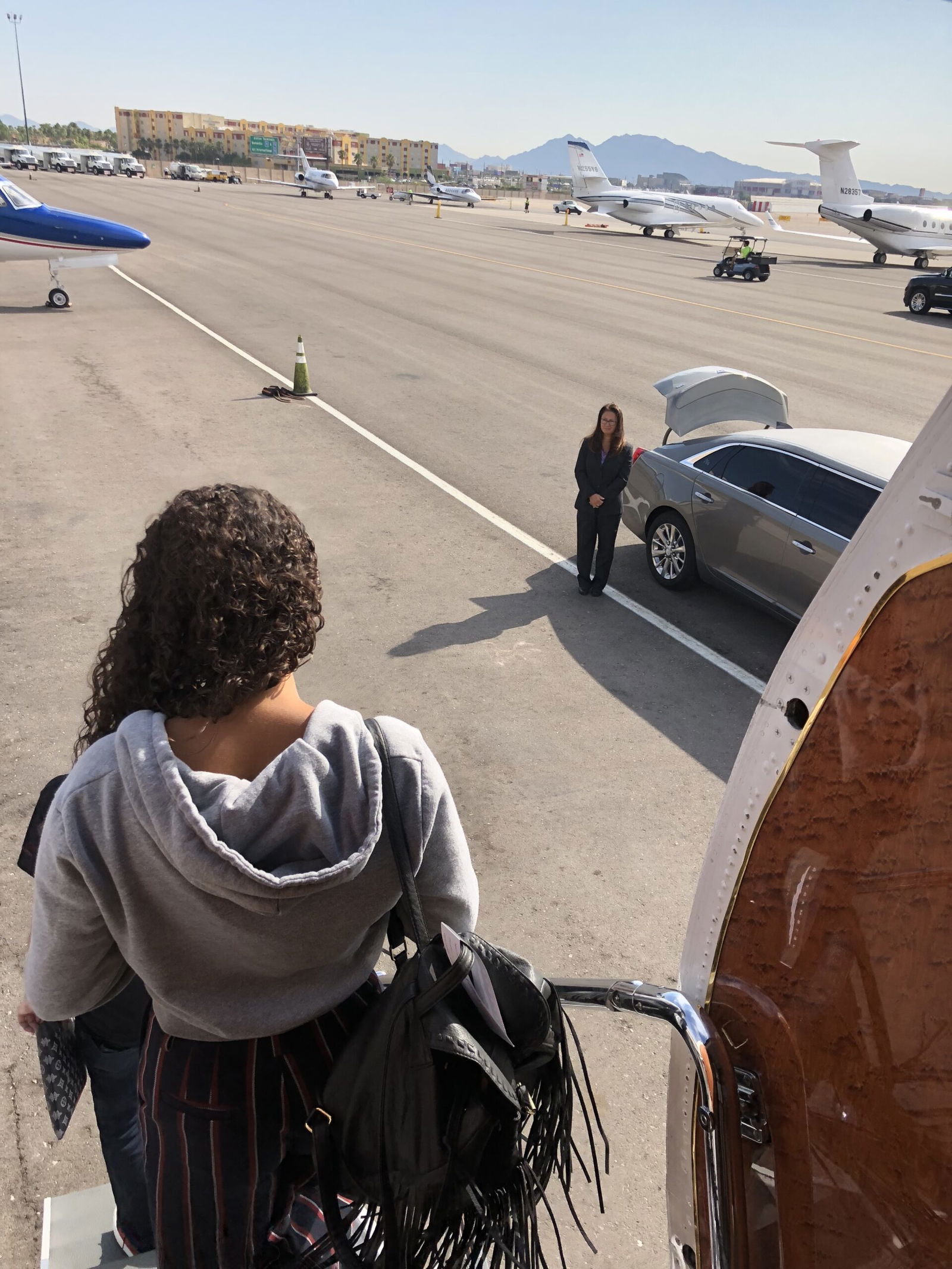 Lounges
Don't expect wonderful amenities at Private FBOs (Fixed Based Operator). These private terminals are generally designed to fulfill the needs of pilots and crews.
Most private passengers don't arrive ahead of departure and will normally only use the FBO if there is a delay or issue.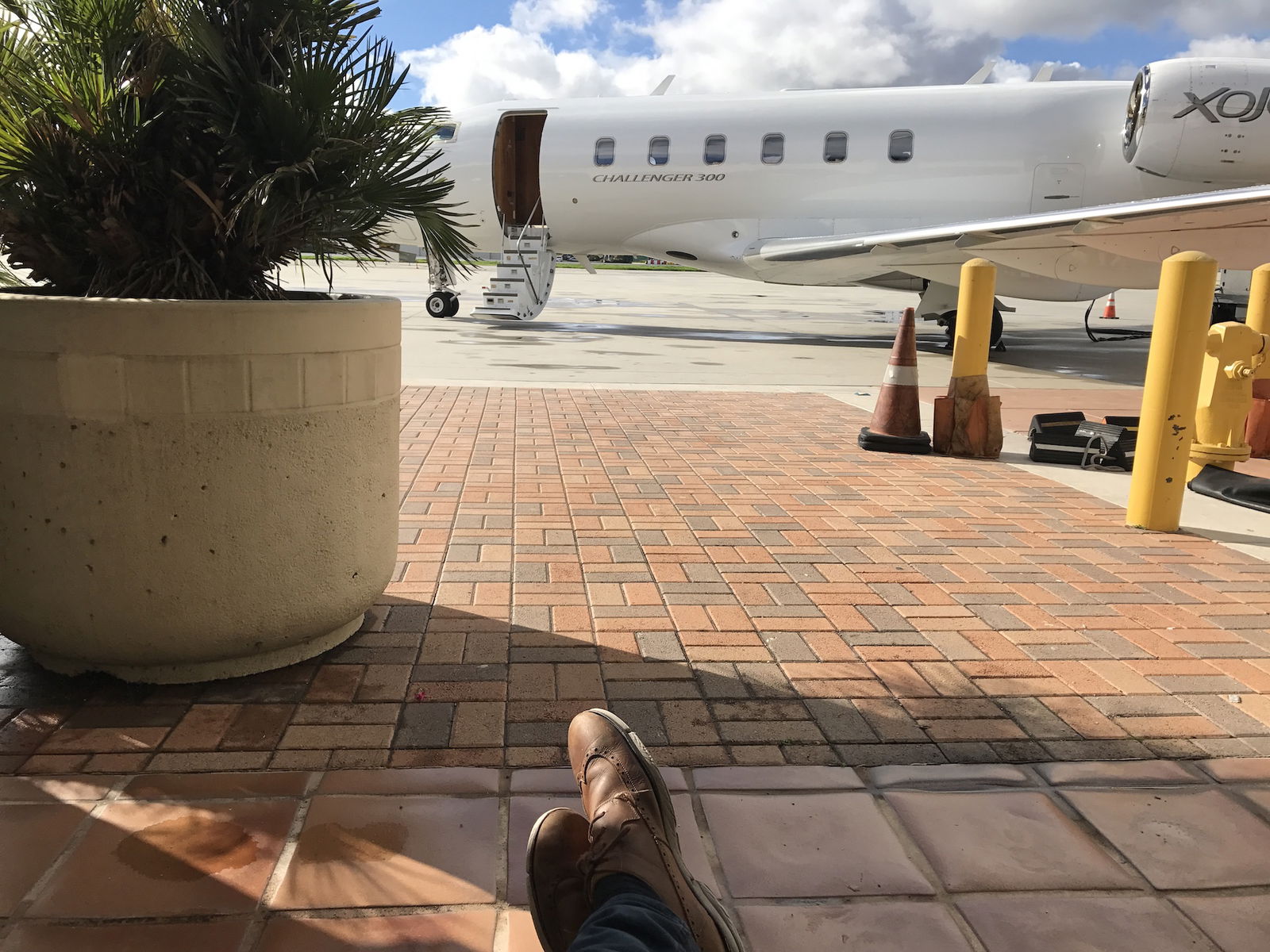 And while some are nicer than others, none of them hold a candle to the Lufthansa First Class Terminal in terms of amenities.
The "WOW" Factor
Flying private, however you splice it, has a certain "wow" factor to it.
For an AVGeek such as myself, one of the coolest parts of the experience is being able to hang out with the pilots in the cockpit.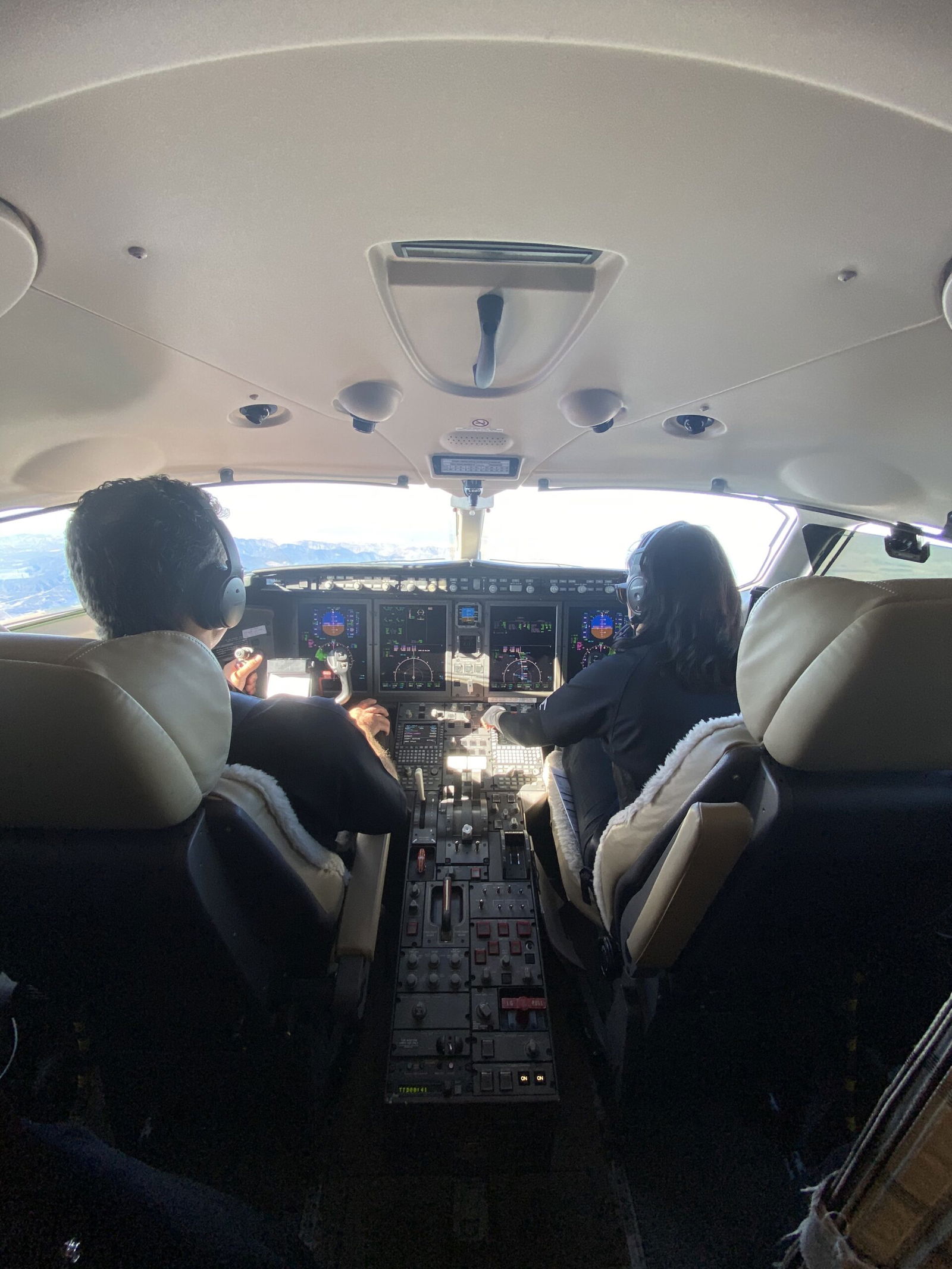 In smaller jets, the cockpit is visible to the entire cabin, so you get some amazing views on takeoff and landing.
Comfort
Realistically seating in 95% of private jets is less comfortable than a decent business class.

And on small private jets even coach on a major airlines is a more comfortable flying experience.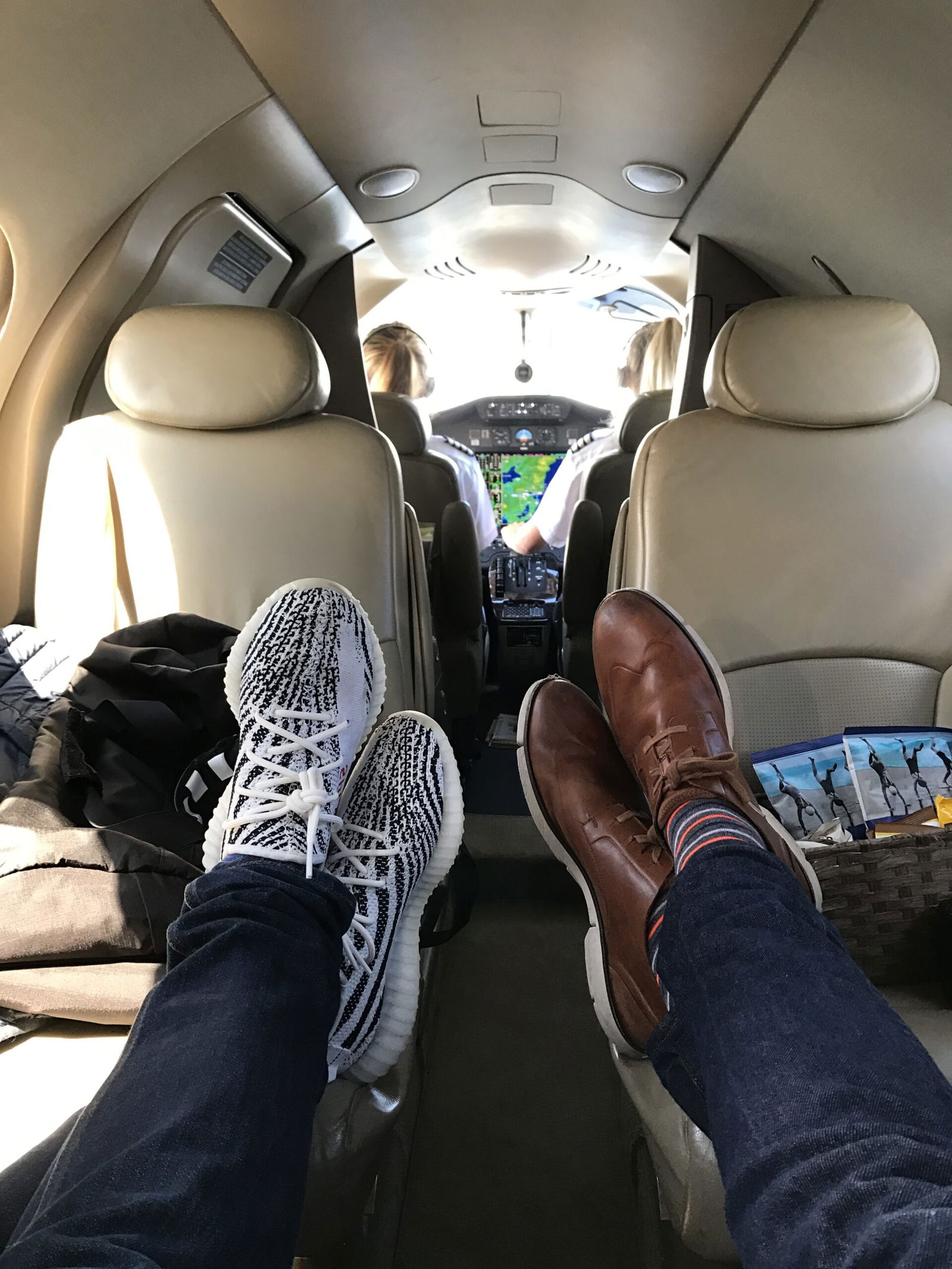 So while larger private aircraft such as Gulfstreams offer seats that "turn into beds," you won't even be able to take advantage with a fully loaded plane.
That aside, if the jet isn't filled to capacity and you're able to spread out, then it's definitely not a bad way to fly, no matter the plane type.
Food/Drinks & Service
Private Jets, whether via Charter or Empty Leg, will come with "base catering." This is generally equivalent to your typical airline domestic first class selection of snacks along with basic beer/wine/liquor.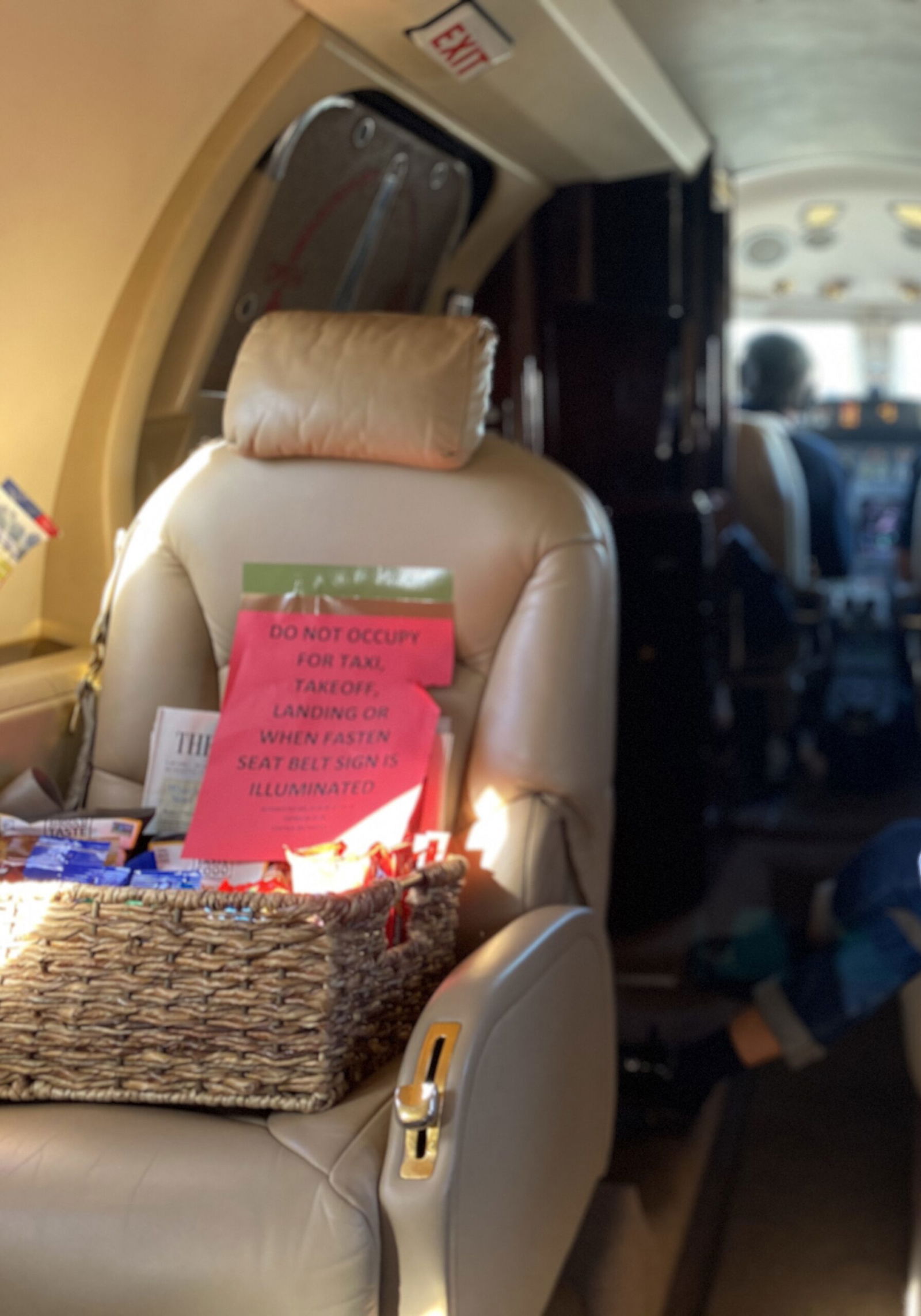 Anything more will cost serious $$$. Since charter companies are used to dealing with the super-rich, they are willing to make anything happen, at a cost.
Nobu to the plane? No problem.
2004 Dom Perignon? Done.
Or, if you're a cheapskate like me, you are also welcome to bring your own food onto the plane.
When it comes to service, only large private jets, such as Gulfstream or Legacy 600s, come with a cabin attendant. For small and midsize jets, the galley will normally be a self-service affair unless a pilot decides to pop back and serve the cabin.
How to Fly Private
There are four key ways to flying private ranging from ridiculously expensive all the way to less than a traditional First Class ticket. For the sake of simplicity, I'm not going to include "purchasing a jet" or "fractional ownership," though those are certainly options.
Charter ($$$$$)
You determine the route, the plane type, the timing, everything. The plane is yours. And as can be expected, this is the most expensive. Expect a minimum of $6k an hour for a small private jet, all the way up to $14k an hour for a Global Express 6000.
There are dozens of charter companies out there. This includes key players such as NetJets and VistaJet. Many of these entities sell jet-cards where you can pre-purchase hours to use on a certain type of jet.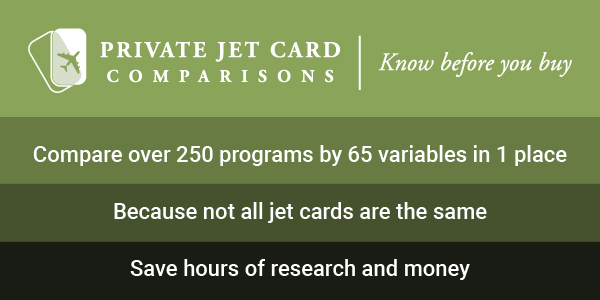 Say you wanted to fly from Los Angeles to Lake Tahoe (a route with no commercial service) in two weeks, you could charter an eight-seat midsize Citation Excel for a whopping $10,763 for the one-way flight.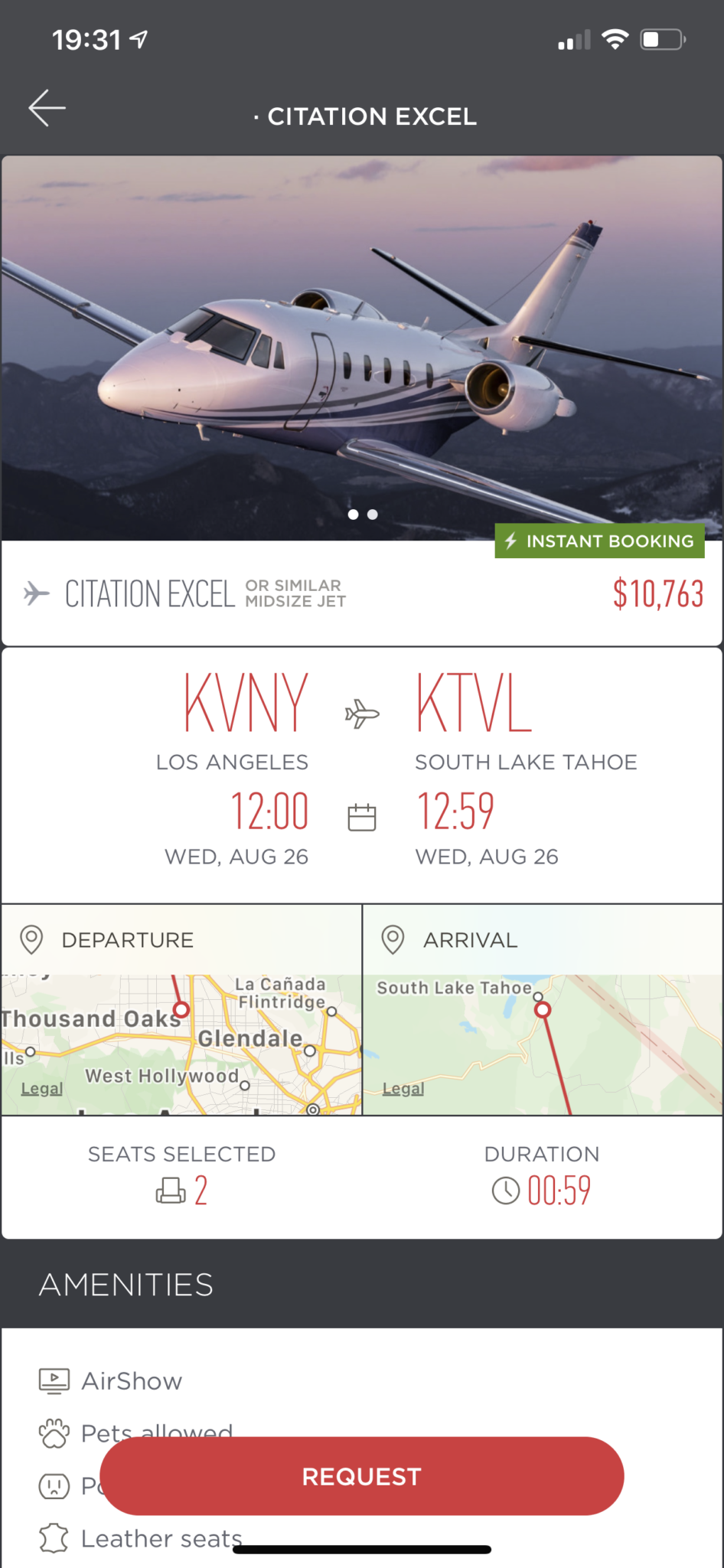 Now say you wanted to fly from Los Angeles all the way to Edinburgh on the same date. You could charter a 15-seat Global 6000 for an eye-popping $145,491.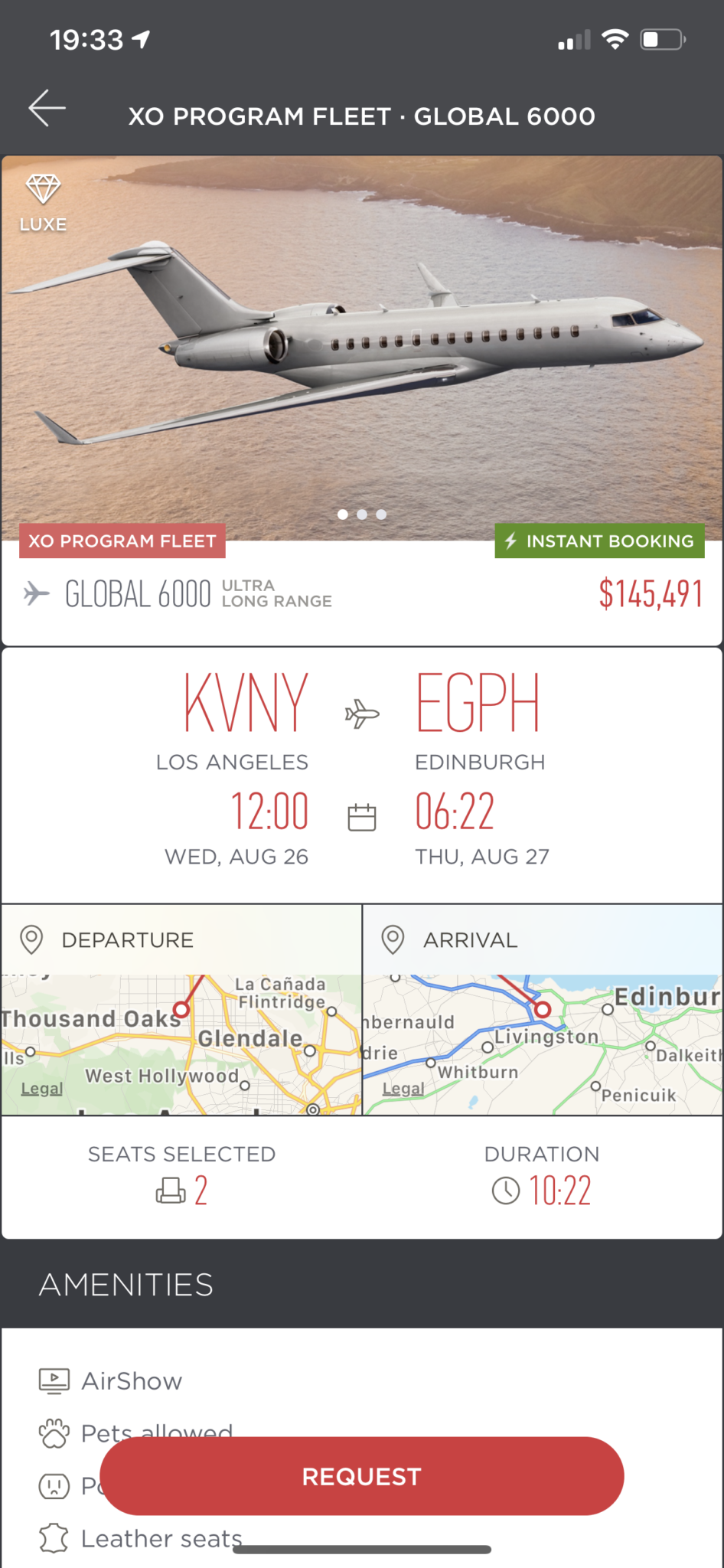 Empty Legs ($$$)
A surprising statistic to many is that 40% of all private jet flights have zero passengers. This is because the plane is either flying from its base or repositioning for a new charter. You can read all about Ben's journey on an empty leg here.
For example, someone might pay $10k to charter a private jet from LA to Lake Tahoe. But the next charter booking that plane had was from San Francisco to Seattle. Traditionally the plane would fly empty from Lake Tahoe to San Francisco.
Unsurprisingly charter companies would prefer to earn income on that flight so they will sell the flight at a discounted "empty leg" rate. This generally ranges from between 25% to 75% of the normal charter price based on the routing.
If you want to fly from Barcelona to Nice, you could score an empty leg deal on a large Global 6000 jet for "only $5k."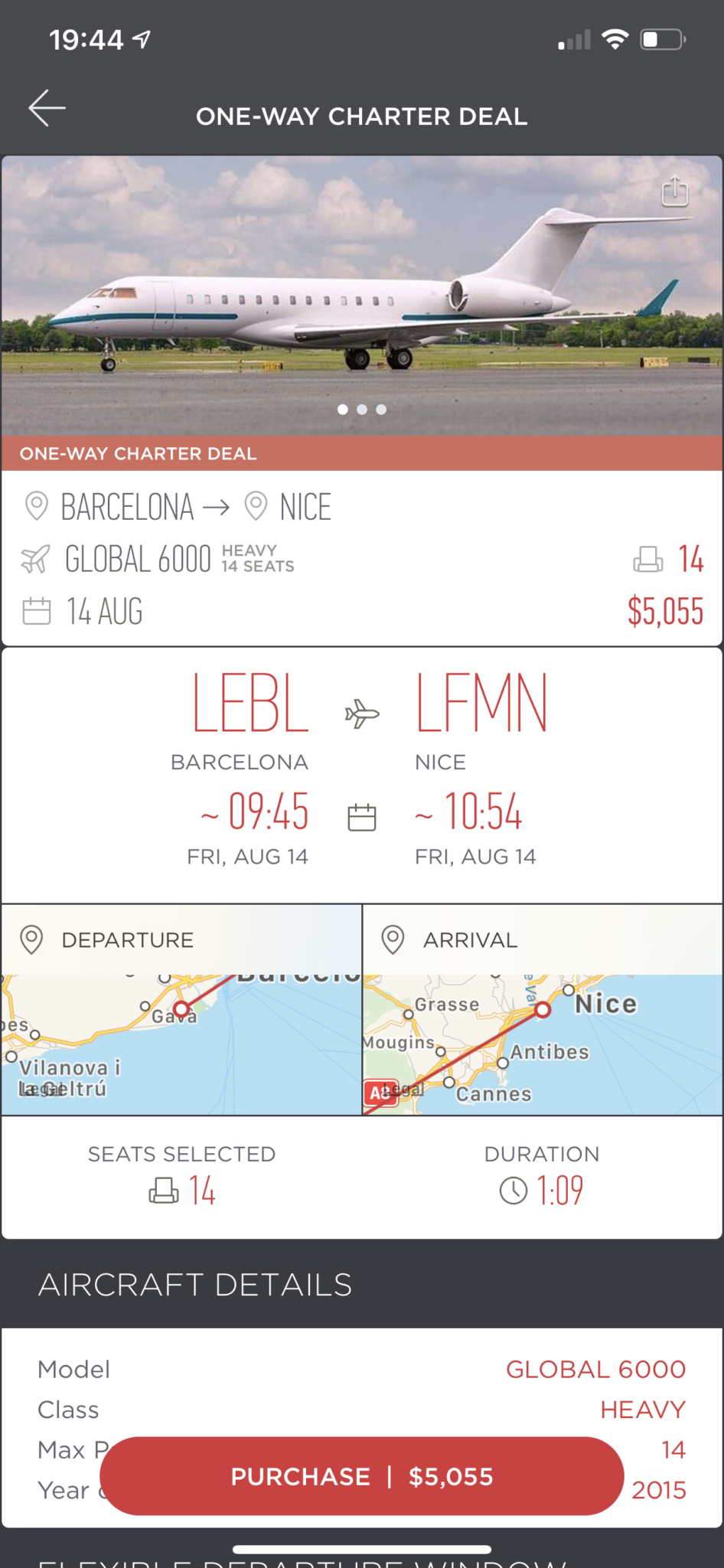 Pay-By-The-Seat ($-$$)
A relatively new phenomenon, in which charter customers who want to defray some of the costs of the private jet flight can do so by offering individual seats for sale. This makes sense when you consider that many people chartering private jets are looking for scheduling convenience over privacy.
For example, according to Villiers, you can book a seat on a Private Jet from LA to Las Vegas in mid-September for $975.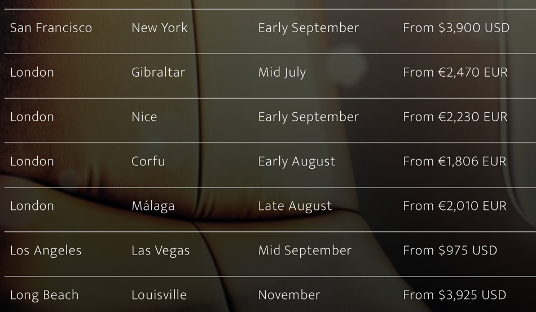 XOJet also offers seats for sale on its empty legs. A quick search shows a seat on an empty leg tomorrow from Las Vegas to San Jose for a reasonable $335.
Warning: As someone who has taken numerous XOJets, they are notoriously unreliable for empty legs. If the plane is needed elsewhere, or goes mechanical, then you are left on your own without recourse. I have, more than once, already been at the airport when they've "cancelled" the flight.
Given that, I would steer towards Villiers, or another more reputable provider if you're looking to book by the seat.
Delta Private Jet "SkyAccess" ($-$$)
The Delta Private Jet SkyAccess program offers a great deal if you are extremely flexible and, like many of us AVGeeks, just love flying. For $8.5K annually (which is normally discounted to $5k during Black Friday), you can book any Delta Private Jet empty leg departing within 24 hours. Not just a seat, the entire plane.
This allows for some very cool opportunities to explore new places and see the country via private jet. The SkyAccess app offers a comprehensive 90-day history of all empty legs, so you can get a good sense of whether jets are leaving from your region. Generally, there are a lot of flights within the Southeast US, but there are still a decent amount of routes on the West Coast.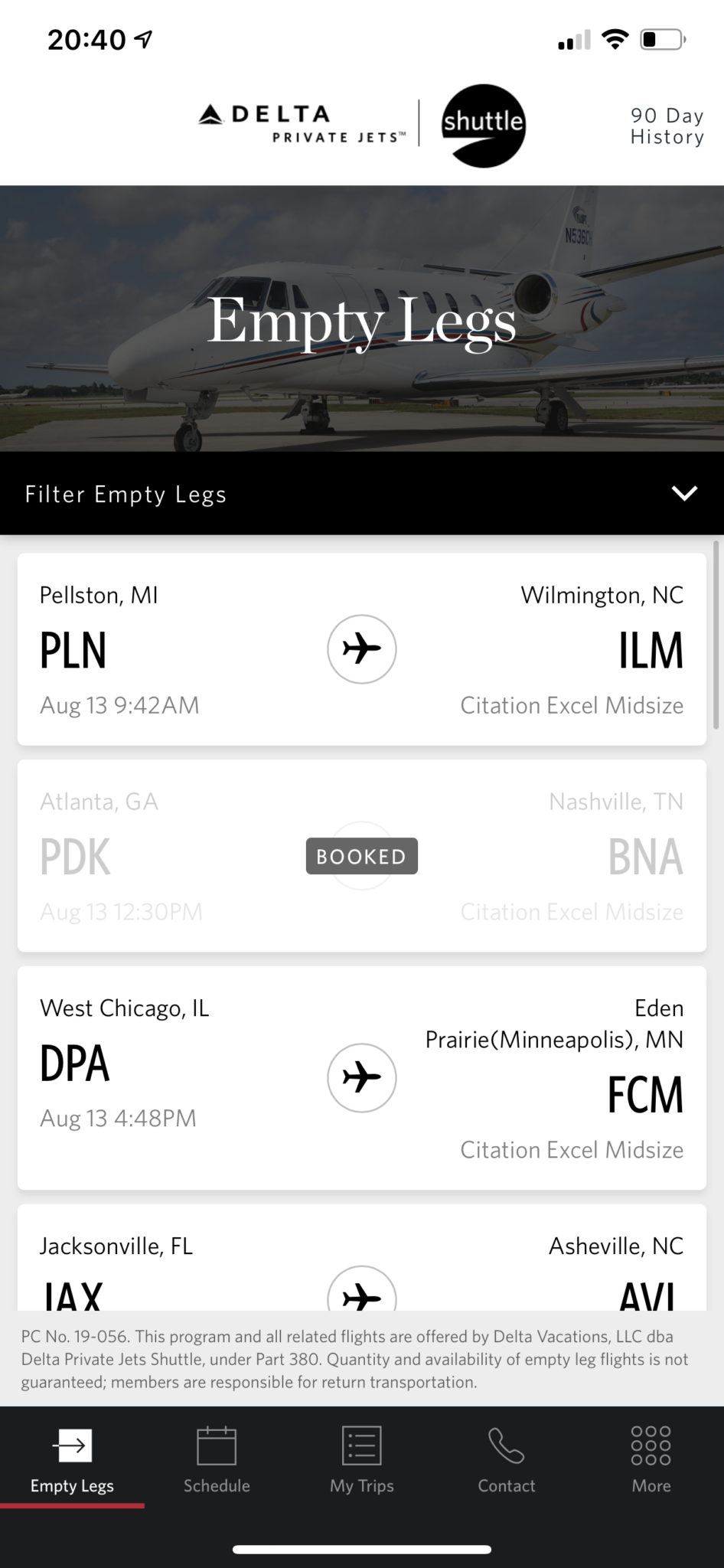 Similar to other empty leg programs, if the jet gets rescheduled or mechanical, they will not re-accommodate you. I've found Delta empties to be far more reliable than XOJets however on this front. The only issue we had is a seat went out of service, so we had to leave a member of the group behind!
I know a few groups that split the cost of this membership. While the lead passenger always has to be on the plane, for certain families or close friend groups it may make sense if you plan on traveling together often.
Conclusion
Flying by Private Jet is a pretty cool way to fly. Most of my prior private flights were part of the now-defunct JetSmarter program. As many of us predicted, that was "too good to be true" and what was left of JetSmarter got folded into the XOJet portfolio as of last year.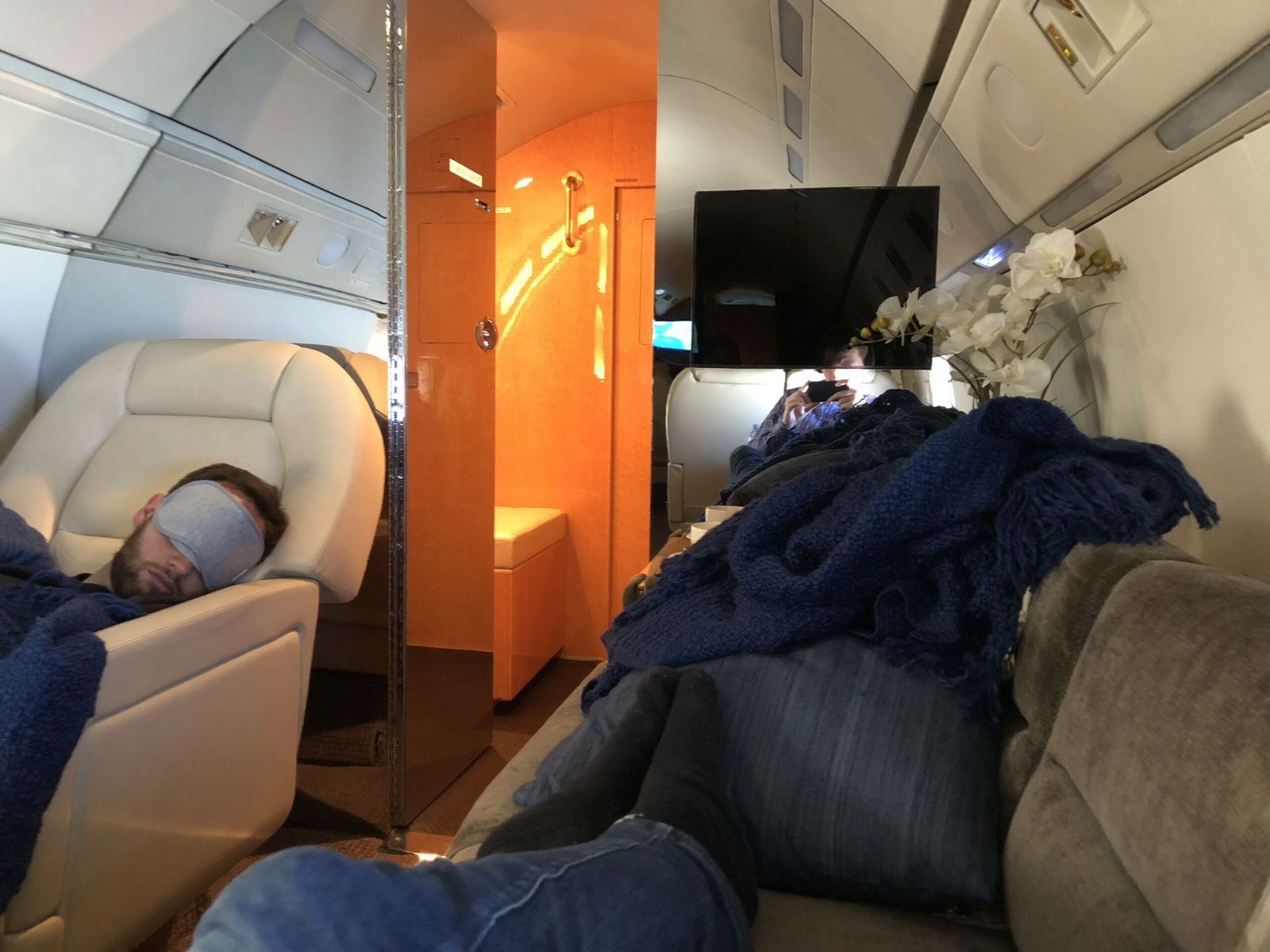 That being said, there are still some relatively "cheap" ways to fly private whether by a membership program or last-minute seat on an empty leg flight.
Thanks all! Feel free to throw any experiences flying via Private Jet in the comments section, or let me know what else you'd like to know!