Good afternoon from New York, where I just got off a Pakistan Airlines flight from Manchester. It's one of the unique fifth freedom routes that PIA operates, though they only do so in the westbound direction (they fly from Lahore to Manchester to New York to Lahore).
While I'll have a full trip report soon, in the meantime I wanted to continue my usual "10 pictures" series, and start off with some quick thoughts and pictures about the experience.
Pakistan has 35 business class seats on their 777s, spread across five rows in a 2-3-2 configuration. The colors were rather drab, though worst of all, the seats seemed to be mostly broken. For example, twice our seats had to be manually adjusted.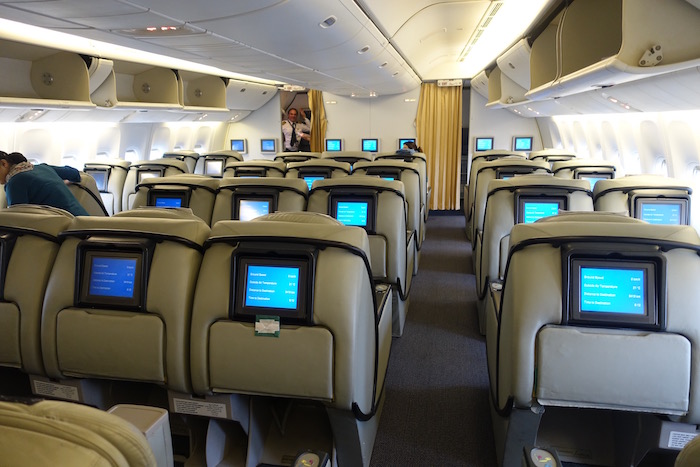 After takeoff the crew even made an announcement (which was scripted, so I suspect PIA realizes the shape their product is in) apologizing proactively that many of the seats and entertainment systems were broken, and that they're working on updating their fleet with more modern products.
I knew the seat looked familiar, and then realized it was the "space bed" that Singapore Airlines used to have in Raffles Class, and that United PS used to have in first class. I remember how awesome I thought the seat was then, so it's amazing how quickly things change.
As far as the amenities on the plane go, there's not much to speak of. No amenity kits, just economy class headphones, no menus, and the pillows and blankets were dirty.
I'd also note that Pakistan doesn't use metal cutlery, even in business class. We had to eat everything with the flimsiest imaginable plastic cutlery.
Lunch was served after takeoff, with a choice of three salads. There was no dressing for the salad, so the "fresh salad" was extremely bland.
For the main course the crew brought out a cart, and then you could choose what you wanted, so it would be plated at your seat. The food was very good.
The Pakistani dessert was excellent as well.
What wasn't excellent, however, was the powdered coffee that I was served with powdered creamer. Blech!
The brightest point of the flight was the crew. They weren't the most polished, but they were so genuine and hospitable, and made us feel welcome. That goes a long way towards making a great flight.
Objectively this flight was pretty bad — the seats were falling apart, there were virtually no amenities, there were no drink options (Pakistan is a dry airline), they used plastic cutlery, the pre-arrival snack was inedible, etc.
However, for some reason I didn't find this flight nearly as disappointing as the ones I took on China Eastern and Saudia, probably because my expectations were a bit lower.
I've heard PIA is trying to reinvent themselves, and if so, they have a long way to go. Perhaps they should start by adding real cutlery in business class. It's also pretty clear whoever wrote the airline's webpage about their business class product has never flown another airline before, because they describe the product as being "the only Business Class service that feels like First Class."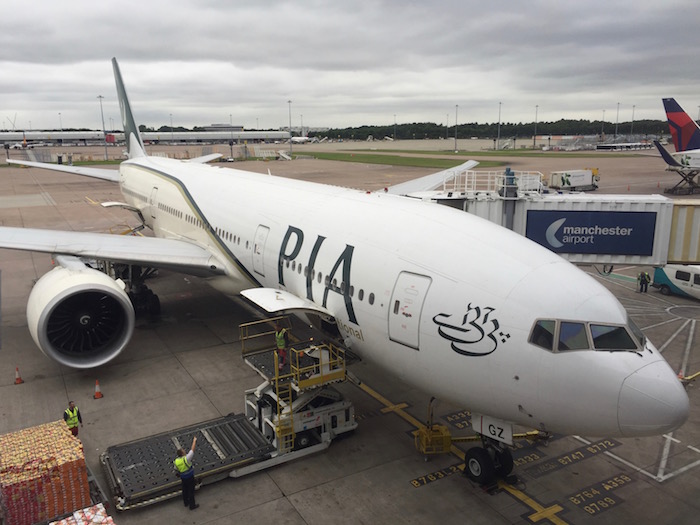 I'm so happy I had the opportunity to try them!
How does this compare to what you were expecting from Pakistan business class?