I'd argue I've flown just about all of the world's best first class products — while I won't rank them, I'd argue that between ANA, Cathay Pacific, Emirates, Etihad, Lufthansa, Swiss, Singapore, etc., I have them mostly covered. Perhaps the one exception is Garuda Indonesia first class, which looks spectacular.
However, there are a few other airlines that have always intrigued me. And perhaps part of the reason these products intrigue me is because they're just about impossible to fly on miles.
For example, for years TAM first class wasn't bookable using miles. Then overnight they made virtually all seats available on miles, so I had the chance to try their product. Shortly thereafter they announced they would discontinue first class.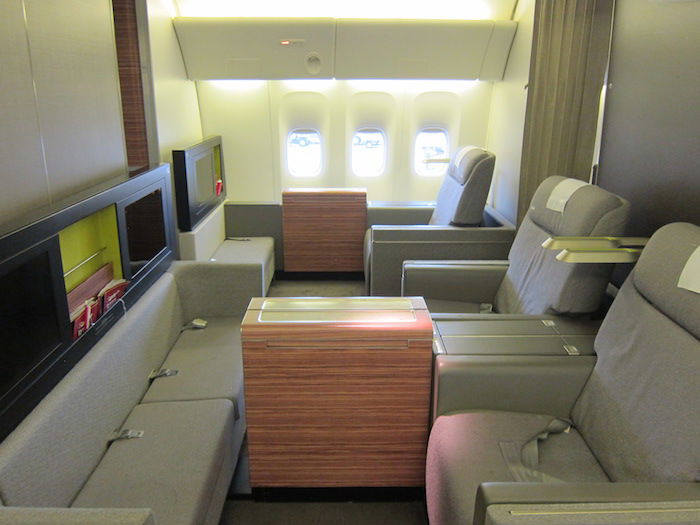 But the airline that has fascinated me more than any other for years and years is Transaero. In terms of bling factor, they literally put Emirates to shame.
Here's what Transaero's Imperial Class (first class) looks like: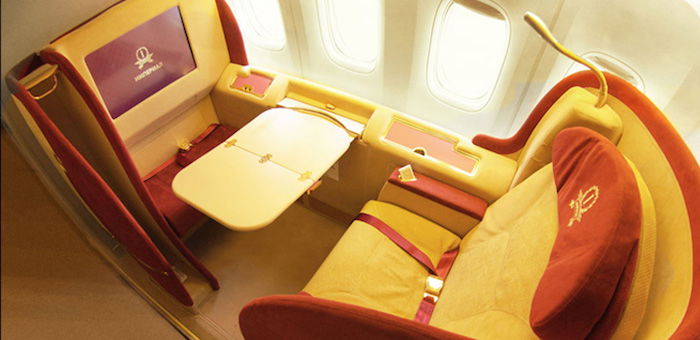 Transaero doesn't have any useful mileage partners that I know of, so I always kind of assumed they were totally off limits.
But my friend Joey recently pointed out that it looks like Transaero has lowered their first class fares lately. I'm not sure if they actually lowered fares or it's just the benefit of Russia's weak currency, but a one-way first class fare between New York and Moscow is under $2,000: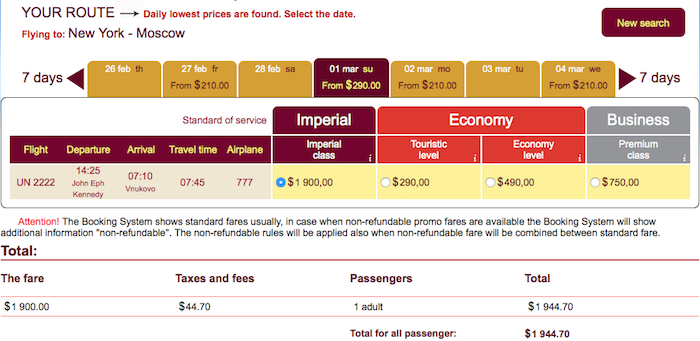 Meanwhile a roundtrip first class fare is ~$3,400:

Transaero's Imperial Class webpage is hilariously fascinating.
I love how they use their site to tell you that you can't use the VIP lounge, but just the business class lounge as an Imperial passenger:
VIP lounge for officials and delegations in Moscow "Domodedovo" airport (free of charge). Also Imperial class passengers may be served in Transaero own Business Lounge as well (included).
It seems they have decent ground services, and even "personal VIP service managers" aboard:
Imperial passengers are welcomed to the airport by a Transaero representative who guides and assists them at every stage of passing through airport formalities.

On board, Imperial class passengers are served by personal VIP service managers. These are top Transaero employees, who even have their own unique uniform created by fashion designers specifically for the Imperial class. Extraordinary cordiality, attentiveness, and flawless manners are their work style.
They also want you to know that their tableware is a big freaking deal:
The unique tableware offered to Imperial passengers is worth separate mention. This tableware was custom-made by Transaero's partners in the project, the renowned Imperial Porcelain Manufactory and the Gus-Khrustalny Crystal Factory, using special designs and high technology. The two factories became purveyors to the Russian Imperial Court as early as in the mid-18th century.
And while it looks like they have an IFE screen in the seat, apparently they don't?
Some of the amenities enjoyed by Transaero Imperial class passengers are:

On-board cinema.
To fill in time during your flight, we are pleased to offer you a unique opportunity to view the individual innovations of world cinema on a portable media player.
This multifunctional gadget allows watching movies, enjoying popular videogames, learning foreign languages, listening to music of different styles and genres.
Portable media player is available for free in Imperial.
We offer you a wide choice of media as business and entertainment, including the highest-quality printed publications.
Bottom line
While it's far from cheap, this is the most reasonable price I've ever seen for Transaero's Imperial Class. And I'm sort of kind of tempted.
Has anyone else flown Transaero, or is fascinated by them?