Over the next few weeks I'll be looking at the various consequences of the worldwide issues with the Trent 1000 Rolls Royce engines fitted to some Boeing 787 Dreamliners. Some 787-operating airlines have been heavily impacted, some have not.
Earlier this week I wrote about how Scoot is leasing a Singapore Airlines 777-200 for certain Sydney flights this month, and how that represented a huge upgrade for some passengers, and a minor downgrade for some others.
Virgin Atlantic has been one of the airlines that has been most affected by this engine issue, meaning several of their 787-9s are currently out of action.
Virgin could have just leased aircraft like Scoot has, or used a charter airline like Hi-Fly, but they came up with a different approach.
Earlier this year it was announced that they had acquired four Airbus A330-200 aircraft from the now defunct airberlin, on an initial four year lease. As well as their 787s, A340s and 747s, Virgin Atlantic operates Airbus A330-300s, so this was a logical choice for emergency aircraft.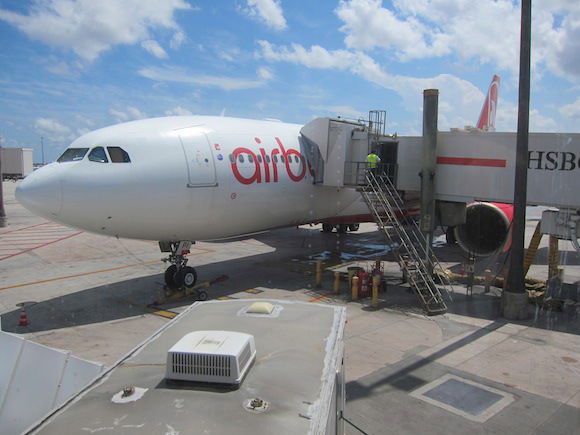 They could have just operated the aircraft as is, but they have gone to impressive lengths to ensure the passenger experience reflects the premium intentions of the airline, spending £10 million in the process.
Exterior
Earlier this year, Virgin Atlantic repainted the exteriors of the airberlin aircraft in the Virgin livery. Here is a time lapse video of the process (if you have a keen eye you will see the airberlin livery at the start):
https://www.youtube.com/watch?v=ww2KD3400S4
But the interiors raised some interesting problems for Virgin Atlantic to solve, as they were significantly different to the rest of the fleet.
Upper Class
Virgin Atlantic uses a 1-1-1 herringbone seat in its 'Upper Class' business class cabin. While that layout sounds fantastic, I've flown it twice, from both Seattle and Hong Kong to London, and did not like the seats at all.
They're very high density (just like British Airways Club World is), have zero privacy, zero storage (I had to keep my menu on the floor), and why any seat designer thought every single passenger would want to face away from the window is still beyond me.
It was definitely one of the worst fully-flat seats I have experienced.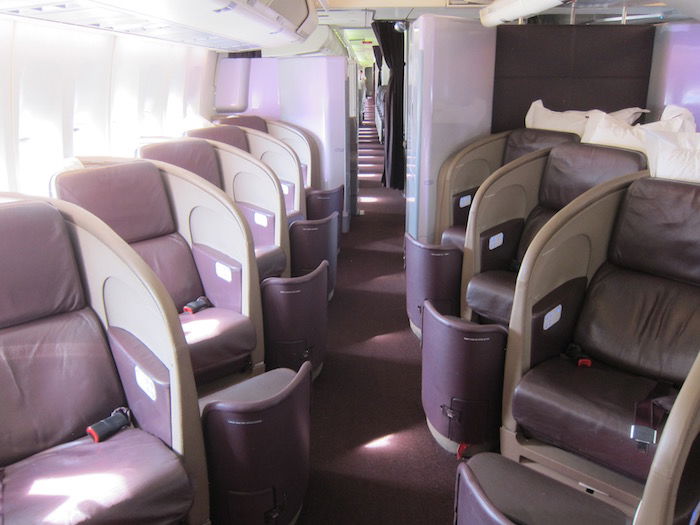 The Air Berlin business class cabin featured staggered, forward-facing 1-2-1 seats. In my opinion, this design is significantly better than the Upper Class seats. This created a unique problem for Virgin Atlantic — should they install their Upper Class seats in these planes to ensure fleet consistency, or retain the superior product which would be quicker and cheaper to implement, and better for their customers?
Fortunately for everyone, Virgin Atlantic decided to retain the Air Berlin seating.
Although it's a superior design, it does look quite tired and not the stylish, playful brand Virgin Atlantic is known for.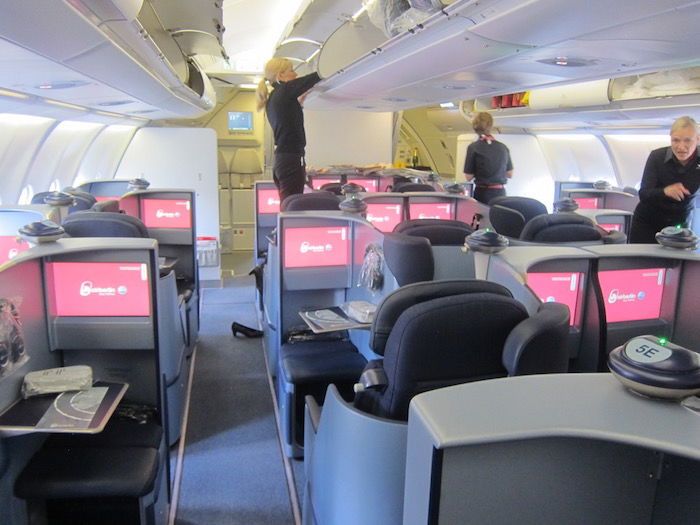 So Virgin Atlantic is in the process of making some cosmetic improvements, namely new seat covers and changing some surface covers.
Although it's a promotional shot that is carefully lit and angled – doesn't it look better!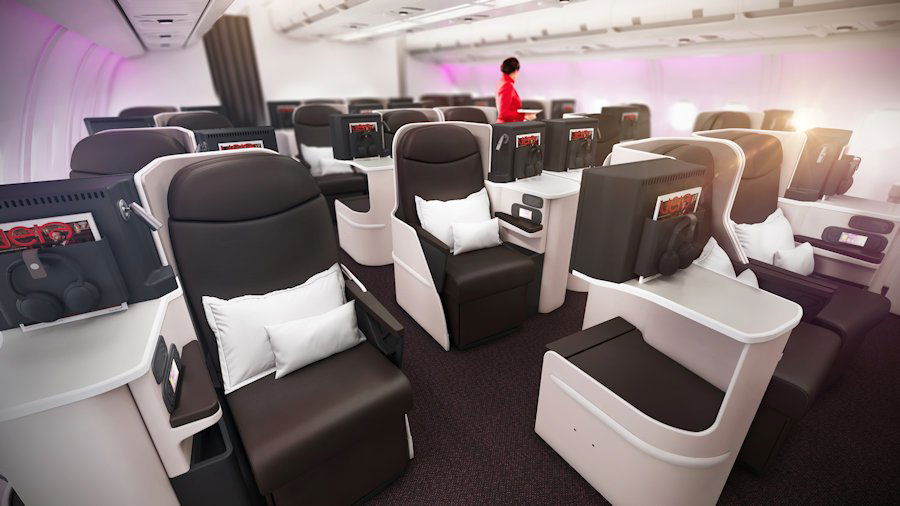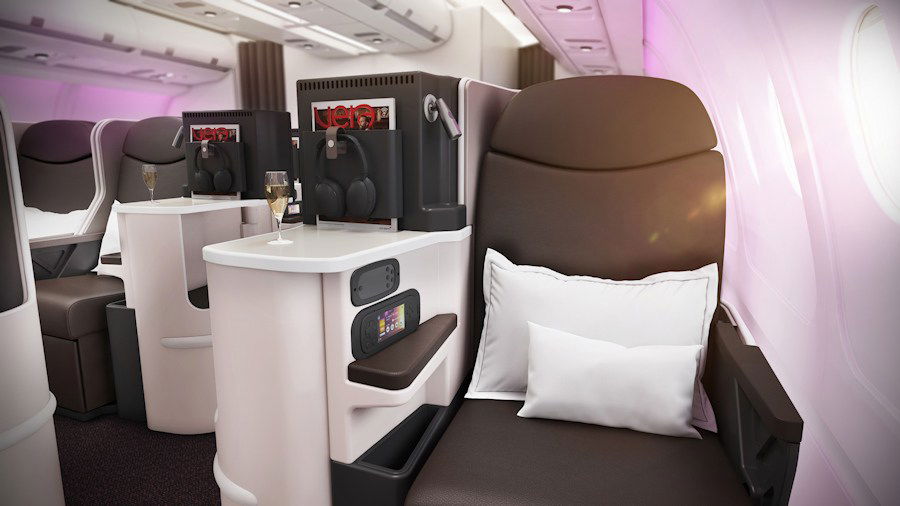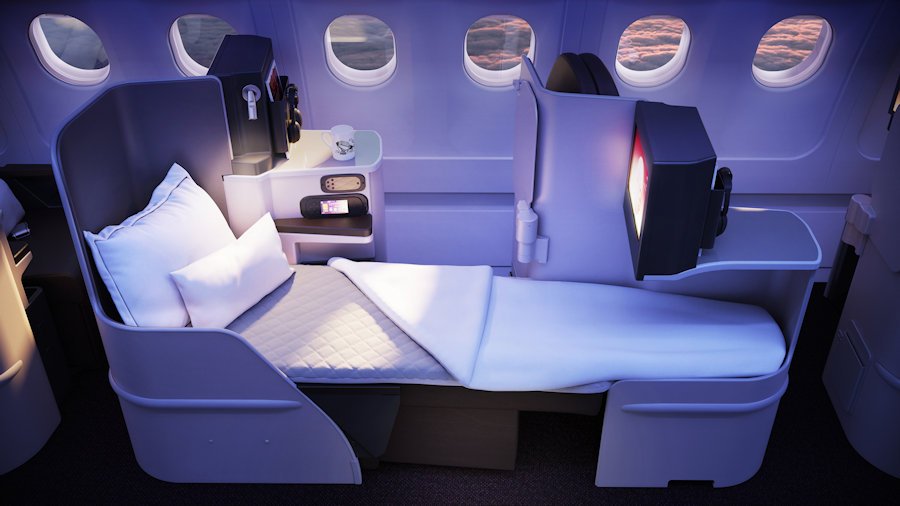 While there will be no on-board bar on the airberlin A330-200s, I think its a small price to pay for a vastly superior seat.
Premium Economy
Ben wrote some time ago how these planes do not feature a premium economy cabin, and at that time Virgin Atlantic had no plans to install one. They have changed their minds because these four A330s will now feature a premium economy cabin, installing the same seats as their 787 Dreamliners. I'm guessing they've decided to keep the aircraft beyond the four year lease so see the benefit of installing premium economy in them.
I've had a good look at the premium economy cabin on their 787s, and it looks pretty good as far as premium economy goes.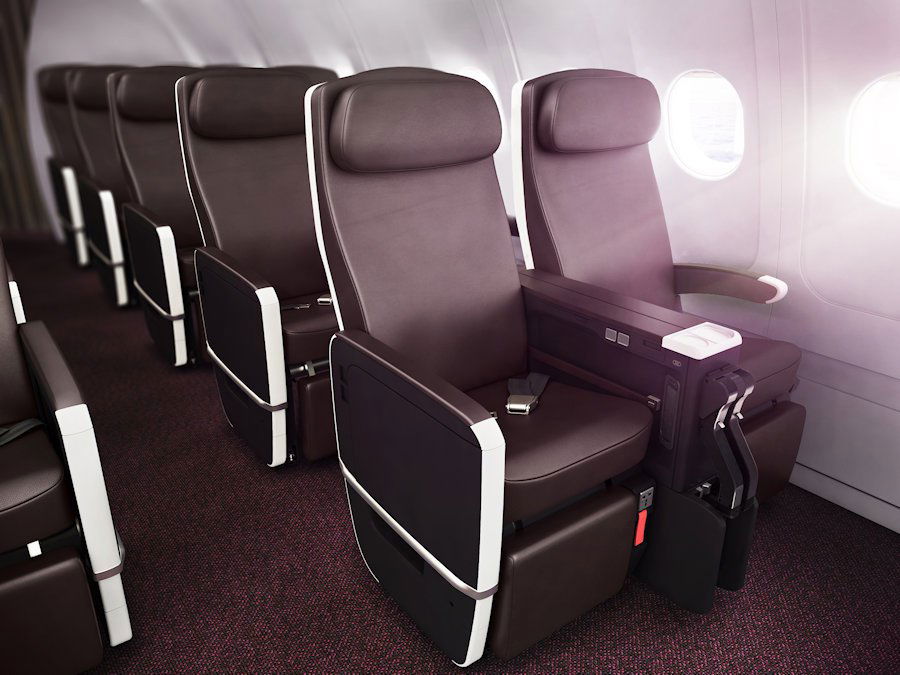 The 2-4-2 economy cabin is also receiving reupholstered seats. The A330 remains a great choice for both couples and families traveling in economy because of the 2-4-2 layout: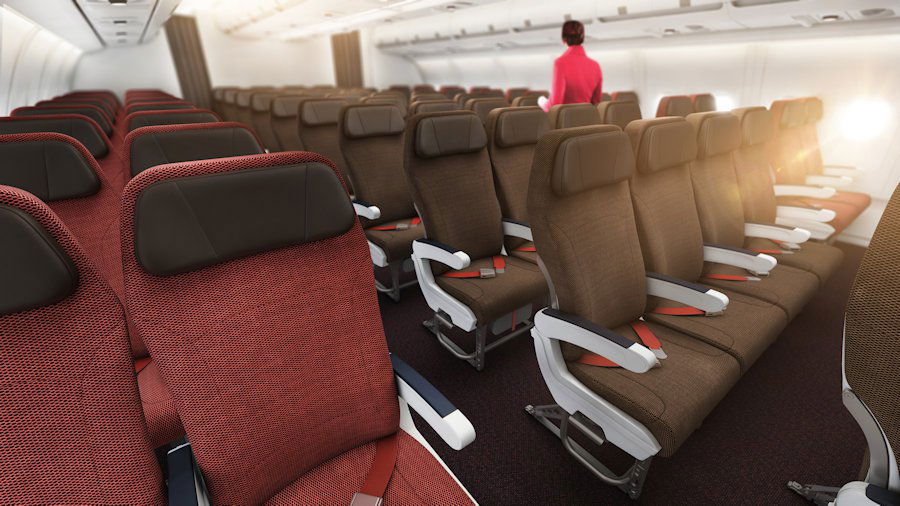 I imagine the exact routes of these planes may change over time, as they are swapped in and out to cover 787s, but as for now will be operating routes from London Gatwick and Manchester, to Boston, San Fransico, and some Caribbean destinations.
Bottom line
Virgin Atlantic is not my favourite airline, but I am impressed by the effort they are going to in order to improve the customer experience on these planes. They are planning an all new Upper Class seat for their 12 new A350s they have on order (that will replace their ancient A340s and B747s) — I hope the new seat is more like their new A330-200 seat and less like their 787 Dreamliner seat!
What do you think of this version of Upper Class?