Hi Fly is the first charter airline to have an A380, and it's something many of us are quite excited about. The plane has Singapore Airlines interiors, so flying this plane on another airline sure is a treat.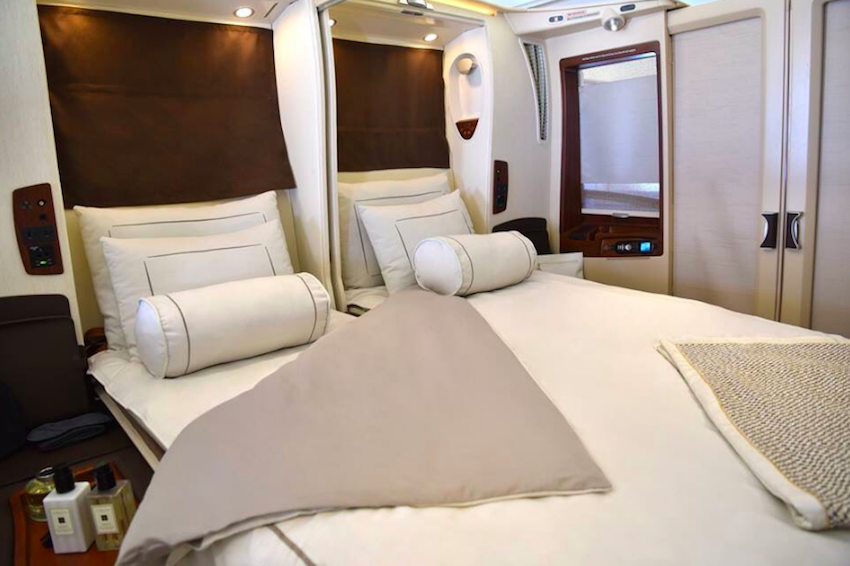 As I wrote about a few days ago, Hi Fly's current A380 customer is Norwegian. Hi Fly is operating A380s between New York and London Gatwick on behalf of Norwegian, as the route was supposed to be operated by the 787-9, but there are some issues with the Rolls Royce engines on some 787s. You'd think this would be a huge treat for Norwegian customers, given that premium economy passengers are all getting flat beds.
Hi Fly's A380 is having MASSIVE delays
As noted by @AirlineFlyer, Hi Fly is having massive issues with this route. Every single Hi Fly A380 flight operated on behalf of Norwegian has been delayed by at least three hours.
Here's what the schedule for this flight is supposed to be:
DI7015 London Gatwick to New York JFK departing 5:05PM arriving 8:05PM
DI7016 New York JFK to London Gatwick departing 11:00PM arriving 11:00AM (+1 day)
According to Flightradar24, here are the times that this flight has actually been operated from London to New York:
On August 3 the flight left at 9:57PM and landed at 12:01AM (3hr56 min late)
On August 4 the flight left at 9:30PM and landed at 11:40PM (3hr35min late)
On August 5 the flight left at 9:22PM and landed at 11:27PM (3hr22 min late)
On August 6 the flight left at 9:30PM and is scheduled to land at 11:51PM (3hr46min late)
And here are the times this flight has actually been operated from New York to London:
On August 4 the flight left at 4:39AM and landed at 3:47PM (4hr47 min late)
On August 5 the flight left at 3:13AM and landed at 2:33PM (3hr33min late)
On August 6 the flight left at 3:07AM and landed at 2:19PM (3hr19 min late)
At least for tonight's flight they've proactively announced the delay, which is apparently more than they've otherwise done in the past few days. Passengers have shown up in time for an 11PM flight, only to find out that the flight wasn't actually departing anytime around then.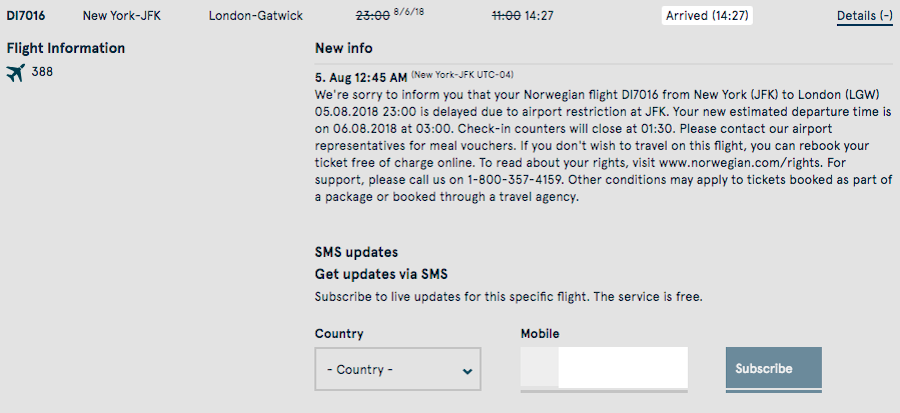 What's causing the Hi Fly A380 delays?
Terminal 1 at JFK is already overcrowded. Apparently there simply isn't any room for an A380 during the time that Norwegian's flight is scheduled to operate. Understandably they're prioritized behind all other A380 operators, since this was a last minute aircraft change.
As a result, they've had to adjust the schedule so that the flight arrives and departs at a time where an A380 gate is available.
What's not entirely clear to me, however, is why the plane still spends so much time on the ground in New York. I get why it lands so late, but why is it taking them 3-4 hours to turn the plane around? Maybe it comes down to the general learning curve of learning to operate the A380, since it's still new to Hi Fly.
I don't even get how this issue is possible. I'm not sure whether the blame falls on Norwegian or Hi Fly for not knowing that it wasn't possible to operate an A380 to JFK at that time, but regardless, it's a total mess. I can't even imagine how much money they're losing because of this.
The silver lining
These delays might sound like horrible news, though there's potentially a silver lining. Europe is strict when it comes to compensation required for delays, and per EU261, any longhaul flight delayed by more than four hours entitles one to 600EUR in compensation.
So if your flight is delayed enough, you'd essentially be getting paid to take this flight, given how cheap Norwegian fares are. Of course this assumes they actually request the cash compensation, which most people likely wouldn't do.
What will Norwegian do next?
AirlineFlyer reports that Norwegian issued the following statement:
"We are fully aware of the situation and working on improving it as soon as possible."
So, what could the possible solutions be? Norwegian could just adjust the schedule of this flight so that it's scheduled to depart and arrive at a time where A380 gates are available.
Alternatively, and much more logically, they'd simply operate the flight to a destination that can actually accommodate the A380.
What. A. Mess.
While the delays of course suck for those people who really need to get somewhere, I imagine some people will gladly take a four hour delay in exchange for 600EUR in cash. The problem is all the 3-4 hour delays, which don't entitle passengers to cash compensation.