Recently I wrote about the nightmare experience suffered by Air France passengers en route from Paris to Shanghai.
They were stuck in Siberia, Russia, for several days after their original aircraft and then relief aircraft suffered one unfortunate mishap after another.
Norwegian has taken delivery of five Boeing 737 MAX aircraft, with a further massive 95 on order. These aircraft have opened up new route possibilities, including several transatlantic routes from Ireland and the UK to the northeast USA, that have so far had mixed success.
Although we write a lot about Norwegian's long haul operations between Europe and the US here at OMAAT, they also operate seasonal flights to Dubai from Copenhagen, Oslo, Helsinki and Stockholm, using their 737 MAX aircraft. These flights are a similar length to some of their transatlantic routes using the same aircraft type.
Given how new these aircraft are, passengers might expect there to be less chance of mechanical issues with the aircraft, than if they were on, say a very old Allegiant plane.
On Friday, flight DY1933 departed from Dubai International Airport bound for Oslo. It was operated by a Boeing 737 MAX aircraft, registration LN-BKE, that was less than two months old.
Only 20 minutes into the flight, the aircraft suffered a problem with one CFM International LEAP 1B engine, according to Flightradar24.
Rather than turning back to Dubai, it made an emergency landing in… Shiraz, Iran.
It must have been a pretty serious engine issue not to return to Dubai, given the ground staff and facilities they already had there.

This was apparently the first time a Norwegian Air plane had ever landed in Iran. I'd love to visit Iran myself though under different circumstances to how these passengers came to be there!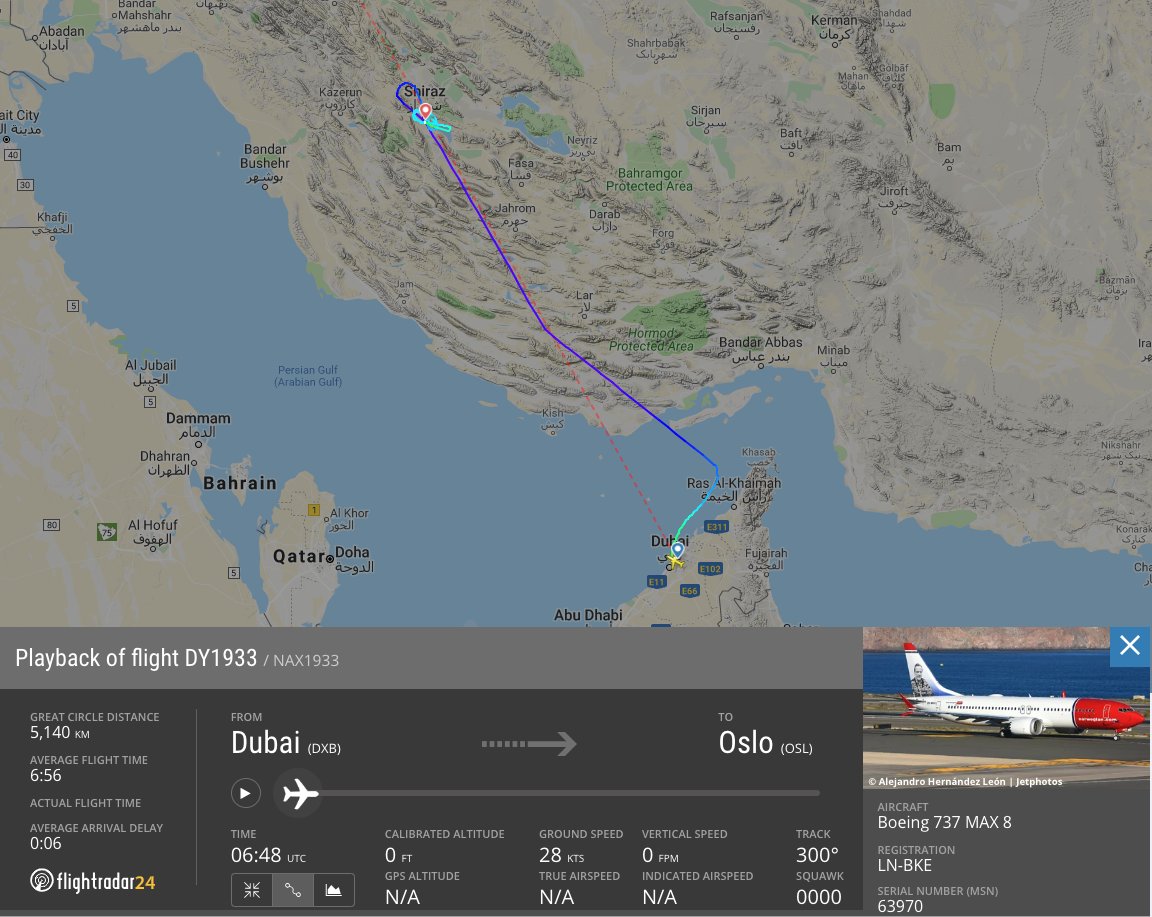 Fortunately the passengers were able to leave the airport and were taken to a local hotel to wait for a relief aircraft to arrive. You do hear some horror stories about passengers being kept airside for many hours as they are not able to enter the country without the necessary visa approvals.
The passengers on the flight that were either Norwegian or from nearby European countries, are eligible for a visa on arrival in Iran.
Given Norwegian has no staff on the ground in Iran they seem to have done a pretty decent job at looking after their passengers.
What's particularly interesting about this situation is how the faulty aircraft might get back to Oslo or Europe.
I believe this particular faulty engine type was built as a joint venture between GE in the US, and Safran Aircraft Systems in France. But there are trade sanctions between both the US and EU (so France), and Iran, so if a spare part is required to repair the engine, it may not be as easy as just arranging for the parts to be sent from either the US or France to Iran.
It raises some interesting questions:
If repair parts are required, can they be sent from the US or the EU to Iran given the sanctions? If not, would an exception be made in this case?
Or will Norwegian just try and fly the plane without passengers to a neighbouring country where it will be easier to perform any necessary repairs?
And given the passengers entered the country, presumably with a visa on arrival, does this mean they are no longer eligible for an ESTA if they visit the US?
I'll be very interested to see how and when the aircraft manages to return to Europe.