While almost everyone knows about airlines like Frontier and Spirit, Allegiant is a US ultra low cost carrier that often flies under the radar. They operate flights primarily to & from secondary cities, so it's possible that you haven't even seen one of their planes before at a major airport.
There's one thing that makes Allegiant especially different from other US carriers, and that's their alarming safety record. For a few years various media outlets have been covering this, though last night there was a "60 Minutes" segment on the airline, which is perhaps the most detailed exposé that we've seen of them. You can watch it here, if you'd like:
Unfortunately this doesn't come as much of a surprise. Not only does the airline operate an outdated fleet, but they apparently actively encourage pilots not to report maintenance issues, and also make them think twice about ordering the evacuation of a plane.
In a 2016 survey of Allegiant pilots, nearly half of them said that they wouldn't let their families fly with Allegiant over safety concerns. That's pretty shocking. While pilots at other airlines may have morale issues, I can't imagine more than a tiny minority would suggest there are any legitimate safety concerns at their airline.
Just to give a sense of how many safety issues they had, in late 2016 The Washington Post did a story comparing the number of unscheduled landings that Allegiant had with the number of unscheduled landings that Delta had over the same 15 month period:
Allegiant had 50 MD-80s, and they had 50 unscheduled landings, five emergency descents, and eight aborted takeoffs
Delta had 117 MD-80s, and they had six unscheduled landings, one emergency descent, and no aborted takeoffs
Of course stuff can always go wrong, but if that's not indicative of some sort of systematic issue, than I don't know what is.
Am I the only one who was shaking my head while watching this and listening to John Duncan's interview (the guy who still works for the FAA)? I get he ultimately has to watch what he says, though at that point I feel like he would have been better off not participating in the interview, because he seems to basically excuse everything they've done.
Not surprisingly, Allegiant is completely denying any of these allegations, and their VP of Operations has written an open letter to customers who are concerned, saying that he's "outraged and astounded," calling the story "irresponsible and grossly misleading." He also claims that the story was instigated by a "terminated employee currently involved in a lawsuit seeking money damages from the company."
He writes that Allegiant had the second fewest cancelations of any US airline based on the most recent DOT statistics. No one is complaining that Allegiant cancels too many flights. Quite to the contrary, the "60 Minutes" story alleges that pilots are told not to deal with maintenance issues and to avoid canceling flights. So it's telling that they use that as their defense, rather than citing statistics of reduced incidents.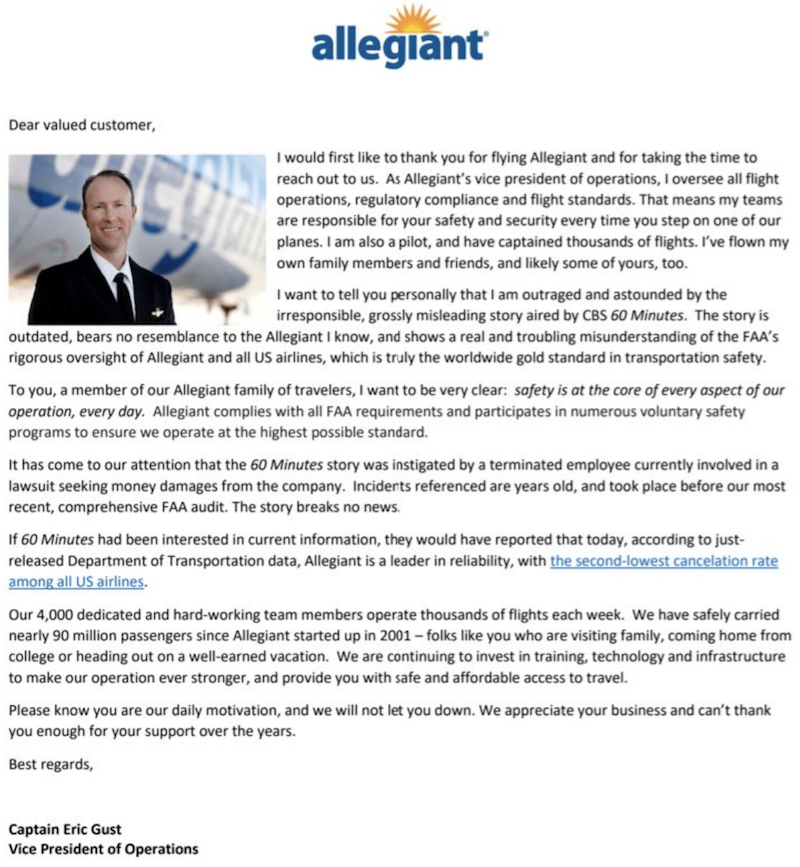 It's clear Allegiant cuts corners with maintenance, and based on many pilot reports, it sure seems like pilots are instructed not to raise issues or declare emergencies (like the captain who was fired after ordering an evacuation). I guess all of this shouldn't come as much of a surprise, given that Allegiant's CEO used to work for ValuJet, which never fully recovered after a fatal crash.
As you'd expect, Allegiant stock is down nearly 10% this morning following the story.
What do you make of the "60 Minutes" show on Allegiant? Would you fly with them?
(Featured image courtesy of Eddie Maloney)