The Nigerian Civili Aviation Authority is threatening to suspend Turkish Airlines' rights to fly to Nigeria as of December 16, 2019, if changes aren't made right away.
Turkish Airlines Is Leaving Behind Too Many Bags
The reason for this suspension? Apparently Turkish Airlines is leaving behind way too many bags of passengers on their flights to & from Nigeria, which they describe as "repeated cases of poor passenger treatment." Apparently some flights have arrived in Nigeria missing more than 85% of checked bags.
The letter is signed by NCAA's Acting Director General, Captain Abdullahi Sidi, and in part reads as follows:
"Our airport authority had been facing serious crises controlling the passengers at the airport whenever they arrived without their baggage.

This issue had made passengers carry out several mob actions at our airport and it was a great threat to our airport facilities.

In view of all these, and a series of meetings held with the Turkish Airlines' personnel, which did not yield any solution to this problem, the NCAA is therefore left with no option than to direct Turkish Airlines to suspend its operations into Nigeria until such a time when the airline is ready to operate with the right size of aircraft that can transport all passengers with their baggage at the same time.

If no remedial action is carried out by your airline, this suspension shall be effective from the 16th of December, 2019."
Interestingly a Turkish Airlines representative in Lagos says the airline hasn't received any such notice:
"I'm sorry but up till now there is no notification from the authority and everything is going on normally. So there is no notification for any cancellation up till now."
Turkish Airlines' Flights To Nigeria
Turkish Airlines operates to the following destinations in Nigeria:
Abuja, once daily using a mix of 737s and A330s
Lagos, once daily using an A330
Port Harcourt, 3x weekly using a 737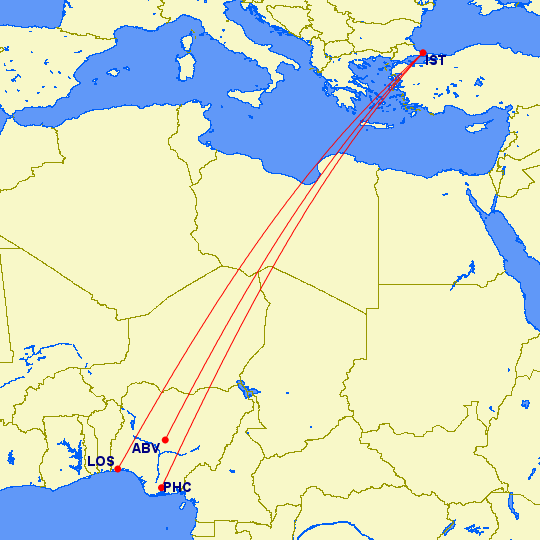 Why Is This Problem Specific To Nigeria?
It might seem random that one country is having all of these issues, though Nigeria is a unique aviation market:
People flying to & from Nigeria are known for checking lots of bags… like, lots and lots and lots of bags, more than anywhere else
They're also known for buying everything available for sale through duty free, though in this instance that's unrelated
While exact details aren't given about which routes specifically are having issues, I would surmise:
The A330 flying to Lagos (and sometimes to Abuja) shouldn't be having any issues, since the plane should easily be able to accommodate all bags, and weight restrictions shouldn't be an issue given the length of the flight
737s are flown to Port Harcourt (and sometimes to Abuja) with the Port Harcourt routing covering a distance of more than 2,800 miles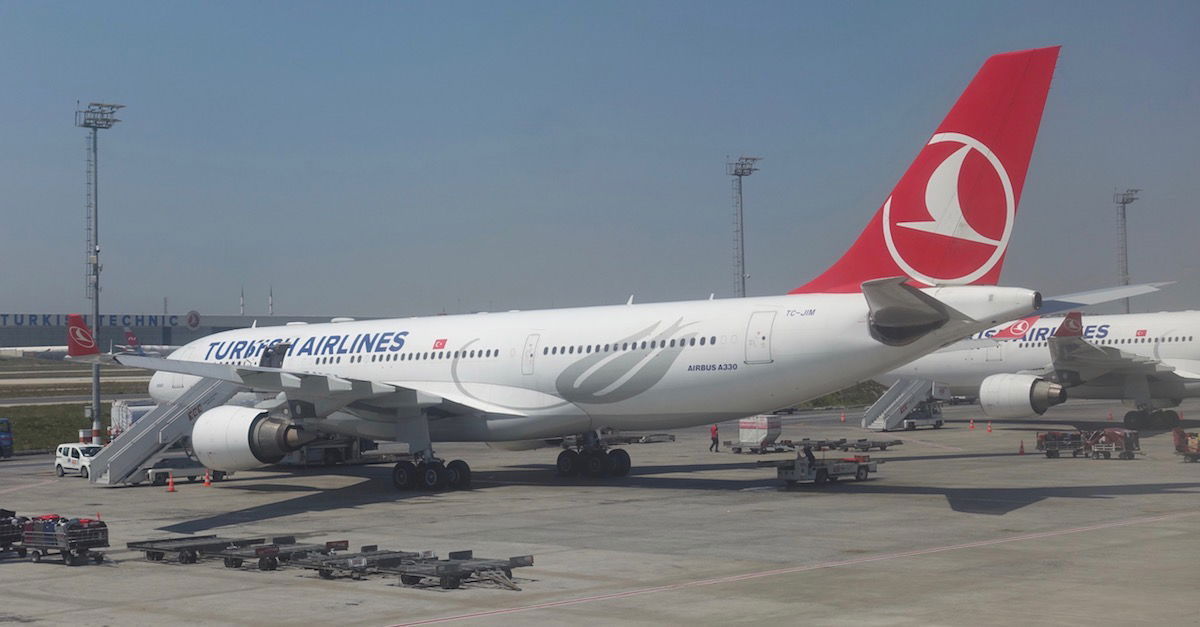 The A330 shouldn't be having issues with bags
That's approaching the operating limits for the 737-800 under normal circumstances, and I imagine that's why many of these planes are weight restricted. Turkish Airlines has a generous baggage allowance of two bags of 23kg/50lbs per person even for economy passengers.
The plane has somewhere around 151 seats, so if the flight is full and everyone is checking bags up to the limit, then that's potentially 15,000+ pounds worth of bags.
That's potentially about 10% of the 737's maximum takeoff weight, so I can absolutely see situations where that could have a big impact.
I also wonder if Turkish is letting people pay extra to check more bags. If so, that could be exacerbating the problem.
What Can Turkish Airlines Do?
At this point what can Turkish Airlines do? Assuming this directive sticks, they could go one of three directions:
They could lower the baggage allowance significantly, which seems the most practical, though I wouldn't be surprised to see retribution from the government
They could remove the option to pay to check extra bags, which should be a no brainer if they haven't done so already
They could upgrade the planes used on these routes, though presumably that may change the economic viability of these routes
They could significantly weight restrict the aircraft and limit how many seats they sell, but this would presumably lead to much higher fares
Bottom Line
We see countries make some ridiculous demands of airlines. For example, Burundi tried to block Kenya Airways from starting service to the country without business class, because the plane they wanted to use was "unbefitting of the status of government officials traveling to Nairobi for connecting flights to other parts of the world."
But I actually think Nigeria has a point. If an airline is operating a plane that consistently can't handle the luggage needs of passengers then I don't think it's completely unreasonable for the government to step in.
That being said, I'm not sure any of the solutions here would necessarily benefit consumers, as they'd presumably involve a lower baggage allowance, less capacity to these markets, or significantly higher fares.