Jambojet is a Kenyan low cost carrier that's a subsidiary of Kenya Airways. The airline has a small fleet consisting of just five Bombardier Q400 turboprops. The airline also had Boeing 737s, though they're returning those to Kenya Airways.
The airline was supposed to start flying between Nairobi, Kenya, and Bujumbura, Burundi, as of last Wednesday. However, the flight has been canceled, as the Burundi government has pulled permission for the airline to operate the flight, despite initially approving it.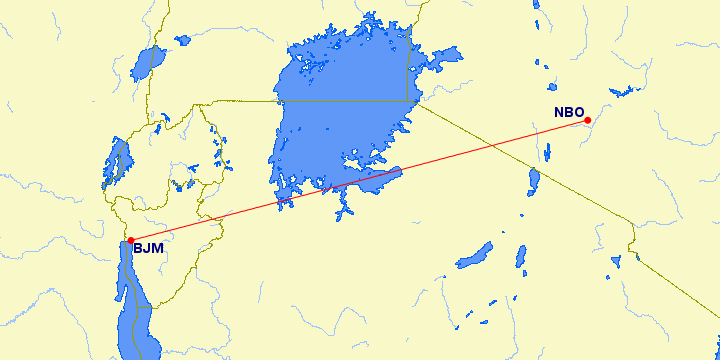 The problem? The Bombardier Q400 is "unbefitting of the status of government officials traveling to Nairobi for connecting flights to other parts of the world."
The country wants an immediate replacement of the aircraft type for "a more convenient type, for the sake of Burundi State authorities' travel conditions."
Burundi's Minister of Transport, Public Works, Equipment and Land Use, had the following to say:
"I would like to kindly inform you, as I informed your partner Kenya Airways before, that our high State officials travel to the world mainly via Nairobi and need to be treated in business class conditions that are acceptable considering their rank."
In response, Jambojet's CEO has said the following:
"Based on this authorisation (September 13), we filed our schedule…to get approval for the actual operation which was to start today (Wednesday) …to our surprise we didn't receive the expected approval based on the fact that Jambojet operates Bombardier DHC8-Q400 aircraft, which is the only aircraft type Jambojet is operating.

Unfortunately and much to our frustration we had to cancel today's operation to Bujumbura and disappoint all passengers who expected to travel (Wednesday) on this flight."
This won't come as much of a surprise, but Burundi is one of the poorest countries in the world, and a 2015 report showed their GDP per capita as being 267USD.
This action on the part of the Burundi government is beyond pathetic. Additional air service contributes greatly towards economic growth, and Burundi doesn't get that many flights. So they should be thrilled to be getting additional service, but instead they're blocking a flight because the plane doesn't have business class seats. Apparently a standard turboprop on a 500 mile flight is "unbefitting of the status of government officials."
Lastly, keep in mind that this is literally the only aircraft type Jambojet has, so the government is basically saying that they don't want any single cabin low cost carriers flying there. Oy!!!