United Airlines passengers traveling from London to San Francisco on Saturday were in for quite an adventure, and got a free 11-hour stopover in the Canadian Arctic.
United transatlantic flight diverts to Iqaluit, Canada
On Saturday, November 5, 2022, United Airlines flight UA900 was scheduled to fly from London (LHR) to San Francisco (SFO). The flight was operated by a roughly seven year old Boeing 787-9 with the registration code N13954.
Per the schedule, the 5,368-mile flight was supposed to depart at 12:35PM and arrive at 4:40PM, and take a total of 11hr5min.
For the first five hours, the flight operated as planned, flying near the southern tip of Iceland, over Greenland, and then flying over the Canadian Arctic. However, roughly five hours into the flight, there was a mechanical issue requiring a diversion.
The decision was made to divert to Iqaluit International Airport (YFB). This was roughly 70 minutes away, and required making a sharp turn to the southeast.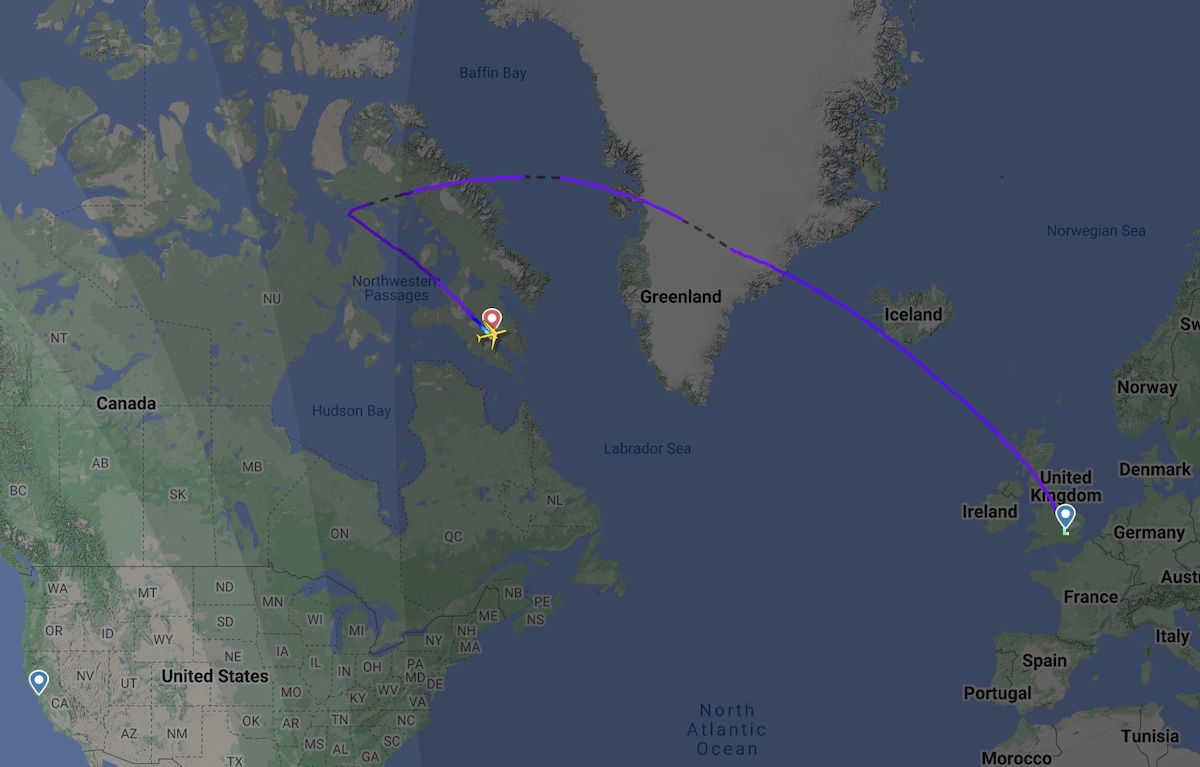 This airport has an 8,605-foot runway, though ordinarily only gets service from narrow body jets on domestic flights. However, it's not too unusual to see transatlantic diversions here, when things go wrong.
Passengers were safely on the ground in Iqaluit Airport at 3:38PM local time.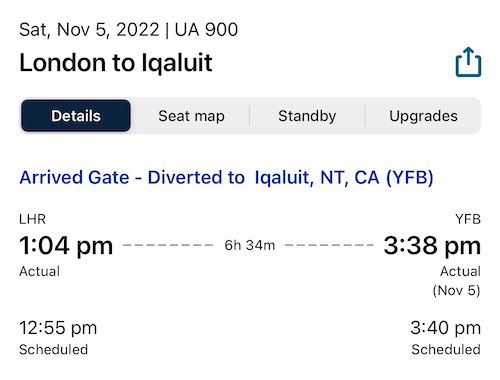 There was only one small issue — at this point you had a plane with mechanical issues in a remote area, with no replacement airplanes or crews anywhere close by.
United sends rescue plane & crew from Denver
United's operations team quickly sprung into action, and by all accounts did a good job. A six year old United Boeing 787-9 with the registration code N27965 was dispatched from Denver (DEN) to Iqaluit (YFB).
The plane departed roughly four hours after the other Boeing 787 landed in Iqaluit, which is fairly impressive, when you consider that United needed to find a new plane, plus an entire new crew.
That flight took just over four hours to get to Iqaluit, and it landed there just before midnight local time.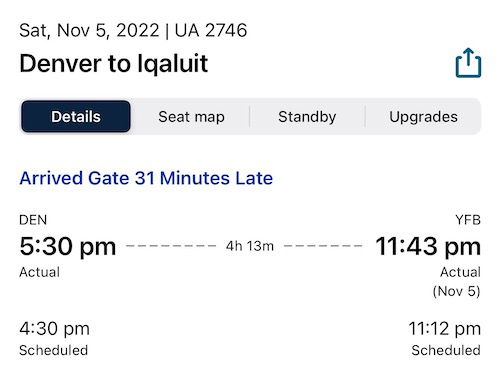 Admittedly there was still quite a bit of work to be done there — all passengers and bags had to be transfered to the new aircraft, and that's all probably a bit more manual of a process than it would be at a major hub, in terms of boarding, baggage handling, etc.
The rescue flight from Iqaluit to San Francisco finally took off at 1:34AM. It's currently enroute, and is expected to land in San Francisco at 3:40AM this morning, 11 hours behind schedule.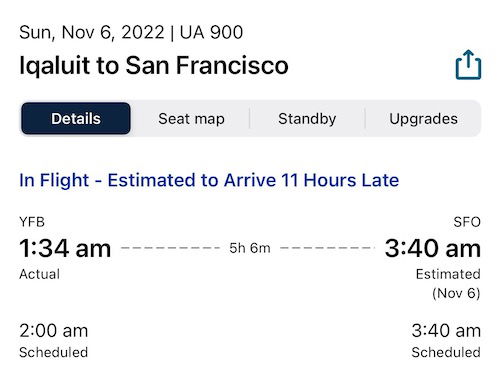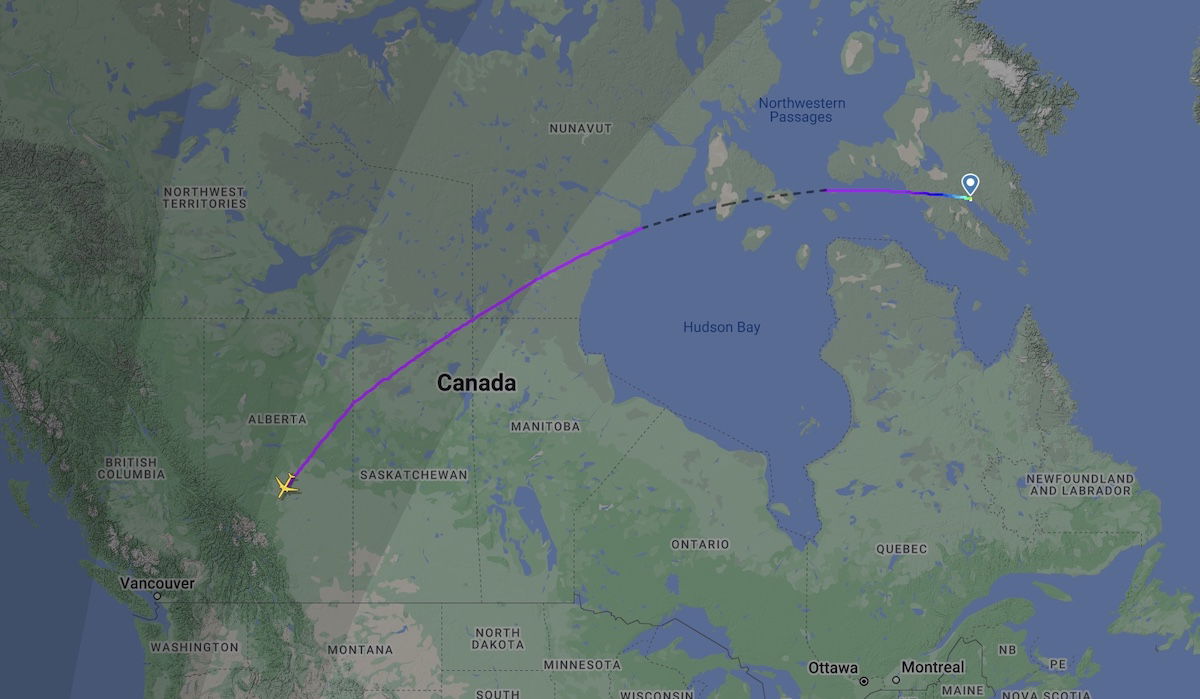 Bottom line
A United Boeing 787 had to divert to the Canadian Arctic due to a mechanical issue. In a situation like this, the priority is always getting on the ground safely. The catch is that you then have to deal with the logistical challenges this presents.
While I'm sure this wasn't a pleasant experience for passengers or crew, it seems like United handled this situation pretty well. United dispatched a plane and crew from Denver within hours, in order to pick up passengers in Iqaluit. Those passengers are currently enroute to San Francisco, and should land around 11 hours behind schedule.
And to think that just yesterday I was writing about possibly using Aeroplan points to visit Iqaluit with Canadian North. I could have just flown United from London to San Francisco. 😉
What do you make of this United Airlines diversion to Iqaluit?