Flight diversions happen all the time, and for a variety of reasons. There's a lot of thought that goes into picking a diversion point. Usually it's easy to make sense of the logic, though here's one of the more unusual ones…
Paris to Salt Lake City flight diverts to Madrid
Today (Tuesday, January 10, 2023), Delta Air Lines flight DL221 was scheduled to fly from Paris (CDG) to Salt Lake City (SLC). The flight was operated by a roughly 19-year-old Airbus A330-300 with the registration code N805NW.
The flight departed as planned, and for nearly two hours maintained its scheduled route, flying northwest across the United Kingdom. As the flight was about to start its transatlantic crossing, the decision was made to divert due to a technical issue.
At this point you'd think the plane would divert to a nearby airport like Dublin, London, or even Paris. But the plane actually diverted to a farther airport. The plane went from flying northwest to flying south, and flew all the way to Madrid. That diversion took well over three additional hours.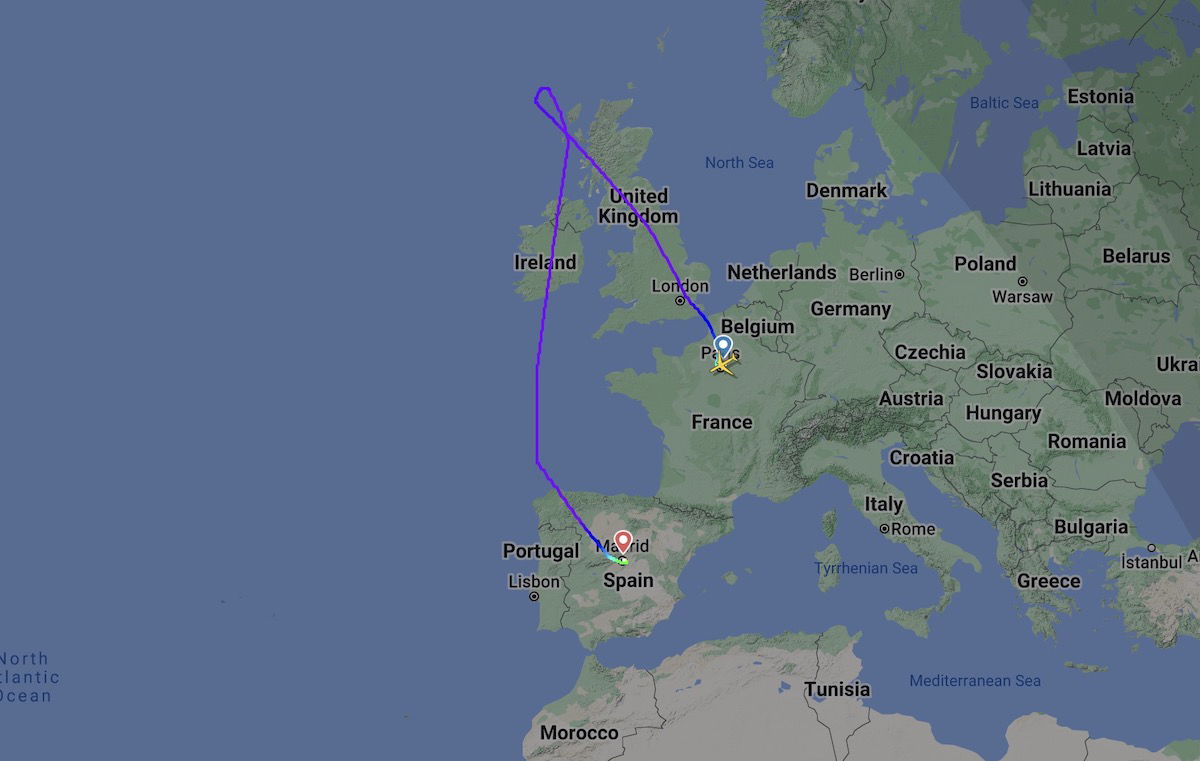 In the end, the flight took over five hours, ending up not all that far from its origin of Paris. As you'd expect, this got a lot of avgeeks on the internet curious, since this is an unconventional diversion. Why would the plane divert to an airport that isn't even close to where the technical issue started?
Was it because the plane needed to burn off fuel, so Madrid seemed like the right distance? Was it because the decision was made that aircraft maintenance could be performed there? Was it because there was an easy way to accommodate passengers there? Was a spare part that was needed available there? As it turns out, nope, it's none of those…
Madrid was chosen because of the temperature
As it turns out, the issue with the aircraft involved the anti-ice system. So the plane needed to divert to the closest major airport without cold and icy conditions on the ground, and that turned out to be Madrid.
As noted by @AirlineFlyer, this has now also been confirmed by Delta in a statement:
"The reason for the ultimate decision to divert to MAD was due to icing conditions in DUB and LHR and that region, so MAD was the nearest suitable alternative. The flight landed without incident and was met by local maintenance personnel."
It looks like the plane is still on the ground in Madrid, so I suspect it won't be flying anymore today.
Bottom line
A Delta Airbus A330 flying from Paris to Salt Lake City diverted to Madrid, which is pretty out of the way. As you'd expect, there was an explanation for this, and it involved the cause of the technical issue. The plane had problems with its anti-ice system, and needed to divert to a warmer destination, so Madrid was the closest suitable airport.
What do you make of this Delta diversion?