You don't see this very often…
Northern Pacific Airways looking to public for funding
We've seen quite a few airline startups recently, and Northern Pacific Airways is among those. Northern Pacific wants to turn Anchorage into a transpacific hub connecting the United States and Asia using Boeing 757s.
Essentially Northern Pacific hopes to replicate what Icelandair has done for transatlantic flights, and what Copa has done for flights in Latin America. Now, while those airlines have had success with the concept, I think the Northern Pacific business model is much more challenging.
If I didn't know any better I'd almost say that the people behind the airline aren't serious, but that's not the case — the people behind this airline are the same people behind Ravn, a regional airline in Alaska.
Anyway, Northern Pacific claims that it's going to launch operations this fall, as the airline already has several planes in its fleet, and has allegedly worked out a wet lease agreement with Icelandair as well.
Nonetheless, Northern Pacific has sent out an email to those who wanted to get updates about the carrier's launch, asking for money.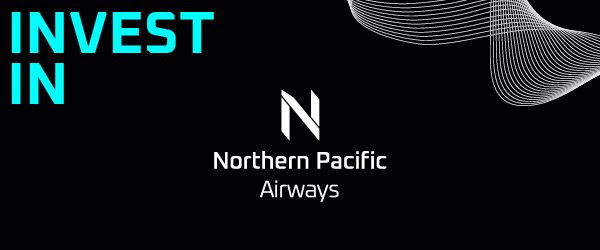 As the email describes this opportunity:
As a valued supporter of Northern Pacific, we wanted you to be among the first to know that we are now raising a Community Round on Wefunder in support of the launch of our international airline!

This means we're letting our biggest supporters – you, our soon to be customers – become investors in the company.

You can invest as little as $100 by clicking this link.
The airline claims to have a $350 million valuation, though for the first $1 million invested, a 20% discount will be applied to the valuation, bringing it to "only" $280 million. Currently this is being marketed as a "friends invest first" opportunity, before it opens to the public on June 3, 2022.
The airline is offering incentives to those who invest, with reward thresholds all the way from $250 to $5 million:
Invest $250+ and you'll get free drinks on Northern Pacific through 2023
Invest $500+ and you'll get Northern Pacific and Ravn "1K" elite status through 2023
Invest $1,000+ and you'll get $1,000 in Northern Pacific flight vouchers
Invest $5,000+ and you'll get an invitation to the Anchorage north terminal launch party for Northern Pacific
Invest $10,000+ and you'll get $10,000 in Northern Pacific flight vouchers
Invest $50,000+ and you'll get Northern Pacific and Ravn "#1" elite status through 2025
Invest $100,000+ and you'll get tickets for Northern Pacific's inaugural flight
Invest $500,000+ and you'll get to name a Ravn DHC 8
Invest $1,000,000+ and you'll get to name a Northern Pacific Boeing 757
Invest $5,000,000+ and you'll get to paint a Northern Pacific Boeing 757 with your custom design
The airline makes quite some claims in its pitch to investors, including that by 2026 the airline will have 50 aircraft, $1.3 billion in annual revenue, and $120 million in annual profit. The airline claims that the total addressable market for transpacific air travel is $20 billion, so if the airline thinks it's getting $1.3 billion of that market (~6.5%), that's highly optimistic, to put it mildly.
Is this cute or concerning?
There are all kinds of airline startups out there, some more legitimate than others. On end of the spectrum you have Avelo Air and Breeze Airways, both of which were founded by respected industry veterans, and have a combined hundreds of millions of dollars in funding.
On the other end of the spectrum you have Global Ghana Airlines. The founder repeatedly claimed the airline was within weeks of launching, even though the company had no funding and no planes.
But when it comes to crowdsourcing funding and selling people on the dream of a successful airline, Baltia comes to mind. Baltia is a company that existed for over 30 years, and the airline even had a 747-200 for over 20 years, which never operated a single commercial flight.
The company's plan was allegedly to launch flights between the United States and Russia using Boeing 747s. I'm sure it's "Golden Rooster Club" frequent flyer program was going to be a big money maker too. The airline never launched, but the people behind the company kept selling the dream, and people kept believing it. Baltia didn't finally "die" until an SEC suspension in 2018, and even then, many people still believed the airline was serious.
I'm by no means suggesting that Northern Pacific is anything like Baltia in terms of intent. I think the people behind Northern Pacific are serious. While I don't believe in the business model, I think they do, and that's totally fine.
But the concept of having picked up some old planes for next to nothing, claiming a $350 million valuation, and asking people to invest, does feel a bit Baltia-esque.
Maybe this is partly my bias here based on my impression of the company's business model. Because if Breeze's David Neeleman opened up a round of funding to the public and you could invest $100+, I'm sure many people would find that to be interesting. But perhaps it's also telling that he doesn't need to offer people free drinks on an airline for a year in order to raise $100. I dunno…
Bottom line
Northern Pacific is looking to the public for funding. The airline claims to have a $350 million valuation, but if you invest now, you can "buy-in" at a $280 million valuation. While there have been a lot of airline startups lately, it's not often you see an airline take this approach.
What do you make of Northern Pacific looking to the public for funding in this way? Anyone investing?