The airline industry is my life, though sometimes I'm caught totally off guard by start ups. Reader Chris left a comment on the blog a few hours ago about Baltia Air Lines, which I had never heard of.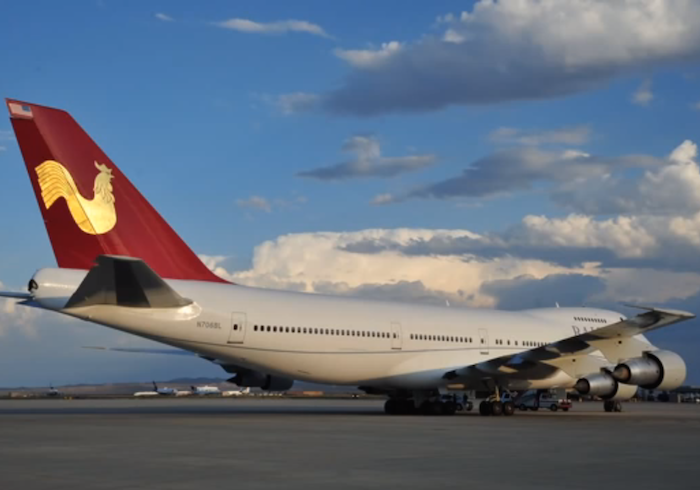 I quickly Googled them and stumbled upon their website, which left me even more confused. I literally had no clue what was going on. "Join The Golden Rooster Club?" Is this a joke?!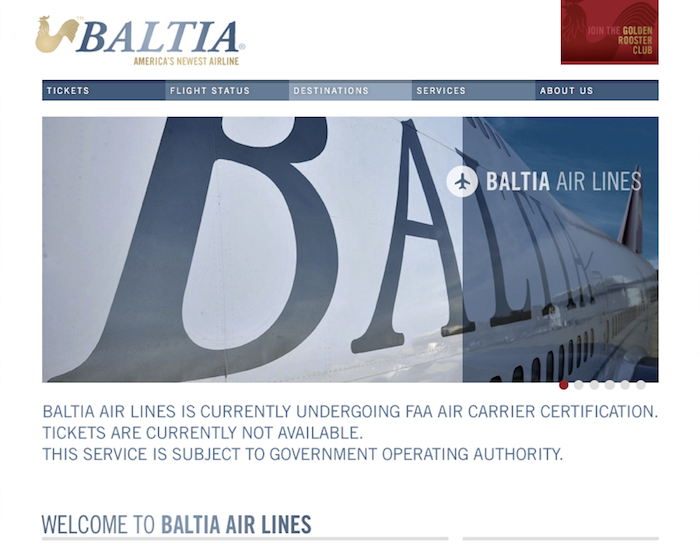 What is Baltia Air Lines?
This actually seems to be a legitimate startup which has been 25 years in the making.
Per their website, here's their overview:
Baltia Air Lines is America's newest airline…preparing to operate the only non-stop flights for passengers, cargo and mail from New York's JFK Int'l Airport to Pulkovo Airport in St. Petersburg, Russia.

Baltia Air Lines, Inc. (BALTIA) is a New York State corporation and a fully reporting, publicly traded company listed on the OTC Bulletin Board under the ticker symbol "BLTA".

Baltia maintains corporate and operational offices at JFK Int'l Airport in New York and at Willow Run Airport in Ypsilanti, Michigan.

Baltia is currently in an advanced stage of the FAA Air Carrier Certification process and expects to begin revenue generating flights in 2014.
Here's their goal:
Baltia's goal is to become the leading U.S. airline in the Trans-Atlantic market between the major U.S. cities and capital cities of Europe and other destinations.

Baltia intends to provide high quality three-class passenger service, and reliable cargo and mail transportation.

With experienced management and in a lucrative and growing travel market Baltia intends to soar to success.
And here's their objective:
Baltia plans to start its flight operations as the only U.S. airline directly connecting two of the world's most prominent cities – New York and St. Petersburg.

Baltia's non-stop service from New York JFK to St. Petersburg Pulkovo will be approximately 8 hours, as compared to European connecting flights on foreign airlines taking 11 to 30 hours.

Only a U.S. airline (as well as a reciprocal Russian airline) is entitled to fly non-stop. "Third nation" airlines, which are currently serving the market, can only operate connecting flights via their national airports.
Baltia Air Lines may actually launch soon
Flightglobal has an interesting article about their history, which is well worth a read. They've been trying to get off the ground for a long time now, though it looks like it might actually happen soon. On their Facebook page they have pictures of their flight attendants being trained, and just last week posted this chart of their progress: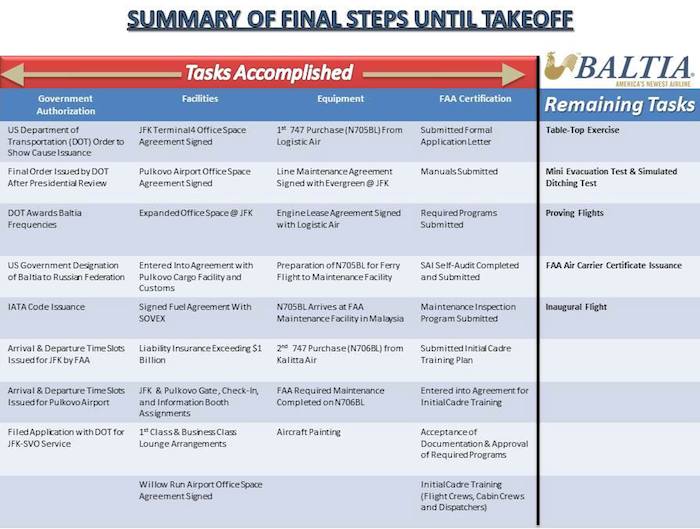 Baltia Air Lines has a fleet of two 747-200s
I don't know how they'll actually turn a profit, but my gosh I'm so excited about this airline. They have a fleet of Boeing 747-200 aircraft, which are an aviation nut's dream. The big "rooster" on the tail isn't the only thing that… nevermind, I'm not going there.
They don't have a timeline for their first flight yet, but the plan is for the inaugural route to be New York to St. Petersburg.
Baltia Air Lines Golden Rooster Club frequent flyer program
They've even already set up a frequent flyer program, called the Golden Rooster Club. Basically they give you 4,000 miles for a one-way in economy, 8,000 miles for a one-way in business, and 16,000 miles for a one-way in first class.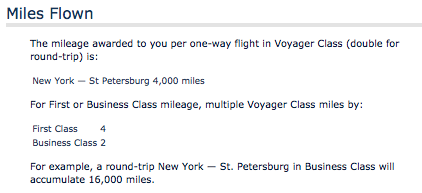 On the redemption side, five flights gets you a free flight, because a one-way in economy costs 20,000 miles, a one-way in business class costs 40,000 miles, and a one-way in first class costs you 80,000 miles.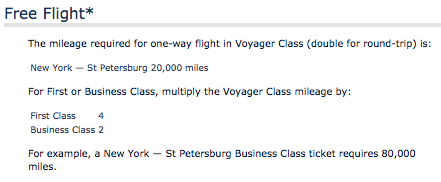 According to their website, there are no capacity restrictions (of course that's easy enough to offer when you're running a start up and will presumably have quite a few empty seats, let alone that you'd be thrilled if anyone flies your airline five times when you only have one or two routes).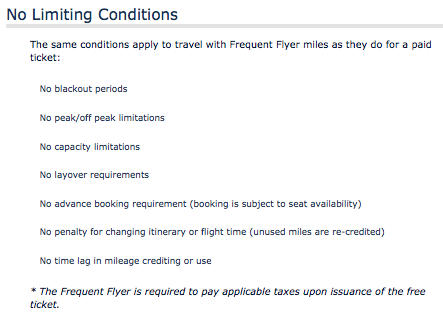 It seems that they'll also have their own lounge, and offer complimentary chauffeur service for premium cabin passengers:
Limo service is complimentary for First and Business Class passengers.

First Class – A chauffeur will pick you up at your home, hotel, or office and drive you to the airport for departure. When you reach your destination, a chauffeur will be waiting to drive you to your home, hotel, or office.

Business Class – When you arrive at your destination, a chauffeur will be waiting to drive you to your home, hotel, or office.
We don't know what their cabins look like yet
They already have their first two planes and they're painted in their livery, though I haven't seen any pictures of the cabins yet. I'm curious if the cabins are super-dated since they're a startup and won't have competition on any of their initial routes, or if they're actually going to be have cutting edge premium cabin products. Given that cutting edge seats would probably cost more than the air frame, I'm going to guess the former…
I'm really excited — this seems like the good old days of flying!
There's something about this airline that excites me. Maybe it's the 747-200s, maybe it's the simple mileage program with no capacity controls, maybe it's that their logo is a giant rooster, or maybe it's just how unique the airline is. I can't wait to fly them.
Is there any chance they can turn a profit?
There has long been been a joke about the fastest way to become a millionaire in the airline industry — it's to start as a billionaire. It boggles my mind that investors will put money into new airlines, given how historically they're almost never profitable.
I commend Baltia for having a truly unique business model, though. I'm sure they picked up the air frames for next to nothing, even if they are gas guzzlers. And they're certainly not doing anything that has been tried recently. So kudos to them for that.
Contrast that to La Compagnie, which is trying to do something which has been done before, failed, and they're watering it down even further.
On one hand, without connections I can't imagine there's enough of a market between New York and Eastern Europe to fill a fleet of 747s, but at the same time at least it's something unique that we haven't seen before.
Bottom line
I hope they get off the ground soon, and will do what I can to get on their inaugural flight. Given that they're already training their crews, I imagine they have aspirations of launching sometime this year.
What do you think of Baltia Air Lines? Obviously they're completely ridiculous, but completely ridiculous awesome, or completely ridiculous awful?
(Tip of the hat to Chris)