Lufthansa has formally announced its first long haul Boeing 787 route…
Newark is Lufthansa's first Boeing 787-9 destination
As of December 1, 2022, Lufthansa will fly its Boeing 787-9 daily between Frankfurt (FRA) and Newark (EWR). The flight will operate with the following schedule:
LH402 Frankfurt to Newark departing 1:30PM arriving 4:40PM
LH403 Newark to Frankfurt departing 6:20PM arriving 7:55AM (+1 day)
The 3,862-mile route is blocked at 9hr10min westbound and 7hr35min eastbound. While this route has historically primarily been operated by the Boeing 747-8, prior to this switchover the flight is scheduled to be operated by the Airbus A330-300. Note that while the schedule hasn't yet been updated to reflect the 787, it has officially been announced by Lufthansa.
While Lufthansa had initially intended to make Toronto (YYZ) the first intercontinental destination for the Boeing 787, it seems the airline had a change in plans. I wouldn't be surprised to see Toronto be the second long haul destination for the plane, though.
For context, Lufthansa recently took delivery of its first Boeing 787-9. This isn't one of the factory fresh 787s that the airline will start acquiring as of mid-2023, but rather Lufthansa is taking delivery of five jets that were initially intended for Hainan Airlines, but which Lufthansa opportunistically picked up.
Between now and the beginning of December, this plane will operate between Frankfurt (FRA) and Munich (MUC) for crew familiarization flights.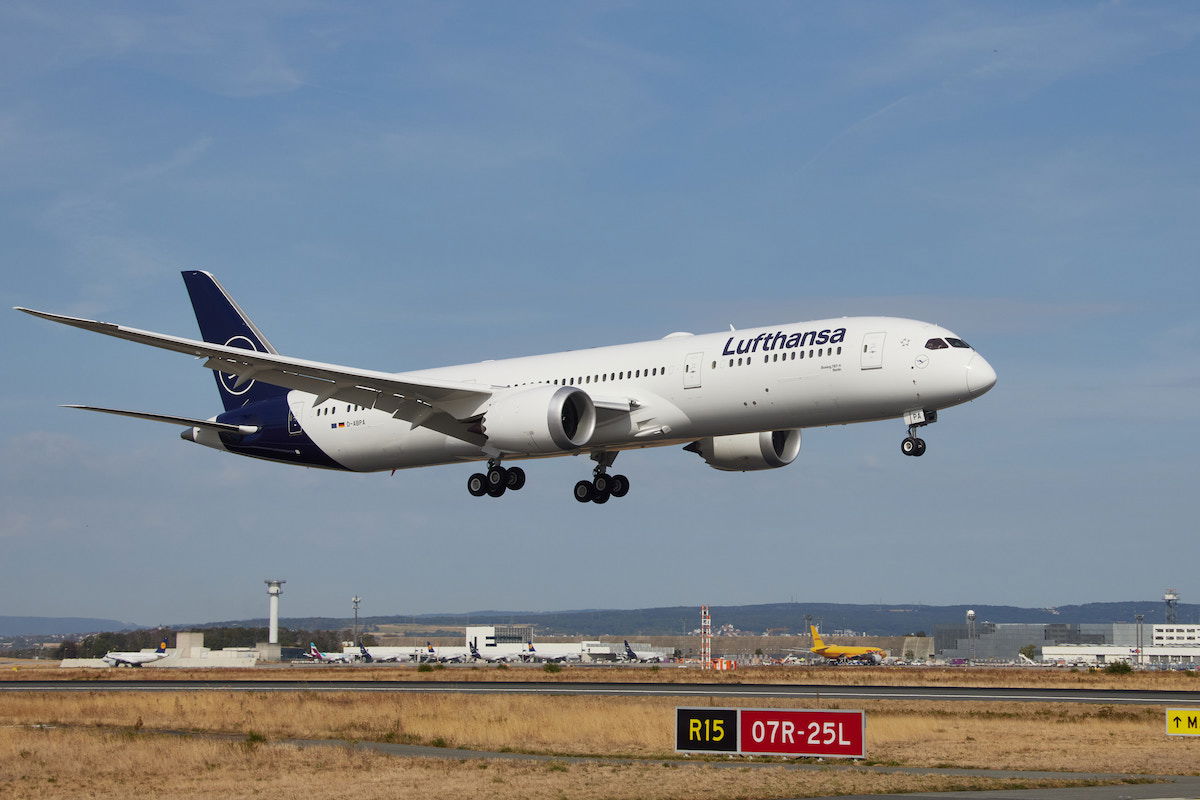 What the 787 means for passengers
The first five Boeing 787s that Lufthansa takes delivery of won't feature the carrier's new "Allegris" business class product, as that will launch in mid-2023, when Lufthansa takes delivery of the first 787 that had actually been intended for the airline.
Rather Lufthansa inherited the interiors that had been designed for Hainan Airlines, with some changes to the finishes to better reflect Lufthansa branding. So you can expect that the 787 on this route will feature reverse herringbone seats in business class, which is a huge upgrade over the current standard Lufthansa business class product.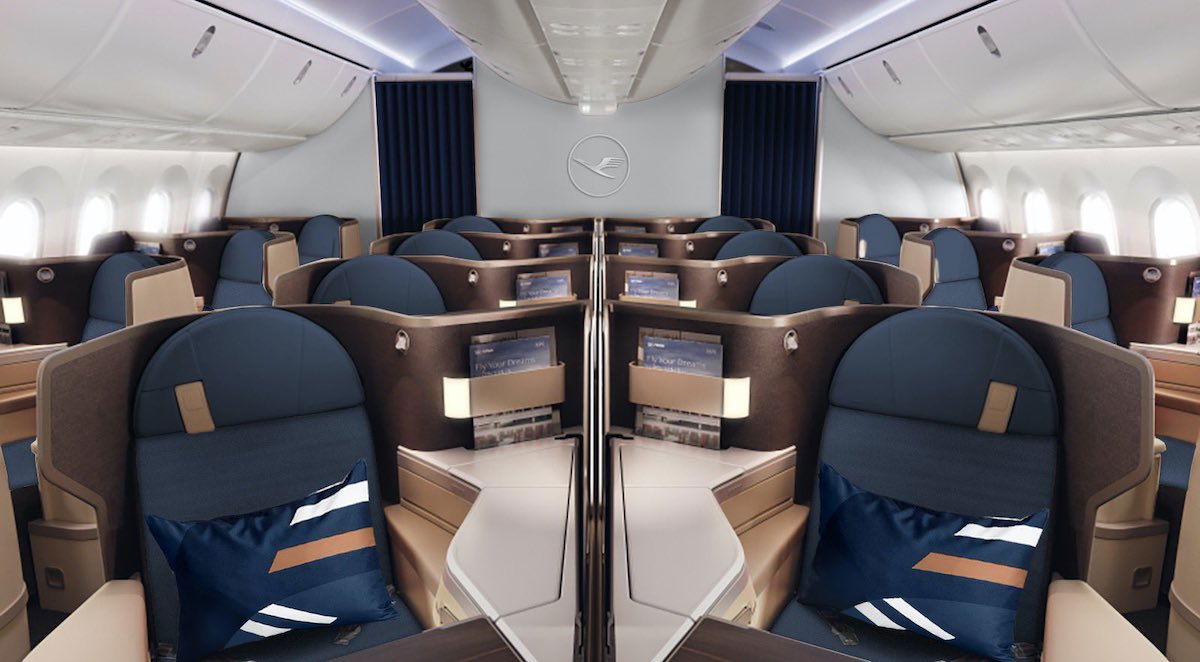 This is one of two interim business class products that Lufthansa is currently offering, as the airline also recently picked up four Airbus A350-900s from Philippine Airlines, featuring a staggered product in business class.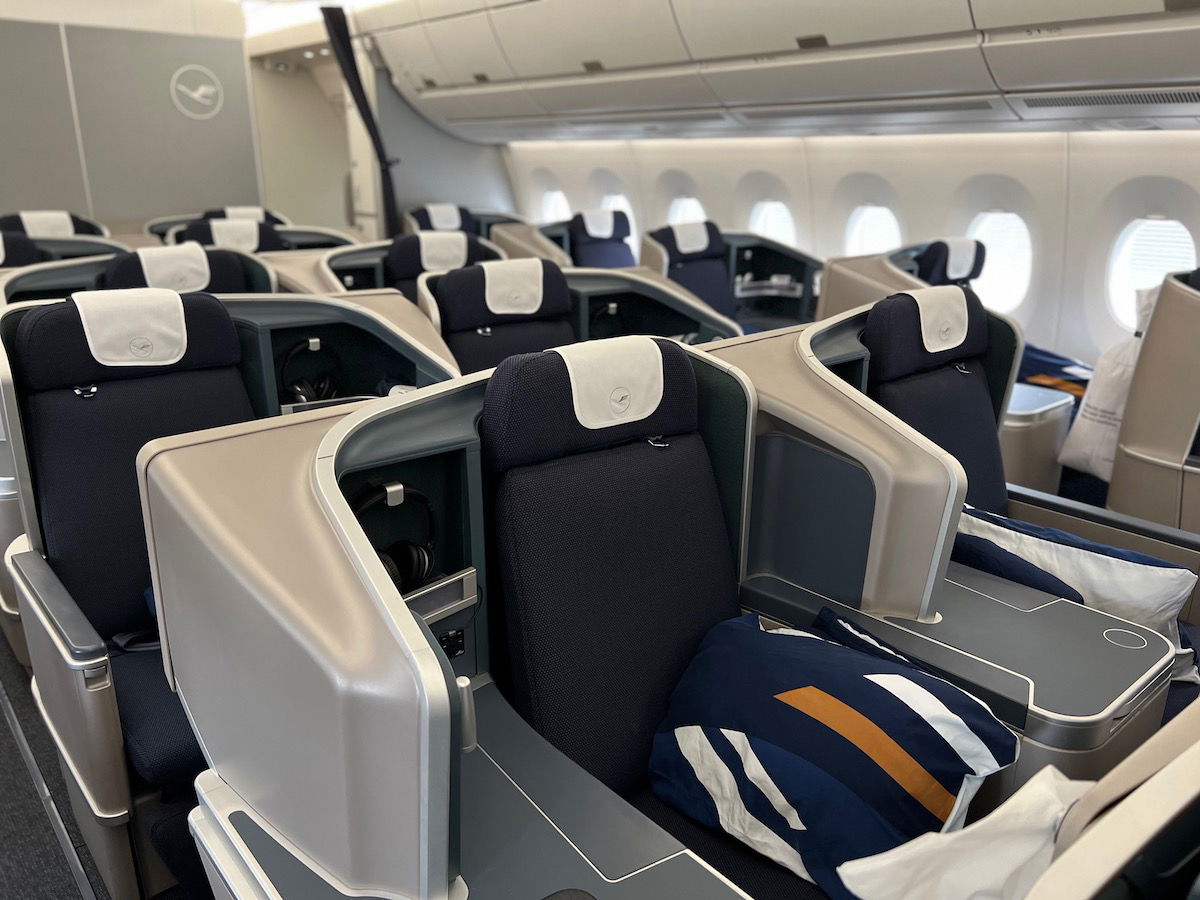 Bottom line
Lufthansa has revealed that as of December 1, 2022, Frankfurt to Newark will be the carrier's first long haul route. In the meantime, Lufthansa's first 787 will be entering service this week, operating up to three daily flights between Frankfurt and Munich for crew familiarization.
The 787-9 flying to Newark will feature an upgraded business class experience with reverse herringbone seats. However, don't expect Lufthansa's new "Allegris" business class just yet, as that's only debuting next year.
What do you make of Lufthansa's first long haul Boeing 787-9 route?