As a South Florida resident and oneworld frequent flyer, here's a new route I'm pretty excited about.
Alaska Airlines adds second route to Miami
In June 2022, Alaska Airlines launched a route between Seattle (SEA) and Miami (MIA). Prior to that, the airline consolidated all of its South Florida flying in Fort Lauderdale (FLL). I was happy to see the expansion to Miami:
I guess service to Miami has proven a success, as the airline is now launching a second route to the airport, as flagged by @IshrionA. As of November 17, 2023, Alaska will add a daily, year-round nonstop flight between Portland (PDX) and Miami (MIA).
Between November 17, 2023, and January 7, 2024, the flight will operate with the following schedule:
AS441 Portland to Miami departing 10:00PM arriving 6:40AM (+1 day)
AS440 Miami to Portland departing 8:00AM arriving 11:45AM
Then as of January 8, 2024, the flight will operate with the following schedule:
AS441 Portland to Miami departing 9:00AM arriving 5:40PM
AS440 Miami to Portland departing 6:45PM arriving 10:30PM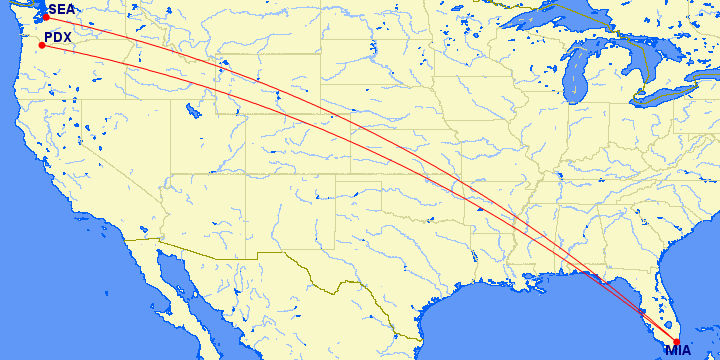 The 2,700-mile flight is blocked at 5hr40min eastbound and 6hr45min westbound. Alaska will use a Boeing 737-900 for the route (the airline uses 737-900ERs and 737 MAX 9s interchangeably, so it could be either).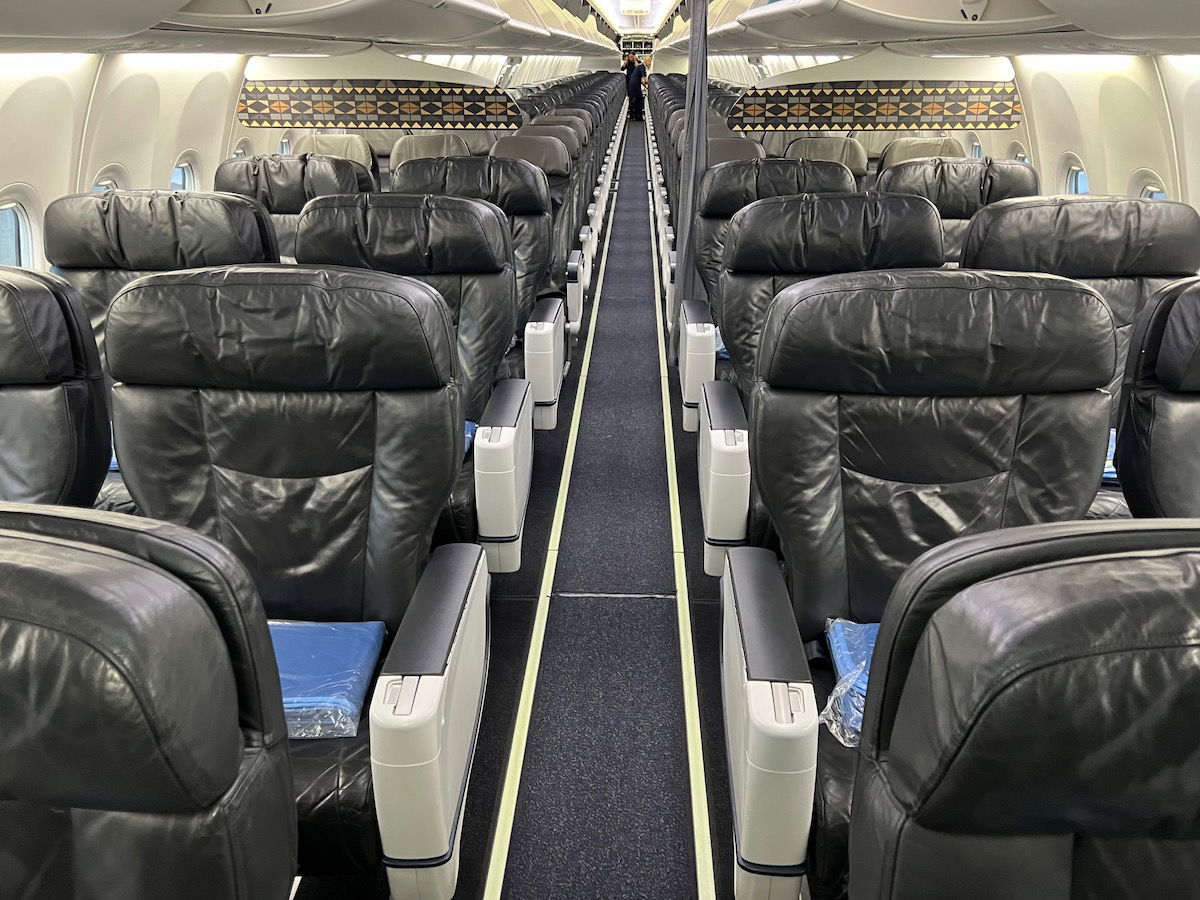 I'm looking forward to this new route!
While Alaska Airlines doesn't have any "premium" configured aircraft with flat beds, I find Alaska first class to be better than the competition in terms of legroom, service quality, and food & beverage offerings. I've always enjoyed my flights on Alaska, and would take this new route in a heartbeat (either via a reasonable paid first class fare, or hopefully via an upgrade as an AAdvantage Executive Platinum member).
Living in Miami, this route could be a good option whether traveling to Portland, or connecting beyond there, either to somewhere in the Pacific Northwest or Hawaii.
As someone who wakes up and goes to bed early (we're talking very early), I think the schedule change that kicks in as of January 2024 is pretty noteworthy:
With the initial schedule, personally I love the westbound flight times, as I like the early departure and arrival; however, I wouldn't take the flight in the other direction, as I avoid redeyes whenever possible
With the schedule as of early 2024, I love the eastbound flight times, thanks to the early departure and reasonable arrival time; however, the westbound flight is too late for my liking, as I'd rather not land at 1:30AM Miami time (that's closer to when I'd ordinarily wake up than when I'd ordinarily go to sleep)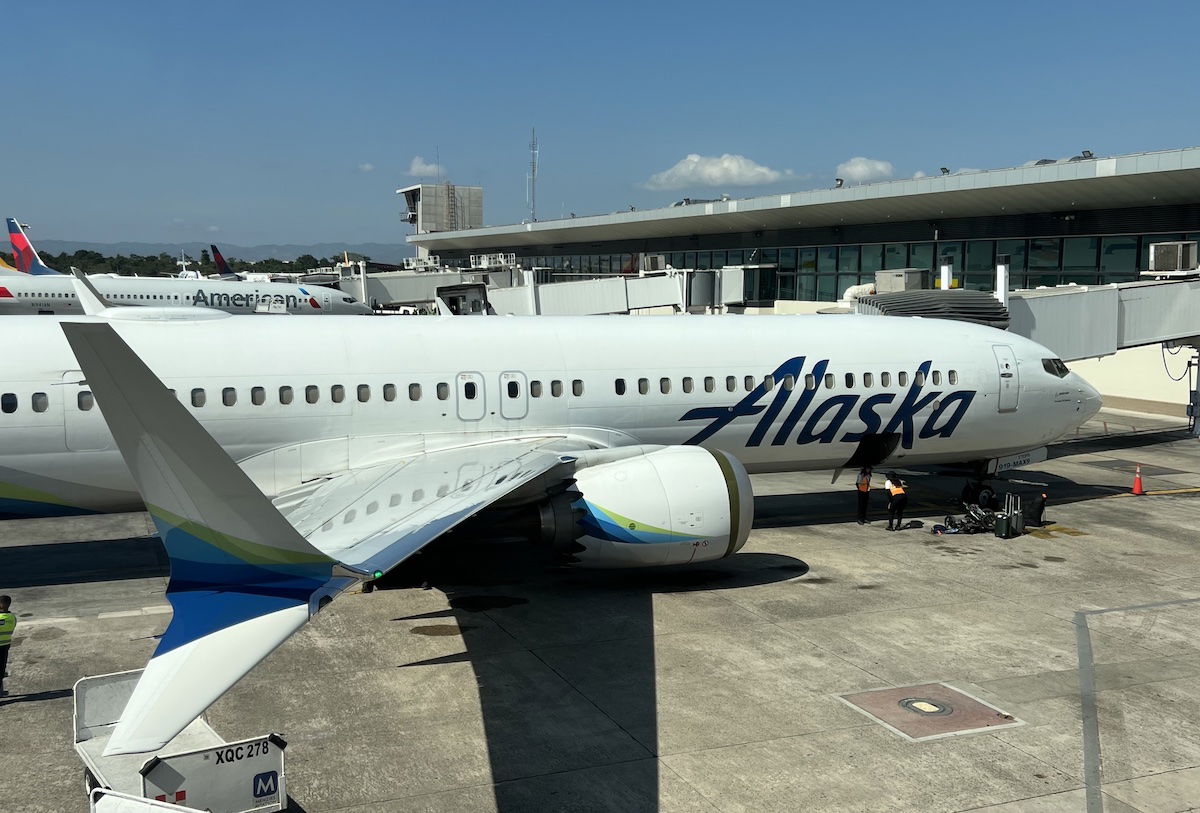 Bottom line
As of November 2023, Alaska Airlines will launch a new route between Portland and Miami. This follows Alaska launching a Seattle to Miami route in mid-2022, meaning we'll soon have two daily Alaska flights to the airport. I'm happy to see Alaska add more service to South Florida, and look forward to taking this flight.
What do you make of Alaska's new Portland to Miami route?