We've seen three airline startups launch in the United States in recent months — Avelo Airlines, Breeze Airways, and Aha! — and it looks like a fourth airline could be launching soon. I first wrote about this airline about a year ago, and figured it was worth following up, especially in light of the other startups that we've seen.
The basic details of Airbahn
Airbahn was founded in February 2018 by Tariq M. Chaudhary. He is also the CEO of Airblue, which is Pakistan's second largest airline, with a fleet of nine Airbus A320-family aircraft.
The airline filed with the United States Department of Transportation (DOT) in October 2018 to request permission to launch operations. At the time we learned that the carrier's plans were as follows (some of these details have changed, as I'll cover below):
The airline will operate flights in the Western United States region by providing scheduled service to mid-tier markets, initially from Southern California to Northern California, Nevada, and Western Canada
Airbahn will be based out of Long Beach Airport (LGB) or Orange County Airport (SNA)
All planes and crews will return to base every day
The airline plans to be conservative with growth by design, and plans to lease A320s from Airblue; Airbahn will have two planes within 12 months
Airbahn's A320s will have 174 seats each, in a one class configuration
In October 2020, the DOT issued a Certificate of Public Convenience and Necessity for Interstate Air Transportation to Airbahn. This paves the way for the airline to transport people, property, and mail, within the United States and beyond.
Airbahn takes delivery of its first Airbus A320
As noted by @IshrionA, Airbahn has just taken delivery of its first Airbus A320 in the United States. Specifically, the plane has the registration code N786PB. On November 20 the plane flew from Istanbul (ISL) to Keflavik (KEF) to Bangor (BGR), and on November 21 the plane flew from Bangor (BGR) to Ontario (ONT).
This first plane is 12 years old, as it initially entered service in July 2009. This plane used to have the registration code AP-EDA, as it used to fly for Airblue. The plane flew from Karachi to Istanbul on November 30, 2020, and spent almost a year in Istanbul being prepared to fly for Airbahn.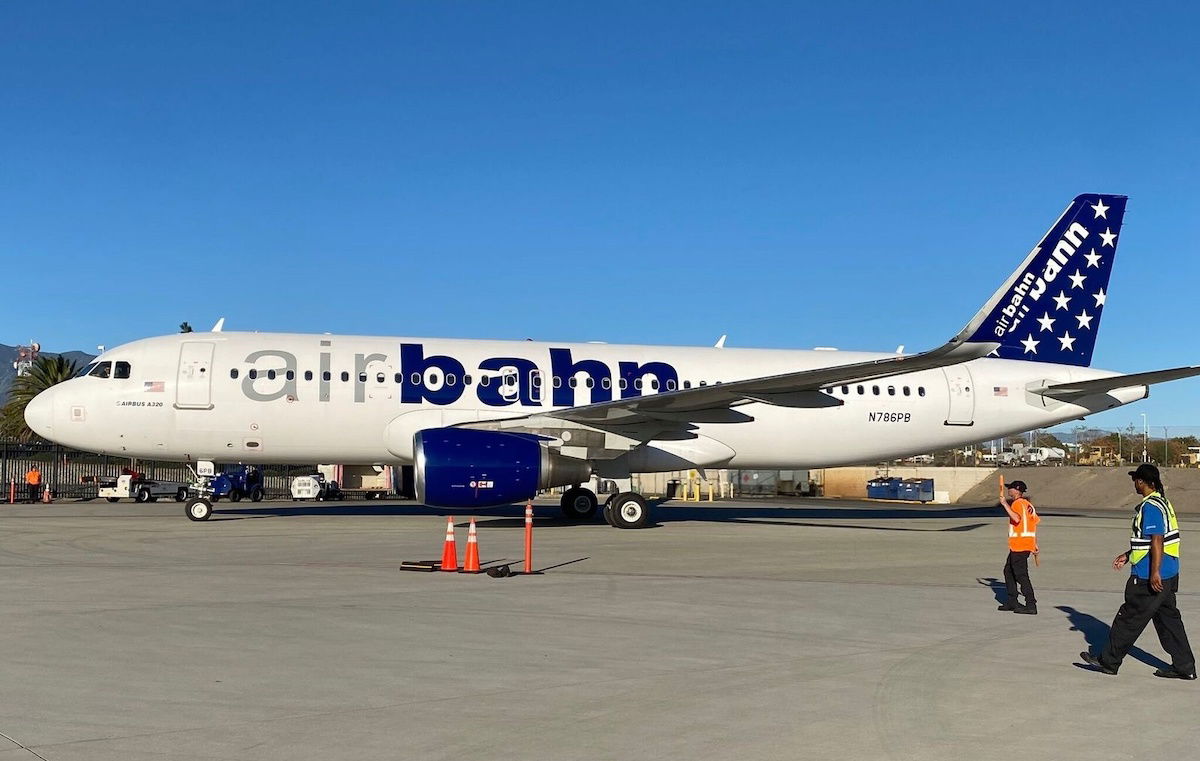 Airbahn is hiring staff in California
Not only has Airbahn now taken delivery of its first plane in the United States, but the airline is also hiring for quite a few positions, which also gives us a sense of what kind of destinations we could see the airline serve:
Airbahn is hiring for management roles in Irvine, so that's where the carrier's headquarters will be located
Airbahn is hiring for station supervisors in Oakland (OAK), Sacramento (SMF), and San Jose (SJC), so those are definitely airports the airline plans on serving
Airbahn is hiring for flight attendants and maintenance personnel in Ontario (ONT), so it seems likely that the airline could primarily be based there; while the carrier's plan was to be based out of Long Beach or Orange County, those airports are slot restricted, which probably explains why Ontario is in the cards now
My thoughts on Airbahn
Details are still limited as of now about the airline. Airline executives aren't saying a whole lot, other than suggesting that operations are launching soon. All we know is what's in the DOT filing, and we can also piece together some details based on where the airline is hiring.
On the surface this airline seems quite legitimate, in the sense that it has actually filed with the DOT for permission to launch flights, the airline has already taken delivery of a plane, and there's someone with real airline experience behind it. It's at least more legitimate than the likes of Avatar Airlines, Global Ghana Airlines, etc.
That being said, reading between the lines, it seems that the airline might initially operate flights from Ontario to Oakland, Sacramento, and San Jose (assuming plans haven't changed). Those are all routes that are already served by Southwest. That seems like an absolute non-starter for launching a new carrier.
While the person behind the airline obviously has airline experience, if that's his plan I'm not sure he quite has a nuanced enough understanding of the market in the United States. Compare that to Avelo Air, which is run by a former Allegiant Air and United Airlines executive, and Breeze Airways, run by the founder of JetBlue, Azul, etc.
It looks like this airline will become a reality, though I just don't see how the current plan will gain any traction.
Bottom line
Airbahn is an airline startup in the United States that plans to operate out of Southern California, to destinations in California, Nevada, and Western Canada. The airline will get two A320s from Airblue, a Pakistani airline run by the same person. The first of those planes has just been flown to the United States, and is painted in full Airbahn livery.
Based on where Airbahn is hiring, it would appear that the airline may initially be based in Ontario, and operate routes to Oakland, Sacramento, and San Jose, all of which are also operated by Southwest. Suffice to say that I'm skeptical about the viability of that business model.
What do you think — will Airbahn become a reality?