You guys know I love writing about new "airlines" (I put that word in quotes because is it really an airline if they never fly?), and I just realized I've never written about Avatar Airlines, which is probably the most promising new airline in the US since Baltia.
The concept has been around since 1992, and just yesterday Avatar Airlines filed with the US Department of Transportation for a Certificate of Public Convenience and Necessity. Their application with the DOT is over 400 pages, and frankly the whole thing is a goldmine, so if you have time, read as much of it as you can.
What Is Avatar Airlines?
Essentially Avatar Airlines wants to launch domestic flights exclusively with 747s. Their argument is that airlines have been switching to smaller and smaller planes on domestic routes, but the per passenger costs are much lower on bigger planes, and that's why they've chosen the 747.
While it's no doubt true that per passenger costs can be lower on bigger planes, that doesn't account for the fact that it's hard to maintain the same yields with bigger planes.
Avatar Airlines Fleet Plans
Avatar Airlines hopes to raise money to buy 14 Boeing 747-400s. Then within three to five years they hope to have an IPO, allowing them to then purchase 30 Boeing 747-8s, which are more fuel efficient and larger.
So essentially Avatar Airlines hopes to be an ultra low cost carrier, with 747-400s that have 580+ seats. That will include 539 economy seats on the lower deck, and 42 "Office Class" seats on the upper deck.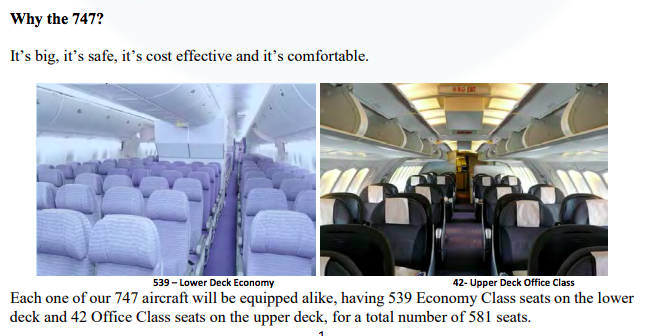 Avatar Airlines Routes
The airline will initially operate between Los Angeles and Las Vegas, Las Vegas and New York, and New York and Miami. But they plan to grow a lot, with a total of 28 planes by the fourth year.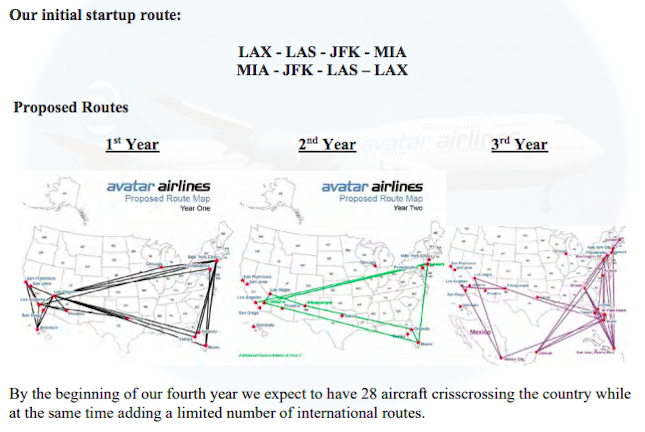 Avatar Airlines Fare Structure
To do the math on how they'll be profitable, Avatar Airlines is assuming an average load factor of 84%, with an average ticket price of $64 (plus taxes and fees).
Here's how they've worked out the math that they'll be profitable: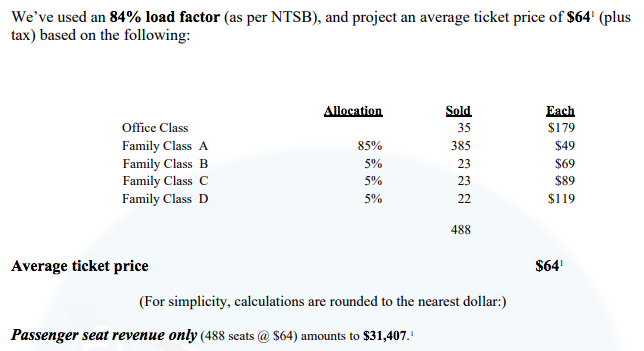 Avatar Airlines Will Be A Flying Billboard
The airline also plans on putting lots of advertising on their planes:
The concepts Avatar will utilize have been historically tried and tested. Does anyone doubt whether advertising on the back of a bus, inside a subway or on a highway billboard works? A nearly trillion-dollar advertising industry worldwide readily supplies the answer. Avatar will capture some of that revenue by selling ad space to help ensure that its ticket prices remain ultralow, even if Avatar's expenses rise. Tempered only by FCC safety regulations and requirements, nothing will be sacred. Anything that you see or touch will be available for purchase. Management even envisions patrons using the restroom and being "greeted" by a named brand bathroom tissue company when they look inside the lid of the lavatory bowl. The outside of the aircraft may be adorned by e.g., Pepsi, Google or any other named brand on a massive aircraft "wrap." Tray tables and overhead bins will be virtual billboards in the sky. Free Wi-Fi subsidized by Avatar's "Avatizing" partners in exchange for landing page ads will provide an added free perk for Avatar's passengers.

Avatar Airlines Frequent Flyer Program
Avatar plans on having the "Fly Free Club," which will require a one-time registration fee of $49, plus a $249 annual membership fee. With this you'll be able to book any Avatar flight within 72 hours of departure subject to availability, and you'll just have to pay taxes and fees.
Think of it as an Avatar standby pass.
Bottom Line
Here we're seeing Avatar Airlines actually file something with the DOT, though don't get too excited, as a Certificate of Public Convenience and Necessity isn't exactly one step from launching operations.
This concept has been in the works since 1992, and at the time it was known as Family Airlines, before being rebranded as Avatar Airlines in 2010. Even over the last 25+ years, the business model has more or less stayed the same.
So yeah, I mean the fact that they put together a 400+ page document at least shows some effort…