Update: aha! has ceased operations as of August 2022, as ExpressJet has liquidated.
In 2020, regional airline ExpressJet ceased operations. Several weeks ago we learned how the airline is making a comeback, as a Reno-based airline named "aha!" The airline has already launched operations as of late October, and has now announced two additional routes. Let's summarize everything you need to know about the airline as of now.
The history of ExpressJet
For context, ExpressJet is a regional airline in the United States that launched operations around 35 years ago, in the mid-1980s. Back in the day the airline was owned by Continental Airlines, though that changed over time. Most recently, ExpressJet operated exclusively for United Express, which is United Airlines' regional carrier.
However, in mid-2020 United Airlines made the decision to cut ties with ExpressJet, The airline instead decided to consolidate all 50-seat regional operations with CommutAir, a competitor to ExpressJet. This was largely prompted by the pandemic, which caused United to downsize its regional operations.
With United Airlines being ExpressJet's only customer, the airline was in trouble, and had to wind down operations. Fortunately that wasn't the end of ExpressJet.
ExpressJet returns as independent airline, "aha!"
ExpressJet is making a comeback as an independent airline named "aha!" The name "aha!" stands for "air, hotel, adventure."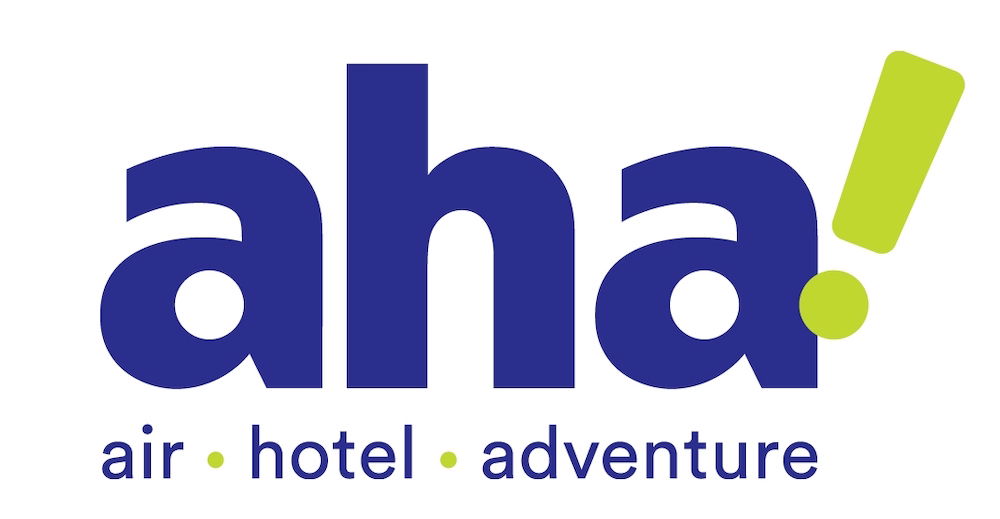 Here's how the concept behind "aha!" is described:
aha! is a leisure brand of ExpressJet Airlines. aha! seeks to provide travelers in smaller communities, many who have seen air service reduced over the past decade through airline mergers, with convenient, short, nonstop flights to high-quality destinations like the Reno-Lake Tahoe region. In addition to offering value-priced, nonstop flights, aha! will soon partner with resorts, casinos and attractions to "bundle" value-priced vacation packages.
The airline is based at Reno-Tahoe International Airport (RNO), and it's "designed for travelers to enjoy Reno-Tahoe's regional bounty," including "exciting casino resorts and live entertainment, a diverse art and dining scene, and the world-class ski-golf-outdoor activities around Lake Tahoe."
As was the case at ExpressJet, "aha!" flies 50-seat Embraer E145 aircraft.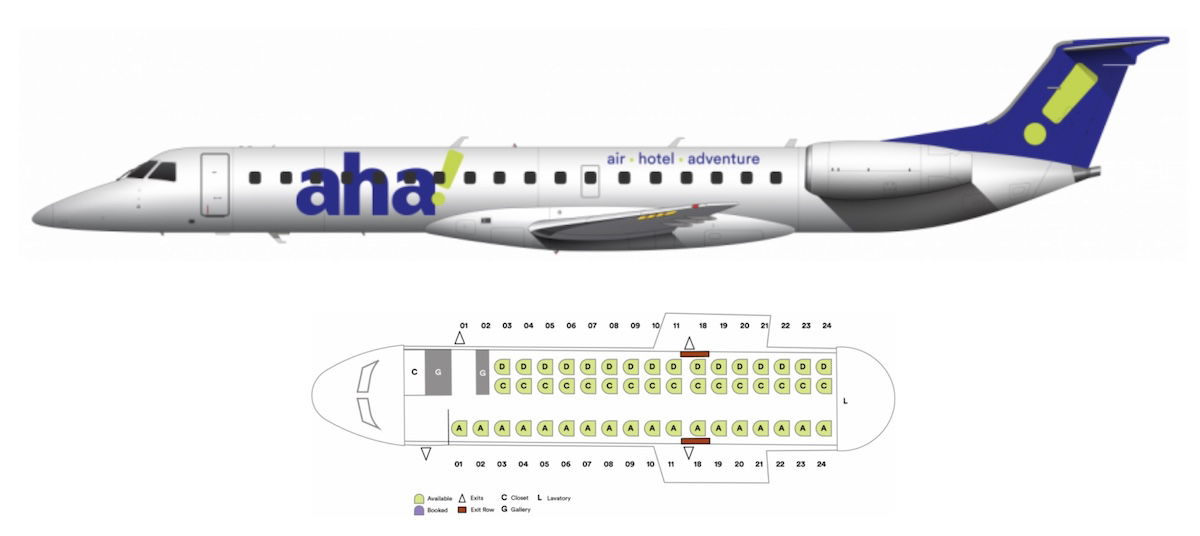 Where does "aha!" fly from Reno-Tahoe?
ExpressJet's new "aha!" leisure airline is initially flying from Reno-Tahoe (RNO) to 10 destinations, as follows:
Pasco/Tri-Cities, WA (PSC), as of October 24, 2021
Bakersfield, CA (BFL), as of October 25, 2021
Medford/Ashland, OR (MFR), as of October 31, 2021
Eugene/Springfield, CA (EUG), as of November 1, 2021
Ontario, CA (ONT), as of November 4, 2021
Redmond/Bend, OR (RDM), as of November 5, 2021
Eureka/Arcata, CA (ACV), as of November 9, 2021
Fresno, CA (FAT), as of November 10, 2021
Spokane, WA (GEG), as of December 15, 2021
Palm Springs, CA (PSP), as of January 3, 2021
All of these routes are scheduled to initially be operated 3x weekly.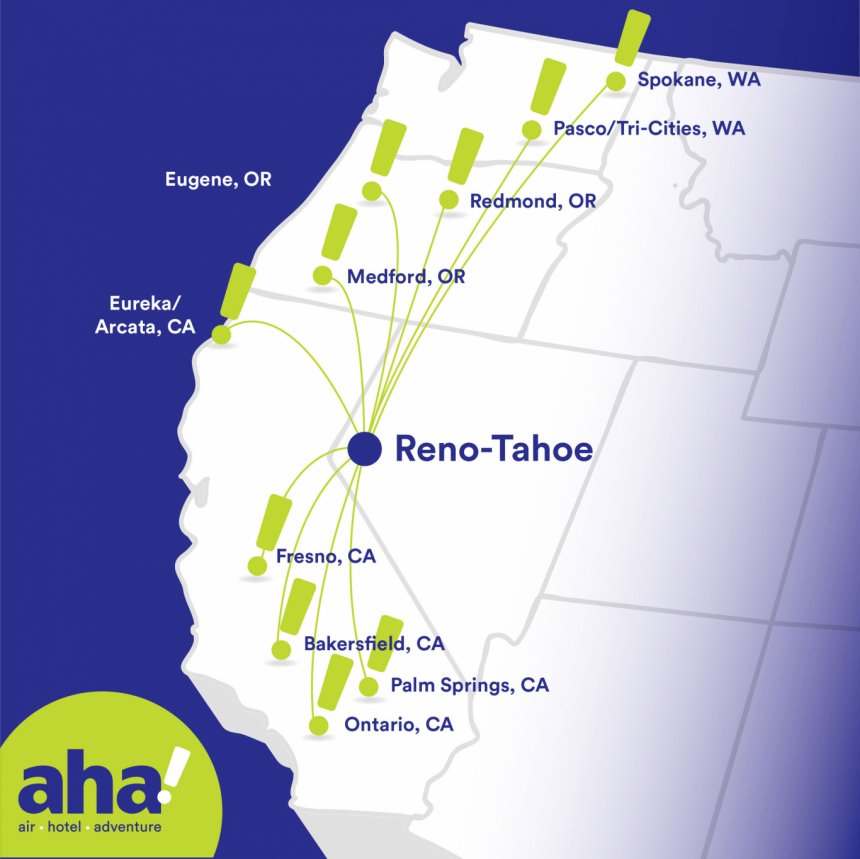 My take on the new airline "aha!"
I'm not exactly sure what to make of this, though a few thoughts:
Kudos to ExpressJet for not just giving up after losing its contract with United Airlines, but rather trying something unique as an independent airline
Earlier this year we saw the launch of Avelo Airlines and Breeze Airways, and all three of these airlines are dedicated to operating flights in previously underserved markets, so that's awesome for consumers
Startup "aha!" has the benefit of operating lower capacity planes than Avelo and Breeze, so they're easier to fill, but the challenge is that the Embraer E145 has much higher per-seat operating costs than the planes operated by the other two carriers, so that will pose a challenge
I'm curious to see how the "aha!" business model evolves over time — the airline seems pretty committed to Reno-Tahoe, so how many underserved markets can the airline find?
The "aha!" name is just really strange — I can't imagine an announcement for "aha! flight 237 to Reno," and I also hate the awkward grammar when writing it out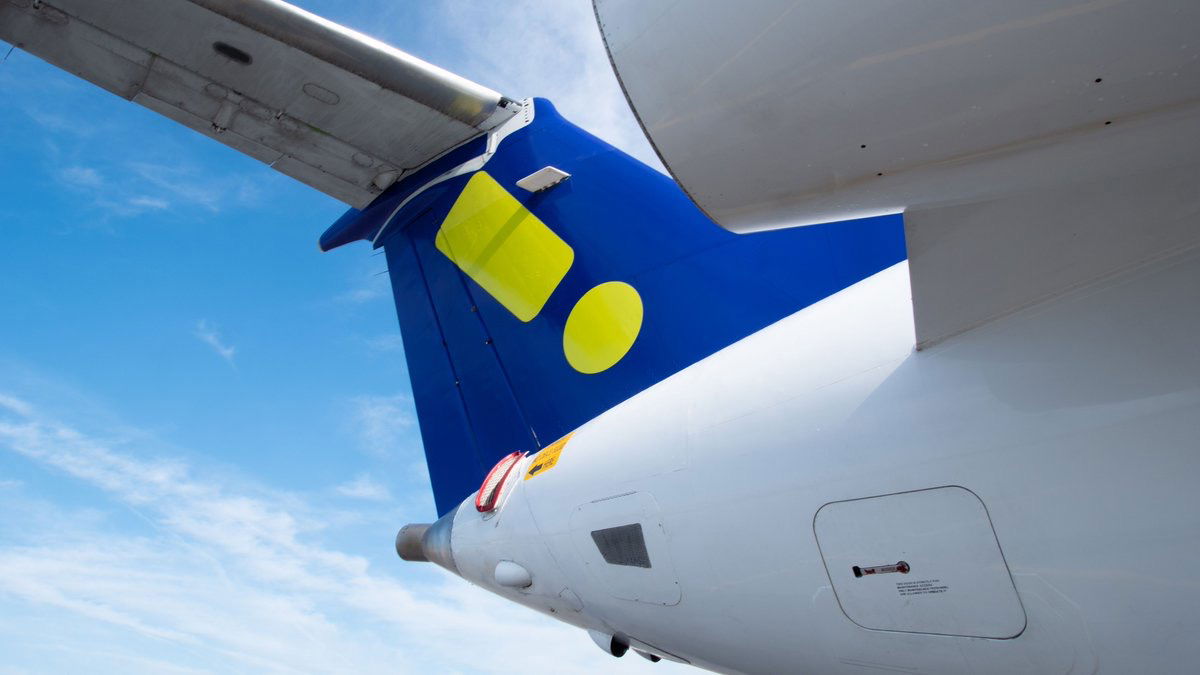 Bottom line
A new airline named "aha!" has launched operations at Reno-Tahoe International Airport, with plans to initially fly to 10 destinations. The airline is part of ExpressJet, which is a regional airline that used to operate for United Express. However, United Airlines ended its contract with "aha!" in 2020, leaving the airline without business.
It's cool to see that ExpressJet has reinvented itself, but this is no doubt an odd one.
What do you make of the "aha!" business model?
(Tip of the hat to @IshrionA)