In February the DFW Airport board was asked to approve construction for an A380 gate, as an unnamed carrier would supposedly be launching A380 service to Dallas as of October 2014. At the time I speculated that it would be British Airways or Qantas launching the service due to their membership in oneworld, though didn't rule out Emirates, since they're the largest operator of the A380 in the world, and often do things "just because" they can.
In early April, Emirates announced they would be the first carrier with scheduled A380 service to Dallas. On one hand it surprised me, given that they're upgrading the route from a 777-200LR to an A380, which is a massive capacity upgrade. On the other hand it kind of makes sense, given that Etihad and Qatar are both launching service to Dallas shortly, and Emirates wants to send them a message and remind them who's boss.
Well, as it turns out, Emirates won't be the first airline flying the A380 to Dallas, despite the fact that they'll still commence service as of October 1, 2014.
Qantas will be launching A380 service to Dallas
Instead, Qantas will be launching A380 service to Dallas as of September 29, 2014. The service will be six times weekly (every day except Tuesdays), and replace the daily 747-400 service currently on the route.
This will represent a net increase in capacity of over 10%, and will be the first time Qantas will operate a first class cabin to Dallas since launching the service in 2011.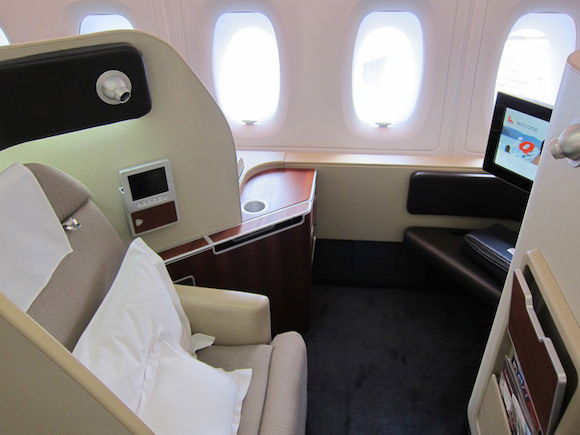 Qantas A380 first class
This will also be the longest A380 route in the world, beating Emirates' new Los Angeles to Dubai A380 service by about 250 miles.
Why the 747-400 isn't good for this route
Qantas' flight between Sydney and Dallas is the longest 747 route in the world, at over 8,500 miles. Because of how long it is, the flight actually has to make a fuel stop in Brisbane on the eastbound sector, and even so, is heavily weight restricted. Not only are they heavily restricted in terms of the amount of cargo they can carry, but in many cases they can't even sell all of the seats, due to weight restrictions.
By placing the A380 on this route not only will they be able to eliminate the westbound stop in Brisbane, but they'll be able to carry both some cargo and a full load of passengers consistently. Yes, even the A380 will have weight restrictions on an ultra longhaul route like this, but not nearly as severe as on the 747-400.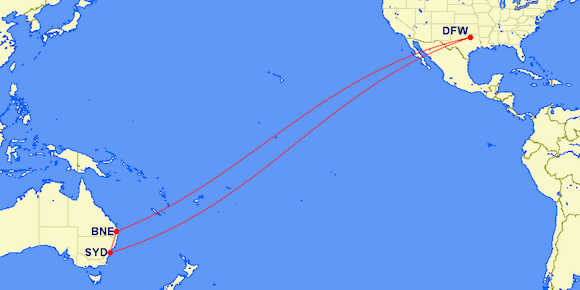 Where is Qantas getting the A380s for Dallas service?
Offering six times weekly service between Dallas and Sydney requires more than one A380, so where is Qantas getting the extra planes from?
As part of Qantas' February restructuring announcement, Qantas said they would be retiming some A380 flights to reduce ground time. Specifically, they're adjusting the schedule between Melbourne and London (which routes via Dubai).
The current schedule is as follows:
QF9 Melbourne to London departing 3:15PM arriving 5:40AM (+1 day)
QF10 London to Melbourne departing 10:25PM arriving 5:25AM (+2 days)
The new schedule, as of July 20, 2014, will look as follows:
QF9 Melbourne to London departing 10:55PM arriving 1:40PM (+1 day)
QF10 London to Melbourne 1:30PM arriving 8:55PM (+1 day)
Qantas presently has two A380s that sit at London Heathrow all day (one for the Sydney service and one for the Melbourne service), so they're just about cutting ground time in half by sending the morning Sydney arrival onto the Melbourne return. Between the A380 services to London, they're cutting daily ground time from about 30 hours to about 13 hours — brilliant.
This schedule change also impacts the US Airways award ticket I recently booked to Australia.
Beyond that, Qantas will be adjusting the number of weekly frequencies they operate to Hong Kong on the A380 in order to make this route work.
A380 reservations go on sale May 14, 2014
Next week Qantas will load the new A380 service into the schedule. Hopefully this results in some award availability, ideally in first class, given that this is a brand new cabin for the route. I'll post an update as soon as the schedule loads.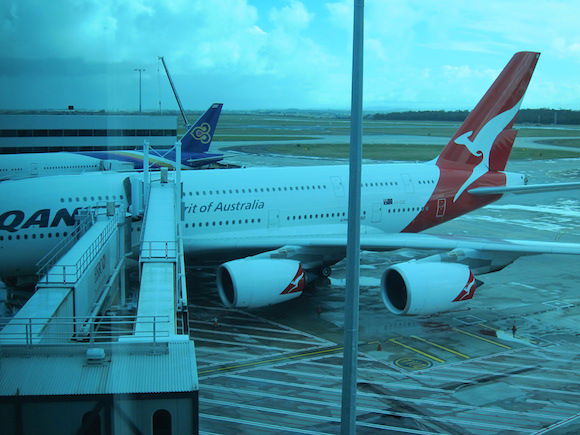 Qantas A380
Will Emirates move up their A380 launch date?
You've gotta love that Middle Eastern airlines are all about pride, even if it comes at a cost. Etihad announced their new A380 "Residences" product a few days ago, and Emirates responded by pretending they're working on a similar product, which clearly isn't the case. But that's the joy of Middle Eastern airlines, with bottomless pockets.
So will Emirates really let Qantas beat them to Dallas by two days? My money is on Emirates quietly updating their schedule to a September 28 A380 Dallas launch date sometime soon.
Bottom line
This is awesome news for passengers. Now the service to Sydney will be nonstop, offer a first class cabin, and ultimately be operated by a plane that offers a far superior flying experience.